ShagBook Review
Verified Review
Published: 22nd September, 2022
ShagBook Introduction
When we find out a site is operated by Venntro Media Group Ltd we automatically cringe and know what to expect. With this Shagbook review, we did our best to be subjective in forming our shagbook opinion, regardless of which umbrella the site falls under.
The name Shagbook is, of course, a rather cringy adaptation of the ever-popular Facebook, and generally, when sites need to ride the coattails of others' success it means they don't have their own two feet to stand on. With Shagbook this was even more evident seeing as every attempt to use the best features on this site only redirects you to other sites that actually have that feature available.
In this shag dating site review we cover all you need to know about Shagbook, what to expect from the registration process, user experience, price, and legitimacy of the site. Spoiler alert, it's not great and comes across as another subscription rip-off. But if you are in for a quick laugh let's dive more into what this scam site has to 'offer'.
What Type Of Dating Site Is Shagbook?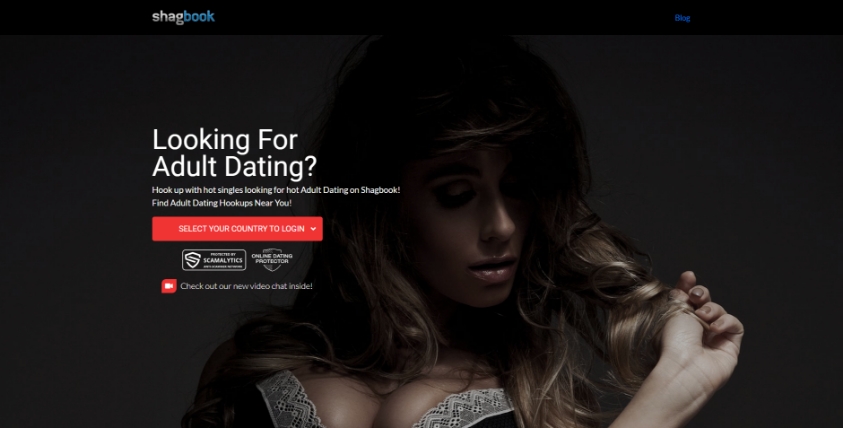 Hookups
Casual encounters
Sex chats
Swingers
Webcam fun
While these are the kind of interactions that are advertised on the site, we are not sure you will actually find anyone real on here. You will however be able to have webcam fun should you choose to sign up to the sites that you get redirected to when trying out those features.
Who Is Shag Book For?
Straight
Couples
Single
Married
Gay?
Shagbook makes things a bit confusing, hence the question mark! As part of the shagbook login procedure, you can only select either "I am a man looking for a woman" or "I am a woman looking for a man" and your search results will match this criterion. However, on your profile, you are able to select "Same-sex encounters" as part of what you are looking for, but you are still only shown profiles of the opposite sex. There is however a dedicated gay Shagbook.
Stats / Infographics Of Shagbook
It is good to take note of the fact that of its 65K+ monthly site visitors, 83.7% of that traffic was generated through direct marketing (71.3% of overall traffic comes from paid marketing and only 28.7% from truly organic traffic). Why is this important? Well, because a legitimate site like Tinder has 99.9% organic traffic. When a platform actually works and you can trust it, you don't need to rely on so much paid marketing.
Male - Female Ratio
Age Demographics
Country Distribution
Registration Process Of Shag Book
The overall shagbook sign in process is very straightforward and easy. You start by selecting your country. You'll get the option of joining shagbook UK, shagbook, Ireland, shagbook South Africa, and many more. that same button will then read "See your matches". Click on it, then select whether you are "a man looking for a woman" or "a woman looking for a man", and select next. You will then need to provide your name, date of birth, and email, and select a password. The last step is to agree to the T's and C's, you can also choose to receive promotional emails from shagbook, but this is optional.
Once your profile has been created you can edit and update as much of it as you please. You can add a photo (you will not appear in searches without one), optionally you can also add a video profile. On your profile, you can pinpoint your location for better search results.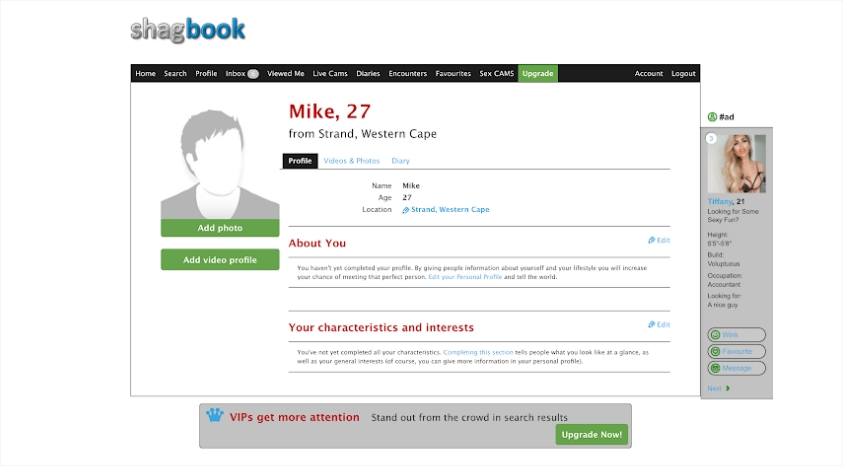 Fill in the "about you" section by giving a short description of the person you are, what you like to do, and what you are looking for (they give examples if you are stuck on what to say here). Next, fill in "your characteristics and interests", which include your appearance (from eye colour to cock size), your lifestyle (ethnicity, marital status, to your drinking habits, and favourite position), what you are looking for (there were two options for 'couples' for some reason), and your sexual interests (water sports, dogging, anal, etc.). After that, your profile is all set.
ShagBook Mobile Application / Compatibility
There is no mobile shag dating app available! If you've already created a profile the site works fine on a mobile device, but it seems to keep freezing when you try to register via a mobile browser. Just like the website itself the mobile experience is not very user-friendly. The site is extremely busy with ads that take up most of the screen space making the experience difficult to enjoy. You'll have to scroll past a lot of profiles and ads before getting to some of the basic buttons.
The bar of icons you would find at the top of the website is at the bottom of the page when on your mobile, and ads are displayed right above this tab. Most of which are ads for Granny Shagbook, BBW Shagbook, and MILF Shagbook. You almost can't help but click on an ad every now and then when you try to select an icon. There are also tons of pop-ups that open new tabs on your browser after every few clicks. Having to continuously close these newly created tabs gets cumbersome after a while.
Men Vs Women On Shagbook
The sign-up process is a bit different for women. You'll get the same first steps, but the layout to edit your profile is completely different. When on your home screen you are first asked to add your "about me", then upload a photo (you have the option to keep your naughty ones hidden), and get the opportunity to send an introduction message which gets sent to the inboxes of male profiles. Women are lucky enough that they can use the site for free and have full access to all the site's features without the need to pay. While on a female profile we didn't get as many ads, pop-ups, or redirects to other sites either.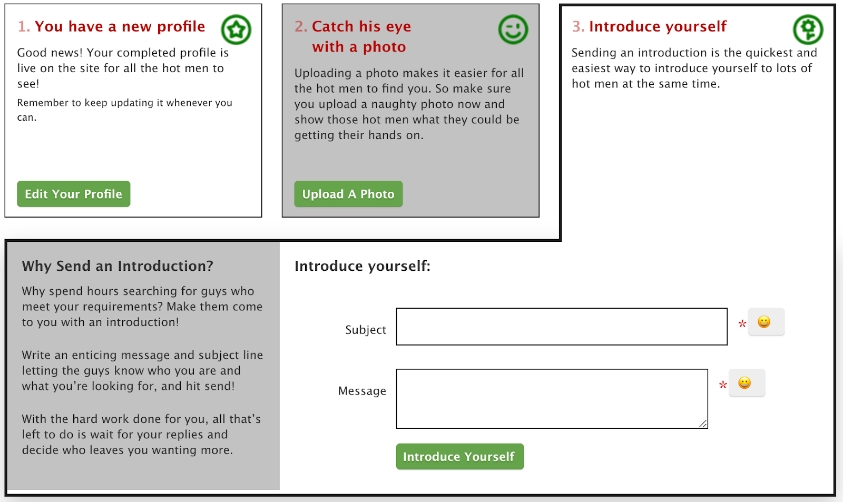 Shag Book Top Features
Video Chat
Before you sign up, you will notice that the video chat capabilities are advertised as one of the newer features on the site. When you are on your account you have two options for live video chats. Namely the "Live Cams" and "Sex CAMS". Both are easily located on the tab at the top of the page. However, when you click to go to the Live Cams you will be redirected to an entirely different site, Camonster.com, while clicking on the Sex CAMS feature redirects you to Jerkmate.com.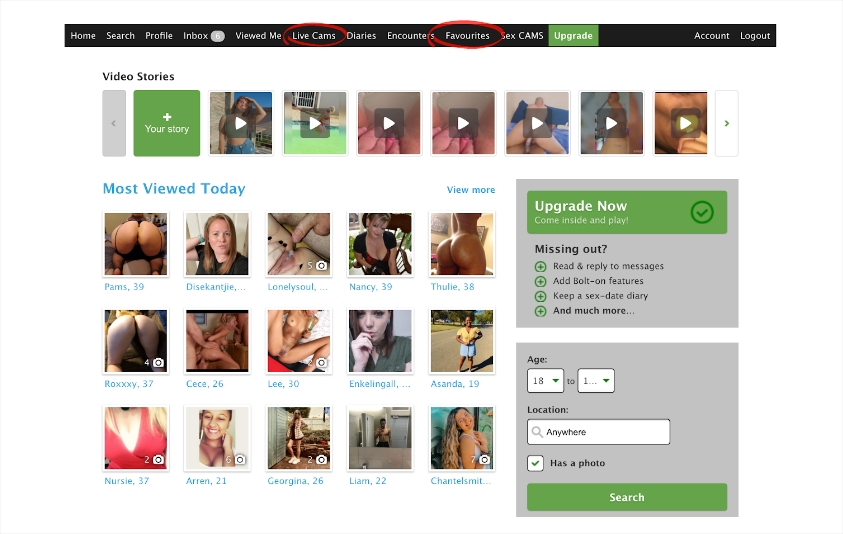 Encounters
Another feature that a lot of sites have copied since it found its success on Tinder is the "swipe-like" feature of going through a stack of profiles and selecting "yes", "no", or "maybe" on them to see who you match with easier and faster. On Shagbook this feature is called "Encounters".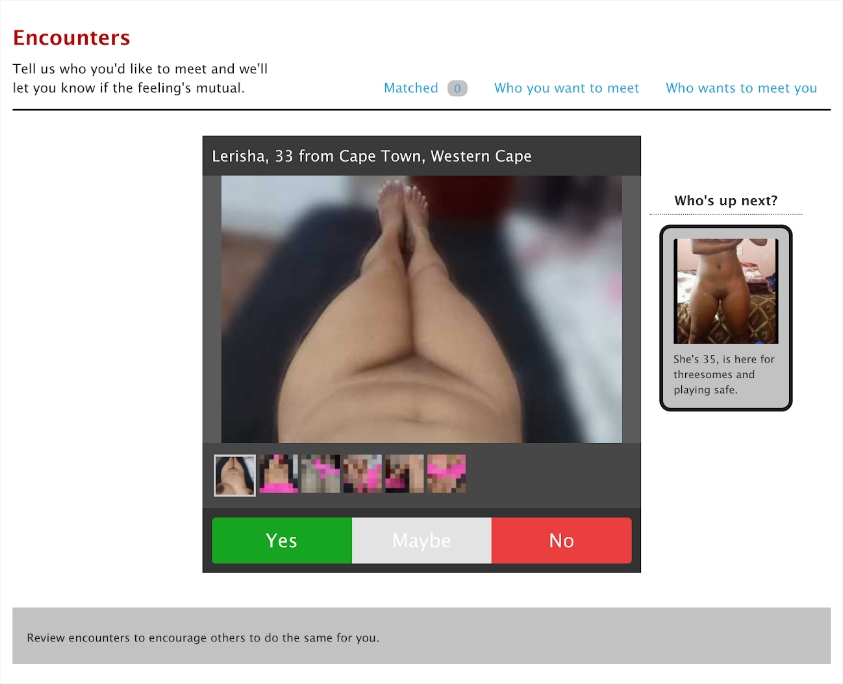 ShagBook Offers, Prices & Costs
The platform works on Freemium membership. As a free shagbook member, you can create a profile, add a photo, search for people by province, create your favourites list and send unlimited winks. You'll also receive an email if anyone adds you as one of your favourites, winks at you, or sends you a message.
Premium package durations range from a 3-day trial to a 1-year membership and range in price from $7.92 per month to $12 per month, depending on which package you select. The 1-year package offers a good 28% savings, while the 6-month package is a reduced price of 4% (and no this is not a typo, that's really only four percent). All packages (even the 3-day trial) automatically renew after their respective period has run its course. It is good to know that after your 3-day trial period has expired the membership automatically converts to a 6-month package.
On top of the available subscription packages, the site also offers add-ons, or as they call it, 'bolt-ons'. Bolt-ons are EXTRA features that you need to pay for over and above your membership fees. These include "Search VIP" which highlights your profile in the shagbook search results so you can stand out from the crowd ($3.99 per month extra), and "Read Notifications" which give you email alerts to let you know when your messages have been read ($4.00 per month extra).
Subscription Prices / Costs
ShagBook.com dating site subscription costs and prices.
3 Day Trial: $2.61
3 Months: $28 ($9.34/Month)
6 Months: $50 ($8.34/Month) *4% savings
1 Year: $95 ($7.92/Month) *28% savings
Subscription Perks Included
Send and receive private messages
Add Bolt-on features
See who's viewed your profile
Write your own sex-date diary
Add multiple photos to your profile
NOTE: While writing a sex-date diary is advertised as being a premium feature we were able to create a diary without being a VIP Shagbook member.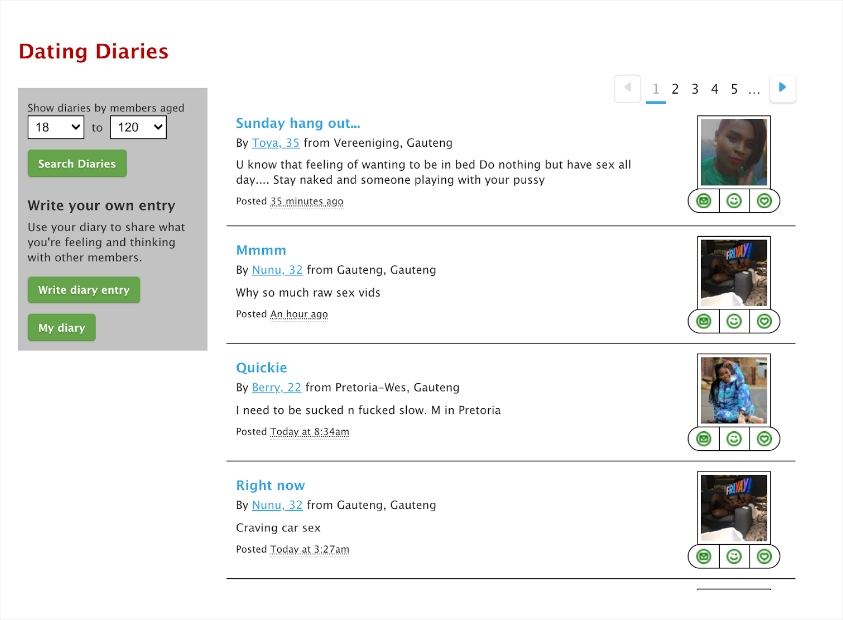 The Shag Dating Site Pros & Cons
Pros
Women get full access to the site at no cost.
Cons
Pop-ups to other dating sites appear every few clicks and seemingly happen at random.
There is no shagbook app.
Very retro style website layout (Outdated look with tons of ads all over the place. Feels more like a betting website than anything else and kills the user experience)
Not user-friendly. (Difficult to navigate through the tons of pop-ups and ads)
Clicking on certain female profiles only redirects you to other dating sites.
Clicking on some features (like live cams) only redirects you to other websites.
ShagBook Safety & Security
Use Of Personal Information
Not only will your personal data be shared amongst the thousands of sites that are owned by Venntro Media, but according to their terms of service, LIVE! Services are provided by Meet Group, Inc and if you choose to use the live cam features your data will then also be shared in that company's pool of sites.
And while you have to pay to be a member of Shagbook, you will also have to pay for credits to use these LIVE! Services on the sites run by Meet Group, Inc. Your data may also be shared with any third-party websites as well as these associated websites. These third-party websites have their own T's and C's so it's always best to check before you commit to anything.
Fake Profiles
The site claims to have an "online dating protector" that uses anti-scam software and 24/7 moderation to ensure that all members are real. But having this badge on Shagbook feels like sticking a Lamborghini badge onto a Vauxhall and calling it a pussy magnet.
On Shagbook your profile moderation is almost instantaneous. As soon as you update your profile information you will get a confirmation message from their support team to say it's been approved. It comes across as a false sense of security though, because it took us longer to write the profile description than the split second it took to apparently get approved. Another big red flag is the fact that clicking on certain shagbook profiles of 'real women' only redirects you to go to other sites to chat with them.
There is even a disclaimer that the site is used on an "as is" basis. This is just the new term being used by sites that operate for entertainment purposes only. The disclaimer even goes so far as stating that the site does not endorse the accuracy of any information displayed by them or third parties. So they are washing their hands of any lying they might be doing. Seems a bit fishy.
Conclusion
You are far better off using a legitimate site like AdultFriendFinder or even Tinder. Look, we have to be honest here but this is not the site for anyone who wants to have a legitimate meeting with a real human being. We suggest you keep your actual email address and credit card details far away from shagbook.com. Other Shagbook reviews would agree that the outdated layout, obviously fake profiles, and a quite horrible user experience do not make it worth spending a cent here.
Shag Book Tips
Turn on an ad-blocker.
Turn on a pop-up blocker.
Be careful where you click.
FAQ
How Do I Delete My ShagBook Account?
Deleting your account is luckily pretty easy. Hover your cursor over 'Account' in the top right corner of the screen, click on 'Site Membership', scroll to the bottom of the page, and click 'Delete Account'. Click on the 'click here' that is highlighted within the paragraph text that pops up next, and select 'Please continue with deletion'.
Is Shagbook Free?
Women do get 100% access for free. But on shagbook.com it's only free for men to create a profile, add a photo, search for people by province, create your favourites list and send unlimited winks. All other features (including sending and reading messages) require a paid membership.
Is Shagbook Any Good?
No, and it would need a complete revamp to be any good. There's about zero chance of getting any real dates, and you will just be bombarded with ads, spam messages, and random redirects to other sites.