Randy Rabbits Review
Verified Review
Published: 25th August, 2022
It's a question that should be at the front of your mind whenever you come across a new and exciting online dating site. Am I getting scammed? Well, the short answer here is NO. And this is because what you see is what you get! Okay, so it might take quite some digging to know what it is that you are getting. But we will dig deep into all the details for you below, so you don't have to.
RandyRabbits.com makes up a small part of a much larger network of online dating sites operated by Venntro Media Group Ltd, a well-known entity in the business of online dating portals. This network of sites includes well over 3,500 dating sites for all kinds of categories. Okay, but let's get to the actual randy rabbits review.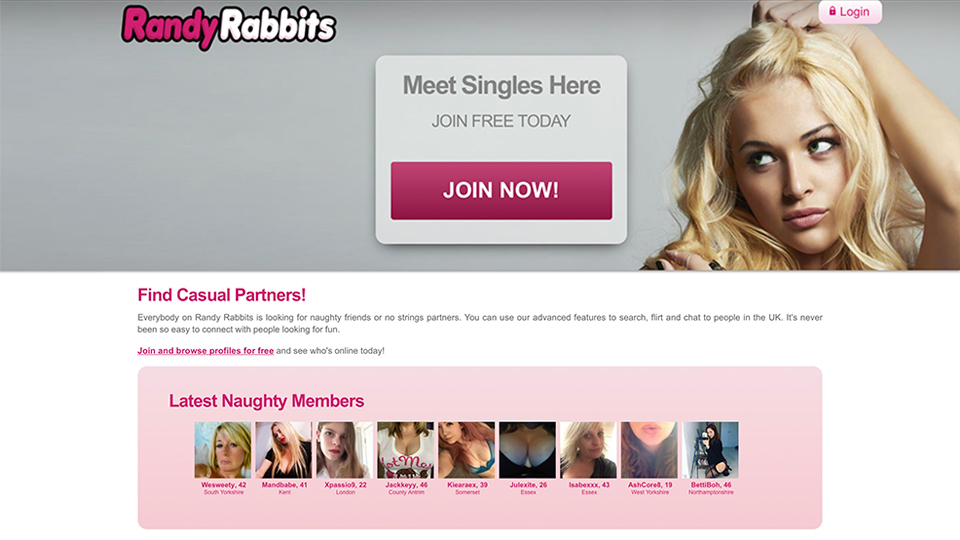 What Type Of Dating Site Is RandyRabbits com?
- A casual online dating site. Think naughty friends or no-strings partners.
- A platform to find anything from casual dating and long-term relationships to BDSM, cuckolding, and webcam stripping.
- An online space where UK-based individuals can find local people who share similar sexual interests.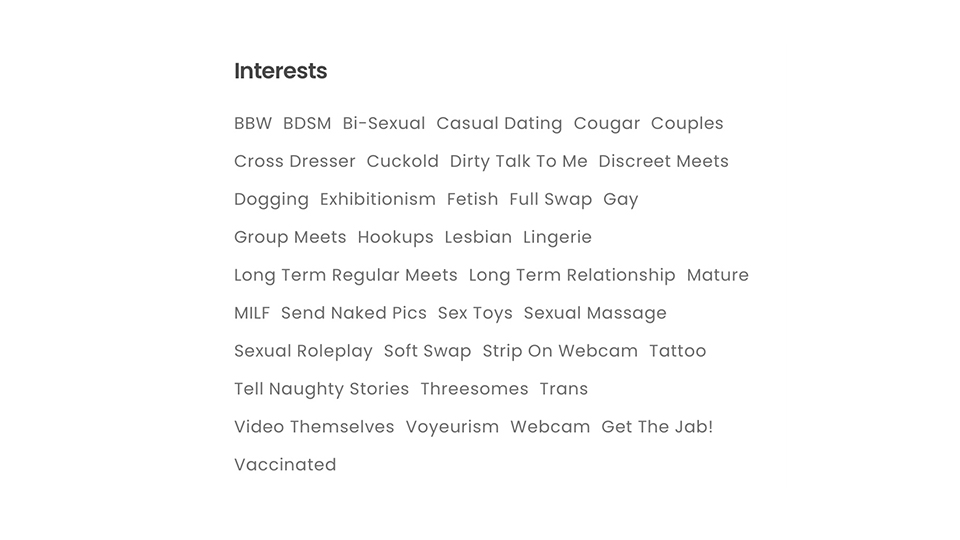 Who Is RandiRabbits UK For?
- Straight, gay or bi men
- Straight, lesbian or bi women
- Couples
- Crossdressers
- Trans men
- Trans women
As you can see, the site allows for a wide variety of randy rabbits to find some casual fun. The very first piece of personal criteria that any new user has to provide is 'who you are', with the options being: Male, Female, Couple, or CD/TRANS.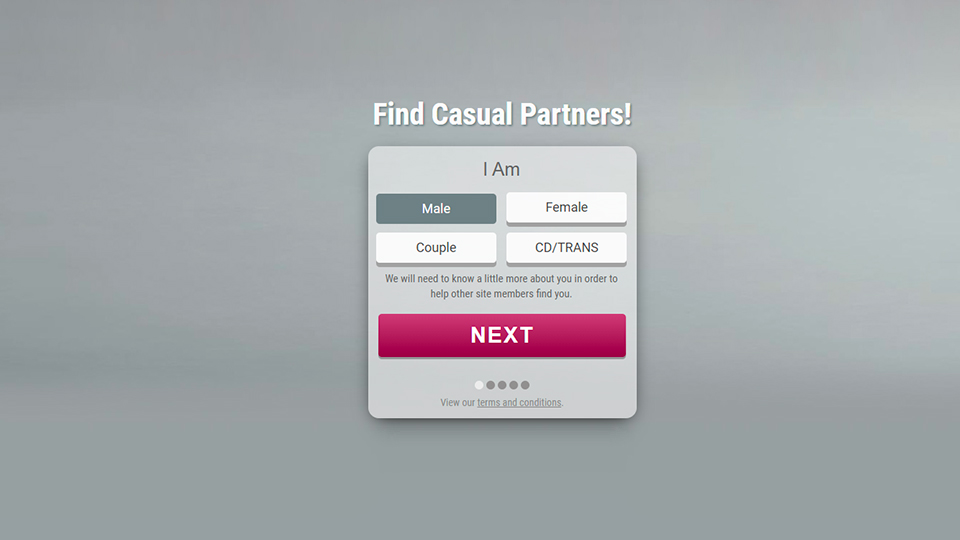 This gets followed by a prompt to select which type of person or people you want to be matched with. The same options are given once again. But here you can select only one if you wish, or all four if you are so inclined. It's up to you. We love the inclusivity that randyrabbits offer their members. Basically they say that anyone is welcome to use the site.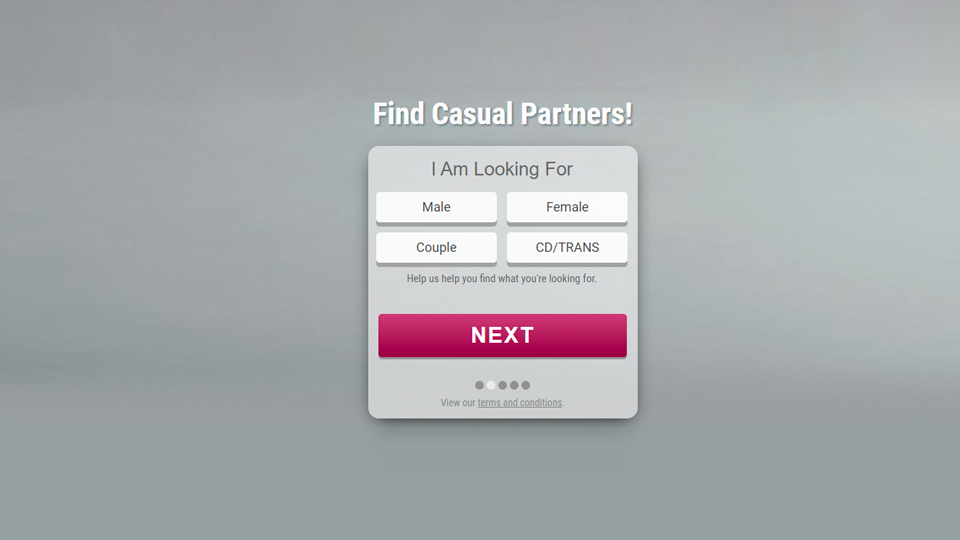 How To Register To Be A Randy Rabbit
The registration process is straightforward and easy to follow. Starting off as a brand new member will require you to complete the initial 5 steps before you can start working on your profile. As you continue, you will be prompted with what to do after each step.
Step 1 - Choose how you identify. (Male, Female, Couple, or CD/TRANS)
Step 2 - Choose who you are looking to match with. (Male, Female, Couple, or CD/TRANS) *You can select as many options as you like here.
Step 3 - Provide your date of birth.
Step 4 - Provide your email address. (You can select how much you want to be contacted via email later on in your settings)
Step 5 - Create a password.
Once these steps have been completed, you can log in to your account. But first, there will be some basics to cover for the site to set up your profile.
This is when you will be asked to complete the following:
- Choose the age range of people you want to meet.
- Select some of your 'turn ons' from the options provided.
- Create a username for your profile.
- Add a profile summary or "headline" to sum up what you're all about.
- Add a brief description to let potential matches know even more about you.
- Upload a profile photo.
- Agree to the terms & conditions and content policy.
And as easy as that, you will be logged in and ready to go. After having registered, you will be directed straight to your home page, which shows your feed. Here you can see who is online now, who is nearby, who just joined, view the top photos and videos, and scroll through the activity feed of what members have been posting recently.
Top 3 Features
RandyRabbits takes all the best parts of well-known social media platforms and dating sites and gives you a smorgasbord of features that their members will love. From swipe-style matching to having an activity feed, to location-based searching - they have everything you need.

Swipe-Style Matching
Just like you would do on Tinder or Hinge, you can choose to scroll through an almost endless number of profiles, liking or disliking them in the process. Because the site is web-based you will need to click (and not swipe), but in general it has the same effect. Find this feature in the menu bar at the top of your screen, by clicking 'matches'.
Activity Feeds
You can find this feature right next to the icon where you found the matches. In the top menu bar, click on the left-most icon called "Feed" to view your activity feed. Here you can see what other members are getting up to. You can see new photos, what others are commenting on them, and see what possible matches are posting online.
The Search Capabilities
Our favourite thing is their location-based searching. You can find this while in your "feed" by clicking on "nearby". Or you can go onto your "search" tab (which is next to your "matches"), select which city you want to search in, and toggle the distance from 0 to 100 miles away. Easy! Non-VIPs also get to choose if they only want to see members who are online now or only see profiles with photos. There is even an option to only view vaccinated members, welcome to the post-pandemic dating world.
How Much Does The Membership Cost?
Let's get right to the nitty-gritty of it. The site advertises that it is free to sign up and browse through profiles, but if you actually want to use any of the vital features (like sending or reading messages) you will have to become a VIP member.
The cost of being a member depends on which package you choose to buy, and the overall membership price is conveniently broken down into monthly costs. The 12-month package is the only once-off deal, whereas the 3- and 1-month memberships are recurring payments that get billed again after their respective time periods have lapsed. At the time of this review, a 10% discount was automatically applied to these prices. Keep in mind that with the 3- and 1-month packages the 10% discount falls away in the second billing period. Below are the original prices, without this discount.
12 month package - £9.99 / month (£119.88 total)

3 month package - £19.98 / month (£59.95 total)

1 month - £24.95 / month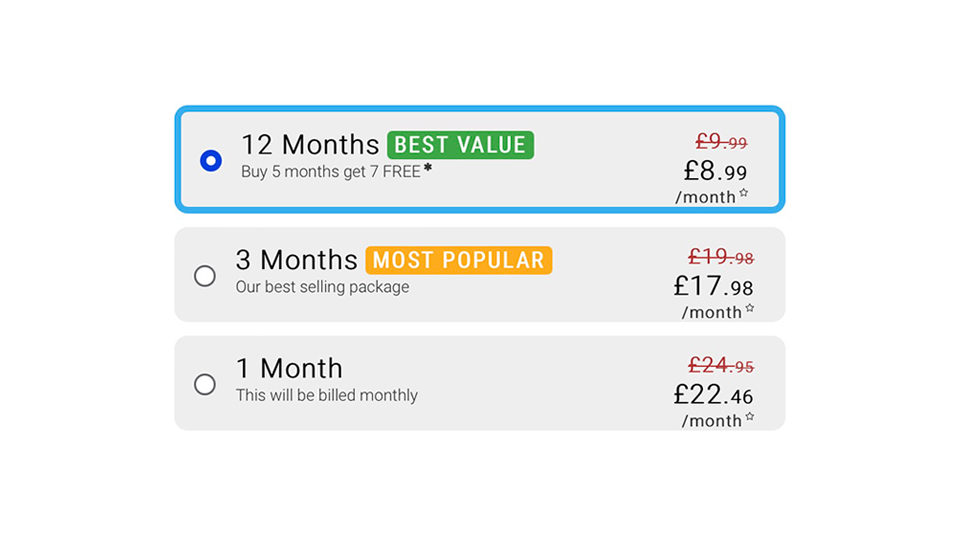 What Do You Get As A RandyRabbit VIP Member?
When you are at the pay gate to become a VIP member, the benefits of signing up for a VIP membership are broken down into the following:
Become age verified to gain full access
To us, this would be the only real reason to sign up and be one of the VIP RandyRabbits. What they don't tell you is that the 'full access' includes the ability to:
Send and read messages.

See who has liked you.

See who has viewed your profile.

View top videos.

View explicit photos.

Rewind on a like that you might have swiped wrong.

Choose more advanced filters when searching for matches.
Priority Message Delivery And Unlimited Messaging
Now we don't know why some messages would be prioritised over others to begin with, so this just sounds like an eye-catching gimmick, but the unlimited messaging makes it seem more worth it. Who wants to pay per message anyway?
VIP Members Appear 1st In Search Results
You will have your profile pop up at the front of the list when anyone searches for criteria that match your profile, making the chances of catching the eye of a potential match even greater.
Freemium Members Can Read Your Messages
This feature makes it easy for you to keep in touch as a VIP member. Because what it means is that your potential match doesn't need to be VIP for you to chat with them. It does, however, mean that if you've sent the first message to a non-VIP member, they will need to sign up as a VIP to respond.
No Pop-Ups
Interestingly enough, there were no Pop-Ups, to begin with (besides the ones that prompted us to become a VIP), so maybe that's the ones they mean.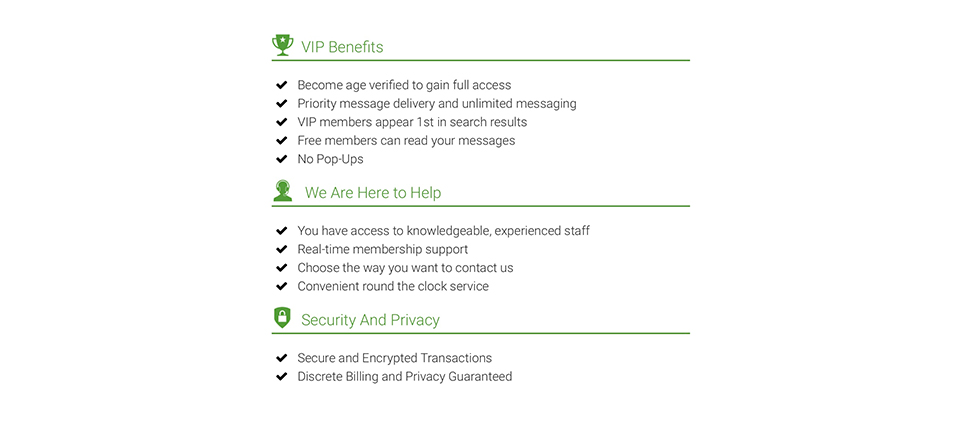 The Pros And Cons
Advantages
Discreet billing offered (Your statements will only show "Cintilet.com").

Live chat with local members.

Video content is supported.

Well-established site.

The admin chat is very helpful. (When you sign up an admin member greets you with some very helpful tips and tricks)

You don't get messages from a million fake accounts like some other sites.

There is a community tab where you can read blogs and articles, and stay up-to-date with relevant events.
Disadvantages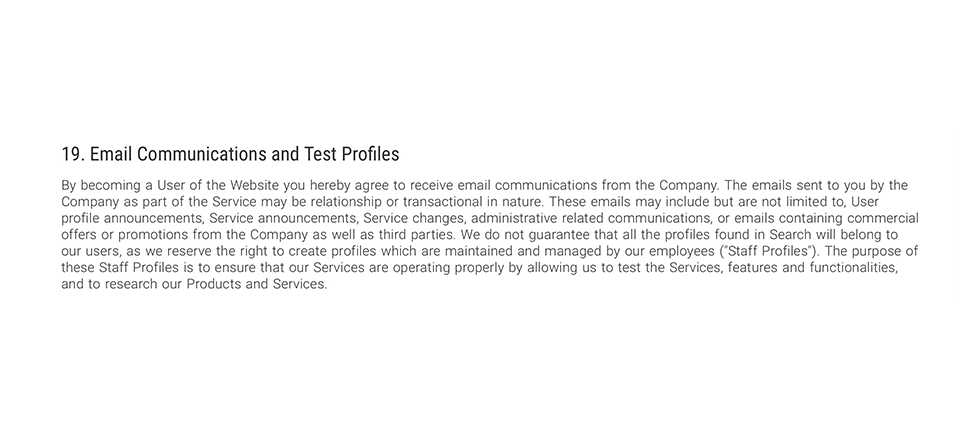 There is no mobile app (But the site is extremely responsive and works well on any device).

No proof of identity verification (We even found a member who was using old photos of Amber Heard as their profile photo, yikes).

There are some 'staff profiles' that the company maintains and manages as per their T&Cs.
Security And Personal Safety On RandyRabbit
The security on the randy rabbit dating site is pretty much what you would expect. Bog-standard of what most sites should have these days. The terms and conditions are set out very straightforwardly. There is even a quick summary of the terms for easy reference, however, it does state that the "summary is not a replacement of the full T&Cs" so it's best to give the full document a read before deciding to sign up.
It should come as no surprise that in using the site you agree to have your information shown on multiple sites, in addition to RandyRabbit. As mentioned before, the randy rabbit site is only one of over 3500, and for you to get a better experience, and a better chance at finding a match, your profile will be dumped in the pool of countless others. This slight leak of data protection is definitely something to consider, but if you were putting the information on the internet anyway does it really matter if they use it to find you what you signed up for?
On their payment portal, they also boast winning awards for "best dating software" and for "most innovative company", and the site is also PCI DSS compliant. But these were all in 2014, so they might be a bit out-of-date. Don't let the fancy badges stop you from doing your own research.
Site Statistics
Unfortunately, not much information is available on the background statistics for the randy rabbits UK site. We did some digging and the information just does not seem to be out there, and of course, we don't want to use unreliable sources. The site receives mixed reviews, some saying it was a fantastic experience, while others cry fake-wolf.
The best we can speculate is that the effectiveness of this site could be somewhat similar to that of the general success rates that online dating site members tend to have within the UK.
The Final Verdict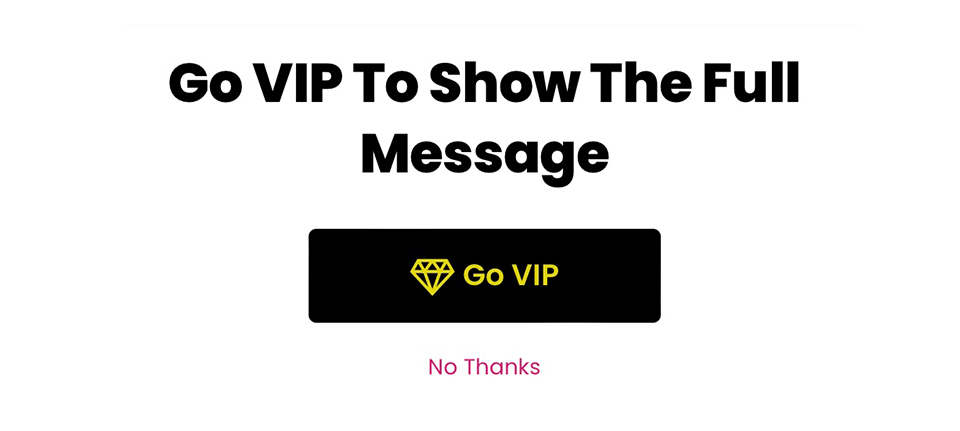 With the number of sites out there these days, it really comes down to your personal preference for which one you choose to use. There are many other sites out there that do the same as RandyRabbits.com in aiding users to find a quick casual bit of fun. But from our personal experience and research, you can feel assured that you are not being swindled out of your hard-earned money on this one.
Our Tips
Tip 1 - Make yourself familiar with the T&Cs before anything else. It is so vitally important to be aware of what you are agreeing to while online.
Tip 2 - Keep an eye out for those 'Staff profiles'. Do a quick verification to make sure that who you are talking to, really is who they say they are.
Tip 3 - Don't share your banking details, personal contact information, or physical address with anyone online. Be sure to keep your personal safety at the forefront of everything you do.