Shag2Night Review
Verified Review
Published: 9th December, 2022
Shag2night Introduction
Welcome to Shag2Night, a cheeky adult website founded in 2009 and operated by Skyloop Digital Ltd. Many other Shag2Night reviews get their knickers in a twist and call the website a scam. But anyone with two working eyes and the ability to read can tell that the website does exactly as advertised.
In short, Shag2Night is the perfect fantasy chat platform for anyone who wants to spend an exorbitant amount of money to have fake women tell them how horny they are getting for them. They say don't judge a book by its cover, but when an online chat site advertises "find your next online contact today!", then that is what you are going to get. Purely online-only contact. If you were hoping to find a hookup, sure it might seem like a scam, but they do not at all claim that any one profile was created by a real woman. We'll dive into more detail about this later!
So hold on tight as we go on a fun and interesting exploration together to uncover what you can realistically expect from Shag2Nite. We answer the question of is Shag2Night legitimate and discuss what you should keep in mind before deciding to register with it.
What Type Of Dating Site Is Shag2Night?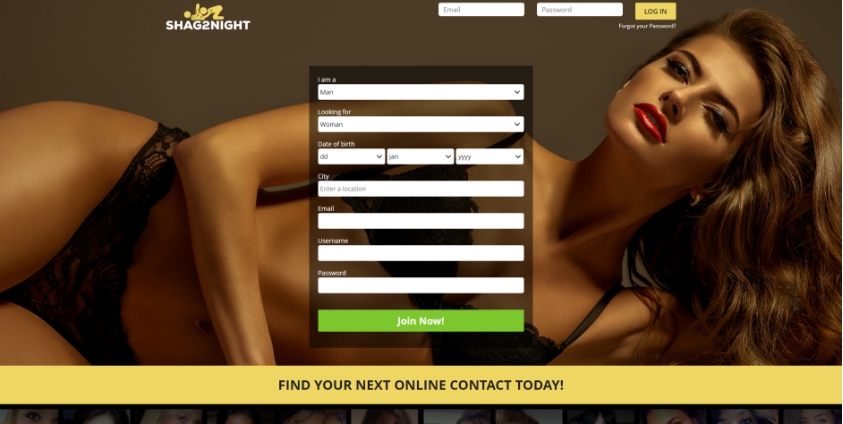 Fantasy adult chats
Online-only relationships
Sex flirts
The site does not beat around the bush in making sure that its members are well aware that this is an online-only chat platform, and that real-life meets are not possible with any of the fictitious profiles.
Who Is Shag2Night.com For?
Straight men
Lesbian Women
We found the site to be populated 100% with female profiles! Even though straight women who are looking for chats with men can sign up and create Shag2Night accounts too, they will also only be shown female profiles to chat with - the search bar doesn't even have any other options other than "Find me a woman".
Stats & Infographics Of Shag2Night.com
Considering the nature of the website and the overall negative stance of other Shag2Night.com reviews, we were surprised to find that the site still gets almost 1 million monthly visits. And users spend on average 10 minutes online at a time.
Male - Female Ratio
Age Demographics
Country Distribution
While the site is specifically targeted toward UK men, men from anywhere else in the world are also able to create an account here. All you'll need to do is select any UK location when you register, even if that's not where you are from. It's all just a fantasy anyway.
Registration Process Of Shag2Night
The entire registration process is simple and straightforward. If it's your first time visiting the website the Shag2Night login page will pop up with a notice asking you to confirm that you are over 18, that you understand that profiles are fictitious, physical meetings are not possible, and that you have read the terms and conditions.
After you've confirmed the above, you will be asked to fill in some basic details about yourself to create your profile. What you'll need to fill in is:
Your sex
What sex you are looking for
Your date of birth
What city do you reside in (This has to be within the UK)
Your email address
A username for your profile
A password for your account
You'll then need to confirm your email address, username, and password, and once again that you have read the terms of conditions before continuing. And that's it. Filling in the rest of your profile is completely up to you and totally optional (and unnecessary if you ask us). We kept our profile empty for three days to test and received 17 messages and 26 flirts from very eager female profiles.
The optional profile information that you may choose to add is an "about me" text which is a short description of yourself in your own words. You can also fill in some personal information which includes your appearance, marital status and smoking habits, your sexual interests, and a profile picture. But again, these aren't needed to catch anyone's attention.
Shag2Night Mobile Application / Compatibility
There is no Shag2Night app available at the moment! The site is however optimised to work just as well on mobile phones and tablets as it does on desktops. We found the overall user experience of the website very user-friendly with an effective and simplistic overall design that made navigating a breeze. At the top of the screen, it shows the site logo with the three most popular token packages, and the primary tab is found on the right-hand side of the screen where you can easily navigate between the different site pages. The simplicity gets a chef's kiss from us.
Men Vs Women On Shag2Night.com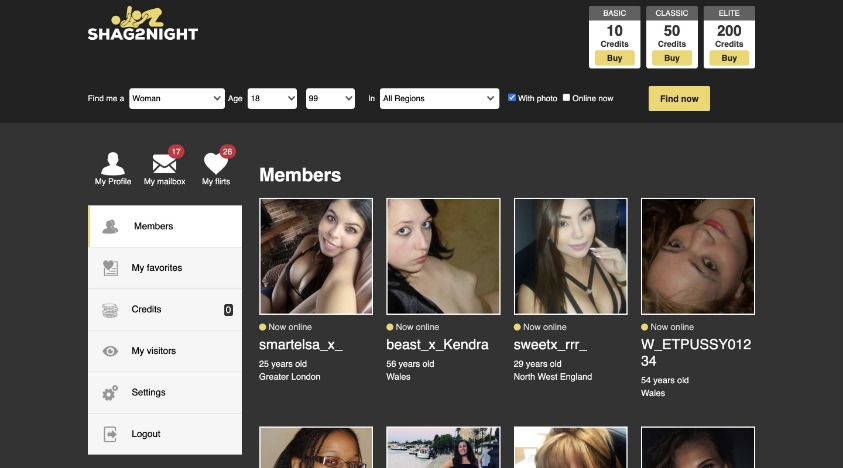 The signup process, token prices, and overall experience are exactly the same for men and women. And we mean EXACTLY the same! Whether you create your profile as a woman or say that you are looking for a man, you will only ever be shown female profiles on your members' page. As mentioned before, the search tab does not even allow you to search for men. We even went deep into the settings, played around with our personal details, and toggled what we were looking for from there to see if anything would fix this. But we were only ever shown the same catalogue of women.
This is not all that surprising when you take into consideration that this is an obvious fantasy chat website specifically targeted for straight UK men to use. So, lesbian women would do fine here too, but it would have been nice to have at least a couple of fake male profiles for the few women who want to get swooned, Mills & Boon style, by handsome men online.
Shag2Night Top Features
In all honesty, Shag2Night does not come with any stand-out features per se. It's a straightforward platform that shows a collection of fictitious 'local' female profiles who you can have fantasy chats with. That really is all there is to it. But we did like a few touches they added!
Sending Flirts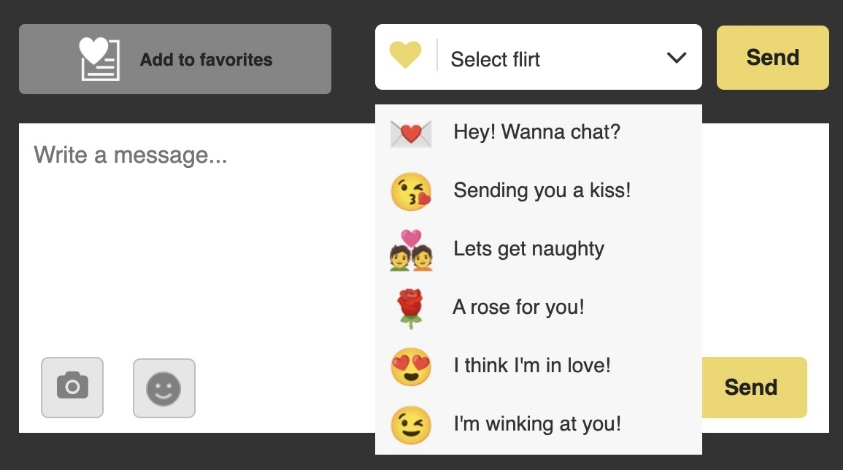 Flirts on Shag2Night are a bit more personal than what you might get on other chat sites. You can choose to send a "Hey! Wanna chat?", a "Let's get naughty", or even an "I think I'm in love!". But our favourite is to send "A rose for you". Sending a flirt costs the same as messages though, so use them sparingly.
In-Depth Fantasy Creation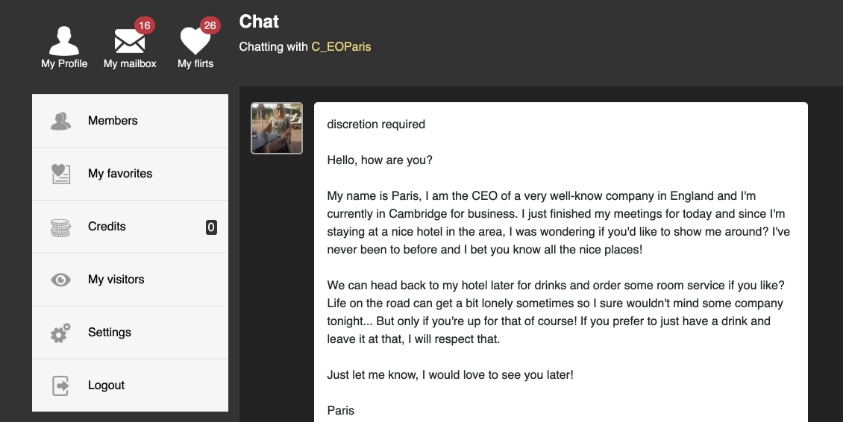 This is what the website is all about so you bet they will be good at it. One of our first encounters on Shag2Night.com was an in-depth setup for a good fantasy chat, there was a back story, there was interest, and we wanted to dive right in. Not all chats are equally great though (the computer-generated messages can only do so well), so choose your fantasy wisely.
Shag2Night Offers, Prices & Costs
Credit Package
On Shag2Night.com each message you send will cost one credit. The price of each credit depends on the size of the credit package you decide to buy. The more credits you purchase at a time the cheaper each credit, and subsequently each message, will cost. There are no recurring costs and when your credits run out you will need to manually load more to be able to send more messages and flirts.
Credit Prices & Costs
Credits
Messages
Price
10
10
£15


(£1.50 per message)

25
25
£35


(£1.40 per message)

50
50
£65


(£1.30 per message)

100
100
£120


(£1.30 per message)

200
200
£200


(£1 per message)
Credit Package Perks Included
There are no extra perks that come with buying credits. It's rather straightforward. If you want to send messages or flirts to anyone you need credits, and that is all the credits allow you to do on Shag2Night.
Shag2Night Pros & Cons
Pros
Simple user-friendly website design
No ads
Thousands of fantasy chats to choose from
Anonymous billing
Cons
There are no men in the pool of fictitious profiles
Messages are very expensive to send
Shag2Night.com Safety & Security
Fake Profiles
The site does not at any point claim that there are any real members. They actually make it very clear (on the landing page, at the bottom of the login page, and in the terms and conditions) that profiles are fictitious, for entertainment purposes only, and that it is not possible to meet up with anyone from these fake profiles.
The terms and conditions even state that while most messages are processed through third-party moderators, some messages (especially the first few you receive) are entirely computer-generated messages to encourage chat participation.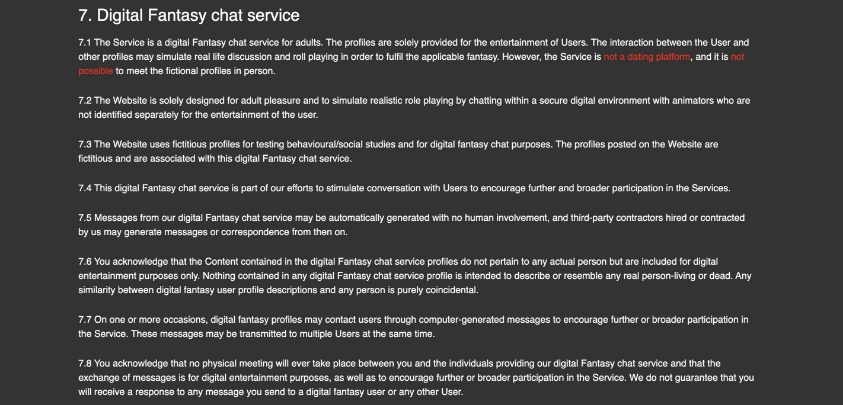 Third Party Involvement
Shag2Night shares your personal data with third-party service providers who process this data on behalf of Shag2Night.com. These third parties mainly include external hosting providers that store and manage the site's data, traffic monitoring analytic tools that use cookies to track trends, and other parties that take care of specific tasks. These tasks include IT support, email marketing, customer service, and most notably the moderation service (which is the chat function).
Conclusion
There you have it, an open and honest Shag2Night review. So is it a scam or are people just not reading the label on the tin? We agree the name may be a bit misleading, but at every other opportunity, the site does say that this is not a platform for meeting anyone in real life. Perhaps it should rather be renamed to Spam2Night for all the messages you'll be getting.
It's definitely not the cheapest kink to have, but if you can afford it and are into only having a 100% online fantasy chat with flirty female-presenting profiles then why not give Shag2Night a go? Not everyone has the confidence of Adonis to walk up to a complete bombshell at the pub anyway, and that's fine. Sometimes it's better and more fun to have a naughty alter ego online.
Shag2Night Tips
Be selective who you chat with. It's not cheap to keep a conversation going here so wait a few days and see who reaches out to you. Then have a quick look through the messages and choose one fantasy chat to continue with.
Make each message count. What's the point of spending all that money on messages just to say Hey? If you are going to dive into it then dive in deep and send longer more engaging messages that further the chat and help expand your fantasy to the next level.&nbsp
Turn your notifications off. Your inbox will be filled to the brim with notifications for messages, flirts, views, etc, so rather go into your settings and disable all email notifications. This is all just fantasy chats anyway and rather than being constantly reminded of messages waiting for you, it's best to log in when it suits you. Believe us, there will always be someone to chat with.
FAQ
Is Shag2Night Real?
Yes, the site is very real and you will be able to have online fantasy chats, as is stated on their landing page as well as their terms and conditions. The female accounts who populate the site are however all part of a well-catalogued set of fake profiles used for online entertainment purposes only, and some messages are computer generated.
Is Shag2Night A Scam?
Not at all. If you were wondering "is Shag2Night legit", it doesn't take more than a few minutes to read what they offer and you'll notice that what you see is what you get. It definitely isn't for anyone who wants to hook up in real life though.
How Can I Delete My Shag2Night Account?
Go to your settings on the navigation tab on the right-hand side of the screen, click "Delete my account", and select "Confirm".