IAmHorny Review
Verified Review
Published: 21st September, 2022
Iamhorny Introduction
In 2022 it's easy to think that finding sex online will be as simple as googling what you are looking for. But the reality is that it's just as difficult as before.
The online adult dating market can be quite tricky, there are hundreds of sites around but a lot of them tend to be hookup sites riddled with scammers. Not to mention that most have almost no female members, so unless you're after a man, you will have no luck.
One site that claims to be different from the rest and helps find a sex date in your area is Iamhorny. This hookup site has a slick design and looks attractive from the onset. But is this just another site set up as a scam to take your money and get you no results?
In this Iamhorny review, we will find out whether I am horny is really legit, go over the site's features and even provide you with tips in case you want to use it. We will give you a complete breakdown so you can really find out if this site will genuinely be for a horny devil looking for fun.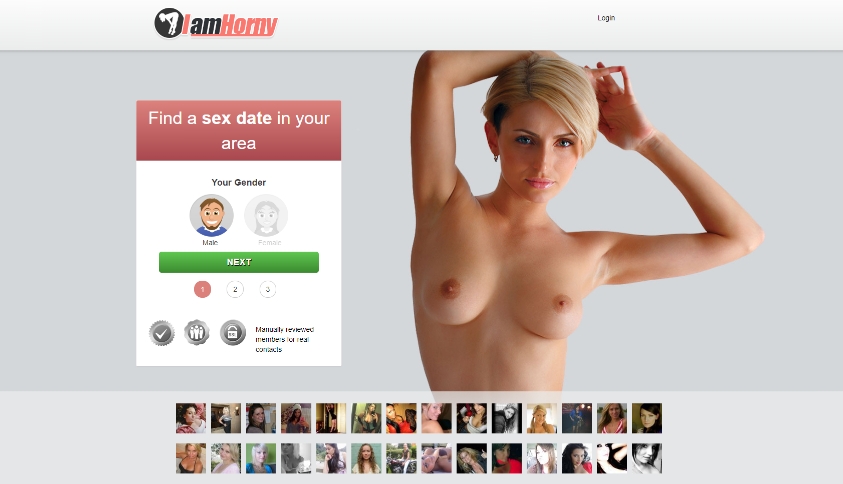 What Type Of Dating Site Is IAmHorny.co.uk?
• Casual dating site
• Hookup site
• Fetish site
Who Is I Am Horny UK For?
• Singles looking for sex
• Singles looking for threesomes
• Couples looking for threesomes
• People with fetishes
• Heterosexuals, Gay or Bi individuals wanting sex
Stats & Infographics
• Only available for UK members
• Only available in English
• Mostly popular amongst the 25-35 age group
IAmHorny Registration Process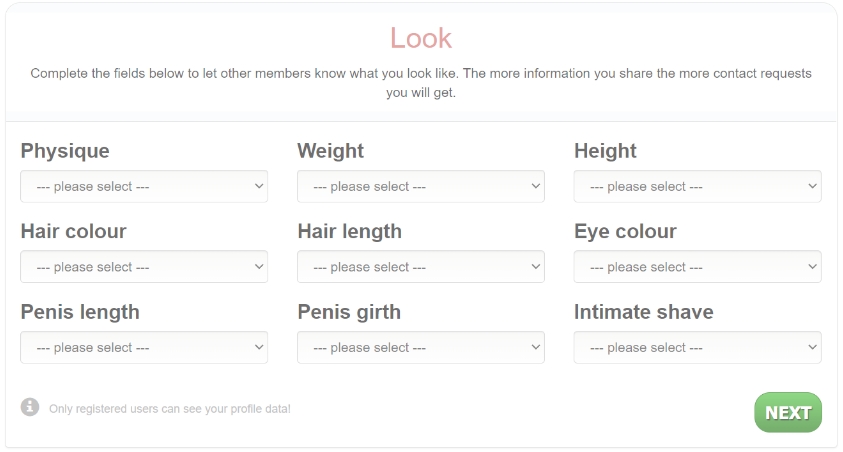 Registration on the Iamhorny dating site is simple, quick, and free. You will need an email address to begin the registration process and validate your account.
Verifying your account to get an Iamhorny login is pretty simple, just click on the link you've received via email. If you don't receive the validation email, check your spam box just in case.
After validating your account, you will be redirected to the Iamhorny dating site. There you will need to provide some information to complete your profile such as your sexual preferences.
Some of the information requested is optional, but we recommend that you fill it out completely. Otherwise, you won't be able to fully view someone's profile later on when searching for matches on I am horny.com.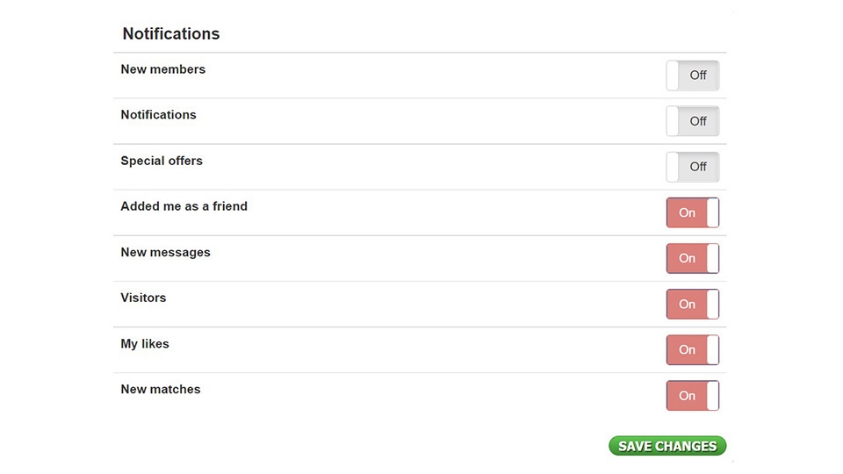 Once done, to avoid being spammed by Iamhorny, we recommend that you edit your notification preferences before you start browsing the site.
The notification options are located at the bottom of your settings, which can be accessed by clicking on your profile image at the top left-hand side of the homepage.
Top 3 IAmHorny Features

Search Feature
Iamhorny's search function is very user-friendly, thanks to the site's sleek design. Right from the start, you won't be left wondering how to find potential Iamhorny members to match with.
Even if the search options appear to be limited, you can still find horny people near you with minimal effort. To make the most out of this useful feature, navigate to the Iamhorny site's left-hand menu and select search.
My Matches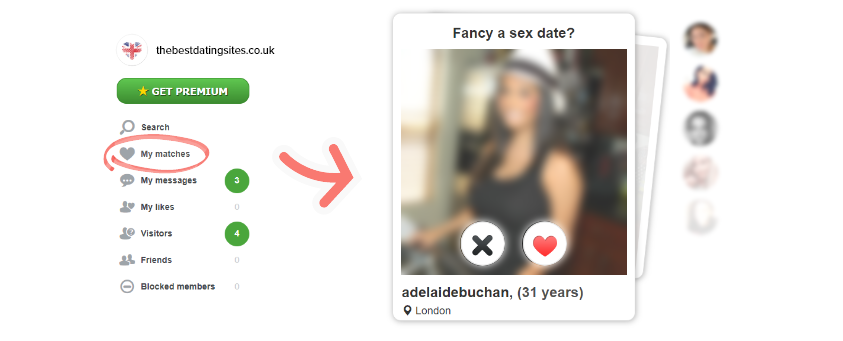 If you're looking for a quick sex date, the "my matches" function is for you. It's a very self-explanatory feature, and all you have to do is select "my matches" on the left-hand side menu of the Iamhorny dating site.
Profiles of potential matches will then appear. You can choose whether to have a sex date with the person by clicking the "heart" icon to indicate your interest or the "x" icon to move on.
Friends

Iamhorny deletes messages that have not been read within 30 days. So, if you want to try out the site before paying, you might miss out on a chance to meet someone who contacted you.
You can avoid this by using the "Friends" feature, which means you can add any crush to a friends list and get in touch with them later.
To add Iamhorny members to your friends list, just go to their profile and click on "add friend" on the top menu of their profile. If you want to see everyone you've added or the people that added you, click on the "friends" option on the left-hand side menu.
How Much Does IAmHorny Cost?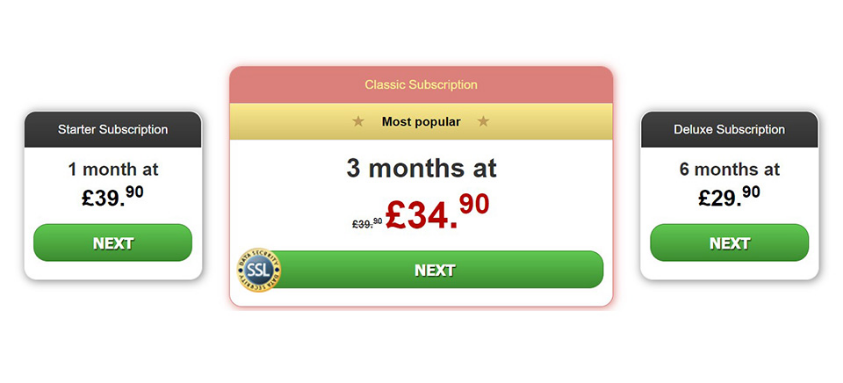 Iamhorny offers three different monthly subscription packages. One month, 3 months and 6 months, the three month subscription being the most popular out of all of them.
Although their premium packages come with a number of advantages, the two most important ones are the ability to send or read messages from other users and view visitors to your profile.
However, Iamhorny.co.uk only accepts credit cards as payment; other payment options are not supported. Also, be aware that Iamhorny has an auto-renewal feature that will charge your card once your current subscription expires.
You can only stop auto-renewal by cancelling your membership package, but you can still use it up until the expiration date.
To cancel your membership you need to email Iamhorny at support@datingcustomercare.com. The cancellation request should contain your full name, the service used, the e-mail address used for registration and your user name.
Pros & Cons
Pros
Layout and design
Basic interactions
Sex Date Guarantee
If you're new to online hookups, it can be overwhelming to sign up for and use most mainstream sites around. Most will have a lengthy registration process and you need a map to navigate the site.
But on Iamhorny.co.uk, you won't have that problem because the site has a slick and simple registration process and instinctive layout and design.
Whilst using Iamhorny you will also find that interacting with your crushes is fun and you are offered lots of different options such as sending them likes and winks.

The sex date guarantee is another advantage of using Iamhorny. If you pay, you're essentially guaranteed your money back if you don't find a sex date. Just keep in mind that there are some terms and conditions that come with it.
Cons
Fake profiles
No verified profiles
Difficult to cancel auto-renewal and delete profiles
On the other hand, the experience of using Iamhorny is severely let down due to the site being riddled with fake accounts.
After registering, our reviewers received a large number of messages from female users. Often these messages would start with the profile username we created. However, the profile our reviewers created had usernames that were very long and filled with numbers.
This behaviour is very unusual, especially when we inserted a clearly readable first name within the profile username. Another red flag that an Iamhorny scam might be at play is that female profiles have photos that look like they were professionally taken.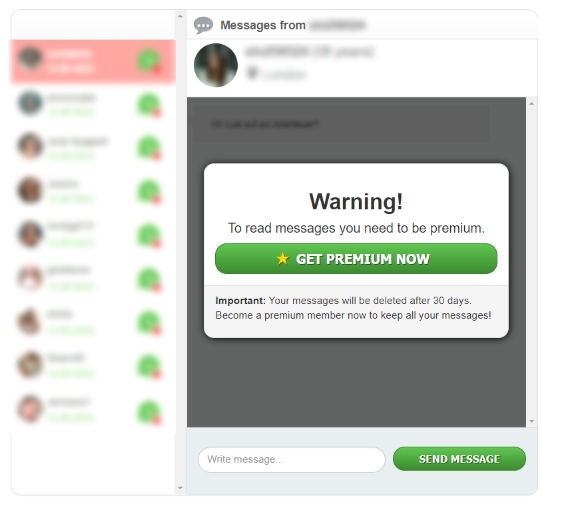 Likewise, Iamhorny has some verification features that allow users to prove that they are real. We didn't find a single verified profile among the hundreds we checked.
It is also difficult to cancel the auto-renewal feature and the only explanation we found for cancelling was in the terms and conditions.
Deleting a profile is also not easy and is not available in your profile settings. We had to read the terms and conditions again to figure out how to delete a profile.
Please see our tips section if you want to go ahead and delete your Iamhorny profile.
Safety & Security On IAmHorny.co.uk
Iamhorny appears to be a secure website, they are based in Switzerland and any data they store is kept within the European Economic Area.
However, Iamhorny is not completely risk-free, for example, Iamhorny.co.uk has terms that allow them to do whatever they want with your data. So if you want to be discreet, be very careful as to what you upload on your Iamhorny profile, you could be exposing sensitive personal information.
Another concern over potential risks was one term which allows the parent company dateblaster to use external contractors to provide services on their websites.
As a result, when considering the numerous fake profiles we encountered, that term raises concerns about the Iamhorny's legitimacy.
Conclusion
Overall, registering and using Iamhorny is a very simple process. Its user-friendly features are especially useful if you want to find easy hookups online.
Engaging with other members is also very uncomplicated, and Iamhorny.co.uk provides a variety of tools to help you interact with its membership. Reading messages from other Iamhorny members, on the other hand, requires a fee. The prices offered aren't cheap when compared to other competitor sites that have a much larger membership.
If you do decide to pay for a subscription, it is difficult to cancel and also has an auto-renewal feature. Furthermore, when you consider the numerous fake profiles, it does not appear to be a good value for money and raises some red flags.
This is especially true when some terms and conditions are considered, such as external service providers contracted by Iamhorny's parent company dateblaster.
On the plus side, Iamhorny offers a sex date guarantee, implying that they seem genuine and want to provide a good experience for their users. Although Iamhorny is not of the heavy hitters amongst their peers they still offer a unique layout and design that's extremely intuitive.
For some, the site could be a genuinely good experience, so if you're thinking "I am horny, I fancy a bit of fun," this could be your go-to site to curb your horniness.
Tips
If you want to be discreet when registering, be careful with the information you upload.
If you subscribe be aware that the site has an auto-renewal feature.
Read the profiles properly and be careful responding to possible fake members.
If you want to delete your profile, you can do so by going to the bottom of the homepage, and selecting support. From there, select the "membership" option, followed by "how do I delete my profile" and then you will be presented with further instructions.