Seeking Arrangements Review (Seeking.com)
Verified Review
Published: 9th December, 2022
Last Updated: 9th December, 2022
Seeking Arrangements Introduction
Seeking (formerly known as Seeking Arrangement) was founded back in 2006 by Brandon Wade in San Francisco. SeekingArragement was first and foremost a dating site for finding authentic connections based on success-minded interests. Seeing as how "sugar dating" has taken on a bit of a negative light in recent years, the dating website has since started to promote itself as a way to elevate your life by "Dating up" (which is also the website's sign-up slogan).
With more than 36 million worldwide members, Seeking has created a well-established community of singles looking for financial relationships. The site urges you to set boundaries, effectively offering a unique dating experience to their users. It's not only a good place for successful members to find attractive individuals to spoil, but also where attractive people can improve their lifestyle.
Other Seeking Arrangements reviews only really cover what it's like for successful members, and barely go over what attractive members can expect. We go a bit further into detail so that you are in the loop with everything about the site. Whether you are looking to sign up as an attractive member (someone looking to upgrade their lifestyle) or a successful member (someone with the financial stability to do so), read further to find out the exact differences in experiences and prices for each, something you won't find anywhere else!
What Type Of Dating Site Is Seeking Arrangement?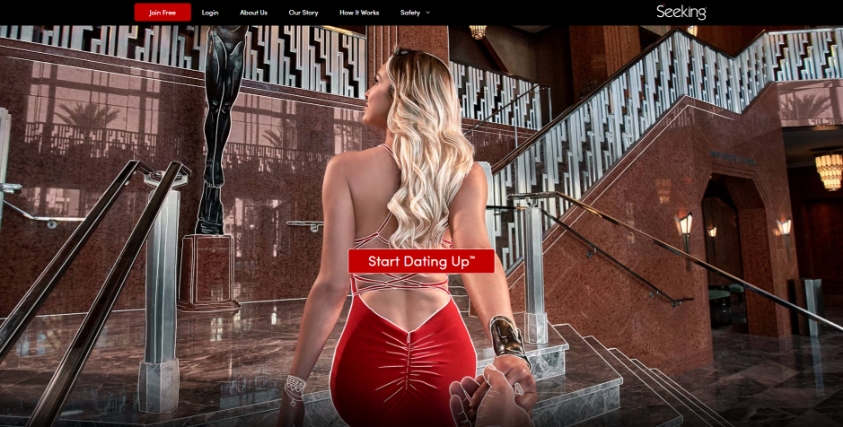 Dating up
Luxury dating
Serious Relationships
Chatting
Hookups
Seeking is all about 'dating up'. They have distanced themselves from the negative connotation of being a sugar dating site and have rebranded it as a more exclusive platform for anyone who wants to upgrade their dating lifestyle.
Who Is Seeking Arrangements For?
Straight
Gay
Lesbian
Bi
Singles
Trans
While there is no specific selection when registering, any trans person can mention that they are trans in their profile later on, should they wish to mention it at all. All SeekingArrangement members are also able to select from their interests later on whether they are interested in trans people so you still have some good overall representation here.
Stats & Infographics Of Seeking.com
Male - Female Ratio
Age Demographics
Country Distribution
Seeking Arrangement Login Process
Registration on Seeking Arrangements is completely free and to start the process, simply click on "start dating up" in the centre of the screen. To get your SeekingArrangement login going, you'll then have to complete six steps:
Specify whether you identify as a man or a woman
Whether you are interested in men, women, or both
If you are looking for a successful member or an attractive member
Your email address
Password
Date of birth
To save time, you can complete the last step by signing up through your Facebook profile.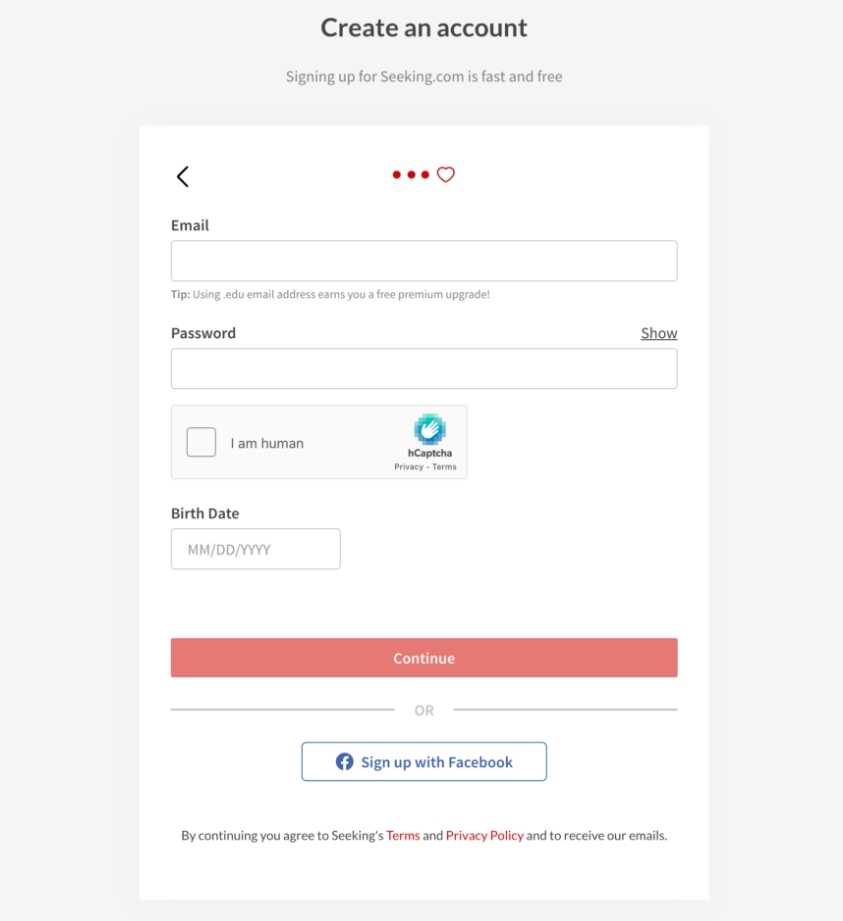 Their definition of a successful member is someone charming, generous, and any individual looking to enhance another's lifestyle. While an attractive member on Seeking Arrangements is a beautiful or handsome individual who brings excitement into the atmosphere. Basically, they want to know if you are bringing looks or money to the table. Keep in mind that when you select which type of member you are looking for, the site automatically assumes that you are the complementary type of member. Therefore if you select that you are looking for an attractive member, you are automatically signing up as a successful member.

Once completed, you need to go through another multi-step process, this time there are seven Seeking Arrangements login steps. You can skip any of the steps and come back to it later if you so choose.
Username & Profile Photo: First, select a username and add a profile photo. If you are unsure of what will work best you can click "suggest" and the site will generate a random username for you. It creates rather fun usernames like "HystericalDuke", "WinningPup", and "AstuteDoctor". There is also a handy 'photo help and guidelines' tool to make sure you add the right kind of photo. Before skipping this step keep in mind that only Seeking Arrangements profiles with photos can get discovered.

Age & Location: The second step asks about your birthday and location. Your birthday is automatically entered from the date of birth that you gave earlier and your location can be anywhere in the world as Seeking Arrangments is an international site.
Appearance: Step three asks about your appearance, including your height, body type, and ethnicity.
Background: In the fourth SeekingArrangements step you can enter your level of education, your current relationship status, if you have children, and whether you smoke or drink.
Finances: In step five you are asked about your finances. Seeking Arrangment asks you to enter what your current net worth is valued at, and what your income is per year. Remember that this is first and foremost a finance-based dating site, so being honest here is key.
Relationship Aspirations/Goals: In the second to last step, you can select up to 7 tags that describe best what you are looking for. Options range from 'True Love' to 'Luxury Lifestyle'. There is also an optional tab where you can describe the sort of relationship or arrangement you are interested in finding on Seeking.com.

Profile Completion: The final step is to add some finishing touches to your profile. Here you can add a profile heading as well as write a short description to tell possible matches a bit more about yourself. Having well-thought-out and witty Seeking Arrangements headings on your profile are key to catching someone's eye.
After completing the Seeking.com login process, your profile will be successfully created. You'll then be free to explore the site and get an idea of what you can expect to find. If you have signed up as a successful member you won't be able to contact any other members until you have signed up for one of the subscription packages. Attractive members only need to have a completed profile and a verified email to start sending messages.
Seeking Arrangement App & Mobile Compatibility
You might end up deleting Tinder after getting the Seeking Arrangements app. The dating platform is becoming so mainstream that it could just be the next best way to find the perfect partner for you.
While the Seeking Arrangements app does not differ all that much from the website layout, it is still a good service they provide. The app is well-designed, easy to use, and allows for all the great features you would find on the desktop version. Taking into consideration that a lot of their users are 50+ they made sure that the fonts and images are clearly visible and easy to view.
The only drawback is that the Seeking app is only available on Google play for android users. It has been removed from the Apple App Store as they claimed it promotes prostitution, which could not be further from the truth. This is also clearly stated in Seeking.com's rules and regulations.
There is however a simple solution for those on an iPhone. All you need to do is create a Progressive Web App (PWA) manually which works seamlessly on iOS. To create the PWA on your phone's Home Screen, all you need to do is join or login to Seeking Arrangement.com via your mobile browser. From there you can click on the "Share" icon below the URL at the bottom of your phone's browser, scroll down, click "Add to Home Screen", and click "Add". A "Seeking" icon will appear on your Home Screen like any other app and it will take you directly to your Seeking Arrangement profile.
Men Vs Women On Seeking Arrangements
Your experience on the Seeking Arrangement website won't exclusively depend on your gender. It will be mainly influenced by whether you registered as an attractive or successful member. It is easy to assume though that attractive members are mostly women, while successful members are mostly men. Either way, it seems that Seeking offers equal quality matches for both the men and women on the site.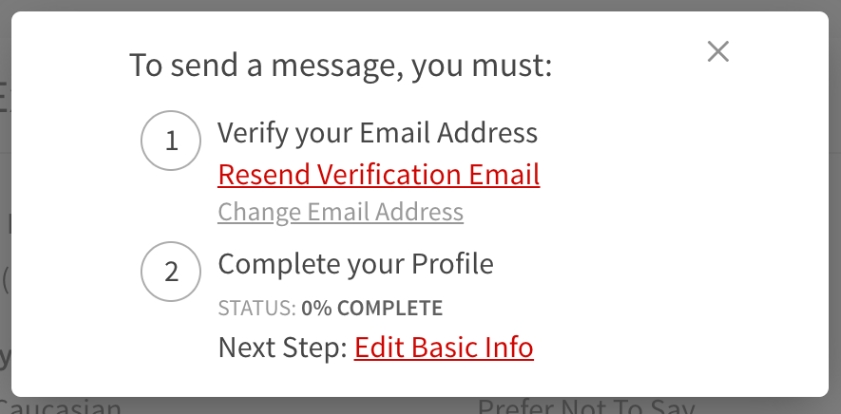 The sign-up process is the same for anyone who joins the Seeking Arrangements website and everyone can (and probably should) get ID-verified to get the badge that lets others know you are the real deal. Women (attractive members) are also able to set up a convenient wish list of things and gifts that any potential match might be able to purchase for them. What better way to impress than to have a complete outfit bought for you to wear on your first date?
Seeking Arrangement Top Features
Gift List
On a site that's all about updating your lifestyle, being able to have a potential match buy you something nice just makes sense. SeekingArrangements.com makes it possible for attractive members to put together a wish list and any successful member who wants to make an impression can buy gifts for them.
This is a great way that men can treat someone they are truly interested in. Making a big splash from the start will show that you are pretty serious and that you aren't around just to play games. It's the perfect way to set yourself apart from the rest of the successful members on the Seeking dating site. And ladies don't need to be worried because your private information, like your shipping address, is kept completely safe and private.
In-Depth Search Functionality
You won't need to spend hours sifting through thousands of Seeking Arrangement profiles with their robust search function. It only takes a few clicks to find exactly what you are looking for. You can narrow down your search parameters based on any of the pieces of information members provide when they first sign up.
The function even lets you search for only those profiles that are verified, are premium members, or have viewed or favorited your profile. You can save your SeekingArrangement searches to come back to them later. That way you won't have to worry about using the filters again.
Want to make sure you find someone compatible? You can even ask to NOT be shown members who are looking for a certain relationship that you aren't interested in. Don't want to see users who are looking for friendship, then filter them out. Easy peasy. Keep in mind that some of these advanced filter functionalities are available only to premium Seeking members
Seeking Arrangements Vibes
This feature was still in Beta testing but we already found so much value in it. To create a Seeking Arr Vibe you click on the "plus sign" next to your profile icon in the top-right corner of the screen. From there you will be able to take a photo or video that will be public to all others members for 24 hours. Think of how Instagram reels work and you get a pretty good idea of what vibes are all about.
This is a great tool to show other members who you are and what you get up to on a daily basis. But unlike how it is on social media platforms on Seeking Arrangements your vibe has to be created in the moment which gives it a more authentic feel. Other members' vibes will be shown at the top of your screen when you are on your Members page, but you'll have to create your own vibe first before you can see what other members are getting up to.
Video Chat
What better way to upgrade the chat experience with someone you are already in contact with than with a cheeky video chat? Seeking Arangments offers its premium members a very self-explanatory Video chat feature.
This feature is only available to women (attractive members) with verified email addresses and approved photos, and men (successful members) with a premium subscription. When you're in a chat with another member, you'll notice the video camera icon at the top right corner. This SeekingArrangement feature allows you to invite the person for a real-time video call with a simple click.
Voice-Activated Safety Features
Seeking has partnered up with UrSafe to introduce its voice-activated safety features. These innovative features include the ability to allow friends to track your location virtually, make fake phone calls, send emergency SOS alerts as well as do safety checks.
This is a great add-on above and beyond the extensive security and safety checks that members have to go through to make sure they are genuine while online. For anyone a bit nervous to venture into the world of 'dating-up' they should be at ease to know that the Seeking dating app does its best to keep its members safe at all times.
Seeking Arrangement Cost Of Packages & Offers
Attractive members (whether they are men or women) have free access to 100% of the Seeking Arrangement website and all its features. For any of them to have access to the free service they only need to verify their email address and have a completed profile.
Attractive members also have the option to upgrade to a premium membership to access the benefits. Attractive member memberships are either a 30-day or 90-day recurring subscription, or a once-off 90-day membership package (Much cheaper than successful member's package prices).
Successful members are able to browse the SA dating site, use search, and view visitors and favourites lists for free, but are required to upgrade to a premium membership to send messages to other members. Successful members have the option of upgrading to either a Premium or Diamond membership. Premium memberships are either a 30-day or 90-day recurring subscription, or a once-off 90-day membership package.
Diamond memberships are either a 30-day recurring subscription or a once-off 30-day membership package. Diamond members get the same perks as premium members but it is more of a show-not-tell thing to let attractive members know that your actions speak louder than words. It is useful only to get the diamond badge to show that you can afford the $274.99 price tag, and for your SeekingArrangement profile to be ranked higher - but it does not add anything else of value.
Attractive Member Premium Package
Apart from the one-time 90-day offer, Seeking.com gives attractive members the choice of a 30-day and a 90-day recurring subscription for their premium memberships. Both subscriptions auto-renew after their respective periods have run their course, and give subscribers the same premium benefits. The 90-day once-off package allows you a hassle-free experience where you won't have to worry about being billed automatically. Conveniently enough the one-time package is the same price as the subscription.
Attractive Member Premium Package Prices & Costs
| Premium | Price | Total |
| --- | --- | --- |
| 30 Days Subscription | $19.99/30 Days | $19.99 |
| 90 Days Subscription | $15.00/30 Days | $44.99 |
| 90 Days Subscription (once-off) | $15.00/30 Days | $44.99 |
Attractive Member Premium Package Perks Included
Advanced privacy
Advanced search filters
Inbox filters
Saved member notes
Read message receipts
Ad-free experience
Successful Member Premium Package
Apart from the once-off offer, Seeking.com gives successful members the choice of a 30-day and a 90-day recurring subscription. Similar to attractive members' packages, both of them auto-renew after their respective periods end.
The once-off package allows you a hassle-free experience where you won't have to worry about being billed automatically. It has the same price as the 90-day subscription but successful packages are still a bit more pricey than attractive ones.
Successful Member Premium Package Prices & Costs
| Premium | Price | Total |
| --- | --- | --- |
| 30 Days Subscription | $109.99/30 Days | $109.99 |
| 90 Days Subscription | $96.66/30 Days | $289.99 |
| 90 Days Subscription (once-off) | $96.66/30 Days | $289.99 |
Successful Member Premium Package Perks Included
Unlock your conversations to send and receive messages
Boost your profile
Inbox filters
Save custom search filters
Advanced search filters
Can have up to 3 profile locations
Read message receipts
Keep notes on members
Privacy options: hide your online status, join date, and last login country
Ad-free experience
Successful Member Diamond Package
The diamond package is for anyone who wants all the perks of being a premium member but with the added flashiness to show that they really can spend money. Think of it like the Rolex of Seeking memberships.
Successful Member Diamond Package Prices & Costs
| Diamond | Price | Total |
| --- | --- | --- |
| 30 Days Subscription | $274.99/30 Days | $274.99 |
| 30 Days Subscription (once-off) | $274.66/30 Days | $274.99 |
Successful Member Diamond Package Perks Included
All premium membership benefits
Diamond badge to stand out across the site
Up to 20X more responses from attractive members
Feature prominently on attractive members' dashboard
As a quick side note: Currently, Seeking Arangement is not able to accept European-issued American Express or Diner's Club cards. But you can use any Visa, Mastercard, Discover, GooglePlay, or prepaid cards. They also do not refund premium memberships, so should you choose to delete your account permanently you will lose any unused time left on your premium account.
Seeking Arrangements Pros & Cons
Pros
Income verification and background checks are available (The more trusted your profile looks, the more likely you are for someone to reach out).
Anyone on an attractive member profile gets 100% full access.
Seeking has a super-active community that spans the entire globe.
Seasonal sales and discounts (this goes for both new and existing members, so keep an eye out for those discounts).
Cons
Abandoned profiles don't get deleted (you might be browsing past a few profiles from women who haven't been online for years).
It can get a bit expensive (Especially Diamond membership & gifts)
Prime environment for scammers (they still slip through the cracks so you'll need to keep an eye open).
Not ideal for anyone looking for anything other than luxury dating.
Seeking Arrangements Website Safety & Security
The SA Dating Fake Profile Prevention
Anyone who has been on a dating platform in the past few years has in one way or another, come across a fake profile. It is unfortunately what we have to deal with and it can also be a tricky subject to bring up. However, Seeking makes things a bit easier for you. Their profile verification and background checks are a welcome addition to the online dating world.
Especially on a site like Seeking Arrangements, where money is involved you always want to make sure that you are talking to a real person. And that the person you are talking to really is who they say they are.
On SeekingArrangement there are 6 types of verification available and a logo on a member's profile will highlight blue for each verification they have completed. These include:
ID verification
Background check verification
Independent photo verification
Facebook verification
Instagram verification
LinkedIn verification
If someone has not been background verified yet you can request them to get verified, and your search filters allow you to only see verified members.
General Safety and Security On Seeking Arrangments
Seeking takes its members' physical safety just as seriously as it does its online security. The website offers its users an extensive and well-put-forward set of tips to keep in mind when it comes to their general safety. These include what to think about when meeting someone from the site, how to take action when you notice a suspicious seeking arrangement profile online, how to prevent from being hacked or stalked, and even provides a hotline should you feel that you are the victim of human trafficking. These include:
What to think about when meeting someone from the site
How to take action when you notice a suspicious profile online
How to reduce the chances of being hacked or stalked
They even offer a hotline service, should you feel that you are the victim of human trafficking
We recommend that anyone active in the online dating world keep these things in mind at all times. Log in to your Seeking Arrangements account, scroll to the very bottom of the screen and click on "TIPS FOR DATING SAFETY" to see the full document.
Personal Information & Third-Party Involvement On The Seeking Dating App & Site
The Privacy Policy and Terms of Use of www.seeking.com are an extensive read and puts into black and white exactly why Seeking is one of the more trusted sites around. Each section of the Terms of Use is conveniently summarised to make it an easy read for anyone who does not feel like taking an hour out of their day, but still wants to know what's being mentioned in it.
The information that the site collects and uses is the same as what you would find on any website that is looking to improve their users' experience. Seeking Arrangement breaks down exactly what they do and do not track, what your cookies are used for, as well as their use of Google analytics. Nothing stood out as being suspicious and at every point possible they offer links where you can either opt out of having your information used or links to pages with more details about their exact third-parties' terms and conditions.
For even more ease of mind, should you have any questions you can contact the data protection officer or privacy officer of SeekingArrangement com directly via the following email addresses: datacomplianceofficer@reflexmedia.com and privacyofficer@reflexmedia.com. Or you can even raise a data inquiry via a request form at www.stared.com/reflex.
SeekingArrangement In Conclusion
The overall takeaway is that Seeking is well equipped to meet the needs of any sugar daddies or sugar babies who are looking to upgrade their lifestyle by 'dating up'. Whether that is dating a sexy person who lights up every room they walk into or looking for someone successful to spoil you rotten.
The overall experience of the Seeking Arrangement website will depend greatly on whether you sign up as an attractive member or as a successful member, and choosing to become a successful member will depend heavily on your budget. But on a dating site where success and money speak louder than words, if you have to ask whether the price is worth it, perhaps you should rather be asking if this is the right site for you.
The security features, background checks, and overall fake profile prevention should put anyone at ease as they will definitely be able to find legitimate secret arrangements here. The high cost of successful memberships also aids to filter out anyone who isn't serious about this kind of lifestyle. We hope we've helped you out, and that you never have to wonder "Is Seeking Arrangement legit?".
So why not register for yourself and see what 'dating up' really feels like? Life is meant to be enjoyed to the fullest after all, and on Seeking you are sure to find some great adventures ahead.
SeekingArrangement Tips
Try out the one-time premium package before opting for a subscription. Everyone has their preferences and it's good to make sure that you like what you get for your money's worth.
If you sign up with an email address ending in .edu you will get a free upgrade to a premium account. So, if you are still studying or remember your old university email, be sure to put it to good use.
Be upfront about your expectations. Being transparent about what you are hoping to find will save you a lot of time and time is money. Beating around the bush will not get you anywhere. So, if you are just on Seeking.com for a hookup, then say so.
Spend some time on your Seeking Arrangements profile. This might be true for all dating sites, but we think it's especially important on Seeking. Matches don't always come easy so it's essential to stand out of the crowd in a way that is authentic to you.
With the ratio of men to women tilting more towards male users, it would be a good idea for any man to consider signing up for a Diamond subscription.
Seeking Arrangements FAQ
What Is Seeking Arrangements?
Seeking Arrangements, currently known as Seeking.com, is a US-based online dating platform. The site clearly caters to individuals interested in sugar dating. It's not impossible to find people looking for love, however, it is clear that the site caters to prospective sugar daddies and sugar babies more than any other type of relationship.
How Does Seeking Arrangements Work?
Seeking works by connecting attractive members from around the world who are looking for special arrangements. The dating site provides an online platform to help you find a relationship that fits your lifestyle.
What Happened To Seeking Arrangements?
The URL was changed from SeekingArrangments primarily to distance the website from any association with escorting, human trafficking, or other illegal activities. The URL change happened at the same time as Apple's emphasis on not supporting sugar dating sites, and when the US brought into law the prohibition of online sex trafficking.
Is Billing Discreet On SeekingArrangment?
Yes, it is. You may see any of the following appearing on your credit card statements once you've paid for a premium membership: PF*W8TECH.COM, W8TECH.COM/SA, 2BUYSAFE.COM/W8TECH, 2BUYSAFE.COM/SA, *W8TECH.COM, AW*w8tech.com, SEEKINGARR, SA*W8TECH
Is Seeking Arrangements Free?
Yes, you can register as a member of the site without making any payments and use some of its services before signing up for a subscription. Attractive members get full access for free.
Why Do I Have To Get My Photos Verified On SeekingArrangment com?
Seeking Arrangement takes their member safety and security seriously and uses photo verification to ensure that every photo their members are using is their own and not there to deceive people.
Is Seeking Arrangements Safe To Use?
With the assistance of a third-party company, seeking arrangements does background checks and utilises multiple verification systems to make sure that their members are going about their dating life in a safe online environment.
Is Seeking Arrangements Legit Or Just Another Scam?
Seeking Arrangements is a legitimate dating site and according to them most people find success in 5 days. But like any online platform, there will always be a few fake profiles. The most important part is how well the site works to police these profiles that have slipped through the net. With their multiple verification systems, you can be more than confident that who you are chatting with will be a legitimate person.
How To Delete Seeking Arrangements Account?
While on the website: Log in to your Seeking account, click your username or thumbnail in the top right corner, select Settings from the drop-down menu, click the "Deactivate or Delete Account" button at the bottom of the page, and choose whether to delete or deactivate your account (You need to give a reason of why you're deleting your account).
While on the Seeking Arrangement App:
Log into your account
Click on the menu option at the bottom right-hand side of the screen
Select Settings
Click the "Disable or Delete Account" selection at the bottom of the page
And select your reason why
Does Seeking Arrangement Have An App?
The Seeking app launched in 2017 and is available for android users. There is no iOS app currently available, but Apple users can use the mobile-responsive website via their mobile browser and even create a PWA for easy access to the site.
Do I Have To Do A Verification Every Time I Log In To Seeking?
Seeking.com has recently updated its security and some customers have noticed when they use an incognito browser or a VPN that deletes browser history they are required to verify ownership with each Seeking Arrangement login attempt. To help with this we recommend using 2FA by using Google Authenticator. This will trigger a unique verification code that you can easily retrieve from the Google Authenticator app on each login and will secure your account.
Can International Members Get Background Verified?
Seeking Arrangements only offers background checks to members who are located in the US. The website is limited to service zones in which their processor OptimumScreening works.
Can I Change My Account Type From A Successful Member To An Attractive Member On SeekingArrangement?
If you have not upgraded to a premium account you can delete your account and sign up again. Otherwise, you can contact the site's Customer Support and let them know which account type you would like.
How To Get A Sugar Daddy On Seeking Arrangements?
There's no real guarantee you'll be able to find a sugar daddy on Seeking Arrangements. However, there are a few things you can do to improve your chances:
Register as an attractive member
Approach people who are explicitly looking for sugar babies
Fill in your profile with your preferences
Make sure to discuss your and their expectations so you're aligned with each other