Second Fling Review
Verified Review
Published: 15th February, 2023
SecondFling Introduction
In the vast and ever-growing world of online dating, there seems to be an app or website to fit anyone's needs. SecondFling is one of those sites that seems to fill a niche all on its own. Second Fling is first and foremost a digital platform, filled with 'animators' (as the site calls them) who engage only in fantasy roleplay-style erotic chats.
SecondFling was founded back in 2004 and is run by Digital Connex L.L.C, which has an entire selection of similar fantasy chat sites in its repertoire. Multiple other Second Fling reviews tend to berate the site for only being a scam, but we decided to give it a deeper dive and take it at face value for what it is. SecondFling should most definitely not be confused with the likes of Tinder or Bumble, because on Second Fling dating gets done a bit differently and you will never get to meet up with anyone in real life. But they are upfront about this. Our experience is that the site was transparent from the start as to what to expect. A fantasy sexting experience!
So for you to make an informed decision about whether SecondFling is the site for you, we signed up to get an honest opinion of our experience on the site without any preconceived ideas or letting emotions get in the way. Our Second fling review is all about the facts that you should know.
And again, yes, the site is 100% purely a digital fantasy chat service mostly for people in the UK to sext in a safe environment. This site is not for finding your next in-person partner. This is even highlighted in the terms and conditions which state very clearly, and in bold red, that the site is "NOT a dating platform." But okay, let's dive right into the only honest SecondFling review you'll find online.
What Type Of Dating Site Is SecondFling?
Sexual fantasy flirts
Online sexting mate
Digital erotic chat
This is not a conventional dating site and does in no way assume to assist in the creation of real-life connections outside of the platform.
Who Is SecondFling For?
Straight
Gay
Lesbian
Bi
Men
Women
While both men and women who are straight or part of the LGBTQ+ community can sign up and create profiles here, the site caters more specifically to straight men.
Stats & Infographics Of SecondFling
Male - Female Ratio
Age Demographics
Country Distribution
Registration Process Of SecondFling
The second fling login page is very straightforward, and the mid-length registration process is easy to complete. All you need to do is to fill in the boxes with some personal information - like your gender, what gender you are attached to, date of birth, location, email, username, and password. Then tick the box to acknowledge that you are over 18 and that you have read the terms of service and privacy statement, then click "JOIN NOW". At this point, you don't even need to add any credit card details yet.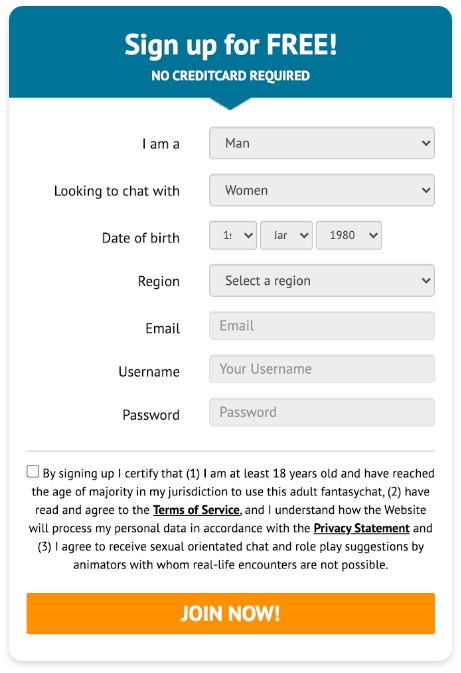 Note: You will have to select your location as somewhere in the UK, but seeing as this is a fantasy chat site you can still sign in from anywhere else in the world.
You might have to wait a couple of minutes before receiving a confirmation email, which may take up to 5 minutes to reach your inbox. Be sure to check your spam folder, this is where ours popped up, and you might even need to move said email to your inbox to get the 'activation button' link to work.
Once that's all sorted and you have created your second fling account, it's smooth sailing from there. You can leave your profile completely blank and still get a lot of interest from people eager to fulfil your every fantasy, or you can add a few pieces of information about yourself and add a photo for even more realism. We didn't even get as far as uploading a photo before our inbox was already filling up.
SecondFling Mobile Application / Compatibility
There is currently no Second Fling app available for download, but the Second Fling website is optimised for use on tablet and mobile browsers. On mobile browsers the site's functionality is similar to that of the desktop version, but with a more simplistic layout that actually makes it feel more streamlined to use. The dashboard on the left of the desktop version will just be a drop down-menu on the mobile site.
So the next time your corporate meeting gets you yawning endlessly you can easily pop out your phone, and pretend to draft an email for your secretary, while actually diving into your own fantasy world.
Men Vs Women On SecondFling
The sign up process, available features, and credit price is the exact same for both men and women on Second Fling. The overall experience is, however, heavily slanted in the favour of men. There are hundreds upon hundreds of female animators for men to chat with, but it's slim pickings for any woman signing up. There are only a handful of male animators from each area, and it seems no matter which area we searched in there were only ever 16 male profiles being shown. Some of these were clearly real men as they snuck their contact details into their profile descriptions (which is against the site policy).
The ratio (61% vs 39%) of men vs women who visit the site would suggest that men use the site a lot more than women. But when you are online you will notice there is only 1 page filled with male users while 200+ pages are filled with female profiles, a clear indication of just how many catalogued entertainment profiles there are. Therefore men are far more likely to find someone to join in their online roleplay chat.
Second Fling Top Features
Second Fling does a great job of keeping things simple and straightforward. The site isn't cluttered with a ton of icons for new features you need to get used to and probably will never use. Search for a match on the Members page, then either send a message if you are interested or a flirt to see if they are interested, or save their profile to your wishlist for later. That's how easy things are here.
Search Filters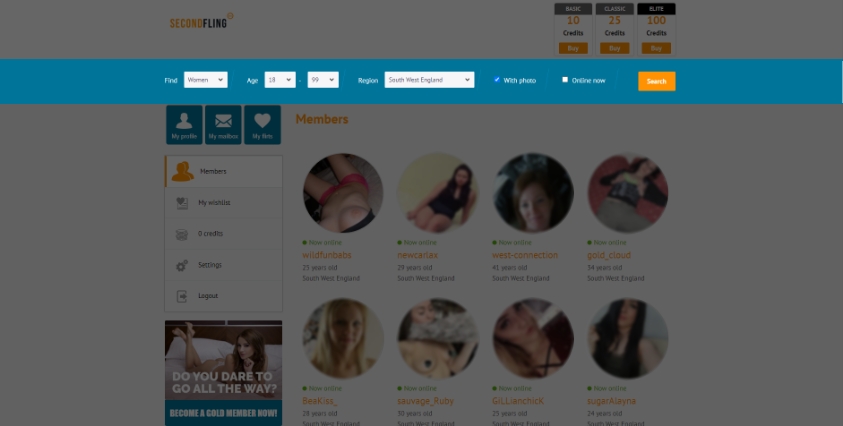 Unless you want to manually browse through the 180 pages of members the search function is going to be your best friend. Located at the top of the screen on the Members page, the search bar lets you search on the parameters of gender, age, location, and whether members have photos, or are online now.
Seeing as this is all for fantasy purposes, the only two parameters we'd say are worth toggling is the age to suit your preferences, and to see those with photos. You want a little something to look at while chatting don't you?
Flirts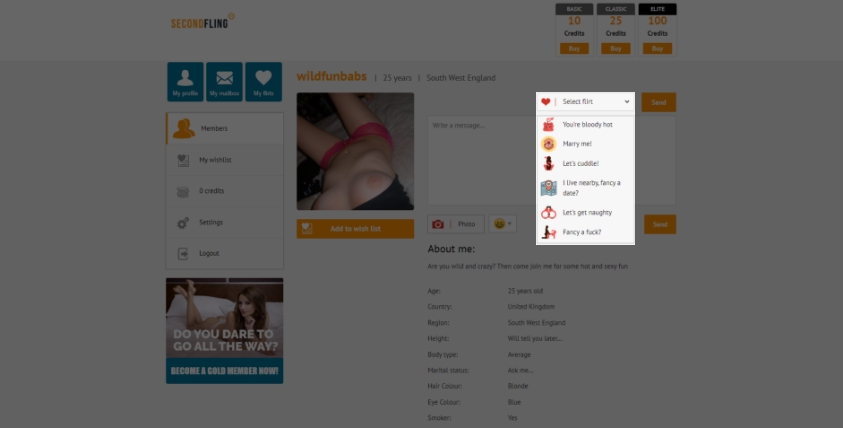 Those who are new to this kind of platform will love the flirt feature. Instead of starting things off with a feather boring 'Hey' or having to come up with a unique cheesy pick-up line, you can show interest by sending a flirt to whoever catches your eye. Flirts on SecondFling are a bit more creative as you have a few to choose from. 'You're bloody hot', 'Let's cuddle!', and 'Fancy a fuck?' are just some of the flirt types to choose from. We'd say to maybe keep the 'Marry me!' flirt far away from your first interaction with someone.
Wishlist
If it happens that you stumble on someone who really catches your eye, but you are already deeply invested in another fantasy chat, you can save that profile to your wishlist to chat with them later on. Simply click on the 'Add to wish list' button while on someone's profile to save them to your list. All your saved profiles will be accessible by clicking on 'My wishlist'.
Second Fling Offers, Prices & Costs
SecondFling works on a credit system and pricing is very straightforward and displayed in a way that is easily understood. This is not a subscription and packages will not auto-renew once they've been depleted.
At the top of every page the 10, 25, and 100 credit packages are displayed. Either clicking on 'buy' under any of these numbers or on the credit button on the left-hand side of the screen will take you to the payment page where you can purchase credits. There are no hidden costs here, each message costs one credit to send, and depending on which of the five available packages you choose to purchase, messages can range anywhere from £1 to £1.50. The more credits you buy at once, the cheaper they are.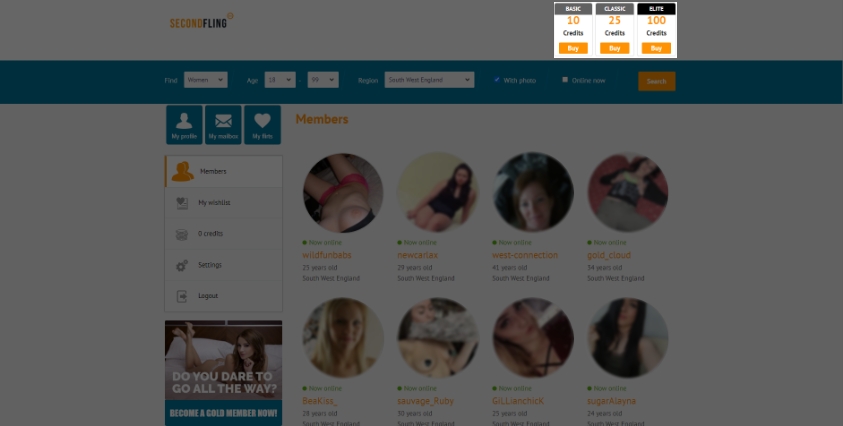 Unfortunately, on Second Fling free credits are only a myth and there is no Second Fling free trial available. Members have to pay from the very first message they want to send. Sending either a photo or a flirt also costs the same as sending a message. You are, however, able to browse, use the search function, and add members to your wish list for free.
Credit Package
There are five available credit packages to choose from, each with a different amount of credits that range from 10 to 200 credits. The price for the packages starts out at £15 and go esall the way to £200 for the largest package. The pricing is structured in a way that the more credits you purchase at one time, the cheaper you pay for each individual credit.
Prices & Costs
| Package | Price | Total |
| --- | --- | --- |
| 10 Credits | £1.50/Message | £15/10 Messages |
| 25 Credits | £1.40/Message | £35/25 Messages |
| 50 Credits | £1.30/Message | £65/50 Messages |
| 100 Credits | £1.20/Message | £120/100 Messages |
| 200 Credits | £1/Message | £200/200 Messages |
Perks Included
The only perk you get for buying a credit package is the ability to interact with other members online. Each interaction, whether that is sending a flirt, photo, or message, costs one credit. There are no Secondfling free credits offered.
SecondFling Pros & Cons
Pros
Hundreds upon hundreds of very eager sexting partners are available
The payment system is very easy to understand and straightforward to use
Your real identity can stay completely discreet
Fast registration processes
There are no ads on the site
Cons
There is no second fling mobile app available
There is no free-trial period or free coins offered for you to test the site out and you have to pay upfront
You can never actually meet someone in real life (This might be a Pro for some thrill-seeking introverts)
No anonymous payment methods
Second Fling Safety & Security
Personal Data
From what we can see in the terms and conditions, SecondFling's privacy policies are pretty bog-standard like you might find on most dating sites. There were no clear red flags that stood out as something users should be particularly careful of. The only issue might be that the terms and conditions were only a few pages long, and may not cover every little detail. On other more popular and established sites, these tend to be longer than manuscripts in their own right.
It is good to know that any user can easily go into their settings and request to see what data the site has of them. Merely click on 'Settings', scroll down and select "Request my data". The request does ask for a two-day wait before you get a reply, but it adds a certain level of trust knowing that you have this available at your fingertips.
Fake Profiles
The term 'fake profile' has such a negative connotation to it and suggests that these profiles are used to scam or manipulate. But on Second Fling. com these profiles are what the fantasy service is all about and on Second fling these profiles are referred to as 'animators'. These are fictitious profiles purely for entertainment purposes only to stimulate realistic roleplay in a safe digital environment. Animator profiles are specifically curated to give a realistic feel to them and messages are moderated by real people through third-party involvement. The initial interactions from these profiles can however be purely computer-generated responses.
Conclusion
If you are still reading, we hope we've now succinctly answered the questions as to whether is secondfling legit or is second fling a con. The site is genuine in the sense that they are open and honest about what kind of site it is, they never make any claims that you will find more than what they offer, and they really deliver on this without trying to put on any bells and whistles. Yes, it definitely does work if you are only looking for online fantasy chats to bring some excitement into your life. As soon as you start the Second Fling sign in process you should know exactly what to expect.
Always keep in mind the cost of the messages so make sure each one counts so you can get a good bang for your buck and add as many women to your wishlist as you like, there is no such thing as having too much of a good time.
Your experience will, however, depend on the extent of your budget but the site provides the exact service that it offers. Even though it might not be like every other average dating site out there, it is a great place to go and explore any and all of your sexual fantasies via text, with very eager chat partners!
Second Fling Tips
Because there is no free trial period, it's best to take some time to browse through a few profiles before settling on the right person to chat with. Use the search function to find your ideal match.
Use the site for what it is intended for! This is not really a second fling hack but messages cost a lot of money so there is no point wasting time trying to meet up with anyone when it is clearly ONLY used as an adult fantasy chat service.
Unless money is not an object for you we suggest you don't waste credits talking to everyone who messages you, be selective in your chats, and rather stick to chatting with one person at a time.
FAQ
Is SecondFling A Scam Site?
Not at all. There is no mysterious SecondFling scam. The site offers exactly what it says it does.
Is Second Fling Legit Or Not?
Yes. Second fling is a legitimate site, offering a legitimate online chat service.
How Do I Delete My SecondFling Account?
Click on 'Settings' on the left-hand side of the screen. Scroll down and select 'Deactivate my account'. You will be asked if you are sure you want to continue with the deletion of your profile. Click 'OK' and your profile will be deleted.
Does Second Fling Unsubscribe Me When I Delete My Account?
Second fling is not a subscription based platform so there is nothing to unsubscribe from. You will never be charged unless you actively add more credits.