HookUpIt Review
Verified Review
Published: 15th September, 2022
Allow Us To Introduce You To Hookupit.com
Finding someone to have a bit of fun with online has never been easier than in the modern age. It seems that you can't turn left or right without bumping into some new dating app that claims to be the next best thing. Everyone wants to be the new Tinder or Adult Friend Finder so where does that leave these newer and smaller sites?
Well, it might surprise you to know that they are usually in a great position to make a case for themselves as a wild card when it comes to online hook up sites. The aptly named Hookupit has many features that show it should be considered but also some aspects that could make you think twice.
What Type Of Dating Site Is Hookupit?
As the name suggests, Hookupit is first and foremost a casual dating site aimed at connecting you with other users who want a bit of fun. Don't be fooled by the banner on their sign-up page saying "Find your love" - hooking up is very much the main focus here.
• Dating site that follows the usual chat-based style platform of many other sites
• Casual and sex dating are the main goals that the site will allow you to achieve
• Subscription-based membership for the platform
Who Is Hookupit For?
As mentioned previously, Hookupit is mainly for individuals who are looking to have a bit of fun with other like-minded people. This is not the best place to look for love or a long-term relationship so keep that in mind before signing up.
Hookupit is a great place for:
• People looking to link up with others close to them for sexual fun
• Straight, gay and lesbian people looking for some fun (although trans inclusivity seems to be lacking)
• Anyone who is tired of the more mainstream dating apps and would like to try something new.
• People who are not opposed to paying a subscription in order to make the most of the site.
• Mainly people living in the United States
• Individuals aged 18-34 (although older people also make a fair portion of the user base)
Are There Any Stats Or Infographics To Know About?
As shown in Figure 1 below, the majority of the user base of the site is from the United States with the next sizeable portion coming from Ghana surprisingly enough. Russian, Canadian and Australian users also make an appearance but you are most likely going to come across Americans in your search for fun.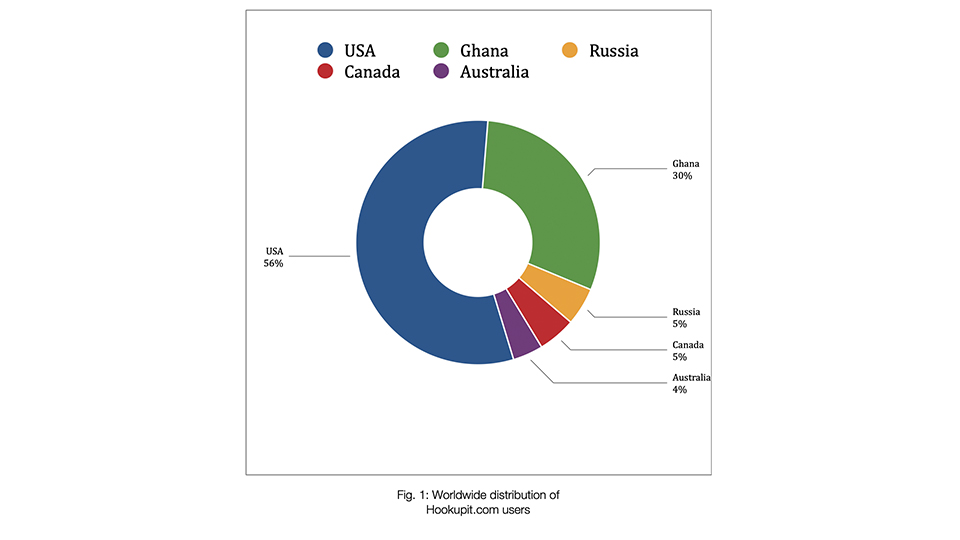 When it comes to the age distrubition of the users, over a quarter of memebers fall within the 25-34 year old age group and then an almost equal amount of users are in the next group above and below this. Figure 2 shows that while there are some older users (middle-aged and above), the majority of the people are on the younger side.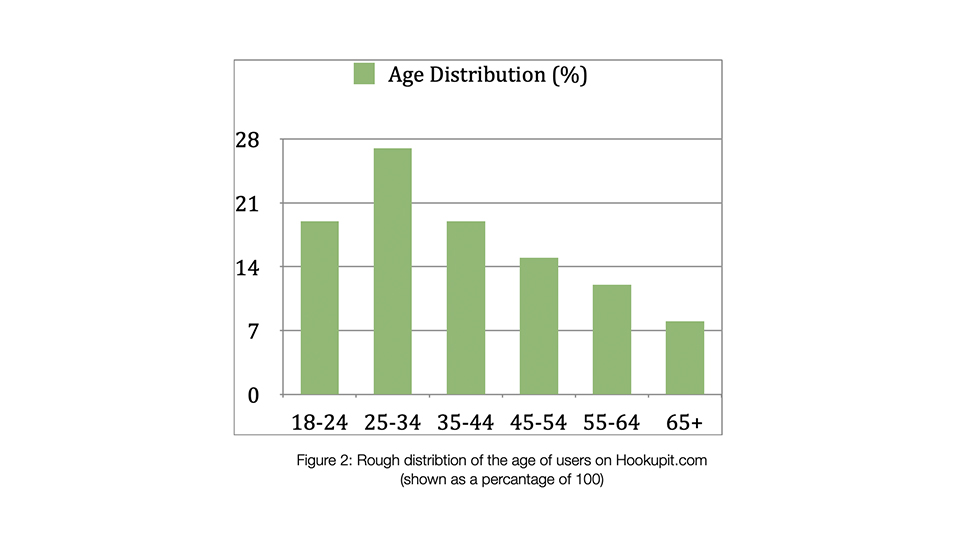 And finally, you might be wondering what the ratio of male to female users is like. Well, as you can see in Figure 3, there is a noticeable difference here with most of the users being male and females making up the minority.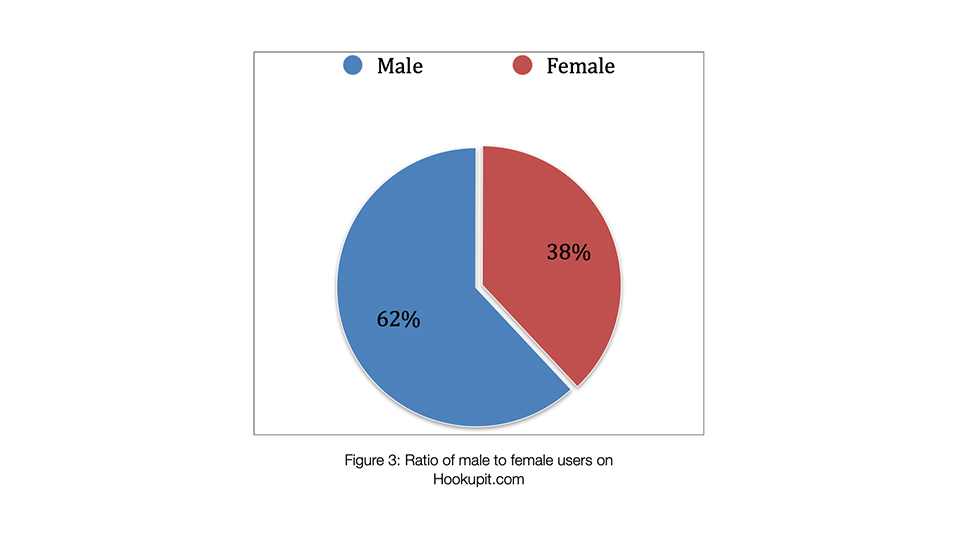 What Is The Registration Process Like?
The registration process is a relatively straightforward and simple one that only takes a few minutes. You sign up with an email address and select your gender and what you are looking for (see image 1).

After this, a verification email is sent to you and when you open it your profile is verified, you have created an account and are ready to go (see image 2).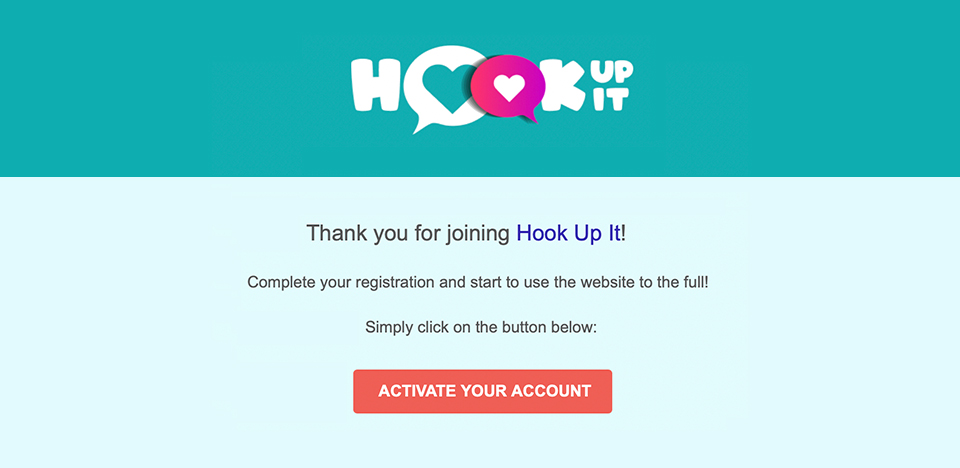 The Hookupit login process is very quick (email and password of your choice are required) and once you are in you are able to set up your profile. This takes a few minutes as you choose a screen name, upload a photo and fill in other details. If you choose to skip the step where you upload a photo, it takes you back to the page where you choose a name so you are indirectly forced to upload a photo (pro or con? - you be the judge).
The questions you are asked when filling out your profile range from your ethnicity, selecting various interests from the choices listed, your body type, whether you smoke or not and so on. The final step is where you can write a short bio about yourself to tell others a bit more about what you are looking for.
The whole process is very smooth and easy to navigate and is a promising first encounter with the site.
Top 3 Features
Hookupit has some interesting features that make it stand out from the crowd so we have rounded up the top 3 that are worth mentioning.
1. The Chat Room
This appears to be a live feed where all the users can post messages that are seen by what seems to be every other user. If you have used Twitter then you should be familiar with the concept although it should be noted that you are unable to interact with users' posts (like replying to them or liking them). You can, however, filter posts by showing either general ones, people looking for one-night stands or posts made by others in your area.
2. The Views And Likes Pages
There are dedicated pages on the site which show you who has checked out your profile as well as those who sent you a like to show their interest. This is handy if you are very active on the site and you're getting a lot of attention - everyone who has noticed you is in one easy-to-find place!
3. The Like Gallery
This is another handy feature if you are very active and have interacted with and liked many profiles and photos. Everything that you have liked in the past appears in this section as sort of a record of everyone who has caught your eye. This is great for keeping track of different users that you are interested in!
The Big Question: How Much Does It Cost?
While Hookupit has some free features, it really is quite limited in terms of what you can do unless you opt for one of their subscriptions. On the plus side, it does not appear that they operate on a coin-based system like many other sites. Coin-based sites charge you to buy packages of coins in order to send messages so the more active you are, the more it will cost you!
Upgrading your membership unlocks more search filters, unlimited messaging, access to all of the other users' photos and profiles and apparently priority customer support (see image 3).

Hookupit has 4 membership options (Figure 4) depending on how long you would like to use their services.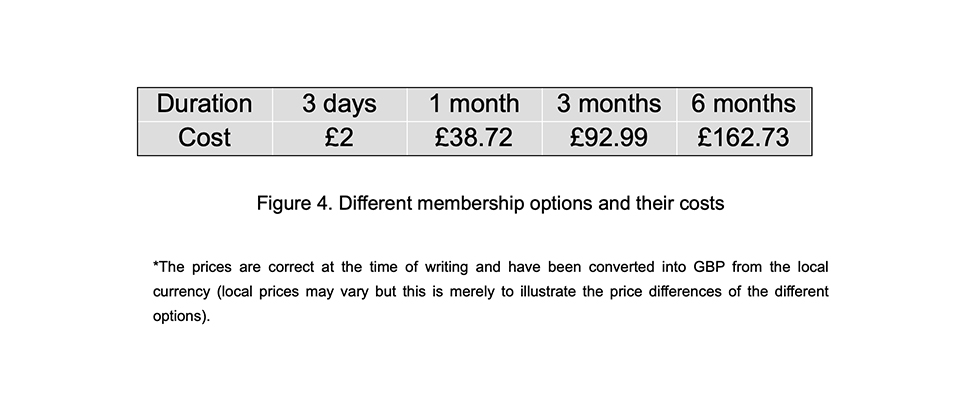 The cheapest and shortest option seems to be a great way to get a taste of the site without making a long-term financial commitment. As is usually the case however, as the subscription length increases, per month it works out cheaper per month to go for the longer options so this needs to be taken into consideration as well.
Pros & Cons Of Hookupit
Pros
1. Very intuitive and easy-to-use interface. Hookupit is well designed and navigation around the site is simple and self-explanatory.
2. Subscriptions operate on a monthly period and there is no coin system (this means you don't have to pay per message and continually top up if you are very active)
3. Photos and profiles are actively approved by moderators so there is some form of fake photos being used by catfish.
4. 24/7 customer support from their admin (although having said that, we messaged them as a test and received no response).
Cons
1. Paid members have the ability to see all of your photos (there is no way of hiding or blurring them) and this functionality does not extend to free members.
2. The platform is quite slow to load new pages and takes a few moments longer than you would expect.
3. Very little information about the site and the various features it has - most of it is discovered by having a look around for yourself.
4. No mobile app available at the time of writing.
5. Memberships are automatically renewed after the subscription period has expired (more on that below).
Is It Safe And Secure?
Follow us down the rabbit hole that is the Terms of Use of Hookupit. There are many little nuggets of gold in here which may or may not make you think twice about joining up. So, to save you the time of going through all of it, here are some of the highlights.
Hookupit states that they reserve the right to review all content uploaded by users to ensure that the Terms of Use are not violated in any way. This is a great indication that their admin team is proactive in moderating profiles and making sure that nothing illegal or illicit is uploaded. In theory, this should also prevent the chances of encountering fake profiles. Any users found to be doing or promoting anything illegal or violating the site's Terms of use can have their profile immediately blocked.
Any content that you upload to Hookupit is able to be used by the site as well as their partners - this can include using your photos in advertisements or for publicity. They do state the is you are not happy for them to do this then you can contact them but whether this will be successful is unclear.
Hookupit works with an external service called Cam Providers but they make it clear that they do not moderate or monitor any of the Live Models that you might come into contact with. This is quite worrying as they are exposing you to a third-party interaction but make no effort to regulate it for your safety.
Subscriptions are automatically renewed after their original time has elapsed and while you are able to cancel, customer support needs to be contacted. This is not an issue until you realised that they are based in Hong Kong so things could take quite a while to get sorted out.
The final and possibly most worrying thing that we found in the Terms of Use is that they do not conduct any background checks or identity verification for their users. Hookupit also states that they are not responsible for the behaviour of any user so if you unknowingly interact with an unsavoury and potentially dangerous individual, they are not liable in any.
When All Is Said And Done…
Hookupit seems like one of those sites that has a lot of potential to be a great left-field choice to find hookups. It has a well-designed and user-friendly interface and while more information about the sites different features would be welcome (perhaps on an FAQ page), it is easy enough to figure out.
However, there are a few aspects that make it difficult to recommend with confidence. The automatic renewal of their pricy subscriptions unless you are able to contact their customer support in Hong Kong makes us raise an eyebrow. Then there is the blatant lack of background checks and identity verification. Most sites at least require you to authenticate yourself through social media but that is not the case here.
So how can we sum up this Hookupit review? There is no denying it has a few interesting features and the design of the platform itself is one of the better ones on the market. But all in all, if you are looking for quick and easy hookups on a safe and secure platform, we might suggest that you keep looking until you come across a more reputable site.
Tips To Keep In Mind
• Having clear and recent photos on your profile will increase the chances of people being interested in you.
• Do not share any contact information, banking details or personal information with anyone.
• Spotting fake profiles and scammers is generally easy - keep an eye out for profiles that look too good to be true or ones who ask for your contact details immediately after starting a chat.
• If things progress to the stage of meeting up in the real world, make sure that the meeting happens in a public place, preferably during the day (and remember to let friends and family know of your whereabouts).
• Do your research and have a look at other Hookupit.com reviews (especially from other users) to give you even more of an idea of what the experience on the site is like.