Mature Dating Review
Verified Review
Published: 22nd February, 2023
MatureDating Introduction
It is hard to get a loan, a job, affordable healthcare, and or even date as a mature person. As people grow older and evolve, so does their approach to dating and relationships. They may have already experienced separation, divorce, or widowhood, which has made them a bit wary about dating again. There are also some mature singles who have never been married but have still experienced their fair share of failed romances and heartbreak.
Online dating is even harder for mature adults. The online dating pool for mature adults tends to be quite small in comparison to the wide selection available to individuals 40 and under. Many people settle down in their 20s and 30s, which significantly reduces the number of mature singles using online dating websites. Additionally, many mature adults find it frustrating to use online dating websites because they prefer face-to-face communication. Considering all these factors, dating, especially online dating, can be quite challenging and complicated for mature adults to navigate.
If you fall into any of these categories, you may want to check out MatureDating.com. MatureDating is a mature dating site for mature singles seeking dates and companionship. It is owned by Antheia Services, a company based in Larnaca, Cyprus, and its main objective is to match users with singles in their area. While many dating sites place emphasis on the importance of chatting online, MatureDating wants to make it easier for people to meet in person. Logically, this makes sense, as many mature singles prefer the "old school" way of meeting someone.
If you want to know if MatureDating is the best place to find mature dates, keep reading. We will discuss important topics such as the site's best features, pricing structure, safety, security, and much more. We'll also talk about the things we don't like about MatureDating, and we will be honest about everything because we want you to be able to make an informed decision after reading this review. So, make yourself comfortable and read intently as we take a deep dive into MatureDating.com.
What Type Of Dating Site Is MatureDating?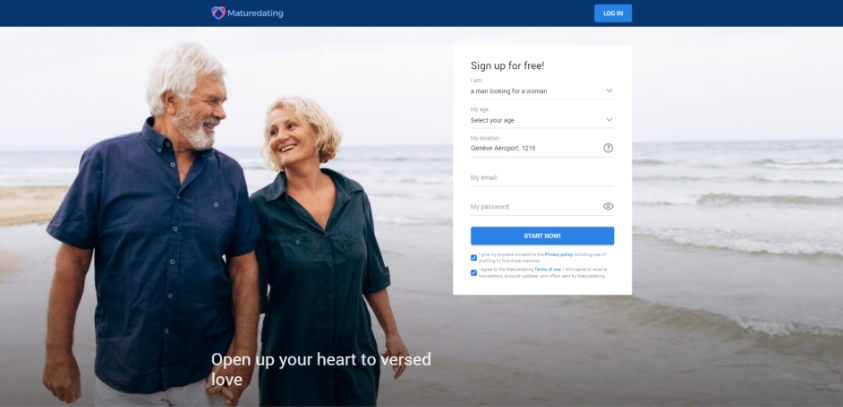 MatureDating does not appear to be suitable for people looking for casual relationships. However, you're welcome to join the site if you're looking for a romantic or platonic relationship such as the following:
Meetups
Romantic Relationships
Dates
Chatting
Friendships
Who Is MatureDating For?
As per its name and site description, MatureDating should only be available to mature singles aged 40 and over, but anyone over the age of 18 is welcome to join. MatureDating also accepts the following sexual orientations:
Heterosexual Relationships
Gay Relationships
Lesbian Relationships
Bisexual Relationships
Stats & Infographics Of MatureDating
On MatureDating.com, there are many kinds of people. There are single parents, widows, and individuals from various ethnic backgrounds. Here are a few statistics that may be of interest to you:
Male - Female Ratio
Age Demographics
Country Distribution
Registration Process Of MatureDating
Creating an account on MatureDating is simple, quick, and 100% free. You will be asked to state your gender and what you're looking for. You can be heterosexual and looking for the opposite gender, or gay or lesbian and looking for the same gender. You will also be asked to provide your age, location, and email address. Lastly, in order to complete the sign-up form, you will need to create a password that is at least six characters long. Please be aware that:
MatureDating welcomes members as young as 18 and as old as 78
Your location is already known to MatureDating, and
You must provide an email address that you have access to since MatureDating will use that email to activate your account.
Shortly after completing the sign-up form, MatureDating will send a confirmation email to the email address that you provided. You will be presented with two options in this email. You can activate your account using the button that says "Activate My Account" or you can use the four-digit activation code to complete your registration. Once these steps are completed, you will have access to the site.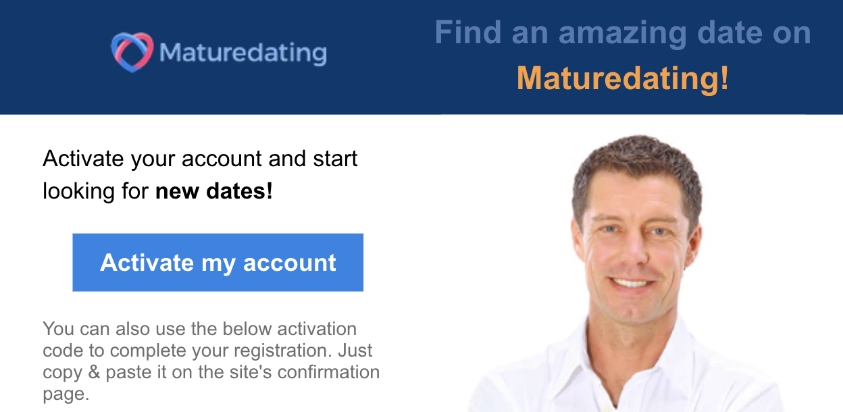 Once you have access to the site, you can go ahead and fill out your profile. You can upload photos to MatureDating as long as they comply with their photo guidelines. You are not allowed to upload photos containing:
Anyone under the age of 18
Celebrities or copyright infringement
No people
Group shots
Violence, drugs, death, weapons
Fffensive gestures
A different gender than the one you signed up as
Personal details
You are also given the opportunity to expand on personal information such as your ethnicity and body type. There is also a section that allows you to provide more information about things such as your appearance, habits, educational background, and family. Additionally, you can provide a few details regarding the type of person you're looking for. The most interesting part about completing your profile is the "status" feature. Here, you can post live updates about what you're doing or thinking about. You're limited to 140 characters, but this is an exciting feature you can play with in your free time.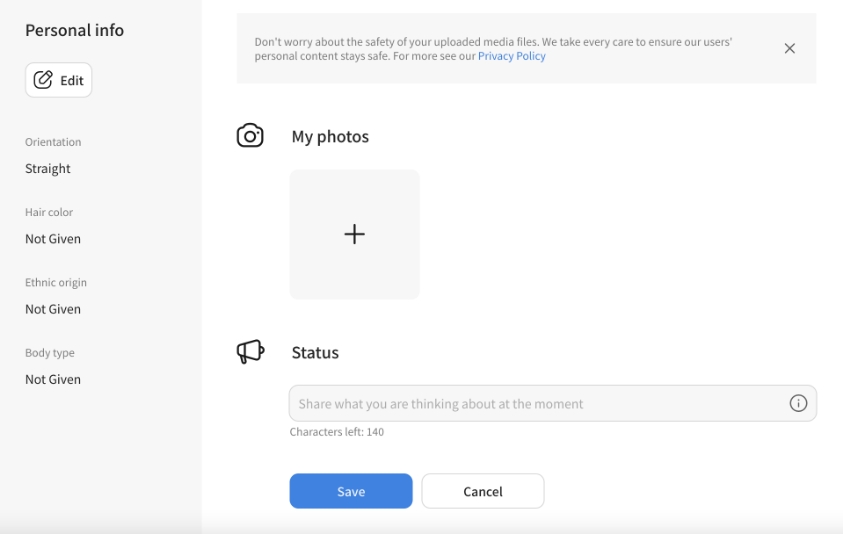 MatureDating Mobile Application / Compatibility
At this present moment, MatureDating has no mobile app. If you're constantly on the go, this may be a deal breaker, although you can access the site via your phone's browser. We can vouch for MatureDating.com's mobile friendliness, even though it lacks a mobile app. In fact, utilising the phone browser improves the site's appearance and functionality.
The web design is simple, appealing, and easy to navigate. The pages do not load as quickly as they would if MatureDating had a mobile application, but they load fast enough for the average Internet user. We also found that when you log in using a phone browser, the website offers additional information. For example, there is more detailed information regarding the perks of being a paying member. This information isn't available if you visit the site on a desktop computer.
Given that MatureDating's target audience consists of mature people, we do believe the font could be a little bigger. It is a fact that, as people age, so do their eyes. For a younger person, the font is fine, but it might be too small for mature adults to read comfortably. This can be avoided by zooming in; however, we hope that MatureDating will increase the font size in the future. Overall, we believe it is worthwhile to use a phone browser to access MatureDating.com.
Men Vs Women On MatureDating
For the most part, men and women have access to the same features on MatureDating. The sign-up process, interface, and search filters are all the same. However, there are two noticeable differences that are important to mention. Firstly, your gender and what you're looking for determine the types of profiles you're able to access.
If you sign up as a woman looking for a man, you'll only be able to search for and view male profiles. Likewise, if you sign up as a man looking for a woman, you'll only be able to search for and view female profiles. This makes logical sense because most people only want to interact with people of the gender they are interested in. However, those who want to draw ideas from other people's profiles may find this feature disadvantageous. For example, a man who is having trouble finding matches might want to browse the profiles of other men to see how they filled out theirs and compare it to his own. From there, he might be able to enhance his profile, but he can't do so if he can't view the profiles of his "competitors".
Another significant difference between men and women on MatureDating is pricing. Every new MatureDating member receives a discounted introductory price; however, women receive a better deal than men. To be specific, women are offered 50% off whereas men are offered 30%. Unfortunately, this is not an uncommon practice in the online dating world, especially on niche dating sites such as MatureDating.com.
MatureDating Top Features
Advanced Search Filters

The search filters on MatureDating are broad and extensive. You can search for potential matches using parameters such as age, location, sexual orientation, ethnicity, body type, hair color, eye color, piercings, and tattoos. Advanced filters help members connect with people who have the attributes they're attracted to. Preferences aren't a bad thing; everyone has a type. If you're the type of person who values certain features, then this tool will be a game changer for you. You can also sort through member profiles according to popularity, last activity, distance, and age.
Being able to browse member profiles according to their last activity can be quite beneficial, as it tells you who is active on MatureDating. Dating sites like to show how many members they have, but they never show how many of those individuals are actually active. People die, meet their perfect match, or simply lose interest in utilising the site. Filtering users based on their most recent online activity will help you avoid such users. Moreover, searching based on distance allows you to connect with those closest to you. This is significant for mature singles who would rather meet sooner than later.
Paid users have access to even more search results, meaning that they can view more profiles. Furthermore, there's also the option of filtering based on whether someone has a photo or not. This saves a lot of time because having a clear photo that allows people to know who you are is important on mature dating sites. As stated previously, mature singles prefer face-to-face communication when getting to know someone. Being able to view someone's photo is the closest they're going to get to that until it's time to go on a date. They do not want to waste time looking through profiles with no pictures.
Live Messaging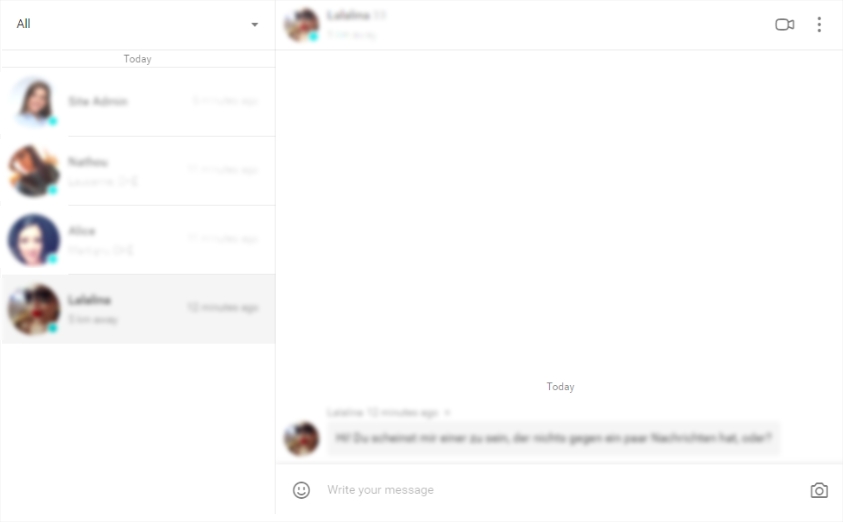 Instead of communicating via inbox, MatureDating has a live chat function. This is a swift and convenient way of communicating with other members. It's easy to initiate a chat with someone too. Just click on the chat bubble on or next to their photo. Introduce yourself or throw a catchy icebreaker their way. The choice is yours; just remember to always be respectful in your approach. Emojis can be sent, which will liven up your conversations and make them more enjoyable. You can also exchange photos in your live chats. Send silly selfies or photos from events you've attended to your potential match. This can make your conversations more engaging and personal. Keep in mind that live messaging is a paid feature, but you can send up to five free introduction messages daily.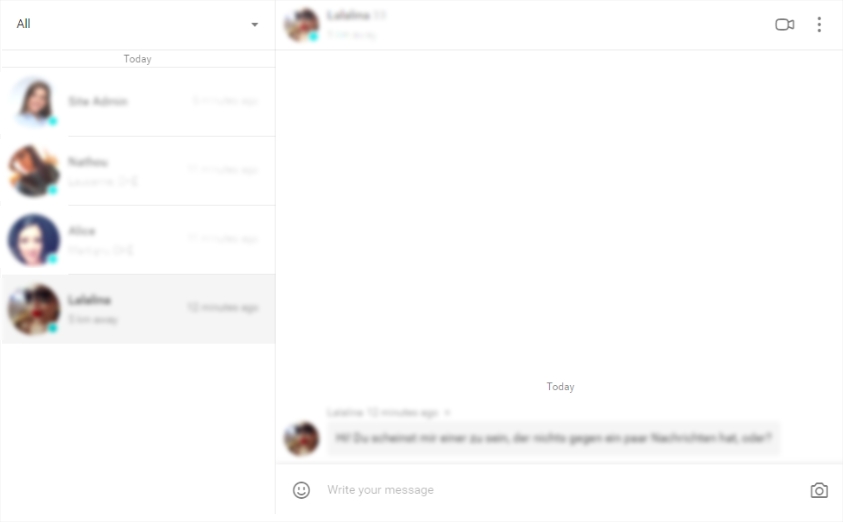 FlirtCast
MatureDating has this feature called "FlirtCast" which is a tool that allows you to send flirty messages to multiple members at once. The messages are pre-set by MatureDating, but you can customise them to your liking. Keep in mind that, should you decide to create personalised messages, they will have to be checked and approved by the team at MatureDating. This might be a little disappointing because there's a chance that your message could be rejected, but you can still have a lot of fun with this feature. People who prefer engaging with multiple people at once may also find this feature useful. Manually reaching out to different individuals may feel like a chore to some people, so instead of doing that, they can just send a flirtcast and wait for replies.
We understand how this feature can be dubious to some people as well. MatureDating exists to assist mature singles in finding their better half. One would argue that in order to do that, quality rather than quantity should be the main focus. It might not help your search efforts to send flirtatious messages to several users at once, but ultimately, we believe that this is a personal decision. Some people prefer to get to know one person at a time, whereas others enjoy exploring multiple options at once. Simply do what works for you.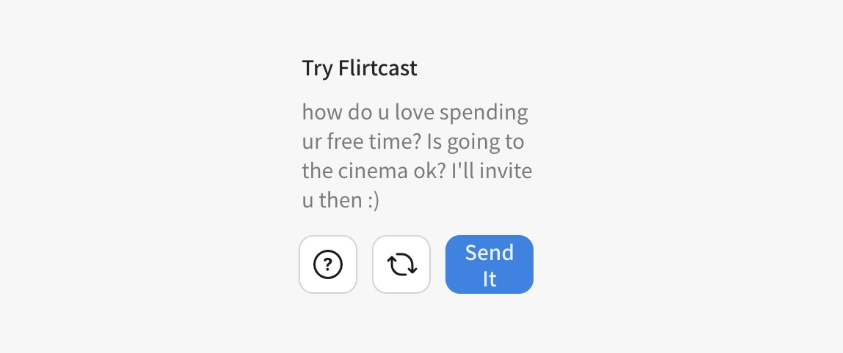 Satisfaction Guarantee
We mentioned earlier in our review that MatureDating is owned by Antheia Services, but it isn't the only site that they operate. They have a network of dating sites, and if you don't physically meet anyone within the first three months of your membership on MatureDating, you could be eligible for a free three-day trial on any one of their other dating websites. Even though this is a nice offer, you must meet some conditions in order to qualify. For example, you would need to be an active user, logging in at least three times a week and actively engaging with multiple members. You would also need to provide evidence of such conditions.
This offer may not be appealing to some individuals because it does not include a refund, but it is more than many premium dating sites provide. Many of them do not provide a refund if your search is unsuccessful; therefore, some people may find MatureDating's offer appealing. On the other hand, we think the usefulness of this offer depends on the type of site they're giving you a trial run on. People join MatureDating because they're mature and they are seeking mature dates. It wouldn't make much sense to register someone like that on a site that doesn't serve a similar purpose. Additionally, it is important to mention that MatureDating offers monetary refunds in extenuating circumstances, if you are not satisfied with their services.
Like Gallery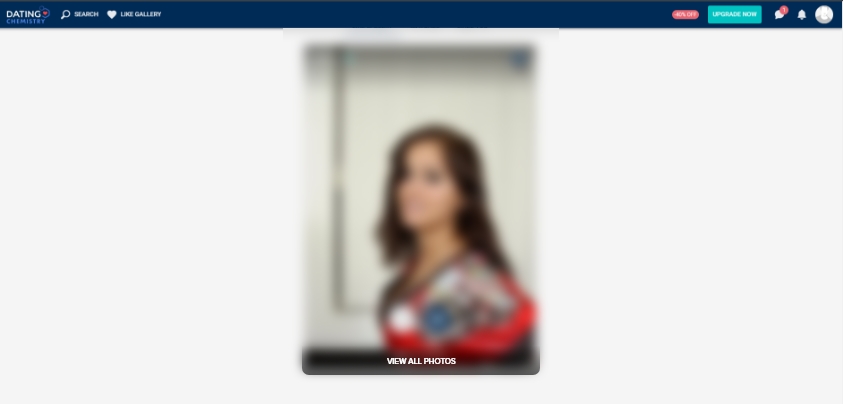 This feature presents you with a line-up of different profiles, specifically profile photos. You have the option of either liking or disliking the photo. Additionally, you may see any other images they may have on their profile. Liking the photo is a great way to express your interest, especially if you're a shy person. Some people do not feel comfortable making the first move. In that case, they can just hit the "like" button, and MatureDating will send that person a notification. They might even send a like back. If they do, a "match" is made. This feature also presents you with the option to send a message to the member. If you're the forward type, this is a terrific opportunity to strike up a conversation and introduce yourself.
Promote My Account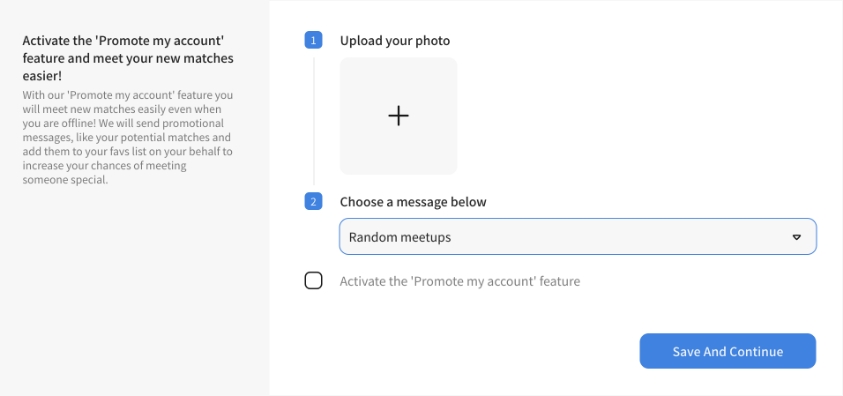 The "Promote My Account" tool is designed to help you find matches even when you aren't online. It sends icebreaker messages to people you may be interested in and adds them to your favourites list. In order to enable this feature, there are two simple steps that you must complete. First, you need a profile photo that complies with MatureDating's photo guidelines. Second, you need to indicate the type of message you'd like MatureDating to send on your behalf. The message can express your desire for either a random meet-up, a short-term relationship, or a serious relationship. Once these steps are completed, MatureDating will begin promoting your account.
This feature could be useful in your search as it increases the number of people you can reach out to and draws attention to your profile. It can really get the wheels spinning, especially for individuals who lead hectic lives and don't have time to be as active as they would like to be.
Push, Email & SMS Notifications
We've been evaluating dating sites for quite some time, and one of the most common complaints is a lack of notifications. It's inconvenient not to be notified of account activity, whether someone liked your profile or messaged you. This might be a minor inconvenience to some, but it might significantly prolong your search. Let's say a potential match reaches out to you, but you never received a notification about it. A few weeks later, you finally notice that you have an old message, so you contact the sender only to find out that they're no longer interested because they've moved on to someone else.
Fortunately, the likelihood of this occurring on MatureDating is low because the site uses push, email, and SMS notifications to keep you informed of any activity on your account. MatureDating can even send you notifications about the activity of any of your matches, such as when they're active or if they've uploaded a new photo. We understand that receiving push, email, and SMS notifications can be quite overwhelming. For that reason, you don't need to enable all notifications if you don't want to. Perhaps you only want push alerts. You can easily change all of that in your settings.
MatureDating Offers, Prices & Costs
MatureDating conducts its business using a freemium model. You can sign up and even enjoy a few features for free, but many others require payment. At no cost to you, you can:
Create an account
Upload a photo
Search for matches
Send five free introduction messages per day, meaning that you can reach out to five new matches per day; and
Send unlimited flirt casts
To take advantage of all that MatureDating has to offer, you must become a paying member. Paying members can enjoy unlimited chats, enlarged photos, extended searches, more detailed profile information, particularly in the "looking for'' section, and premium support. They can send and receive as many messages as they want as long as their subscription is active. They can also view full-sized photos, elaborate more on what they're looking for, and have access to more search results and premium support.
MatureDating offers new members a discounted introductory price, but the discount varies according to gender. Women are offered 50% off, whereas men are offered 30% off. That discount is only valid if they purchase a one-month, three-month, or six-month plan. It is also only active during the period of your subscription. For example, if you purchase the three-month plan, you will receive a discounted rate for only three months, and after that period is over, your subscription will automatically renew at the original price.
Payments may be submitted via credit or debit card, and you are welcome to cancel your subscription at any time. MatureDating reserves the right to validate your payment method in exceptional circumstances by charging a fee of $0.5 to $5 to your credit or debit card. The amount will be refunded back to your bank account within three to five days once the verification is complete.
If you fail to meet up with someone within the first three months of your membership, MatureDating gives you free access to any one of their other dating sites for a period of three days. However, to qualify for this, you must meet several conditions. You also need to provide proof that you met them. An example of such is having at least two approved photographs on your profile. Another is having a fully completed profile with an answer in every section. There are many other requirements that you must meet, and at first glance, they do appear excessive, but we can understand why MatureDating has them in place. It's because they want to make sure that all the features on the site are being used by their users, as doing so enhances the likelihood that they will find mature dates. MatureDating also has a 100% money-back guarantee that they further elaborate on in their terms and conditions.
MatureDating bills its users on a subscription basis. Please keep in mind that, apart from the three-day trial, the prices listed below are subject to change with discounts:
3 Day Trial
$1.41 per day
Access to full-sized photos
All members in the search results
Looking for details
Unlimited chat messages
Unlimited like gallery
1 Month
$38.99 per month
Access to full-sized photos
All members in the search results
Looking for details
Unlimited chat messages
An unlimited like gallery
Other dating sites
Email matching by an intelligent data engine
3 Months
$21.23 per month
Access to full-sized photos
All members in the search results
Looking for details
Unlimited chat messages
Unlimited like gallery
Other dating sites
Email matching by an intelligent data engine
The "Who liked me?" feature
Extra security
6 Months
$16.50
Access to full-sized photos
All members in the search results
Looking for details
Unlimited chat messages
An unlimited like gallery
Other dating sites
Email matching by an intelligent data engine
The "who liked me" feature
Extra security
The delete chat history tool
A popular boost in the like gallery
MatureDating Pros & Cons
Pros
Everyone on the site lives nearby (MatureDating's aim is to help you meet people in person, so your dating pool will only consist of locals)
Monthly subscription plans that are often discounted for new members
Instant messaging
The site is simple, easy to navigate, and mobile-friendly
Cons
People as young as 18 are free to join (this defeats the purpose of MatureDating being a mature dating website)
Pop-up windows may occasionally appear, which can be rather annoying
There is no "Contact Us" page (there is an email available, but every website should have a separate "Contact Us" page)
You must cancel your auto renewal at least three days before the renewal date in order to avoid further billing (it should be possible to cancel automatic subscriptions at any moment)
MatureDating Safety & Security
Safe Mode & Verified Members
To safeguard its users from those with malicious intent, MatureDating offers a Safe Mode function. Only verified members will be able to contact you while the Safe Mode feature is enabled. Additionally, MatureDating's search function will only show you the profiles of verified members. Verified members are people who have validated their accounts by proving that their phone number belongs to a real person. All verified profiles bear a unique identifier.
Please note that you are not exempt from exercising due diligence just because someone is a verified member. Verified members can still have ill intentions. However, we applaud MatureDating for including this function because it provides consumers with a sense of security and reassurance while using the service.
Getting to know someone online can be both exciting and terrifying. The sad reality is that there are a lot of malevolent individuals who join dating sites to prey on innocent people looking for love. We believe that a lot of these individuals target mature singles using mature dating websites. Some of these people are emotionally fragile after a bitter divorce. Some are new to the realm of online dating and, as a result, are oblivious to the risks of the internet. Others have been widowed and are lonely. These individuals are all prone to scams and may feel a little more secure with Safe Mode enabled.
Use of Personal Information
When you sign up for MatureDating, you automatically allow them permission to use your personal information to register you on any of their partner sites. They have a number of them, but they do not provide any information regarding their names and purposes. They do this to increase the likelihood of you finding your better half, but we are not aware of whether these sites are designed to help people find mature dates. It is safe to assume that the majority of people who join MatureDating are mature singles looking for other mature singles. It makes little sense to register them on websites that do not serve a similar purpose. Furthermore, it is an abuse of personal information because many people would not want their information handled in this manner. Luckily, you can opt out at any time.
Additionally, MatureDating reserves the right to use your photos in marketing emails and social media advertisements. They also keep the right to use your photos royalty-free, which means they don't have to compensate you for using your photos in this way. This might be concerning to some people because not everyone is comfortable with the idea of their photo being plastered on social media and in emails. Some people also wish to keep their online activities private, and doing this doesn't exactly help their case. However, you can revoke this right at any time.
Security & Liability
MatureDating makes every effort to manage its users' personal information securely. They have multiple security protocols in place to ensure that nothing is misused in any way. However, since no system is error-proof, they accept no responsibility if your personal information is mishandled. Additionally, they disclaim responsibility if they acquire or use your personal information in a manner that is inconsistent with how they intend for it to be used in accordance with their privacy policy. This is very alarming to us. This tells us that they have the ability to use their members' personal information in any way they see fit, and there's nothing you can do about it because they are not liable as per their privacy policy.
We believe that this is something that you should deeply consider before joining MatureDating.com. Is this a risk that you're willing to take? Are you willing to bear the consequences if your information is misused? If there is a chance that they won't uphold their privacy policy, what use does it serve? We understand that mistakes happen, and, in that instance, MatureDating ought to accept full responsibility.
Staff Profiles
We carefully reviewed MatureDating's terms and conditions, and this is what we found to be most alarming. In fact, it is quite deceiving. Some of the profiles on MatureDating are operated by employees, and these are known as "staff profiles". MatureDating claims that they do this to make sure that their service functions well. We understand the importance of ensuring that everything works the way it's supposed to, but do they really need to create staff profiles to do this? Furthermore, they do not specify whether these staff profiles have a unique identifier like the verified profiles. How are members supposed to know whether they're communicating with a genuine person or an employee?
They also don't state the percentage of staff profiles on their site. Even if it is something they must do, we believe staff profiles should account for fewer than 5% of MatureDating's members. We do not believe that staff profiles are inherently wrong. However, MatureDating has left out a lot of crucial information about how they carry out this practice. We need to know the approximate percentage of staff profiles on the site and whether these staff profiles have unique identifiers or not. Until this information is provided, we advise everyone to proceed with caution when using MatureDating.com.
Conclusion
Overall, we think that MatureDating.com has a lot of potential. The best aspect of this mature dating website is the fact that it aims to connect people with locals in their area. This is appealing and great for mature singles looking for face-to-face interactions. The sign-up process is swift and easy, and the site design is quite simple, which makes it easy to navigate for mature singles who are new to online dating. There are also many interesting features that help improve one's chances of finding mature dates, such as advanced search filters, live messaging, and flirtcasts.
Nonetheless, despite the many pros of MatureDating, we cannot state with certainty that this is a mature dating website that you should join. The site is called MatureDating, yet people as young as 18 can join. As per our testing, we noticed that a lot of the profiles belonged to people under the age of 40, even though the site's description says that their service is for individuals of 40 and up. It doesn't make much sense to join a mature dating website if it's similar to dating websites that target every age group. We also have a few concerns about MatureDating's safety and security practices. They accept no responsibility if your data is used in a way that isn't outlined in their privacy policy. There's also the issue of staff profiles. Members should be able to easily identify staff profiles. They also ought to know the percentage of employee-operated accounts on the site.
To conclude, we do not recommend MatureDating.com for the aforementioned reasons. While MatureDating is appealing in some areas, we are of the belief that the cons outweigh the pros. There are other mature dating websites that may be worth your time. Those are the sites you should be checking out.
MatureDating Tips
Use the Safe Mode function to only view and interact with verified members
Opt out of co-registration on partner sites and revoke MatureDating's licence to your photographs
Adjust your search criteria so that you only see member profiles that are 40 and older
Test the waters out first using the three day trial
Complete your profile to attract potential matches
FAQ
How Do I Sign Up For MatureDating.com?
Fill out the short registration form on the home page. Ensure that you provide an email address that you have access to.
Does MatureDating Have A Mobile App?
No, it doesn't, but the web version is mobile-friendly and easy to use.
Do I Have To Pay To Use MatureDating?
You don't have to, but many of the features, including instant messaging, require you to be a paying member.
How Do I Delete My MatureDating Account?
Go to your settings, select "remove account" and complete the five steps.
I Have An Issue. How Do I Speak With Someone From Support?
The team at MatureDating can be contacted via email at contactus@maturedating.com.
Why Can't I Upload A Photo?
Please ensure that your photo complies with MatureDating's photo guidelines; otherwise, it will be rejected.
Can People See Whether I've Liked Their Profile?
Yes, MatureDating sends a notification whenever you like someone's profile, and vice versa.