Feeld Review
Verified Review
Published: 1st March, 2023
Feeld Introduction
Feeld has very humble beginnings and this makes up a good portion of its charm. Founded in London in 2014, it was created as a space for the two creators to explore a bit more in their own relationship. From the outset, it was designed to be the perfect way to discover new parts of yourself or your relationship with your partner. Whether that is bringing a third person into the equation or being open to seeing other people for more physical endeavours.
With over 20 sexuality and gender options to choose from and around 2 million connections made each month, Feeld has made a very promising first impression that we hope it will live up to! Follow us on this journey through our Feeld dating app review to see if it is the site for you!
What Type Of Dating Site Is Feeld?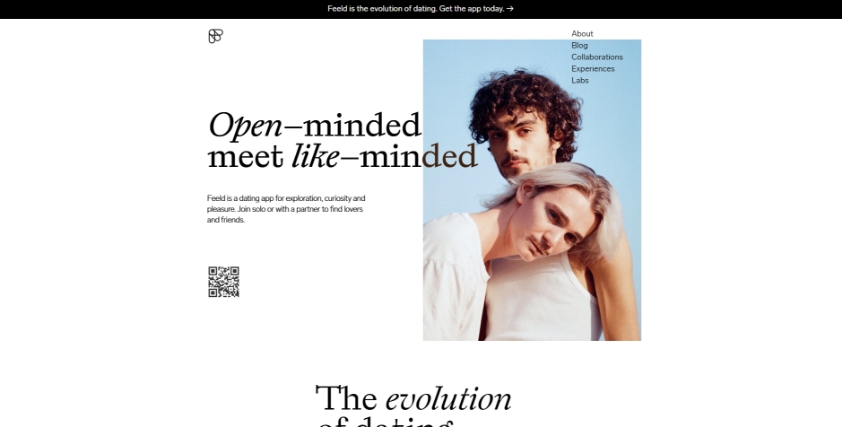 Hookups
Meetups
Chatting
Friendships
What is Feeld exactly? It's a dating site aimed at facilitating matches that are oriented more towards fun and something casual. From the photos displayed on the sign-up page and the overall design of the site, Feeld is unashamedly a more adult dating platform.
This is not the platform for you if you consider yourself to be on the more conservative side or are looking exclusively for love or a serious relationship. The history of the site shows that it is a space where people can explore their sexuality and more daring side, without judgement or prejudice from others.
Who Is Feeld For?
Straight
Gay and lesbian
Bisexual
Transgender
Couples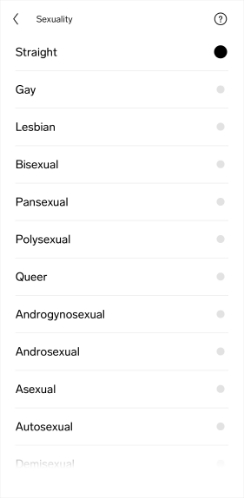 In their own words, Feeid is all about "normalising sexual desire" so it is unsurprising that this is one of the most inclusive and open dating platforms around. The list of gender identities is genuinely impressive and includes anything from agender, bigender and genderqueer to polysexual, androsexual, skoliosexual and even gynosexual! We even had to look up some of the identities listed but this just illustrates perfectly that Feeld really is making an admirable effort to be inclusive of everyone. On this subject, many other dating sites should be taking notes on how to do inclusivity properly!
Stats & Infographics Of Feeld
Male - Female Ratio
Age Demographics
Country Distribution
Registration Process Of Feeld
Registration on Feeld is very quick and straightforward. The first step is to download that Feeld app from the Google Play Store or Apple App Store as no desktop version of the site exists. It is not a very large app and downloads quickly and smoothly. From here you can open the app and begin setting up your profile and create your Feeld login.
It should be noted that in order to verify your account (something that Feeld is very big on) you will need a valid Facebook account. Feeld links your account in order to finalise verification and does not access anything that you have posted on Facebook or your photos, messages or friends. While we would have liked to have this feature be optional, it is good to see that they take verification of Feeld profiles seriously.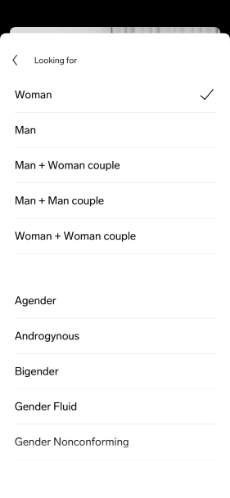 One thing that immediately impressed us was the sheer variety of options when it came to choosing your gender identity, sexuality and what you are looking for. In addition to this, the section where you select some of your kinks is equally detailed. Many of the fields can be edited once you have created your profile, so don't stress if you have made a mistake or missed something out!
The design of the app is very simple and clean and even the least tech-savvy individuals will be able to find their way around. The home screen of the app is your "Discover" feed where you are shown profiles of people in your area and you can either send them a heart to show your interest or click on the minus button to move on to the next one instead.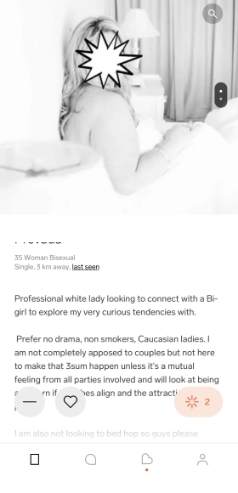 All in all it is very user-friendly although compared to some larger dating apps, it can come across as a bit Spartan and basic when it comes to features and capabilities.
Feeld Mobile Application / Compatibility
Feeld is exclusively available on the mobile app and is compatible with Android and iOS devices. We tested the iOS version of the platform and found it to be very quick and responsive, cleanly designed and easy to navigate. The Feeld app is free to download and registration is quick and simple (more on that later).
In order to access the site, two-way verification is required which is a great addition that we would like to see on more dating sites, especially ones with dedicated mobile apps. This prevents fake profiles and other unsavoury characters from popping up and ruining the experience for everyone.
Men Vs Women On Feeld
Unsurprisingly for such an inclusive platform, there is no difference in the user experience whether you sign up as a man, woman, transgender, non-binary or any of the other gender identities that are on offer. Pricing remains the same for everyone and nobody is given additional perks based on their gender. This is a feature that we love to see on dating sites and equality really is at the forefront of what Feeld dating is about.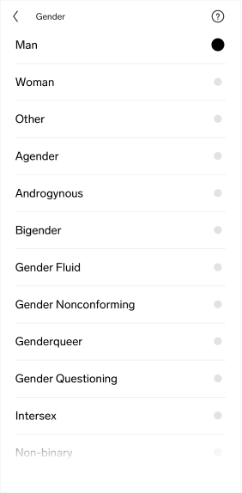 It is also worth mentioning once again the myriad gender and sexuality options. It does not matter what you identify as or who you are interested in, Feeld has something for you! It is a pity that one of the most inclusive sites we have come across is still a relatively small one. We can only hope that the larger and more established platforms are taking notice of how to do inclusivity the right way.
Feeld Top Features
Incognito Mode
Incognito is available to subscribers of the Majestic Membership and is a great way for you to stay under the radar while you are looking for that special someone who catches your eye. Your profile will not show up for others in their "Discover" section and will only be visible to them once you have liked them, Ping-ed them or sent them a message.
Private Photos
Another feature available as part of the Majestic Membership, private photos are a way for you to stay discreet about what you look like. Your photos are hidden from other members unless you have connected with them (you both liked each other or have started messaging each other).
Pairing Profile With A Partner
Seeing as Feeld began as a way for the founding couple to find a third person to join them on their journey of sexual discovery, it comes as no surprise that this site has a feature specifically catered for this situation. When pairing your profile with your partner, a link is created which you can send to them and from there you can engage in a 3-way correspondence with a potential match to see if everyone is compatible. The link only allows your partner access to the communication with the other person(s) and they do not see any of your activity or your Discover feed.
Feeld Offers, Prices & Costs
Offer #1: Uplift
Completely discreet to use, your profile shows up earlier and gets priority for other members in your discovery area. According to Feeld, it can increase your chances of making connections from 7 to 15 times. Once this feature has been purchased, it is immediately active.
Uplift Offer Prices & Costs
R129,99 (About $7,50) for 24 hours
Uplift Offer Perks Included
Increased visibility to other members
Discreet when activated (no icon on your profile showing that you have Uplifted your profile)
Higher chances of making connections
Offer #2: Ping
Similar to liking or poking someone's profile on other dating sites, a Ping is a quick and easy way to let someone know that they have caught your attention. There are 3 packages available depending on how many Pings you would like to have access to.
Ping Offer Prices & Costs
1 Ping = R32,99 (Around $1.90)
5 Pings = R129,99 (About $7,50)
10 Pings = R199,99 (Around $11.50)
Ping Offer Perks Included
Depending on which package you choose, you are able to Ping someone to let them know they have caught your attention
"Majestic Membership" Subscription
Feeld offers only one membership option above the standard free membership and while you can do plenty with the free membership, the Feeld Majestic Membership has some perks that might just make you consider opting for this subscription. From unlimited likes, to seeing who has liked your profile and even browsing incognito, there are many perks to this subscription (see the full list below).
"Majestic Membership" Subscription Costs
30 Day Subcription = R185,99 (About $10.60)
90 Day Subscription = R369,99 (Around $21.10)
"Majestic Membership" Subscription Perks Included
Incognito browsing mode means that other members won't see your profile unless you make the first move
See up to 3 people who liked you
Private photos only available to people who you have connected with
Showing you when a member has last been active
1 Ping each day
Feeld Pros & Cons
Pros
Very inclusive to all genders and sexualities
The Feeld dating app is very well-designed and easy to navigate
Profile verification is thorough and should prevent fakes and scammers from popping up
Ability to link up your profile with a partner if you are looking for a third to join you
Cons
No web version of the site is available
Verification is only possible through a Facebook account (this is an issue if you are not on Facebook as there is no alternative)
Some could find the app lacking in features (it might be a bit too basic when compared to some of the competitors)
Feeld Safety & Security
Data Storage
Feeld is very open about how your data is stored (on AWS servers in Ireland) and cloud storage is used to keep your photos secure (Cloudinary servers based in the European Union). In addition to this, your data is kept for the duration of your account and is then archived for a set period after the termination of your profile (7 years to be exact). This level of transparency is quite refreshing and it's rare to come across a site that states exactly which companies they make use of in order to keep your data secure.
Data Collection
Feeld monitors its app for any bugs that may occur and this includes the collection of your device ID, email address and full name. In addition to this, they actively keep an eye on the content posted on the app to ensure that the rights of all members are protected. This includes photos that are uploaded, any other information on your profile as well as interactions with others.
Conclusion
We mentioned earlier that Feeld gave us very high expectations and in some ways, it has met them, but in others has fallen short. We love the inclusivity and sheer range of gender and sexuality options - this really is the app made for everyone! It is also great to see a specific (and well-designed) feature to allow couples to link up and find that perfect third person together. The app has a clean design and is easy to navigate. The upgraded membership option has competitive pricing and we loved that the standard membership has free messaging.
Where Feeld falls short though is almost due to its own confidence in itself. They pride themselves on their profile verification system but apart from having created two profiles quite easily, we noticed very similar activity on both. We received immediate likes and attention from the same profiles whether we used the male account or the female account so it seems that there is still a loophole through which fake profiles can slip through. Feeld is also quite limited in its features and capabilities and we would have liked to see something in the way of video chat (especially seeing as the platform is aimed more at adult pursuits).
But when all is said and done, the overall experience was a largely positive one and if you are looking for an inclusive, easy-to-use and relatively inexpensive platform to explore your sexuality a bit more, Feeld.com should definitely be on your shortlist!
Feeld Profile Tips
Uploading a variety of clear and good-quality photos to your profile can increase your chances of making successful connections
Make use of the Ping feature to get someone's attention quickly
If you are able to, upgrade to the Majestic Membership to gain access to incognito browsing, private photos and free daily Pings
FAQ
Is Feeld The Same As 3nder?
Essentially yes. Feeld began as 3nder and was a play on words using "3-some" and Tinder but after some legal disputes regarding the similarity of the name to Tinder, they rebranded as Feeld.
What Is A Feeld Imaginary Name?
When you create your profile, there is a field where you can create an imaginary name for yourself. Since this app is aimed at having fun and finding hookups, some people choose to be discreet so this is how they can create an alias for themselves.
Do I Need To Use My Phone Number To Sign Up?
No, all that is required is a valid email address and an active Facebook account to verify your identity.
Do I Need To Have A Facebook Account To Use Feeld?
In order to verify your profile a Facebook account is required and unfortunately, no alternative verification method exists. It is not possible to use Feeld without Facebook. Feeld does not access any information on your Facebook profile or use it in any way apart from verification so it is secure and discreet.
Is There A Feeld Website Or Desktop Site?
No, Feeld is only available on the app which is free to download for iOS or Android devices.
Is Feeld Available On Other Languages Apart From English?
Yes! Feeld can be used in French, Spanish, German and Portuguese in addition to English.
Can You Adjust Feeld To A Certain Location?
Yes, there are many options available for location parameters. In addition to setting a search radius for your current location, you can access other locations such as Staying at Home (for people who are self-isolating), Remote Trios or even a Fantasy Bunker for those wishing to "skip the small talk". There is also a preset list of major cities that you can select from to browse people in other locations.
Is Feeld Free To Use?
Yes and no. Feeld has free messaging for the standard unpaid membership option so you don't need to splash out on a paid subscription to make contact with others. However, the upgraded membership has some additional features that may make you consider opening your wallet!
Is Feeld Expensive?
The pricing for the upgraded Majestic Membership is middle of the range when compared to some competitors. The purchasing of Ping packages are quite pricey though for the amount of Pings that you get.
Is It Easy To Cancel My Membership If I Have A Paid Subscription?
Yes, all that is required is to follow the steps for cancelling a recurring subscription through the Apple App Store or Google Play store (depending on which device you are using).
If I Have A Paid Subscription, Does It Automatically Renew?
Yes, all Feeld subscriptions automatically renew. If you would like to cancel this to prevent being billed for additional months, go to your account settings and follow the prompts to switch this off.
How Do I Contact Feeld Customer Service?
Customer service is available via email (support@feeld.co). They will respond to your query or complaint as soon as possible and there is no mention of a 24 hour customer service team.