AdultDateLink Review
Verified Review
Published: 8th December, 2022
Introduction
While it is nice to find your special somebody, there are some people out there who are only interested in hooking up. If you happen to be one of those people, you may want to check out AdultDateLink.com. Adult Date Link is an online dating service for adults seeking sexual encounters. It is accessible to those who are looking for love as well, but its primary focus is on sex and casual dating.
The corporation DateLinkNetworks, which is situated in Las Vegas, Nevada – a mecca for vices and uninhibited fun, owns Adult Date Link. Knowing this, it only makes sense that they would create a dating service that aims to help people meet their sexual needs.
In this review, we will go over all the things you should know if you're thinking about joining Adult Date Link. We'll highlight a couple of the site's best features, but we won't hold back when discussing areas where Adult Date Link still has room for improvement. At the end of this review, you should be able to make an informed decision as to whether Adult Date Link is the right site for you.
What Type Of Dating Site Is Adult Date Link?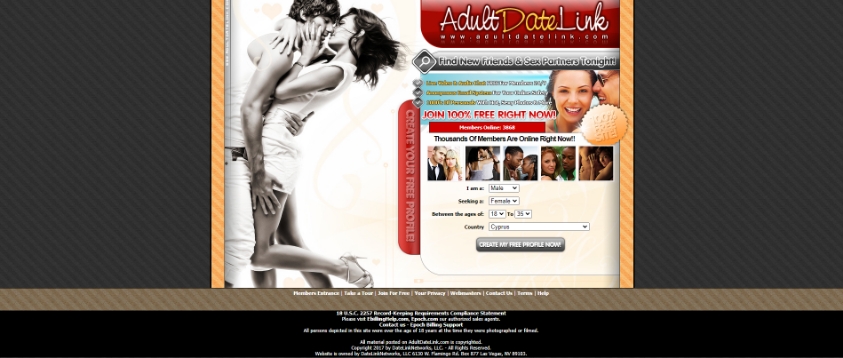 Adult Date Link caters to people looking for serious relationships, but you won't have much luck here if you're looking for commitment. The site is more suitable for people seeking:
Casual or Sexual Relationships
Swinging
Erotic Conversations
Who Is Adult Date Link For?
Since Adult Date Link is an adult dating site, you must be at least 18 years old to use their service. They cater to the following groups of people:
Heterosexuals
Lesbians
Gay Men
Couples and Swingers
Stats & Infographics Of Adult Date Link
Many people across the globe are using Adult Date. If you're 18 and genuinely looking for a good time, feel free to join. The following are a few stats that may be of interest to you:
Male - Female Ratio
Age Demographics
Country Distribution
Registration Process Of Adult Date Link
Creating an account at Adult Date Link is simple and should take no more than five minutes. You will be asked to submit your email address, gender, birthdate, country, and city. You will also be asked to create a username and password. Make sure that you provide an email address that you have access to because once this information is submitted, you will have to verify your account using that same email. Adult Date Link will also give you the option of choosing how frequently you'd like them to contact you.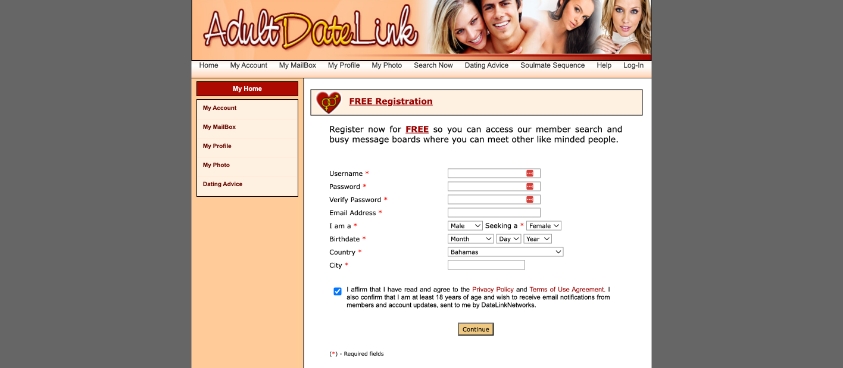 Getting past this step gives you access to AdultDateLink.com, but you cannot use any of the site's features until you completely fill out your profile. Furthermore, your profile will not be searchable if you do not complete this step. This means that you will need to set aside some time to expand on your profile details. You will be asked to talk a little more about yourself, your personality, and the type of person you're looking for. This part of the registration process is quite thorough and takes about 20 minutes.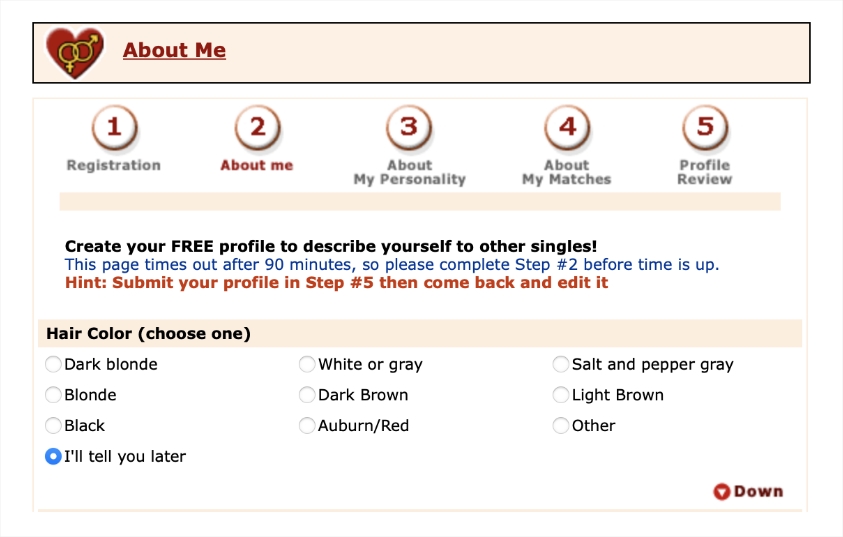 Adult Date Link Mobile Application / Compatibility
Adult Date Link does not have a mobile app, nor do they have a mobile-friendly version of their site. If you want to use their service on the go, you will have to log in using your phone's browser. The website functions exactly as it would on a desktop computer, according to our testing on mobile devices. The pages load up relatively fast, the icons are visible, and all the features are still functional. However, the text is rather small, which makes it difficult to read and strains the eyes. Zooming in will allow you to get around this, but it's not really a practical workaround.
Men Vs Women On Adult Date Link
On the surface, men and women seemingly share similar experiences when using Adult Date Link. The registration and prices are the same. However, there are still a couple of major differences between the two genders on the site. Firstly, the member profiles displayed on the home page change depending on your gender. If you're a male, you will only see female profiles on the home page, whereas if you're a female, only male profiles will be displayed to you.
There is one major difference between men and women on the site, and that is that women don't have to pay to communicate with other members, whereas men do. As a female user, you can send messages to other members free of charge. Men do not have the same privilege. When a man tries to reach out to another member – male or female, they are given payment options. Men are also unable to use any of the advanced search filters without payment, but women can.
It is also important to remember that Adult Date Link targets men, even though it is a site for both men and women. The homepage is plastered with advertisements that feature naked women in erotic poses and lead you to other websites that are likewise designed to entice men. We suspect that attracting male users is Adult Date Link's primary objective.
Adult Date Link Top Features
Extensive Profile Information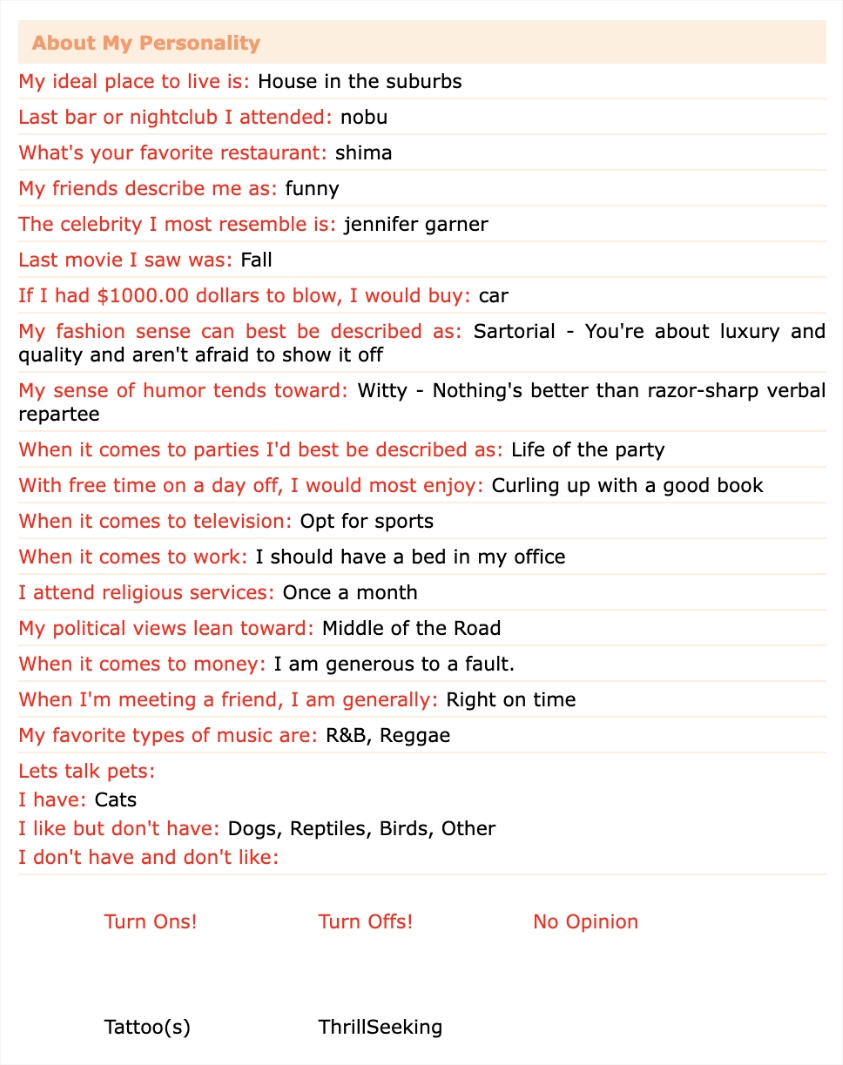 As a member of Adult Date Link, you are required to completely fill out your profile. You are asked to expand on topics such as your financial beliefs, pets, favorite things, and even the qualities you'd like your match to have.
Some people may find it uninteresting to talk about these things, but putting this information out there pays off in the long run. This is a great opportunity for you to showcase what makes you you and attract potential matches. AdultDateLink.com may be an adult dating site, but that doesn't mean that everything on the site should revolve around sex. Most people would agree that sex is way better when you have a good idea of who you're dealing with first.
Hot Lists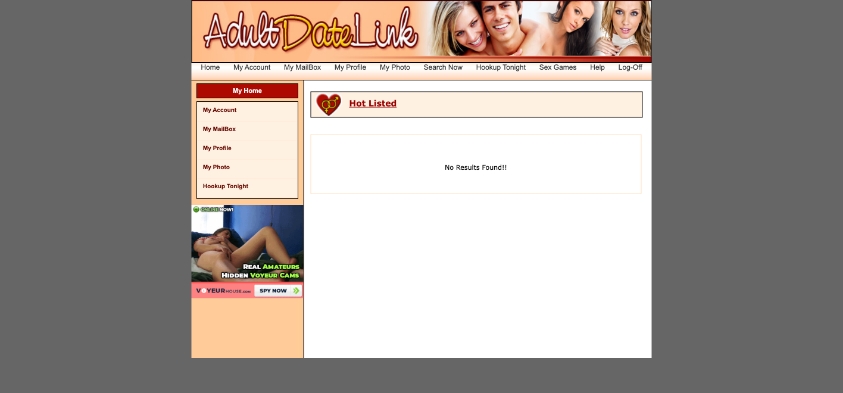 Hot listing someone's profile is like adding them to your "favorites". If you come across a member's profile who you may be interested in, feel free to hot list their profile. They will also get a notification when you do this. This is a good feature because Adult Date Link is an adult dating site, and people can be a little shy when using sites like this. Someone may be interested in you, but still afraid to reach out because they don't know what to expect. Being able to hot list someone's profile allows you to say "I'm interested" without words, and if you're lucky, you may even get a message from the person you hot listed.
Backstage Photo Galleries
In addition to having a profile photo and a public photo gallery, you can also have a backstage photo gallery. The photos in this gallery won't be visible to anyone unless they request to see them, and you provide them with access. Feel free to add photos here that you wouldn't want everyone to see.
This is a great perk for people who want to maintain a certain level of privacy until trust is established. Although it wasn't stated directly anywhere on the site, one can presume that intimate photos can be shared here as well, given that it is an adult dating service. If you're unsure, reach out to the team at Adult Date Link for clarity.
AdultDateLink Offers, Prices & Costs
Adult Date Link is not free, but it appears that the cost only applies to male members. It is important to note how misleading this is because the site is advertised as free during sign-up.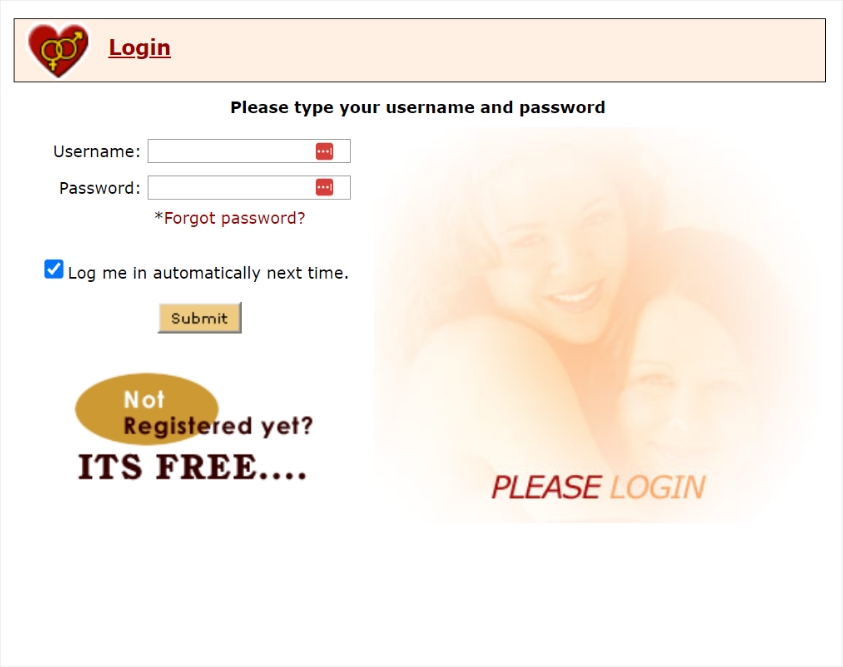 Here are the payment options available to male members:
Unlimited Access To All Searches, Email & Chat Features
1 year for the price of 3 months
$9.86 per month after the first year
$99.44
3 month access
$14.86 a month after the 3 months
$49.72
1 month access that renews each month
$29.86
You can pay for your membership with a credit card. There are two more offers available. You can try out a two day free trial at Pornstarplatnium.com. After two days, you will be charged $39.95 per month unless you cancel.
You can also purchase the Stealth Attraction trial for $1.95. Adult Date Link does not give any detailed information about this offer, but from what we could understand, the trial gives you access to video content that shows you how to get a woman to sleep with you within minutes of meeting.
As mentioned previously, even though Adult Date Link is for men and women, it is evident that their target audience is mainly men. Even the payment gateway is designed to appeal to and attract male members. There is a rather large heading that says "GET LAID TONIGHT" above their subscription options, but this is misleading because it's unrealistic. There is no dating service in the world that can promise you immediate sex.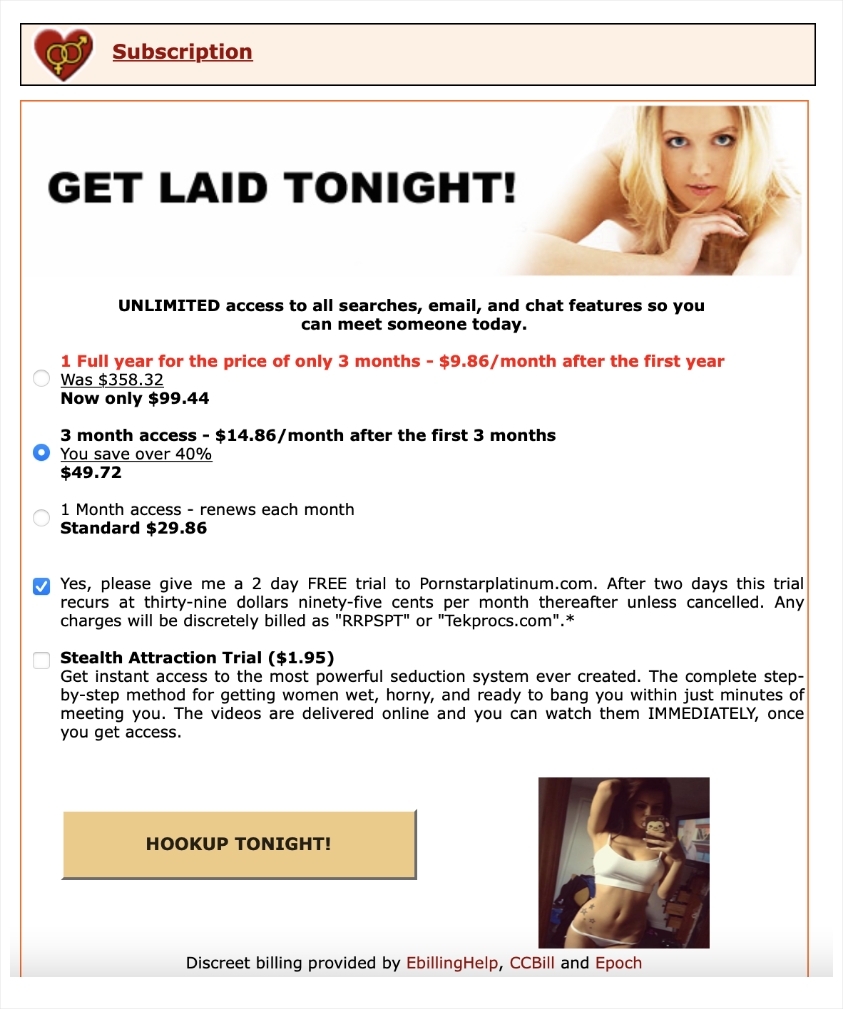 Adult Date Link Pros & Cons
Pros
Opportunity to create detailed profiles
Advanced search filters
You can see who has viewed your profile and added you to their hot list
Cons
Outdated website
Misleading or deceptive features, advertised promises and headings which are unrealistic (there is no live or video chat)
Broken and insecure web pages
Many advertisements that direct you to other sites
Only free for females
Adult Date Link Safety & Security
Use Of Personal Information
When you send an email to another member, Adult Date Link discloses your email address to that member, so that they will be able to respond to you. This is quite concerning for people who would prefer to keep their personal contact information private. Furthermore, scammers and solicitors can use that information for their own benefit. We don't understand why Adult Date Link would divulge such sensitive information, given that it has on-site messaging.
Broken & Insecure Pages
Many of the web pages on Adult Date Link are broken and insecure. Important pages such as "Contact Us" are broken. Moreover, the Privacy Policy and Terms of Use Agreement are only accessible at sign-up. After signing up, those pages are broken, so you are no longer able to access that information. Many people skip over that information during sign-up, so we can't help but wonder if that was intentional on their part.
When people use an online dating service, they want to feel like they're using a secure and reputable site, and Adult Date Link's platform just doesn't provide that security. Dating sites that charge their members should do their very best to keep their websites fully operational, so that their members can pay for a subscription with a sound mind.
Conclusion
If you're looking for erotic fun, Adult Date Link may be worth looking into since it is a place for people to find hookups. However, there are many things you should consider before signing up. While the site has a few features that you may find interesting such as detailed profiles, there are a few safety concerns that you should be aware of.
The number of advertisements and misleading marketing ploys is rather off-putting. The site also doesn't seem to be female-friendly because much of the focus is on men. Furthermore, Adult Date Link isn't a free service, even though they proclaim it to be on their homepage. Additionally, despite their efforts to convince their male members otherwise, casual sex isn't always guaranteed. If you do decide to use Adult Date Link, please do your due diligence.
Adult Date Link Tips
Sign up with a "dummy" email address since Adult Date Link exposes that information to other members.
Even though it is an adult dating service that presents the idea of fast hookups, it gives out realistic expectations.
Fill out your profile in its entirety to attract potential matches.
You should consider using a prepaid credit card should you decide to pay for a subscription.