iDates Review
Verified Review
Published: 4th January, 2023
Last Updated: 8th August, 2023
iDates Introduction
When it comes to online adult dating, deciding which site to sign up to isn't always the easiest decision to make. The reason for this is because there are far too many options and some have better features than others, some are not as good as they are made out to be. A lot of sites seem to cater to very similar things and niches, which makes it more difficult to choose where to register.
Our experts here at TheBestDatingSites aim to tackle this struggle and help you find the dating site that's just right for you!
Through this iDates review we will give our honest opinion on whether it's a site worth signing up to or not. We will cover some of the pros and cons of the site, a number of top features they have, the cost of using them and whether it's a safe site to sign up to.
What Type Of Dating Site Is iDates UK?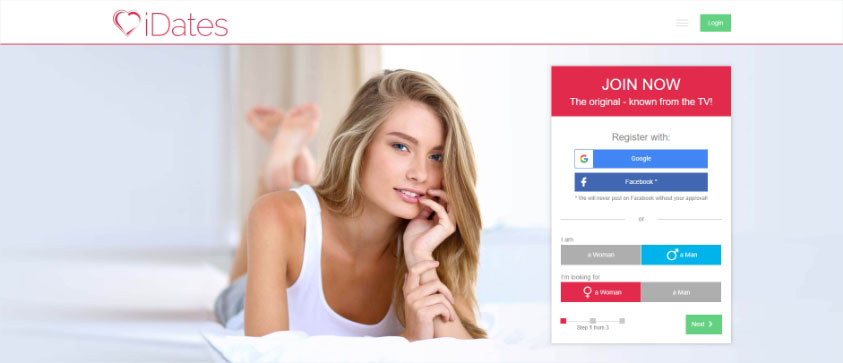 The iDates dating site is mainly aimed towards single people looking for something casual. It seems to be ideal for anyone who is looking for:
Hookups
Casual dating with no strings attached
One night stands
If you're someone who is looking for a long-term relationship, or your perfect soul mate, i Dates most likely won't be the site for you.
Who Is iDate For?
As far as iDating goes, the following genders and sexualities are accepted:
We didn't come across any transgenders or couples on the website, while both weren't available options in their search filters.
Stats & Infographics Of iDates
Male - Female Ratio
Age Demographics
Country Distribution
iDates Login Process
The registration process of iDates UK is quick, simple and completely free. Once you're on the iDates login page, you can click to register via google or facebook. Alternatively you can follow the steps below to sign up:
Choose whether you're a woman or a man
Choose your preferred gender (man or woman)
Insert your username and password
Enter your age
Enter your email address
Confirm that you've read and accepted their terms and conditions
Click on next and then head to your email for the verification link they send you to confirm your email address
The email may take several minutes to arrive but remember to check your spam or junk folder. If you don't receive the email after a couple of minutes, you can click on the "send confirmation email" button again. Once you have confirmed your email, your i Dates login process will be complete. Make sure you do this as they give you 25 free coins as a thank you gesture.
After you have registered and verified your email address you can then use the search tool on the left hand side of the screen to look for your match. We noticed the search options are very basic; they only allow you to choose what you're looking for, what age range you prefer and finally which city you'd rather find your match.
You can also go to your profile from this page by clicking in the top right hand corner next to your username. From there you'll be able to edit and add a number of details to your profile such as: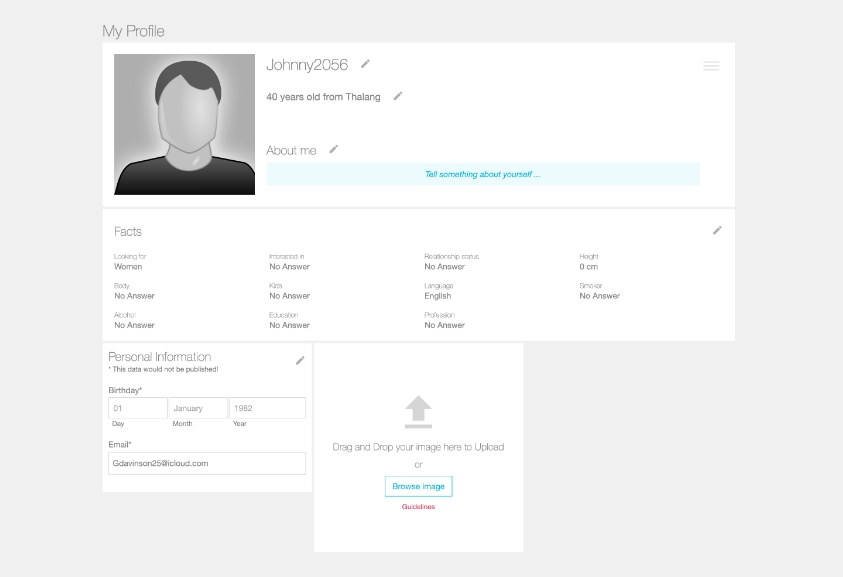 "About me" section - a short summary of yourself
"Facts" about yourself like if you have kids, a job, your relationship status etc.
Upload some photos of yourself
Change your personal information such as your date of birth or email
Be mindful when uploading photos to your iDates profile though, as there are some guidelines you need to follow. Try to avoid images with:
Multiple people in the picture, it should just be you
Images featuring minors
Non-recognisable face
Pornography or nudity
Anything alluding to violence, insults, racism and religion
Phone numbers and advertising other services
Drugs
Pictures where the profile owner is not the main subject
iDates App & Mobile Compatibility
iDates provides a mobile application for both Android and iOS users. The iDates app is simple to use and the features are the same as the site, however the payment methods through the app are very limited. You will need to have a credit or debit card linked to your apple or google play store, or you won't be able to purchase coins. We didn't experience any issues when using the app and everything seemed to work smoothly and efficiently.
Men Vs Women On iDates
So, does it matter if you sign up as a man as opposed to a woman on iDates?
Actually, yes. The features along with the prices of each package are exactly the same. Using the app or desktop version of the site also has no apparent differences, however, the amount of bonus coins that you receive for each package differs. This is how it looks for each package, below:
| Package | Male | Female |
| --- | --- | --- |
| iDates Basic Package | +200 coins | +20 coins |
| Standard iDates Coins Package | +400 coins | +40 coins |
| i Dates Bestseller Package | +1000 coins | +100 coins |
| Platinum iDates Coins Package | +2000 coins | +200 coins |
| iDates Full Happiness Package | +4000 coins | +400 coins |
As you can see the difference is quite large when it comes to the amount of iDates free coins you receive. The price to send a message for both male and female users is still 50 coins each though.
iDates Top Features
The Lucky Wheel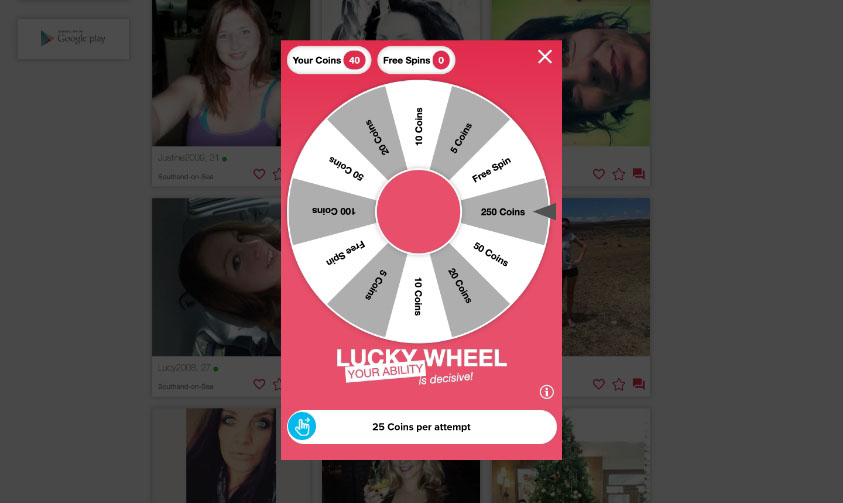 A great feature which allows you to win some free iDates coins. They only provide you with 1 free spin per day though, so you will need to spend 25 coins for each new spin. The prizes range from 5 coins to 250 coins, along with the chance of winning a free spin too.
Chat Function
iDates have a good live chat function which allows you to message any user you want. The messages are delivered instantly which minimises the delays.
Live Notifications
If anyone decides to take a look at you or likes your profile, you will receive a notification immediately to let you know so you don't miss out on a good opportunity.
Gifts & GIFs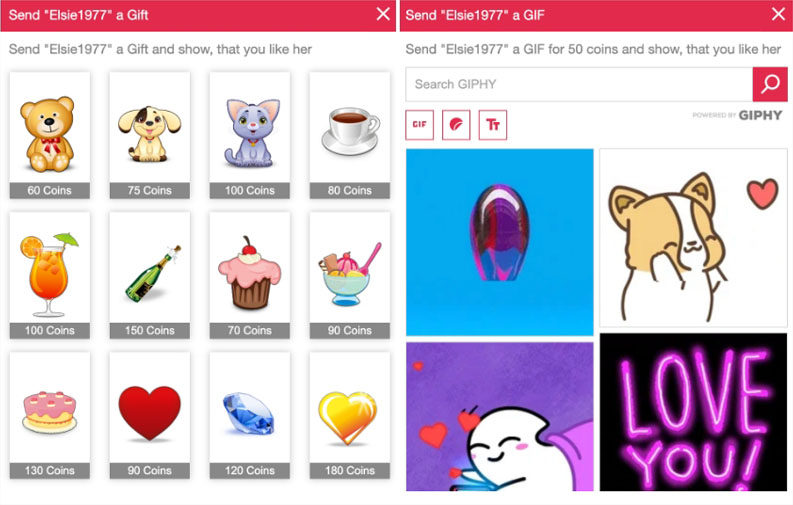 Another good feature that allows you to send gifts and GIFs to other members. It does cost a little more than a standard message but it's a good way to express how you feel towards another member without having to type it out. The cheapest gift is 60 coins for a teddy bear and the most expensive gift is a gold heart for 180 coins. Remember, everyone loves a gift, even if it's a virtual one.
iDates Price & Costs
iDates is a freemium website, it's completely free-to-use if you just want to register and browse peoples' profiles and photos. However, if you want access to some of their features or if you want to contact another member, you will have to get over their paywall.
By completing the iDates login process, you do end up receiving 100 free coins and then a further 25 coins for verifying your email address. Once you have received these iDates free coins, if you require more coins you will need to buy one of their coin package bundles below:
There are 5 available coin packages that you can choose from.
| Package | Coins/Bonus Coins | Price |
| --- | --- | --- |
| Basic | 200/+20 | €4.99 |
| Standard | 400/+40 | €9.99 |
| Bestseller | 1000/+100 | €24.99 |
| Platinum Package | 2000/+200 | €49.99 |
| Full Happiness Package | 4000/+400 | €99.99 |
They recommend going for their "bestseller package" but, seeing as it's a coin-based dating site, there isn't actually an advantage to buying a certain package over another. Even if you bought the basic package once plus the standard twice, this would still equal the same value for money. So what we would recommend is to stick to the basic package to "test the waters" if you are starting up, and then you can decide if you want to commit to one of the larger packages.
iDates Pros & Cons
Pros
iDates app available for both android and iOS mobile users (Great if you are on the move often)
You can "like" and send other members a "virtual kiss" for free (A good way to let the other person known you are interested)
See who has viewed your profile (It's always nice to see whose attention you're catching)
Quick, free and easy iDates login process
Cons
Chatting with other members requires you to pay and it's quite expensive (50 coins per message)
No verification is needed, it's optional (Attracts fake profiles)
There aren't a lot of features available for you to use (Some sites have a lot more features to help you find a date or hookup)
iDates Safety & Security
Is iDates Legit?
In a nutshell, yes iDates seems fishy to us. They are quite transparent about the fact that their security measures might not pick up on every fake profile created on the site. Additionally, the site hires "professional animators" and their profiles are often hard to distinguish from legitimate ones. More on this further below.
Overall, iDates seems to be quite secure and safe to use. They also mention that their support team is available 24/7, however we were redirected to their "FAQ" page when we tried to visit their dedicated contact page.
If these don't cover what you're looking for, then you'll need to click further on to the "contact form" button and explain what it is you need help with. Once you submit your contact form, you will be informed that there may be a couple of days until you receive a reply. We also didn't come across a contact number, which was a bit of a concern since some issues might be urgent and cannot wait.
In section 11e in their terms and conditions, iDates mentions that they may use "professional animators" and operators to make the site more "entertaining" for their users, and clearly state that it is not possible to meet up with those profile owners. So, if you are wondering "Is iDates a scam?" This could mean that the person you are chatting with might not be genuine. In fact, you might be wasting time and money on someone who isn't even real.
Let's be real here, no one wants to give out their personal information to someone who could potentially not even exist.
Conclusion
So, Is iDates UK Worth It?
Granted we gave iDates a 3 / 5 rating, we found that a good chunk of their users often abandon the site after a couple of months. This is likely due to the high cost packages and the low probability of finding a real-life date. The fact that iDates fake profiles are sometimes operated by hired individuals doesn't make a good case for them either.
On the other hand, iDates does seem to be quite a simple and basic dating site, whilst both the desktop version and app are user friendly and easy to use. The iDates app is a large advantage compared to other sites within the same niche as well. It not only allows you to stay in touch with your matches whilst on the move, but it is also fully functional and bug-free. The site itself operates in multiple locations which also works great with its large user base.
As previously mentioned though, it's hard to tell the iDates fake profiles apart from the real ones due to the lack of verification needed when registering. Of course, you're able to report any user via your own profile drop down menu. You can also block users you'd rather not speak to or see again.
Although the iDates price for messaging is expensive, you won't have to commit to a monthly subscription, and you don't have to worry about sneaky renewal policies either. The packages are not the best in terms of cost-efficiency, but they do allow you to "test the waters" as a new user before you decide to commit to a larger and more expensive package. They also come with some iDates free coins to boot.
Overall, if you're looking for a casual hook up or something a little less serious, iDates could be the site for you. Based on our iDates review we would only recommend it if you wouldn't mind paying per message rather than a monthly subscription due to the way the dating site works.
You can also check out our latest dating site reviews and discover new and exciting dating and hookup sites you could try out!
iDates Tips
We tried to use the "lucky wheel" feature multiple times and out of the 4 attempts, three landed on 5 free coins. So, we'd recommend only using the free spin per day that you get rather than gambling your coins away for extra spins.
If you're on a budget, don't waste your coins on sending gifts or GIFs. Yes, everyone loves a gift but you could get to know someone better if you use your coins on asking questions over three messages, rather than sending a gold heart for 180 coins.
Whenever you send a message, try to get the best value for your money. Don't send short messages as it will cost the same as a long one, even if you write just 'Hi' this will cost the same as a full essay, so get your money's worth.
FAQ
What Is iDates?
iDates is a dating app and site which operates to help people online find a compatible match. So, what is iDates all about? It helps its users find serious relationships, hookups, friends and one night stands.
Which Payment Methods Are Available With iDates?
You are able to pay for your packages with:
Credit Card
Direct Debit Payment
Internet Banking
If you're topping up your coins via the app though, you will notice that you can only top up through your service provider, so you will need to have a debit or credit card linked to your app store.
Why Can't I See The Coins I Purchased?
There might be a slight delay once you have purchased the coins. If they haven't been added within a couple of hours, you should contact support@idates.com to resolve the issue and be sure to include your invoice showing your purchase.
Who Owns the iDates Dating Site?
Boranu B.V which is located at Frans Erenstraat 14A, 5921VG Venlo, Netherlands.
Can I Use iDates For Free?
You're able to register and browse through profiles on the site for free. However, if you want to contact another member, you will need to buy a coin package. You are able to secure some coins through the lucky wheel feature, but don't get your hopes up too much.
How To Get Free Coins On iDates?
The only possible way to get iDates free coins is to use the lucky wheel for which you will have one free spin every day.
Can I Get A Refund On iDates?
Yes, however iDates mentions that they will review each refund request on a case by case basis. Refunds are possible but only as a gesture of goodwill and without acknowledging any legal obligation.
How Can I Contact iDates?
In order to contact iDates you need to fill in their contact form. Click on the "help/support" button at the top right corner of the screen to get directed to their FAQ section, and you'll be able to find their contact form at the bottom of the page.
Is iDates Legit And Safe To Use?
Idates does seem legit and safe to use, but considering that verifying your account is optional, we'd recommend treading carefully on the site. Much like other dating sites of its niche, iDates can't guarantee the safety of its users 100%, so we are that you exercise caution when talking with other people online. There are quite a few negative iDates reviews out there, which you might want to check out beforehand as well.
How Do I Report A Scammer?
If you feel like you have come across an iDates fake profile, you can report the profile by hovering over your profile in the top right corner of any page and clicking on "report a profile". iDates will then require you to fill out a quick contact form, you will need to fill in the name of the profile you're reporting and the reason why.
How To Delete iDates Account?
Here's how to delete iDates profile:
1. Visit "My Profile"
2. Hover over the hamburger menu
3. Click "Delete Account"
4. Confirm you want to delete your account
5. Close your account by clicking on the link sent to your email address
Please keep in mind that once you go through the iDates delete account process, you will no longer have access to any of your messages and contacts.
Will Uninstalling The iDates App Delete My Account?
No. In order to delete your account via the web browser, you need to follow these steps:
Move your cursor to "my profile" and hover over the three grey bars
In the drop down menu click "delete"
Confirm you want to delete your account
After a few minutes, check your email and click on the link that is sent to you. Make sure to check your spam/junk folder as well if you haven't received it.
This will then send a request for deletion of your account. If you want to delete it via the app, the process is nearly the same, just step 1 you will need to go to the settings section in the top right corner.
Be aware the deletion process can take 1-3 business days to be fully processed.
Are iDates Coins Automatically Topped Up After They Run Out?
No. iDates does not have any automatic renewal subscriptions. They use a coin system so once you run out of coins you will need to purchase another package if you'd like to keep messaging other users.
If I Delete My iDates Account When I Still Have Coins Left, Will They Refund Me?
No. iDates mention that they won't be refunding any coins left on an account even if you accidentally delete your account before using all of them.
Do Coins Expire If They Are Not Used For A Long Time?
No. Your credits won't expire, the only way you will lose your credits is if you delete your profile without using them.