Adult Friend Finder Review
Verified Review
Published: 12th December, 2022
Introduction
AdultFriendFinder is one of the most well-known dating sites where you can find a quick sexual encounter, regular hookups, and literally anything else even remotely related to sex. The raunchy feed of matches, a jumble of explicit photos and videos, and stimulating calls-to-action that offer all types of sex, make it heaven for anyone looking for a good time.
Adult Friend Finder is run by FriendFinder Networks Inc. (also known as Various, Inc.) who are pioneers in online dating, boasting one of the largest dating networks with a single goal in mind: to bring like-minded fun-loving people together, whether for intimacy or love. FriendFinder saw its start in 1996 when it was founded by Andrew Cornu, then a Ph.D. student at Stanford University. It grew over the years and after joining up with Cams.com in 2005 has since become one of the largest providers of live model webcams in the world.
However, in 2016 it had its share of cyber problems when the adult dating site was hacked. The hack exposed the personal details of millions of members and also uncovered a staggering amount of fake profiles, which only helped to further tarnish the site's reputation. But this was only a blimp in their past and these incidents prompted AdultFriendFinder to rightfully beef up its online security protocols. Since then, it has worked hard and reclaimed its crown as one of the most popular sex dating sites in the world.
With currently over 700 million people (and no that's not a typo) engaged in at least one of FriendFinder's websites, and an over 20-year solid track record, it's definitely a good idea to not just get your toes wet, but dive in head first into their most raunchy website Adult Friend Finder. In this Adult Friend Finder review we'll discuss everything you need to know: how the site looks and feels, how to access premium features, the overall cost of the experience, and whether it will all be worth it for you.
What Type Of Dating Site Is AdultFriendFinder?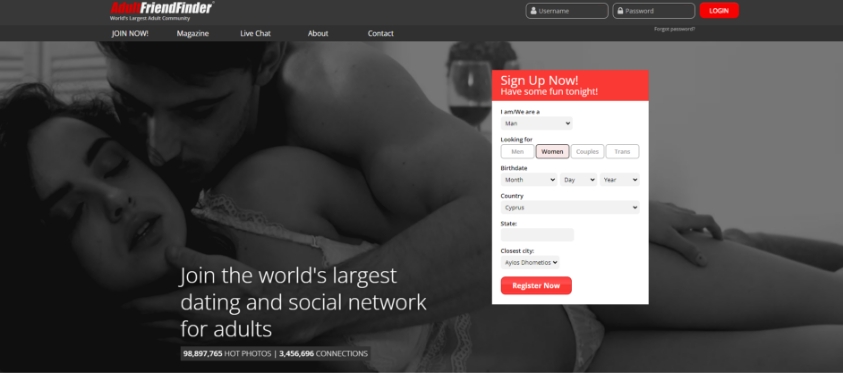 Hookups
Webcam dating
Serious relationships
Chatting
Friendships
Who Is Adult Friend Finder For?
Straight
Gay
Lesbian
Bisexual and Bi-curious
Transgender
Couple
Group
It honestly doesn't matter who you are, you are welcome here as long as you love to have a good time! So, if you love to talk about, watch, or partake in any kind of sexual activity, this site will be for you, my naughty friend.
Stats & Infographics Of AdultFriendFinder
Male to Female Ratio
Age Demographics
Country Distribution
Those in the UK might have noticed that there is also an AdultFriendFinder UK site (www AdultFriendFinder co uk), where 100% of its 14 thousand monthly site visits are from people in the UK. But anyone in the UK will have far better chances if they log in to the Adult Friend Finder com site instead of the Adult Friend Finder UK site. This is purely because the AdultFriendFinder com site gets over 60 million monthly visits to the website. And 3.36% of that is from the UK. Now 3.36% of 60 million (which comes to 2 million) is a far greater pool than 100% of 14 thousand!
Registration Process Of AdultFriendFinder.com
As soon as you visit AdultFriendFinder.com you are greeted with a steamy video in the background. Which is much more exciting than a static photo of someone looking rather awkward at times like on other sites.
Step one in the adultfrinendfinder sign up process is to select who you are. The site gives you the option to create an account as a man, woman, straight couple, gay or lesbian couple, trans person, or a group. You'll then need to select a username that's 4-16 characters long, but you can't have spaces or use special characters in your username. Add your email address and click 'JOIN AND HAVE FUN'.
On the next page, you will need to add some more information about yourself. You will notice that the same info you added in step one is asked again, but those fields are conveniently already filled in. On this form, you will also need to tick who you want to meet. Choices are women, men, couples (man/woman), and trans. Strangely enough, there is no option to find gay or lesbian couples. If you choose 'Trans' a further option will pop up so you can select between trans women, trans men, non-binary, trans feminine, or trans masculine. You can tick as many as you like and don't have to be limited to only one or two options. Following that you then add your birthday (which is used to check your age), your country, state, and closest city, and now also a password. Click 'Join and have fun!' again to continue.
The third and final step to creating a profile is to select your sexual orientation, body type, and marital status from a drop-down menu. For any of these, you are able to leave it anonymous. You will then need to write a compulsory introduction title of at least 10 characters long and can choose to also add an optional short description of yourself and what you are looking for. Click 'Become a FREE member' and your account will be created.
Note: By clicking this button you certify that you are over 18 years old and have read and agree to the Terms of Use and Privacy Policy, and consent to using cookies. This is all in small print under the button so you are able to check it out before agreeing.
Once you've agreed you'll receive a confirmation email with an activation link. Activating your account via this link will allow for your profile to be seen more and let you get email notifications of new messages and flirts. This is optional though and you can click the 'X' at the top right to do this later.
You've now completed the Adult Friend Finder login process and have a fully functioning profile, but we suggest you fill it up a bit more if you really want to catch someone's attention. Add a profile photo, add some raunchy pics too while you are at it, and even a cheeky video if you want to. Then answer as many of the additional questions as you like. These help other members get a better idea of who you are, and you receive a point for each one. You can redeem these points later on.
There's even a personality test and purity test for you to do. You'll find them by clicking under 'My Stuff', then 'Edit My Account'. The personality test helps the site to find you a better match, and the purity test will show if you are a sexual overachiever or a naughty newbie. All fun things that help in the end to let others know as much about you as possible.
AdultFriendFinder Mobile Application / Compatibility
Don't even bother reading what other adult friend finder reviews have to say about this. Trust us, we have scoured all over and there is NO mobile app available! An Adult Friend Finder app just doesn't exist. Did someone say to try searching instead for "All FriendFinder" in the App Store? We tried! Did someone else say there's a link via the mobile website? We checked! A mobile AFF app might have been available in the past, but as it is right now you will only find knock-off apps that use the popularity of AFF to try to get people to download them. You are very likely to find knock-off apps like 'ADULT FRIEND finder video chat' in your search, but this is actually an app called 'TAG' so don't be fooled too easily.
BUT. Who needs a dedicated adultfrinendfinder app when the AFF site works perfectly on any device? We found the mobile version to be a bit more streamlined and easy to use than the full desktop version. The desktop version takes some getting used to as it is rather busy and feels cluttered, it can actually be a bit of an overwhelming experience. Members on any device can easily toggle between the mobile site and the full web version though. This is done from the site footer at the very bottom of the screen. If you are on your phone or tablet using the mobile site you can click "use full web version" on the top left of the site footer to get the full desktop experience (this is best for full-screen devices like tablets and desktop computers though). To go back to the mobile version click the phone icon that says "mobile site" on the top right side of the footer.
Men Vs Women On AdultFriendFinder
The site is pretty fair when it comes to gender identity, they only care that you are very naughty and love sex. Therefore there are no differences in any of the features offered, subscription or points prices, or even in the sign-up process for anyone who uses AdultFriend Finder. Men and women, whether they are cis- or transgender gets the very same experience here. Yay equality.
AdultFriend Finder Top Features
Adult Friend Finder has a plethora of great features available to its members. It really is a smorgasbord of adult fun. We had to break down all these great features into groups instead of discussing each one individually so that we could cover them all, we just didn't want to leave anything out. All the features mentioned below can be found on the bar at the top of the screen.
My Stuff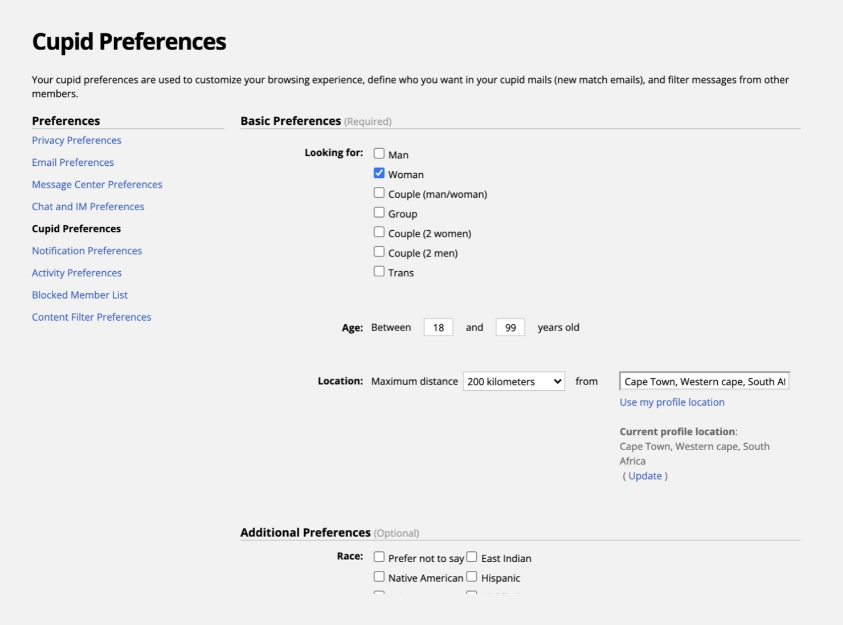 In this section you will find where you can see your entire account, this includes upgrading, and managing your profile. You can take your personality test and purity test from here, but most importantly this is where you will find 'Cupid Preferences'. These are used to customise your browsing experience on Adult FriendFinder. With the click of a button, you can define who you want in your cupid mails (these are new match emails), and filter the messages from other members. Preferences are based on looks, ethnicity, sexual orientation, and location. So only the people you like will be able to find you. Think of this as a reverse to searching, instead of you going out and looking for someone specific, you can choose who is able to find you.
Search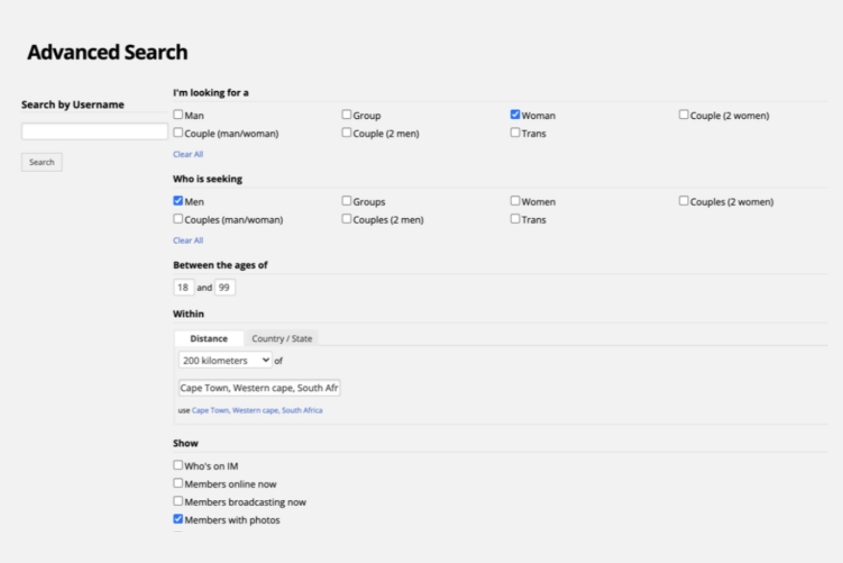 Similar to 'Cupid Preferences' where you choose who finds you, the very in detail search function will pinpoint what kind of people you will be able to find. Search parameters range from letting you see who is online now, who is nearby, and who matched with you. You can even choose to only see VIP members or even search for a specific user name if you already know the person.
From there the AdultFriendrFinder search filters get even more in-depth letting you find exactly what you are into with the advanced search functionality. The advanced search lets any member find other users based on gender, sexual orientation, age, distance, race, body type, even breast size, eye colour, and the list just goes on and on. You really can go into so much detail with these parameters. You can even choose to only see verified, confirmed, VIP, or Gold members. Or members who are broadcasting right now, and only choose to see only those with photos or videos. You will really feel like a kid in a candy store here.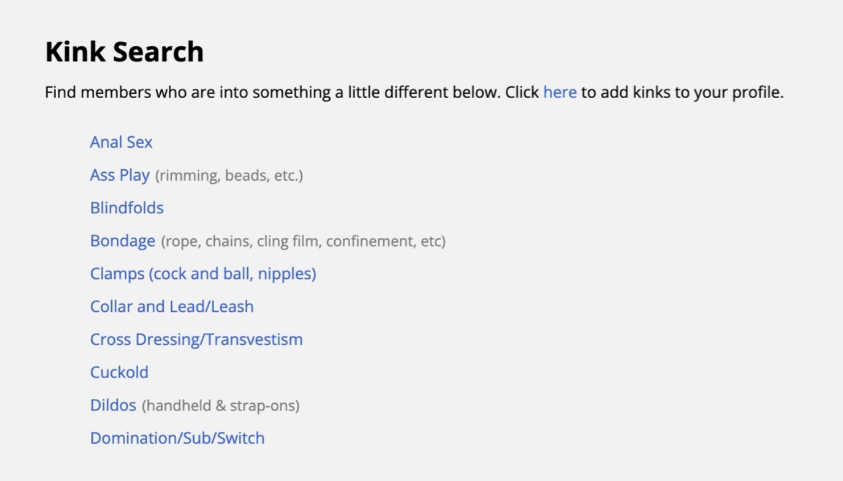 If you are not all that phased by looks, you can choose to instead search for members based on what kinks they are into in the kink search. So, any naughty kinksters out there can find anything from anal sex to voyeurism, and even Sadism/Masochism and humiliation. Pick your poison and easily find a like-minded partner.
Live Action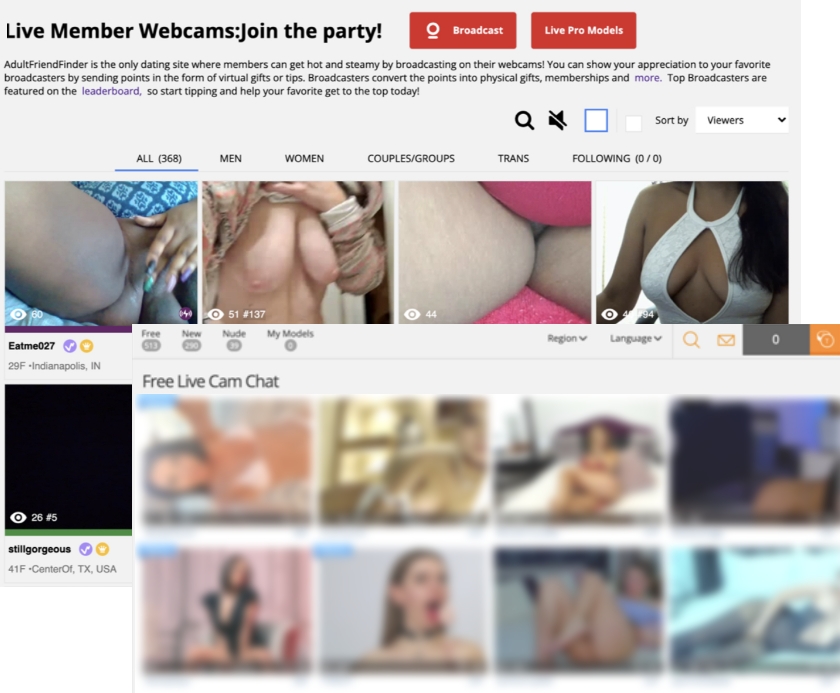 Here is where things get really steamy. AFF is not shy about being a dating site that's all about sex and more sex. In the 'Live Action' section you will find member and model webcams along with the live chat rooms. It's up to you if you want to see a sexy amateur or someone more professional playing with themselves live while you chat with them.
Webcams are grouped for men, women, couples/groups, and trans for you to choose what you are into. If you are feeling frisky you don't just have to watch, but you can broadcast what you are getting up to as well. Here you can send tips to people who are broadcasting and even receive tips from people watching your broadcast. To be extra careful there is even a mute button so your apartment doesn't get filled with loud sex moans as soon as you open a broadcast.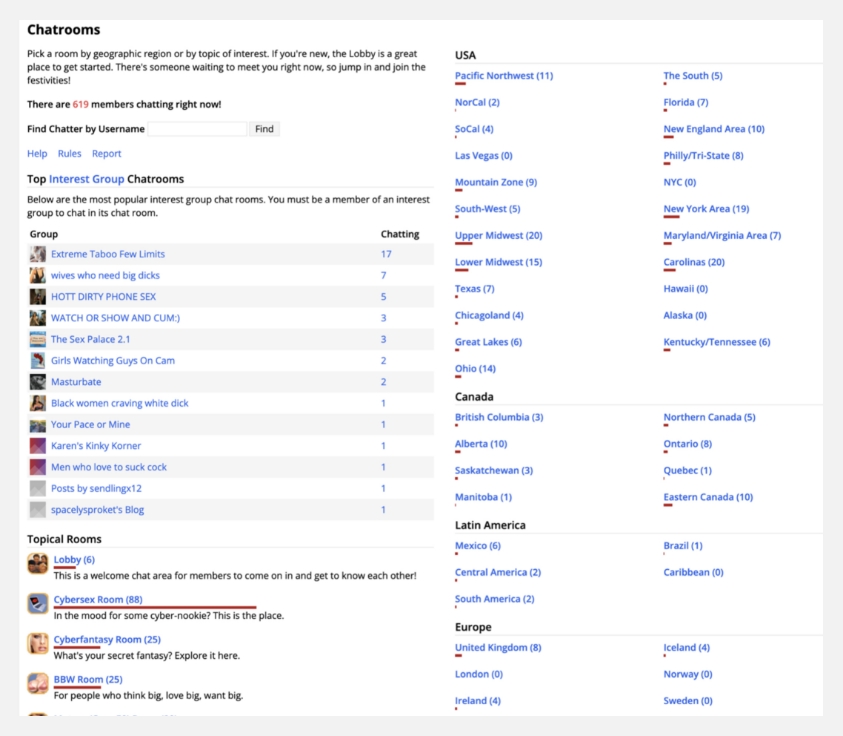 If you are old enough to remember the days of Mxit chat rooms (anyone younger than 30 might need to google that) then you will be familiar with the feel of adult freind finder chat rooms too. There are no photos or videos, and the live chat is between whoever has logged into that room. It could be 4 people or 150. Think of an orgy for cyber sexting if you will. But if you meet anyone you like in the chat rooms you can click on their profile pic and start a private conversation with them. There are chat rooms based on location, ones for those over 50, those for specific kinks, and even a general cybersex room for just about everyone.
Community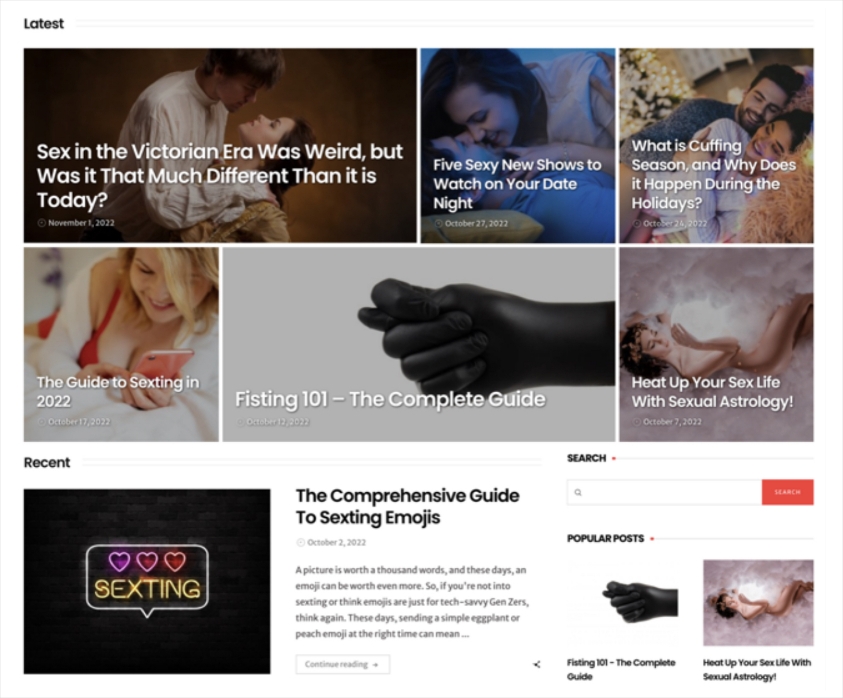 Wow! Yeah this is what we love to see on a dating site. Under the Community tab, you can find the Adults Friend Finder blog, groups, the AFF magazine, the sex academy, contests, and erotic stories. As if having live video webcams was not enough AFF decided to go above and beyond for their members. The blogs, groups, and erotic stories part of the community is a sexy social network that works independently from the dating side of things. To get started you need to do a very quick questionnaire that doesn't take more than a minute.
In the community, any member can post a blog, chat in a group or write a sexy story for others to read. You can choose to see them all at once, or filter out what you would like more of. Things get VERY graphic here, so be ready for it.
The AFF magazine is a great read for anyone who is looking for tips and tricks in the bedroom. They have guides on just about anything and answer all the age-old questions about sex, the vanilla kind and the very kinky.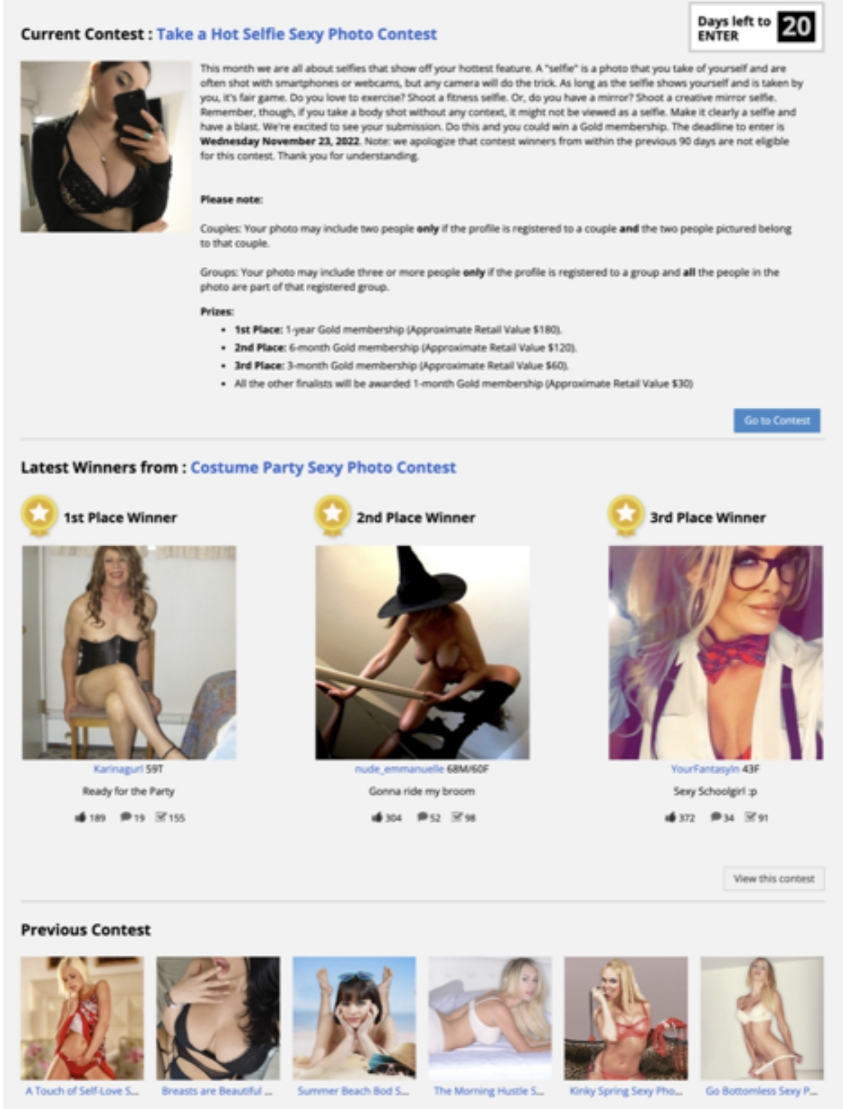 The sex academy contains an online inventory of educational material for anyone to learn more about sex. This included instructional videos on anal and oral sex, tips on how you can meet someone online, and so much more. This feature is only available for Gold members.
A fun interactive feature you will also find here is the AdultFrienendFinder Contests. Here members can show off their creative and sexy photos and videos to win prizes. Contests are held monthly with different themes. Last month's theme was 'Costume Party Sexy Photo' and this month's theme is 'Take a Hot Selfie Sexy Photo'. The Community team selects the 32 best photos and then all members get to vote for their favourite. First, second, and third-place winners receive a 1-year, 6-month, and 3-month gold membership respectively. And the other 29 finalists are all awarded a 1-month gold membership as well. It's a fun way to keep the naughtiness going for as long as possible.
What's Hot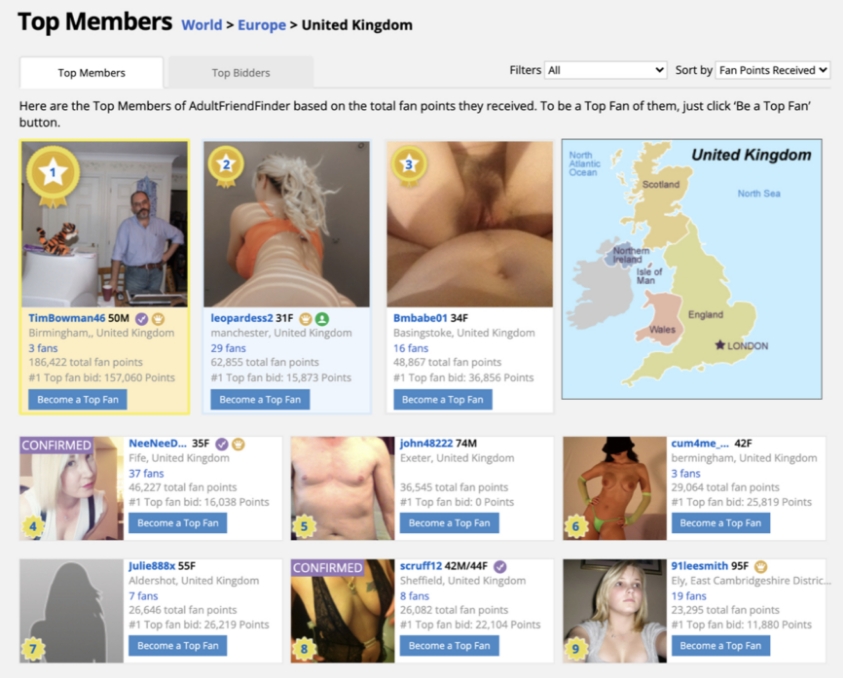 The age-old question of who's the fairest of them all gets an answer. Why browse for someone hot when they can be served to you on a silver platter? Adult friend Finder conveniently groups together the hottest photos, the hottest videos, the hottest albums, the hottest members, and the top members so that they are all only one click away.
The ratings for 'hottest', whether it be photos or members, are based on who has been viewed the most by other members. Top members are rated a bit differently and are based entirely on how many fan points they've received. You can easily become one of their top fans and bid on them too if anyone catches your eye. Top members are grouped by location, so South Africa will have different top menders than Brazil.
AdultFriendFinder Offers, Prices & Costs
As a Freemium site, there are some features that you can use without paying. These include browsing member profiles, watching the free live webcams, and accessing all the 'Community' features mentioned above (except for the Sex Academy). For a more premium experience, adultfreindfinder offers a subscription service, a token system, as well as an added add-on offer.
A subscription will give you full access to all members' profiles and photos as well as allow you the ability to contact them via message or with a flirt. Points and Tokens are used as an added extra and are used to send tips or access live broadcasts if you are not already a gold member. The added offer which is also referred to as the Standard Contacts Add-on lets you pay so that non-members can get in touch with you.
Subscription Package
To get in contact with other members you will need to subscribe to a gold membership. This will also give you access to the non-free model webcams, all member profiles, and their naughty photos and videos. Subscriptions auto-renew until they are cancelled. Keep in mind this does not mean that they are cancelled when you delete your account, you need to actively cancel your subscription before deleting otherwise you will continue getting billed. You can also turn off the auto-renewal feature on the Billing History page, or by contacting the site's customer service. If you sign up for a discounted price your subscription will automatically renew at the non-discounted price after its term expires.
Prices & Costs
| Gold Membership | Price | Total |
| --- | --- | --- |
| 1 Month | $39.95/Month | $39.95 |
| 3 Months | $26.95/Month | $80.55 |
| 12 Months | $19.95/Month | $239.40 |
Perks Included
Being able to contact any member via message or flirt.
Having full access to all profiles, photos, and videos.
Point & Token Package
This is something that other AdultFriendFinder reviews don't seem to mention, but apart from having a subscription package, members on AFF can also use points and tokens to interact with other members.
You can use points to watch live member broadcasts, send tips and gifts to other members, and bid on members. If you are a Gold member you won't need to spend the 28 points it takes to get into the non-free live broadcasts though and can save those to spend on tips.
Tokens on the other hand are used only to interact with live model webcams and you can choose to have your tokens auto-load if you are running low (just tick the "Auto Load" box when you are purchasing your points.
Points can also be earned by uploading photos, confirming your ID, and answering 'Additional Questions' on your profile. These points can then be redeemed to host your own private chat room, send virtual flowers/gifts, email any member, receive message alerts, get a Gold membership, or even be exchanged for cash.
Prices & Costs
Token prices are far more expensive and range from $12 for 100 tokens to $99 for 1000 tokens. If you upgrade to Model Chat+ you can purchase more than 300 worth of tokens per day.
Points on the other hand range from $3 for 200 points and $10 for 1000 points.
Perks Included
Bid on your favourite members to become their Top Fan.
Send Tips and Virtual Gifts to your favourite members.
Direct models in Private & Tipping shows.
Physically connect with Buzzmode & Connexxion sex toys.
View the hottest adult stars exclusively on AdultFriendFinder.
Points can be exchanged for multiple other features to enhance your overall experience and even be exchanged for cash.
Offer
While the Gold plan allows you unlimited access to all members, not all members will have access to you. Adult Friend Finder makes it possible for you to include an additional add-on to your Gold membership that will allow anyone (even members on free accounts) to get in contact with you via messages and flirts.
This is completely optional and you do not even need to select the same amount of time as your Gold plan. Basically, if you are signed up for a 12-month Gold membership you can choose to add the Standard Contacts add-on for only a month, 3 months, or the full 12 months. This is completely up to you.
Prices & Costs
| Standard Contacts | Price | Total |
| --- | --- | --- |
| 1 Month | $16.99/Month | $16.99 |
| 3 Months | $10.00/Month | $29.99 |
| 12 Months | $8.83/Month | $105.99 |
Offer Perks Included
Choosing to enhance your Gold plan with the optional Standard Contacts add-on will allow free members to see your full profile and contact you using the Message Center.
AdultFriendFinder Pros & Cons
Pros
Free live webcams. (Who doesn't love free porn? And when you know it's real and happening live, it's even hotter)
Members have clear intentions about what they want and how much they love sex.
Their massive user base forms a great community of sex-positive members. You can even make some money by receiving tips when you host a webcam and no one would judge you.
Tons of great features that will keep you busy for hours.
More LGBTQ-inclusive than most dating sites.
Cons
The site is riddled with ads.
A somewhat outdated interface that looks like it is straight out of the 90's that tends to slightly lag at times.
The very best features are all behind a paywall.
The site is very busy. (There is so much going on that you might get overwhelmed with the number of options at your fingertips)
AdultFriendFinder.com Safety & Security
Privacy Policy (personal information and third-party involvement)
You could go sit at Starbucks, order a pumpkin spiced latte, and read the entire privacy policy. But you'd be orange in the face by the time you've read it all. What you need to know is that Adult Freind Finder is above board with their policies. Your information will only ever be used to email you with any news about the FFN websites, to improve and cost image their content and product offerings, analyse FFN website usage and deliver promotions that are relevant to you. They also provide you with information about the services and products provided by FFN websites or third parties.
Now don't let the thought of third parties get you worried. AFF does not, and will never, sell or rent your information to third parties without your expressed consent. Your personal information may also be shared with their subsidiaries who operate other FFN websites to increase your overall experience online. They list all 12 of these subsidiaries so that you do not have to do any guessing. These companies are mainly used to confirm your ID when you do a verification, provide the algorithms to find your match, or are sites that host the live web streaming, and the community sections.
Fake Profiles
If you read the Privacy Policy and are really bored on a Sunday afternoon, you could start ordering another round of Starbucks drinks to get through the very lengthy Terms of Use. But the most important takeaway from the Terms is that it doesn't seem that they indulge fake users to keep you online like a lot of other sites do. While they do state that the site is to be used on an 'as-is' basis (which is usually a red flag), this is merely to clarify that the content being posted is the sole responsibility of the member posting it, and there is no mention of any third party involvement in creating and managing fake profiles. Wipe your brow, the women are real here.
Apart from that, the Terms also outline the conduct expected by its users, mention that all ads are from third parties who might have different privacy policies, then go into detail about subscription renewals and how to terminate your account. Everything was rather what you would expect from a professional and legitimate dating site, there was nothing that raised any eyebrows for us.
Conclusion
As you can tell from our AdultFriendFinder review you will never get bored with the overall experience that AFF provides. From finding someone to have sex with or merely indulging in a spicy erotic story, to engaging in live webcam chats with models and amateurs alike, it's not just a dating site, it's a complete lifestyle. On the whole, the amount of value you get from the site will depend on your budget. You'll certainly have the best chance of enjoying your time on AFF if you subscribe as a Gold member and have a few points to spare. That's not to say that you can't still get your fix as a free user, even if that means you won't be able to message anyone. It's practically a porn site with chat functionalities.
So, if you are looking for a hookup, for someone sexy to worship via webcams, or just want to have fun and explore your kinky side and get creative with group chats, this is the site for you. Their philosophy, after all, is to "unite people who love the freedom to express themselves", and AFF certainly creates the perfect online space for this to happen.
Adult Friend Finder Tips
Take your time to get familiar with the website. There's an almost endless amount of fun features available and knowing where to find them and how they work will be to your benefit.
If you don't like ads and prefer a simplified look and feel you will be better off changing to the mobile version of the site. This can be done on any device, by clicking the phone icon at the bottom-right corner of the screen.
This may seem obvious, but be specific on your profile about what you are looking for. There are millions of users, and everyone has their particular kink. So, making sure you pinpoint what you like will ensure that you find those who have the same naughty proclivities that you do.
Make use of member webcams. Especially if you are a free user this will be your bread and butter. You won't need to pay to gain access to the live broadcasts like you do on model webcams, and even though you can't message the members it's like free porn.
Take part in the monthly contests. These are fun and you don't have to be a supermodel to win. If you plan on using the site for a while these contests are a great way to have a chance at winning free monthly subscriptions.
FAQ
What Is Adult Friend Finder Membership Price Level?
Gold membership gets priced at $39.95 for a 1 monthly subscription, $80.85 for 3 months, and $239.40 for 12 months. Memberships will automatically renew after their respective periods expire at which time you will be charged the same amount again. The auto-renewal function can be deactivated at any time.
Is Adult Friend Finder Legit Or Not?
It most definitely is, yes! Adult friend finder is a legitimate site for casual dating and hookups. It boasts one of the biggest global user bases around which is comprised of a diverse and sexually active community.
Did Adult Friend Finder Get Hacked, Is My Personal Data Safe?
Yes, there was a hacking incident in November of 2016. But, and this is a big but, the AdultFinder site has taken this rather seriously and beefed up its security. There has not been a hint of any hacking ever since, so you can rest assured that your personal information will stay safe and secure.
Is Adult Friend Finder Free To Use?
Yes, you are able to explore the site 100% for free. There is not much dating happening on the free adult friend finder version though. You will only have limited access to the site's features, you can only do basic things like viewing most profiles, to send messages you will need to upgrade to a premium membership.
Am I Being Scammed On Adult Friend Finder?
Unfortunately, there will always be a few nefarious characters lurking around online dating sites. Offenders can be reported to the site and will be banned permanently after an investigation of their account. We suggest a 3-phase tactic to make sure that you are talking to a real person and not getting catfished or scammed.
Do a Google reverse image search of their profile photo: a fake profile can be relatively easily uncovered this way. You can always go with your gut feeling if someone looks too good to be true, but a Google search will let you know for certain.
Have a video chat with them: thank goodness for the webcam features on AFF. This is a foolproof method for you to see who is on the other side of the screen. For extra precaution, you can ask them to do something silly like stick a fork in a banana while on the video call.
Never give any sensitive information to anyone: this is a general rule for online dating as well as a tactic. No one who is legitimate will ask you for your credit card details, social security number, full name, or phone number. If they seem clingy and pressure you to send these then immediately block and report them.
Does Adult Friend Finder Work?
It depends on what you are looking for. For casual dating and hookups, it works, yes. There is no question that adult friend finder delivers on sheer database and features to provide the best chances possible for you to be successful in your endeavours. Both paying and non-paying members can enjoy the available functionalities.
How Do I Turn Off Auto-Renewal On AdultFriendFinder?
The auto-renew feature will automatically renew your membership when it expires. Your membership is renewed using the same credit card details you used to sign up with and is shown on your Billing History & Credit Card page.
To turn the auto-renew feature off, simply log into your AFF account using your username and password, click on the "My Account" button in the top menu, select the "Billing History & Credit Card Info" link in the account section, and click "OFF" under the product status at the top of the page.
How Can I Delete Adult Friend Finder Account?
There is no way to close your Adult Finder account while on the mobile version so you will have to be on the full web version to complete this. Click on your profile icon in the top-right corner of the screen and select 'My Account' from the drop-down menu. Scroll down and click 'Close Account' under the 'Manage Account' section. Then click 'Please Delete My Account'.
How Can I Retrieve My AdultFriendFinder Password?
If you have forgotten the password to your Adult Friend Finder account, simply go to adult friend finder . com and click 'Login" to go to the AdultFriendFinder login page. Then click "Forgot Password" and enter your email address after which you will be sent a link where you can set up a new password.
How Can I Turn Off My Cupid Email On AdultFriendFinder?
To either turn on or off your Cupid reports: log into your account using your username and password, click on the "My Account" link, select "Email Preferences", and from this point, you can turn on or off any type of email services that you do or do not want to receive.