OnlyFlirts Review
Verified Review
Published: 11th August, 2023
Last Updated: 19th September, 2023
Only Flirts Introduction
Dating sites often take a great deal of time before they become significant enough in the online sphere. Only Flirts nonetheless, has managed to become quite the household name within its first two years of operation. With a name clearly derived from the ever popular OnlyFans, adapting a pretty slick look of white and blue, OnlyFlirts boasts a large user base and useful matching features for their members.
Our experts here at TheBestDatingSites have dug deep and read through countless Only Flirts reviews before testing the dating site for themselves. Keep reading to learn more about their registration process, their features, and their costs. This OnlyFlirts review takes a deeper look into the site's security protocols, its legitimacy, as well as its stats and infographics. Finally, stick around to find out how men and women are treated on the site, and whether an Only-Flirts app exists.
What Type Of Dating Site Is OnlyFlirts?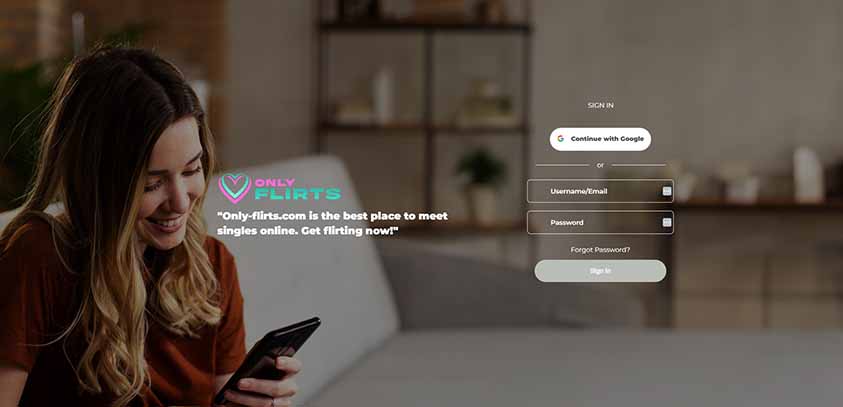 With its name already giving an adult feel to the site, it's no wonder Only Flirts.com is mostly used for:
Hookups
Casual Dating
Flirting
Meetups
Discreet Affairs
It's, of course, not impossible to find individuals who are looking for serious relationships on OnlyFlirt, however, prepare to be the minority amongst the site's user base.
Who Is Only-Flirts For?
As a site designed to help people find hookups, Only-Flirts.com has quite a diverse and open-minded community. The below genders and sexualities are both welcome and relatively active on the site:
Straight
Gay
Lesbian
Bi
Transgender
Couple
While going over some OnlyFlirts reviews, we noticed that the asexual crows were somewhat disheartened. Considering it's a site predominantly focused on hookups, it's not really a surprise it caters to almost everyone else except asexual individuals.
Stats & Infographics Of Only Flirts
Only-Flirts has had on average one million visitors over the course of the last three months. The below percentages reflect the stats and infographics of their user base:
Male - Female Ratio
Age Demographics
Country Distribution
Considering the above, it's apparent that Only Flirt is popular internationally, drawing in people from various countries and nationalities. Only Flirts.com is also most popular with men between the ages of 25 to 44. These stats are quite similar to every other flirts dating site out there nowadays.
Only Flirts Login Process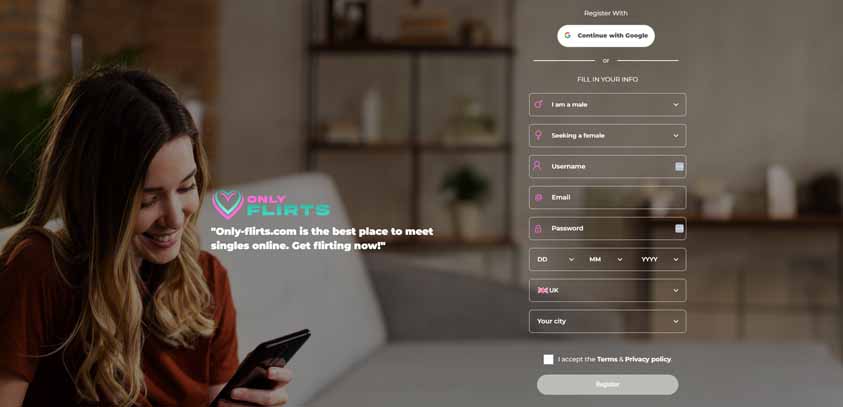 In this fast-paced part of the online dating world, any site able to make its registration a quick and easy procedure gets a thumbs up in our book. Thankfully, the Only Flirts login process did not disappoint. The entire registration form consists of eight mandatory fields:
"I am…" (you can sign up as a male, female, transgender, or a couple)
"Seeking…" (this field contains the same options as above)
Username
Email
Passwords
Date of birth
Country
City
Once the above fields are filled, you will need to tick a box accepting the Terms and Privacy Policy of the site. Now if the above still seems like too much trouble, you can skip the entire Only-Flirts login process by simply registering using your Google account.
There's plenty to discover once you access the site, however, we recommend filling up your profile before proceeding. This will not only help you gain more traction on the site, but you will also be able to receive some Only Flirts free coins (if you sign up as a guy) by reaching 100% profile completion. The site already tops up your account with 80 free coins simply by signing up.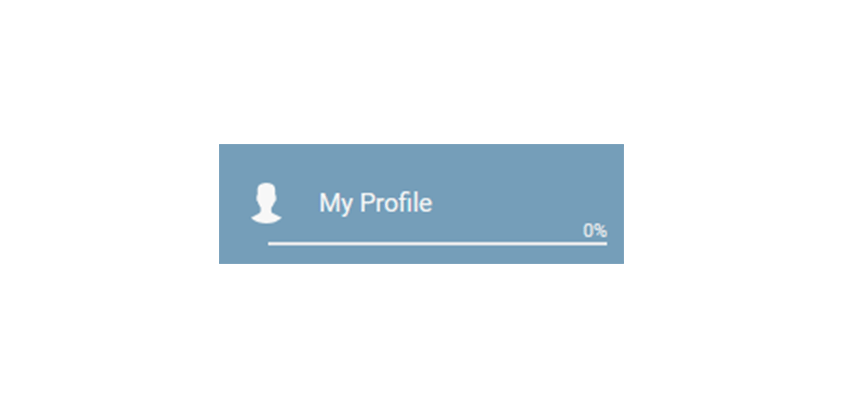 You can check how close you are to reaching 100% profile completion by clicking on the hamburger menu at the top left of any page on the site. Moreover, you can check how many Only-Flirts free coins each action corresponds to by checking your "Wallet".
Your OnlyFlirts profile consist of five distinct sections:
Verify email
Profile picture
View gallery pictures
"About me" text
Personal information and interests
Verify profile
Enable push notifications
Starting up, you will be asked to verify your email address for 100 coins. Please keep in mind that you will not be able to receive any of the free coins mentioned below unless this step is completed.
The next two are quite straightforward, you will need to upload a profile picture for your account and up to 3 gallery photos. These actions will top up your account with 20 coins each, for a total of 40 coins. The gallery section allows you to blur certain photos as well, which is a great feature for those who'd rather stay discreet on Only Flirts.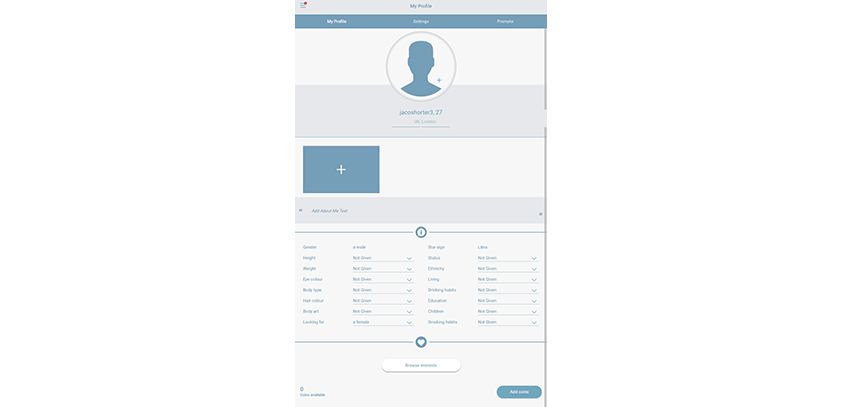 As far as the "About me" text goes, you are limited to 999 characters, which is plenty of space to make an impression on your profile's visitors. This also offers 20 coins upon completion.
The personal information section of your profile, preceded by the interests section is the most extensive one. It consists of 14 drop down menus covering different aspects of your outer appearance (i.e. eye colour, hair colour, body type, height, etc.) and more sensitive information (i.e. relationship status, living situation, ethnicity, smoking and drinking habits, etc.). These are followed by the interests section which presents the user with a list of 80 different sexual interests and fetishes. Selecting up to 5 will grant you 20 more Only-Flirts free coins.
Only-Flirts will then urge you to verify your profile by uploading a valid ID card, driver's licence, and the sort which will top-up your account with 40 coins. And finally, by enabling push notifications you will be granted 60 Only Flirts free coins.
Only Flirts App & Mobile Compatibility
Much to the disappointment of many of the site's users, currently there is no operational Only Flirts app. In accordance to their FAQ, the only way you can currently access the website is through your mobile browser. In fact, the site is fully optimised to be used for an array of devices including desktop, mobile and tablet.
So, even though there is no Only-Flirts app currently available for their users, you can still talk to your favourite chatting partner on the road. Simply log in through your mobile browser. And if you are worried that the site won't be the same on a mobile browser, don't knock until you try it. There are no differences (aside from screen adjustments) between the desktop and mobile versions of Only-Flirts.com.
Men Vs Women On Only Flirts
As far as men and women are concerned, we didn't find any differences while registering on Only Flirts. The differences began once we accessed the site however. While men receive 80 coins when they complete the registration process, women receive 40.
As mentioned above, men have the opportunity to top up their accounts with coins through incentives on profile completion. For women however, these incentives do not exist and women cannot receive any Only Flirts free coins by filling up their profiles. Instead, women will be granted access to the "Chat" area, "Pins'', and "Viewed Me" features of the site. An area and features that men can access freely upon their first Only Flirts log in.
The differences don't end there either. Signing up as a guy on OnlyFlirts, you have to keep topping up your account constantly in order to keep sending messages out. Women also have their packages, but while men have coin packages, women have timed subscription packages.
Another difference is that women have to fill up their profile to be able to purchase any of the packages, while the coin packages are available even to non-verified men. In fact, two out of the four packages presented to women can only be purchased if the individual has verified their mobile number and provided a form of identification. We go into more detail about the prices of the two in the "Only Flirts Offers, Prices & Costs" section further below.
Only Flirts Top Features
Speed Date
Taking some notes from the online dating school of Tinder, Only Flirt has their own spin on the Tinder swiping feature. Speed Date presents users with a list of profile previews as potential matches, and they can either click the "X" icon or the "thumbs up" icon to "skip" or "like" them respectively.
The profile previews show some basic information about the other person. You'll be able to see their profile picture (assuming they have one), their username, age, country, and city. Finally, you can click on the preview to visit their profile and get a better idea on the kind of person they are.
Pins
The "Pins" feature is split into two sections; "Pins" and "Pinned Me". All profiles have a "push pin" icon just under their picture. Once you click on it, the profile will be added to your list of "Pins". Automatically, your profile will be added in their list of "Pinned Me" as well.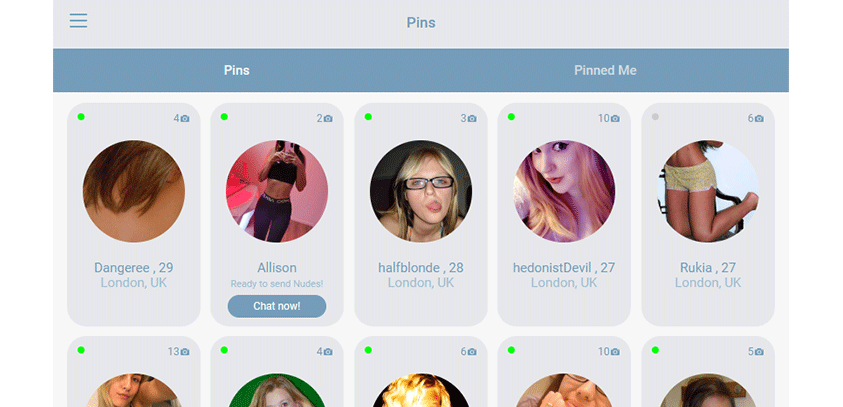 It's a nice and subtle way to let others know you are interested without having to flood their Only Flirts .com chat with even more messages. What's more, if you've added each other in your "Pins" lists, then you know the feeling's mutual and you are quite likely to get a positive response back.
Viewed Me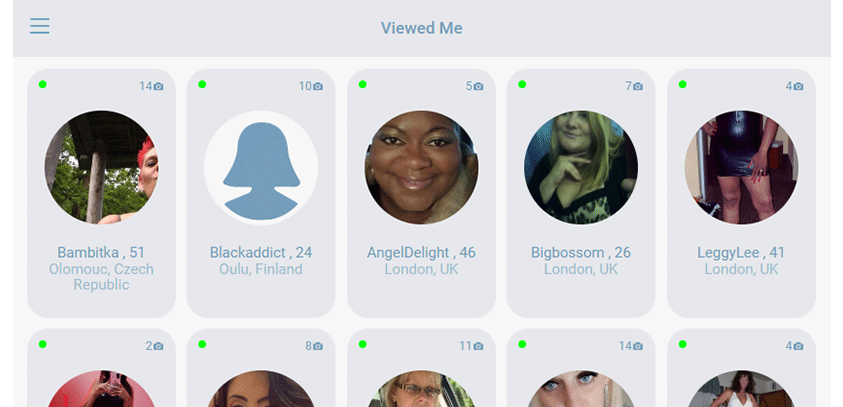 A fairly self-explanatory dating feature, "Viewed Me" allows users to see who visited their profile. The people listed under "Viewed Me" likely found something interesting about you, or they might have found you physically attractive. Whatever the reason may be, you'll definitely have a better shot with people who have checked you out, when compared to someone else on OnlyFlirt.
Only Flirts Offers, Prices & Costs
Only-Flirts.com has a nice variety of coin packages, their prices ranging from affordable to quite expensive. As mentioned above, men and women can't top up their account the same way; with women having limited-time subscription packages instead. As you might expect, sending messages on Only Flirts is much cheaper for women than men.
Additionally, both men and women have access to three offers; the "Promote Profile" and the "Greek Mythology Stickers", and the "Unlimited Messages" offers. The latter is available to men as a one-time purchase, while women can opt to purchase it again. Only-Flirts also has other limited-time and seasonal offers, but these two are the ones available no matter the time of year.
The available payment options may vary depending on your country of residence, nonetheless, Only Flirt supports Visa, Mastercard, and Google Pay in most countries.
24-Hour Only Flirt Unlimited Messages Offer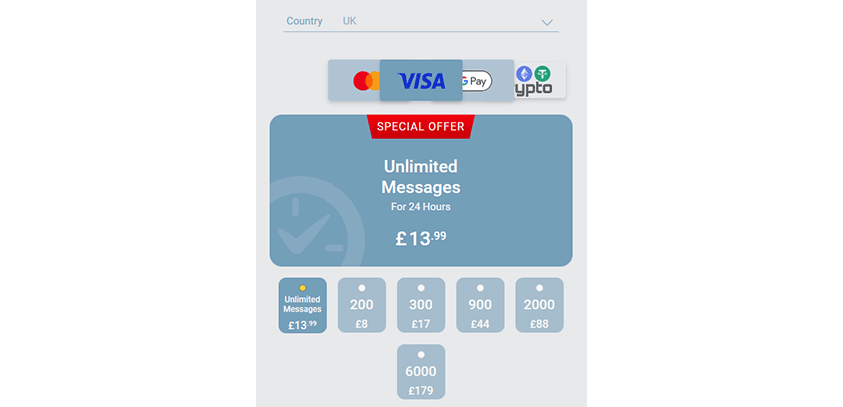 24-Hour OnlyFlirt Unlimited Messages Offer Prices & Costs
Men - £13.99
Women - £4.99
24-Hour Only Flirts.com Unlimited Messages Offer Perks Included
Unlimited messages for 24 hours
OnlyFlirt Greek Mythology Stickers Offer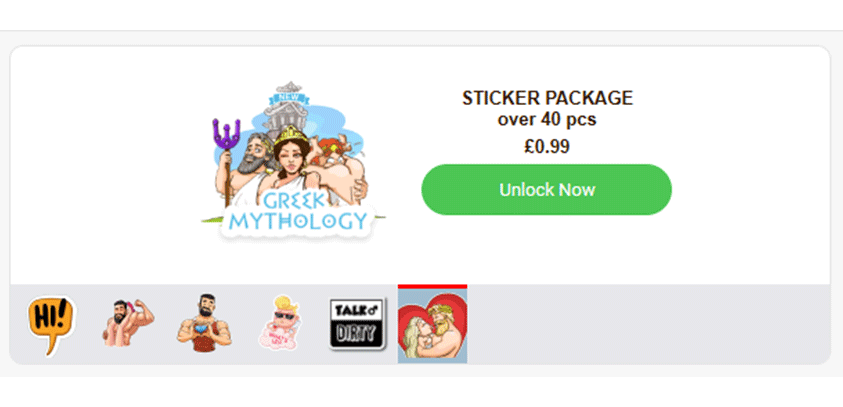 Only Flirts.com Greek Mythology Stickers Offer Prices & Costs
Men & Women - £0.99
Only-Flirts.com Greek Mythology Stickers Offer Perks Included
Unlock 40 original Greek mythology themed chat stickers
Only-Flirts.com Promote Profile Offer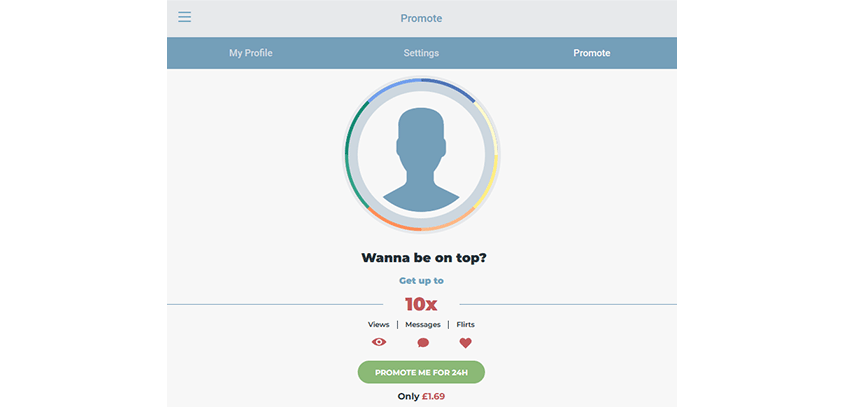 Only Flirts Promote Profile Offer Prices & Costs
Men & Women - £1.69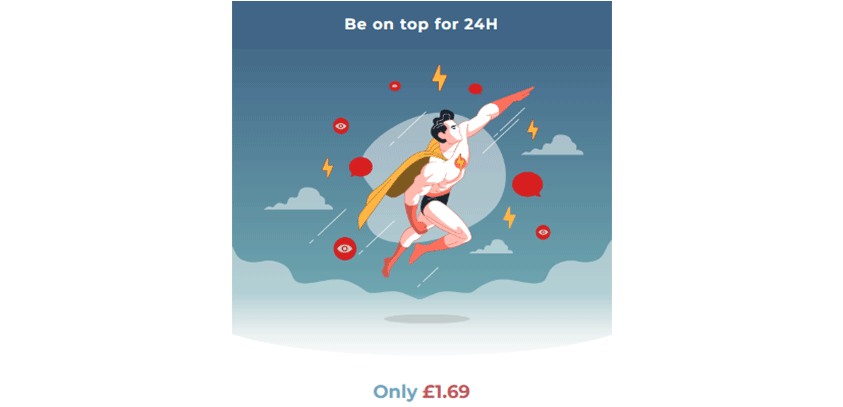 Only Flirts.com Promote Profile Offer Perks Included
Appear at the top of your preferred gender's members' area for 24 hours
Only Flirts Coin Packages (Available To Men)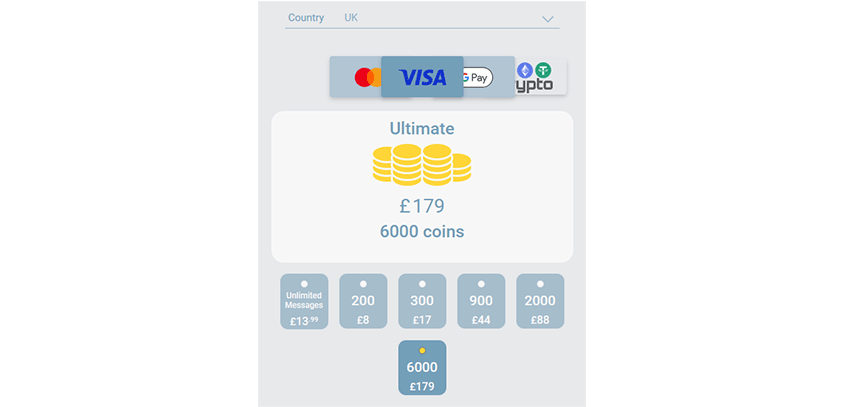 Only Flirts .com Coin Package Prices & Costs
Intro - 200 coins - £8
Basic - 300 coins - £17
Standard - 900 coins - £44
Premium - 2000 coins - £88
Ultimate - 6000 coins - £179
Only-Flirts Coin Package Perks Included
Coins can be used to send messages
OnlyFlirts Unlimited Messages Subscription Packages (Available To Women)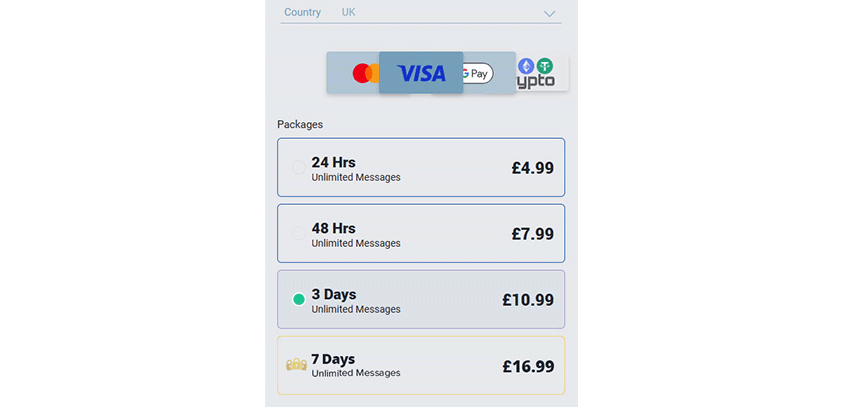 Only Flirt Unlimited Messages Subscription Prices & Costs
Basic Package - £4.99 - 24 hours
Most Popular - £7.99 - 48 hours
Best Value (Mobile Verification) - £10.99 - 3 days
VIP Pack (ID Verification) - £16.99 - 7 days
OnlyFlirts Unlimited Messages Subscription Perks Included
Send unlimited messages for the specified amount of time
OnlyFlirt Pros & Cons
Pros
Quick and easy Only Flirts login process
Incentives for free coins
Modern and easy-to-navigate interface
Cons
No Only Flirts app
Men and women have different payment packages
System profiles (for entertainment purposes)
Free profiles are slowly flooded with ads
Only Flirts Safety & Security
System Profiles; The Rumour Of The Only Flirts Scam
A quick google search on "Only Flirts scam" brings up varying results of past users explaining how they developed trust issues after using the site. But where do these complaints come from? Through our research we found out that there are indeed some so-called "Only Flirts fake profiles".
According to their Terms and Conditions, paragraph 10, Only Flirts specifies that their company sometimes uses "system profiles", operated by contractors, to improve user experience.
You might be wondering; Is there any way I can tell whether the person I am talking to is one of those Only Flirts fake profiles? And the answer is "no". Unfortunately, there is no indicator as to which profiles are genuine and which are operated by OnlyFlirts. In this instance, we'd advise being cautious about the information you disclose with others on the platform. Particularly if you haven't met them in person.
Is Only Flirts Legit? Third-Party Involvement
Only Flirts is not legitimate as a dating site. Unlike most sites like it, meeting real people in person is near impossible, especially considering the system profiles we mentioned above. Nonetheless, we've found a few more less-than genuine points to bring to your attention.
If you choose to stay a freemium user, you will soon notice that quite a large number of ads will fill up the site. These can be banners, menu tabs, and many others. For the sake of this Only Flirts review we studied their policies on third parties' use on the site and we pinpointed a few sections worth mentioning.
Under paragraph 8 of their Terms and Conditions, Only-Flirts mentions that the user agrees to make all the necessary payments to such third parties (assuming there are payments due) to allow the site to keep receiving their services. They have stated that they will not be held liable for any damages caused by said third parties and payments made to them (paragraph 19).
Is Only Flirts Real? Use Of Personal Information
Based on our research, we did identify some Only Flirts real profiles on the platform, however there could have been more. The site permits the use of third parties without claiming any liability for potential damages as well.
Regardless of the above however, the site itself still has some legitimate rules in place for the protection of our personal data. After all, each profile we created needed to be manually approved by their team of moderators before any information was shared on the site.
Good news is that most of the time your personal information is used or shared by OnlyFlirts, it is for a genuine and legitimate purpose. Another point to consider, is that in paragraph 5 of their Privacy Policy clarifies that your information may be shared in order to enable the company to make a sale or other transaction related to them.
Of course, if you yourself share sensitive information with your chat partners, then Only Flirts cannot be held responsible for possible grievances caused. In this case, we'd recommend being mindful of the type of information you share with others on the platform. Especially if you have not met them in person.
Only Flirts Conclusion
Playing devil's advocate, OnlyFlirt is not a bad site assuming you'd like to use it for flirts only. As most Only Flirts reviews will tell you, the site is largely operating as an entertainment platform, meaning that there weren't as many real profiles as we had expected. It is nonetheless a fairly modern site, with helpful dating features, and good incentives to keep you coming back.
Finally, we'd recommend giving it a try only if you plan on finding someone to flirt with online with no plans of meeting them in person. Of course, this will also depend on your gender and budget. Men do get the short end of the stick on Only Flirts and considering how expensive buying coins constantly can get, we'd advise on topping up in moderation. So, if you are looking for some entertainment or an ego boost, then OnlyFlirts will be perfect for you!
Flirting Tips
If you are a guy, fill in your dating profile completely for some free coins.
Approach people in your "Pinned Me" section for a higher chance of a response.
As the packages are coin-based, make sure to choose the best deal for you.
Only Flirts FAQ
What Is Only Flirts?
OnlyFlirts is an online entertainment and dating platform designed to help people find a chatting or hookup partner.
How Does Only Flirts Work?
Only-Flirts.com works by operating "system profiles" which are used to keep users entertained. The site offers coin and subscription packages to provide their services.
Is Only Flirts Just For Flirting?
As the name would suggest, Only Flirts.com is mainly used by people who want to have a chat with others online without having to make an in-person commitment.
Is Only Flirts A Scam?
Yes, Only Flirts is a scam as far as some of the profiles featured on the site. The company uses "system profiles" to keep its users entertained, and they are transparent about that in their Terms and Conditions.
Is Only Flirts Safe?
Yes, the Only Flirt moderators are actively checking the site for inappropriate content or behaviour, and profiles can be penalised for going against their terms of service.
Does An Only Flirts App Exist?
No, an Only-Flirts app does not exist. Nonetheless, the site is fully optimised for use on any devices.
How To Delete Only Flirts Account?
You can delete your Only Flirts account by following the below steps:
Visit "My Profile"
Click on "Settings"
Select "Delete My Account" (at the bottom of the page)
Insert your password
Click the link sent to your email address to complete the procedure