Fetoo Review
Verified Review
Published: 22nd August, 2023
Introduction To Fetoo
Are you seeking an adventurous platform to explore your fetishes? Within the millions of dating sites, finding the perfect match can indeed pose a challenge. Enter Fetoo—an online dating site designed for individuals seeking to explore their unique fetishes. So, if you're tired of the ordinary and seeking a community that shares your desires, Fetoo could be among your choices.
Through this review at TheBestDatingSites, our experts are committed to providing you with information and guiding you toward the dating site that is right for you. We navigate through the pros and cons, highlight key features, discuss costs, and evaluate its safety as a sign-up option. By doing so, you can confidently determine whether Fetoo is the right fit for you.
What Type Of Dating Site Is Fetoo?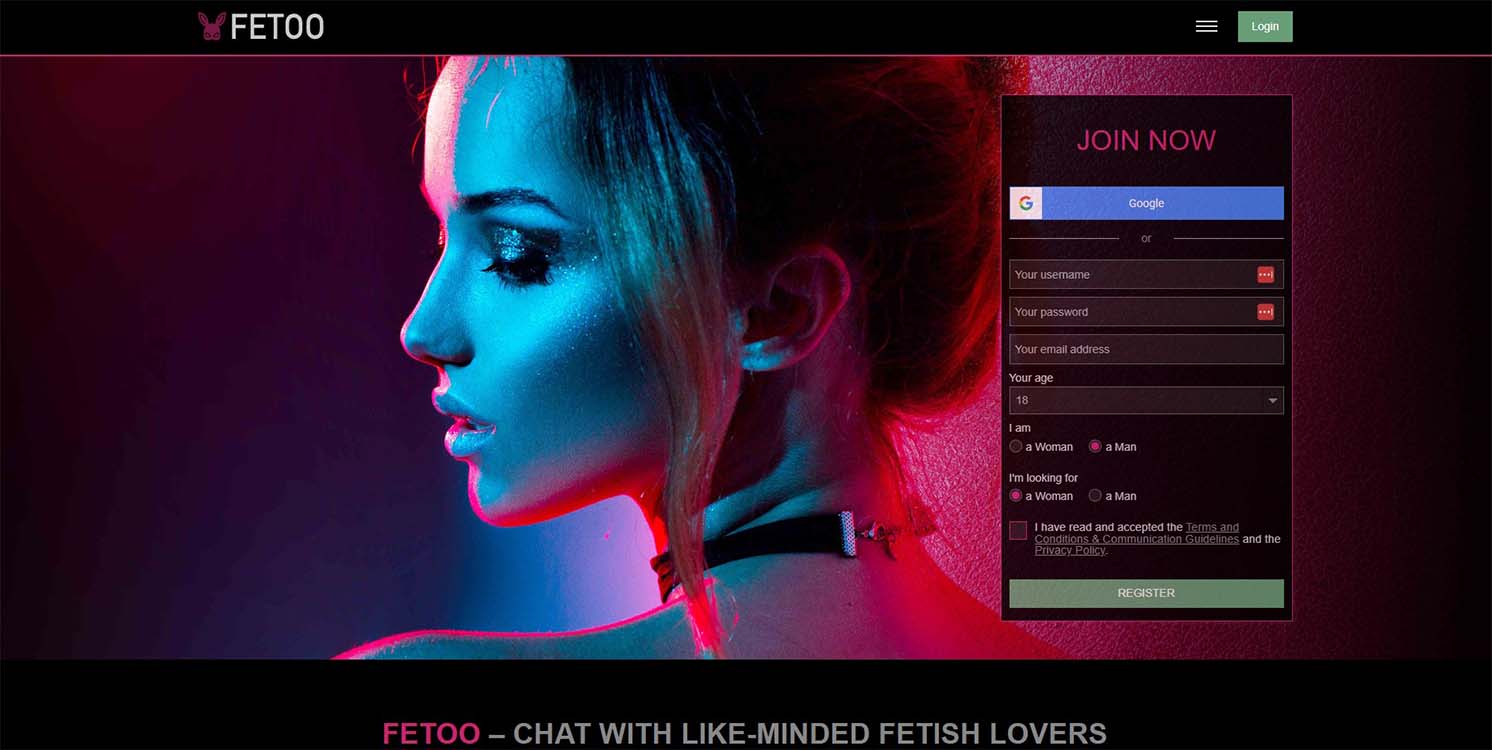 With its primary focus on fetish dating and people devoted to unique interests, Fetoo stands out as an appealing option for anyone looking for:
Chatting
Dirty talk
Explore kinks and fetishes
So, for those seeking a committed and long-term relationship, Fetoo might not be the most suitable option.
Who Is Fetoo For?
Fetoo is not very diverse in terms of its available gender options. You can only sign up as:
Straight Male
Gay Man
Straight Female
Lesbian Woman
The only other options, apart from the selection above, that will appear on your profile under the "facts" section are:
Stats & Infographics Of Fetoo
Male - Female Ratio
The Fetoo site has a much higher number of male users compared to female users. This dynamic has made us question the validity of certain profiles on the site. We cover this in more detail in the security section further below.
Age Demographics
Country Distribution
Fetoo Login Process
In order to sign up, you need to:
Insert username and password
Enter your email address
Select your age
Choose whether you're a woman or a man
Choose your preferred gender (man or woman)
Confirm that you've read and accepted their terms and conditions
Alternatively, you can join with your Gmail account.
You will also need to confirm your email if you want to receive notifications for contact requests as well as exclusive special offers (unless you have signed up with your Google account). You also get 25 Fetoo free coins if you enable push notifications.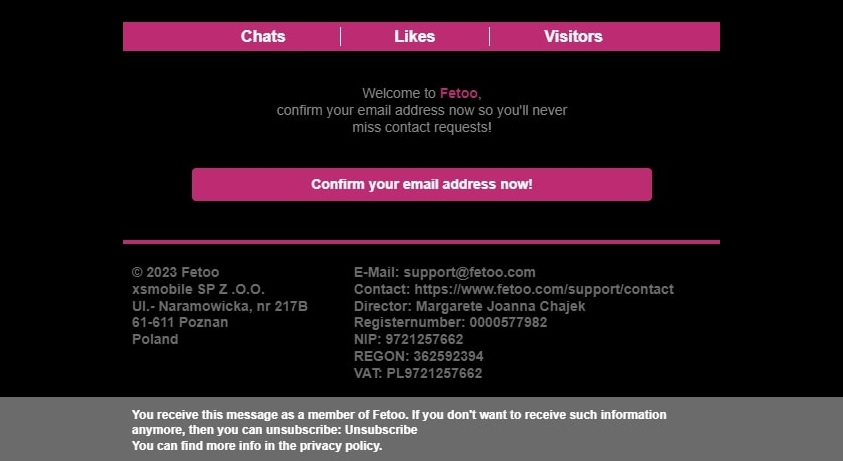 Don't forget to check your spam folder, as we received the email there after a couple of minutes. You can always request to receive a new activation link or update your email address.
Overall, the registration process for Fetoo was simple and fast, and they respected user privacy by not requesting too much personal information.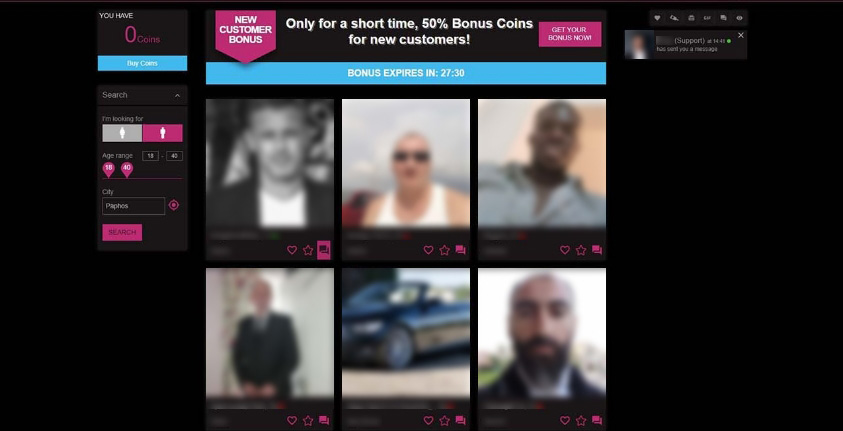 We recommend filling up your Fetoo profile, as this will definitely attract more people. In order to do so, visit your profile as presented at the top right-hand corner of the screen. From there, you'll be able to view your new messages, visitors and likes, and you can also edit and add a number of details to your profile, such as:
Edit your username, age or location
Write a few things about yourself in the "About me" section
In the "Facts" section, you can specify if you have kids, your relationship status, your interests etc.
Upload a profile photo along with some gallery images as well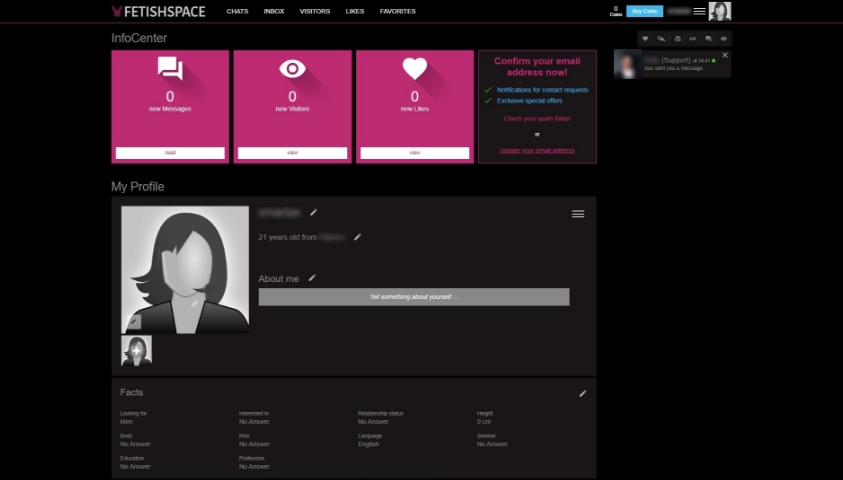 When uploading a picture, there are some guidelines that you need to follow. You should avoid:
Pictures without a visible face or with a face made unrecognisable
Images of children or teenagers
Pictures with violence, insults, political slogans or racist insinuations
Telephone numbers, advertising of other services
Drugs or other illegal substances
Pictures where the profile owner is not the main focus
Fetoo Dating App & Mobile Compatibility
There isn't a mobile application available yet. However, you can easily navigate through the Fetoo website using your computer, tablet, or even smartphone, as the design is optimised for all devices.
As the site is completely optimised on all devices, there are not many changes to the navigation. The most noticeable change was the menu tabs going from text-only buttons to icons.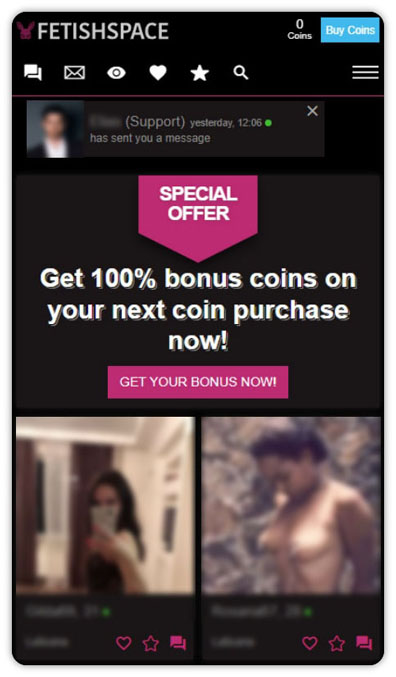 Men Vs Women On Fetoo
So, is there any difference if you sign up as a man compared to a woman on Feetoo? The only distinction we observed between male and female accounts is that signing up as a man adds an extra button to the navigation bar: the "slot machine". Here, male users have the option to purchase coins for a chance to play the slot machine and potentially win more coins, with one free pull available every 24 hours.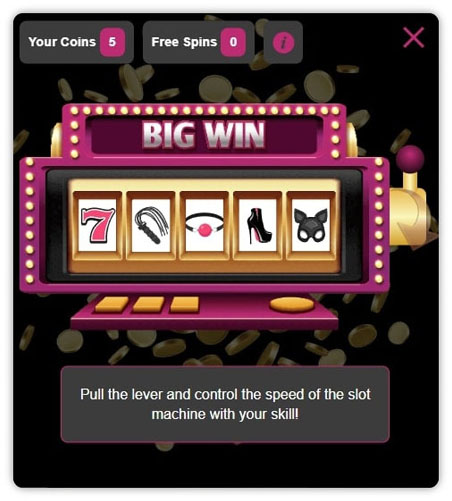 Another difference is that if you sign up as a man, you receive messages, visits, and likes from women, as soon as you log in, while women don't seem to get as much attention. We found this quite unrealistic, considering that men make up the majority of users on Fetoo.
Fetoo Top Features
Search Tool
After you have registered and verified your email address, you can then use the search tool on the left side of the home page to look for your match. The search options are very basic and straightforward, as they only allow you to choose what you're looking for (only men or women), your preferred age range, and finally, a location in order to narrow down your options.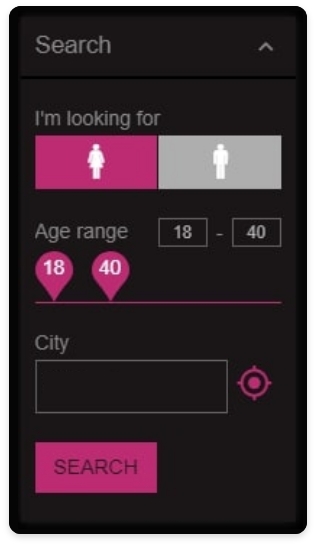 Chat Function
The chat feature on Fetoo is easy to use and instant. It's a space where you can be yourself and converse with others who understand and share your interests, but this privilege requires purchasing coins.
Send GIF
Through the chat feature or by visiting a user's profile, you have the ability to send GIFs. However, in order to do so, you will need to pay 50 coins for every available gif.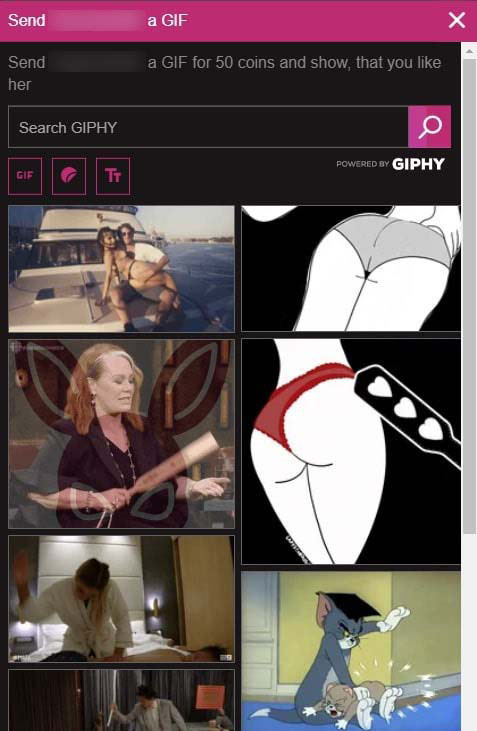 Send Gifts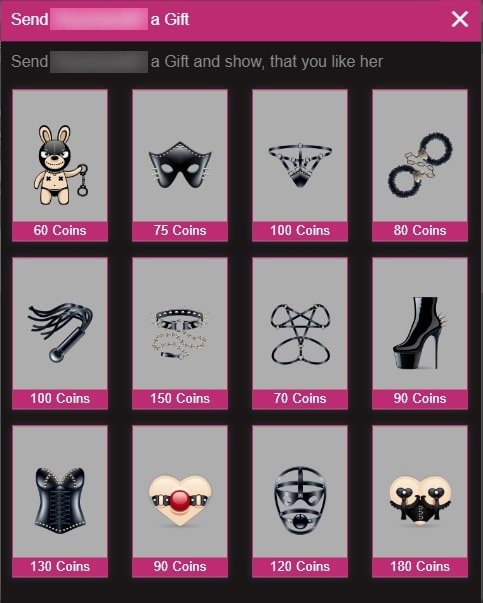 Another intriguing feature is the availability of personalised gifts. If you'd like to send a playful gift to your chat partner, you'll once again need to use coins, with the amount varying based on the specific gift you desire.
Send A Slap
If you want to kickstart the conversation and get straight to business, just send a slap! However, remember that the first slap is free. After that, you'll need to pay 30 coins for every future slap you give.

Visitors, Favourites & Likes
Whenever someone decides to check you out or likes your profile, a notification will pop up right away. This way, you'll stay informed and won't miss any potential connections. You can also keep a record of the users you've shown interest in and mark them as favourites. Users you have added to your favourites will not get notified, so it's a good way to get back to them whenever you'd like.
Fetoo Offers, Prices & Costs
Browsing, liking, and marking users as favourites on Feetoo comes at no cost. However, if you're interested in chatting or accessing the features above, you'll need to invest in their coin packages. These can be acquired using either a Visa card or a Paysafe card and include the following:

Basic - 150/+20 - £7.49
Standard - 300/+30 - £14.99
Bestseller - 750/+80 - £32.99
Platinum Package - 1500/+150 - £59.99
Full Happiness Package - 3000/+300 - £119.99
The above packages and costs are available to UK users only, so the coins/bonus coins and prices may vary depending on your location.
If you want to test the waters, it's better to stick to the basic package so you can decide on your own if you actually enjoy the extra benefits.
Feeto constantly encourages you to buy coins at various points, such as when you're logging in or out of your account. They present pop-ups to push you toward purchasing a package, so be ready for these prompts as you navigate the platform.
Fetoo Pros & Cons
Pros
Different ways to interact with users (likes, favourites, gifts, gifs and slaps)
User-friendly design and easy to navigate
Cons
No mobile application
No identity verification
Fake profiles
Fetoo Safety & Security
While the Fetoo dating site maintains a general level of security, it's important to acknowledge the possibility of occasional privacy slips. The platform does inform users that they have the flexibility to add, modify, or remove their information at will. However, it's crucial to keep in mind that whatever content you share is viewable by all users.
Data Protection
Fetoo also keeps a record of your visits, like a digital footprint, which includes your location and your IP address. It's also worth mentioning that information regarding children is closely monitored, and actions will be taken if found.
Fetoo also maintains a digital record of your visits, like a digital footprint, which includes your location and IP address. It's worth highlighting that the platform takes active measures to monitor information referring to children, and appropriate actions will be taken if any such content is identified.
Third Parties
Fee-based services might require payments to be managed by outside service providers. These providers have the ability to use the information you share on the site in any way and anywhere they want, no matter the kind of content. This includes images, text, and videos.
Moderated Profiles
They briefly mention the possibility of encountering fake or moderated profiles on the Fetoo site. This serves as an additional reminder for users to be aware of while using the platform.
Conclusion
Overall,Fetoo.com is an average dating website. One of its drawbacks is its self-promotion as a fetish-oriented platform, which contrasts with its limited-to-none options for users to explore different kinks and fetishes. The search function lacks diversity and depth, but the website as a whole offers easy navigation and a user-friendly design.
If you're looking for a cost-free dating experience, Fetoo .com might not be the right fit for you. This is due to the fact that users are frequently encouraged to buy packages to enable chatting or accessing the website's features. Overall, the platform is more about having fun with playful, kinky and bold conversations rather than finding someone for something serious.
So, if you are feeling adventurous, want to explore your fetishes and don't mind spending a bit, then the Fetoo dating site will be a good choice for you.
Fetoo Tips
Make the first move by sending a spank, a gift or a gif
Check out as many profiles as you like to let other people know you might be interested
Create a unique and appealing description. It's the first thing others see, so the more attention-grabbing, the better.
Fetoo FAQ
What Is Fetoo?
Fetoo is a fetish dating platform bringing together individuals who share similar interests for 'no strings attached' kinky connections. Beyond dating, Fetoo com offers a safe haven for open exploration to both experienced fetishists and newcomers alike.
Is Fetoo A Good Dating Site?
If you are interested in exploring your kinks and you are not looking for a serious relationship, then Fetoo.com will be a good option for you. It's overall a nice site for those looking to experiment with their sexual interests.
Is Fetoo.com Free?
Signing up and registering on Fetoo. com won't cost you anything. You can easily create an account without paying any membership fees. However, certain features will need payment in the form of coins.
Is Fetoo Legit?
User reviews suggest that a significant number of customers express dissatisfaction with theirFetto dating experience, primarily due to an uneven distribution between male and female users and the large number of fake accounts.
How To Get Free Coins On Fetoo?
Only male users have a way to get Fetoo free coins - by using the slot machine feature. You can try it once for free every 24 hours.
How To Delete Fetoo Account?
Here's how to delete Fetoo account:
Click on your profile picture to access your account
Use the dropdown menu in the upper right corner of your profile and select "delete account."
You'll be asked to confirm your decision to delete your account permanently.