TheAdultHub Review
Verified Review
Published: 18th August, 2023
Last Updated: 17th August, 2023
TheAdultHub Introduction
The Adult Hub dating site was first established back in 2003 and has since managed to spread to a worldwide level, bringing in 49 thousand new members daily according to their main page. The site is run by HubPeople Limited and as the name suggests, the site was created to allow those looking for some adult fun to have a hub where they can explore all their adult desires.
The adult hub reviews we came across in our research appeared to be slightly outdated and only discussed what the site was like before its most recent update. There have been a few changes that make it even more fun and user-friendly. But don't you worry as we'll cover what other adult hub reviews missed out on to make sure you get all the right info at your fingertips.
So if you are looking for a site where you can let out all your deeper sexual desires and explore a few new kinks, we're here to help you decide whether TheAdultHub is the site for you.
What Type Of Dating Site Is TheAdultHub?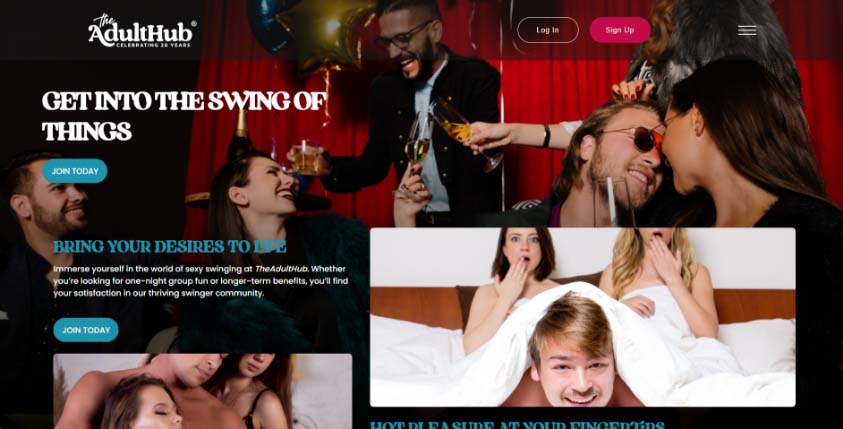 Trending dating sites these days can sometimes be misleading in their own right, thankfully TheAdultHub is pretty straightforward. Here's what you can find by signing up:
Hookups / Casual Meetups
One Night Stands
Sex Chatting / Sexting
Sugar Daddy / Baby Relationships
Along with the above, TheAdultHub also advertises their swingers, BDSM, and LGBTQ+ communities which very minorly changes the site to provide each of the users who are looking for a more specific niche.
Who Is TheAdultHub For?
As mentioned above the site does cater to members of the LGBTQ+ community, but more specifically:
Straight Men
Straight Women
Gay Men
Lesbians
Couples
Crossdressers
Transexuals
Stats & Infographics Of AdultHub
The almost one million monthly visitors to AdultHub appear to be mainly male, mostly in the age range of 25-35 years old and reside predominantly in the United Kingdom. So if these are all attributes you are looking for then AdultHub will certainly be for you.
Male - Female Ratio
Age Demographics
Country Distribution
TheAdultHub Login Process
Signing up on AdultHub is as simple as most dating sites today. All you need is to insert your email address, your gender and gender(s) you are interested in, and your date of birth to start the AdultHub login process.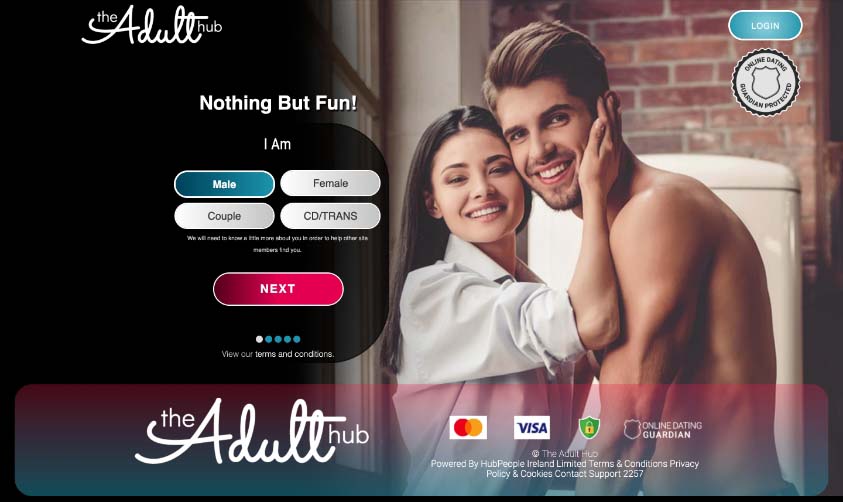 What we found that delayed the very first login was their popup questionnaire that you need to fill in to complete your profile before you can start using it. You are asked to give:
the age range that you are interested in
select a few of your "turn ons" from a pre-existing list of 11 things ranging from sex toys to voyeurism
create a username for your profile
verify your email address
write a short summary describing what you are all about
write an overview for your profile describing yourself in a bit more detail
add a profile photo
A newer feature has recently been added to AdultHub com where you are able to use what they call the "Promote Me Dating™" Assistant. After adding your profile photo in the signup stage you will be asked to write a generic greeting message that can be sent to your matches so you never miss out on the chance of having some fun. According to the site, 38% of new conversations start this way so it might be a good idea to make use of it.
Conveniently enough the site will have a ready-to-go message if you are not feeling too creative while signing up. You can also choose to turn this feature off by clicking "Don't Promote Me" under the 'Next' button or by editing your preferences later on. After selecting what message you would like to use on Adult Hub.com you can then choose if you want to allow your matches to message you using their Promote Me™ feature or if you want things to be more organic.
Finally, you are then asked to accept the site's terms and conditions. They give a short summary but we always advise you to read through it yourself. While some of the steps can be skipped such as uploading an image, it does extend your time filling in information instead of using the site, but a fuller profile only leads to a better chance of success on Adult Hub.
The Adult Hub App & Mobile Compatibility
Unfortunately, there is no adult hub app available. That should not hold you back from signing up though. This is purely because of how well optimised the website is to provide the exact same experience on a mobile browser as you would have on the desktop version. The site has the same functionality whether you choose to sign in via your mobile, tablet or desktop device. Thanks to that you won't need to worry about an adulthub app to take your flirting on the road.
Men Vs Women On AdultHub
The approach to women is the same as with men on the site, we did however come across an error after our first signup. Unlike with our male account where matches were apparently endless, it seemed like the profiles from the "Matches" list ran out much faster for women. This would make more sense if the majority of their users were women, but our research shows that there are more than twice as many men as women using The Adult Hub. Perhaps this is an area-specific issue.
We were also presented with an error message mentioning that our profile was deemed unsuitable by their team when first signing up as a woman, however, the information between our male and female Adult Hub accounts was very similar which made us think this might be part of their moderation. Other than that, the overall experience, features, and costs are all exactly the same for men, women, and trans people.
The AdultHub Top Features
Likes & Matches
A feature first introduced by Tinder and now integrated into many dating sites, 'Matches' lets you scroll through a list of potential partners based on your preferences. You get to see their profile photo and a summary of their profile and from this, you are asked to either like them (click on the heart icon), dislike them (click on the 'X' icon), or go directly into sending them a message (click the envelope icon). There is also an option to go back to the previous AdultHub profile if you maybe clicked too fast and want to change your mind. This rewind option and the ability to send messages are only available to VIP members and you will need to have a profile photo on your own account if you wish to show up on other members' matches.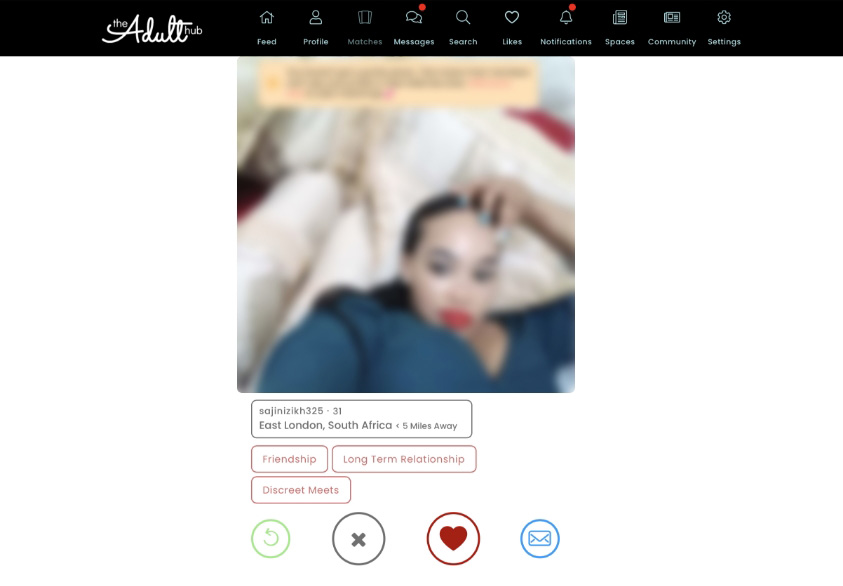 The list of matches that you are shown is based on the filters you set when you first register, so these are the people you are most likely to match with. Whenever you like a person their profile automatically gets added to your likes, which is also where you can see who liked you and if you had any matches. Matches and Likes can be accessed from The Adult Hub tab at the top of the screen.
Spaces
'Spaces' is AdultHub's spanking new pleasure zone that's been designed around your favourite kinky interests. Each Space is an interactive hub where you can explore different horny topics giving you a fresh way to meet like-minded playmates which makes the AdultHub dating experience a unique one. You'll have to select which Spaces you would like to follow and from there explore X-rated photos and video chat, saucy member blogs, or confess your own fantasies, plan sexy meets, discover adult events, you name it.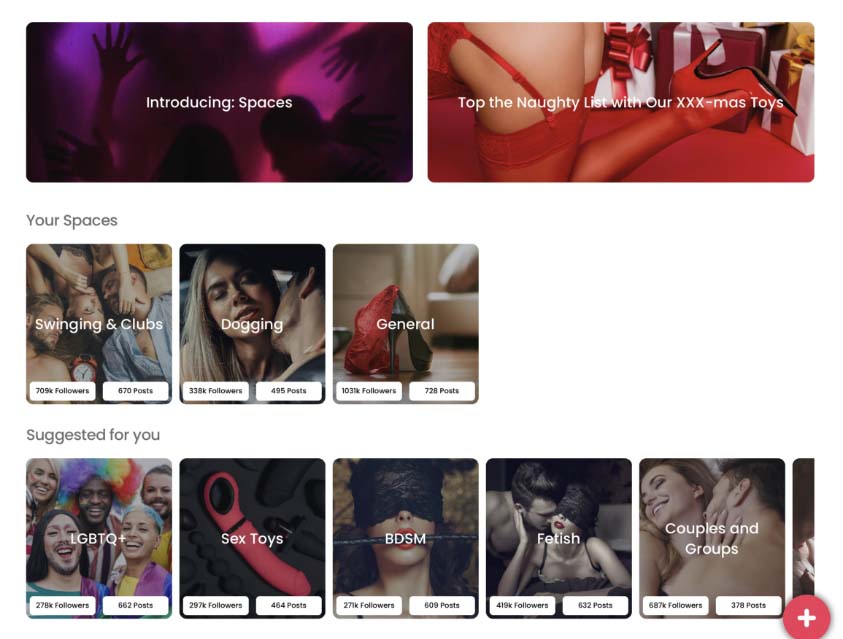 Within Spaces, there is a 'My Activity' area where you can easily curate some kinky content from other members. Simply like or share any post for you to come back to later and to show your support and interest. There's even a magazine area on Adult Hub, with all the articles you need on how to hit the sweet spot, what to do during a gangbang, or just how to do cybersex the right way.
Articles & Events
If you wanted even more articles on how to spice things up in the bedroom then all you need to do is click on the Community tab at the top of the screen. There you will find a selection of articles that cover anything you would need to know about having great sex and how to try out a few new skills. Never made someone squirt before? Well, why not dive into their guide on it? And there is just so much more that you'll never get bored of.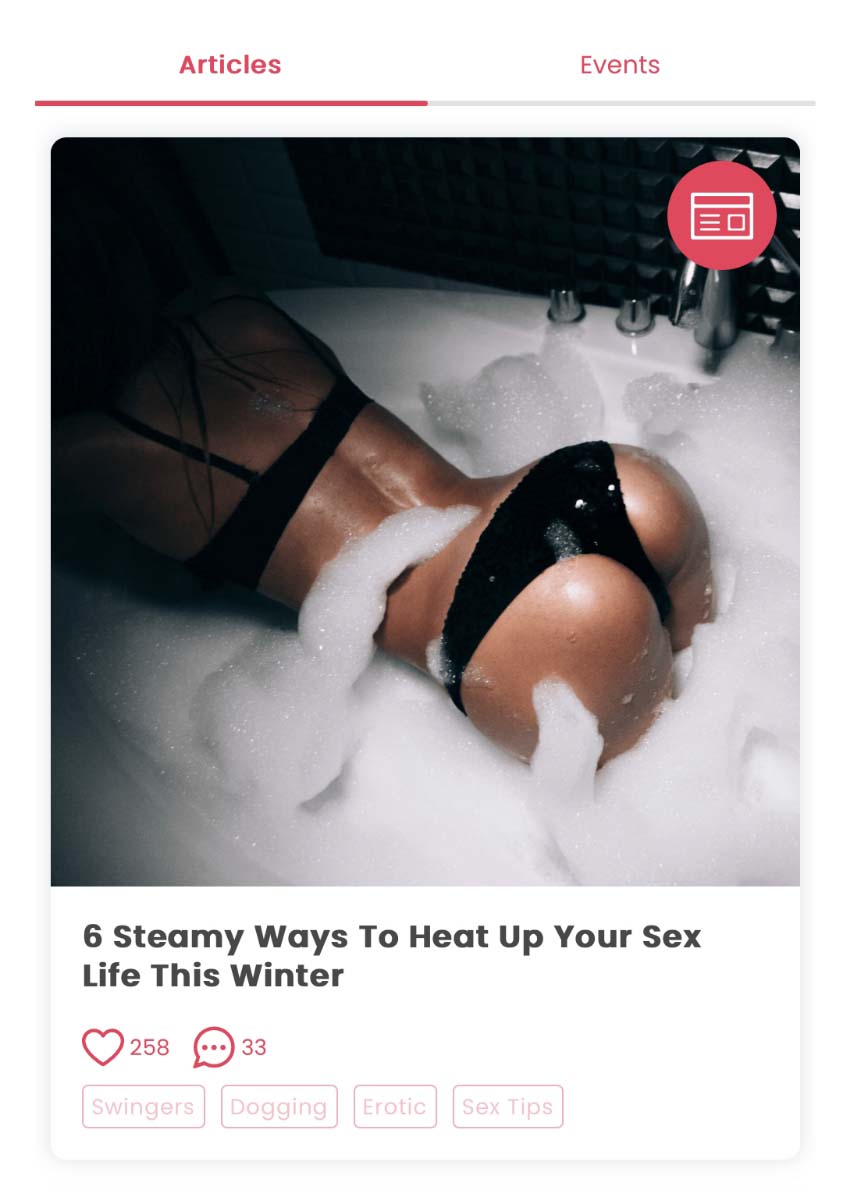 In the Community tab, you will also get to see where the next sexy events are happening in your area. You can even create one yourself if you think it would be worthwhile for other kinky people to know about it. Each TheAdultHub event has a chat room function where anyone interested in the event can ask questions or talk about the event.
Guestbook
A good way to bring your profile to the top of everyone's "to-do" list for free is to meet and receive positive reviews from other members. If it can work for Airbnb and practically any restaurant ever, then why shouldn't you make the best of getting a few good Adult Hub reviews to let others know exactly what an 'experience' with you will be like?
Everyone's Guestbook appears on their profile. And from there you can also write a review for someone that you have met. The key is to only write ones for people you have actually met to let them, and everyone else, know what they are like. Of course, you can't share personal information of the user without their permission, but don't worry about describing what dating them was like.
TheAdultHub Offers, Prices & Costs
The Adult Hib works on a subscription-based membership and while there are some features available on your free account, unfortunately, you cannot approach a user nor can you see or reply to any incoming messages without a premium membership. What you will be able to do before subscribing is:
browse through profiles
read and post blogs
opt in and post events
read and post comments
send a limited number of private messages
TheAdultHub Premium Membership Package
The VIP Membership is a bit pricey to just unlock the chat rooms and adult content viewing ability (which is primarily what you will be needing the membership for). Memberships range in price and depend on how long you choose to sign up for. There are three AdultHub plans to choose from. The 1-month, 3-month, and 12-month memberships. The larger the time period, the less the overall monthly price. Each plan gets charged as a once-off fee and then auto-renewed after their respective periods expire unless you choose to cancel the subscription before that time has expired. Check out our breakdown below to help your decision making:
TheAdultHub Premium Membership Prices & Costs
1 month VIP Membership: £24.95 (£24.95 per month)
3 months VIP Membership: £59.94 (£19.98 per month)
6 months VIP Membership: £84 (£14 per month)
TheAdultHub Premium Membership Perks Included
All benefits of the free site
View and watch X-rated photos and porn videos
Send unlimited messages
Read unlimited messages
Advanced Search features
Priority Search placement
Priority Feed placement
Priority post moderation
No pop-ups
The Adult Hub Pros & Cons
Pros
Many ways to interact with other users outside regular messaging (eg. reviews, favourites, likes, blogs, and Spaces)
The site encourages meeting in real life with other users with their "parties" feature
Users can share their experiences and even enter blog competitions
Easy to use and simplified website design, with easy-to-find features
Discreet billing that guarantees your privacy
Cons
The site features a couple of pop-up ads that only go away if you are a VIP member
Chatting is locked behind a paywall
The possibility of coming across fake accounts
TheAdultHub Safety & Security
Online Dating Guardian Protected
When we first clicked the button to join AdultHub.com we noticed a small stamp on the signup page of the site featuring an adult safeguarding shield and the words "Online Dating Guardian Protected" around it. The stamp appeared to be clickable but when clicked nothing happened.
This made us even more curious so we decided to take it to google. We found that onlinedatingguardian.com is a service provided by HubPeople Ltd, the enterprise behind theadulthub.com claiming that each site with its stamp is operating under the guidance of security experts centred around the online dating world.
However, granted we have not come across the stamp so far in our research as well as that their terms and conditions mention that they cannot guarantee their users are genuine makes us sceptical about the stamps' legitimacy. We'd recommend practising proper adult protection protocol when casual dating online.
TheAdultHub Scam - Fake Profiles
Okay, so there's a bit of a contradiction when taking a closer look at the adult hub's terms and conditions. In the summary, they clearly state that there are "No bots" on the site, but read further along and you'll see that under the heading "Email Communications and Test Profiles" it's stated that they 'do not guarantee that all the profiles found in Search will belong to our users, as we reserve the right to create profiles which are maintained and managed by our employees'. So while there might not be bots, there are a few dating profiles (or a lot, how would you know?) that are not there for the legitimate reason of meeting up. This is further backed up by the clear statement that the site is "an entertainment service".
What's a bit more worrying is how your content will be made visible on other sites (they don't list what these are so you'll just have to hope for the best). The users you view and communicate with on TheAdultHub may very well have registered and are accessing the service from network partner websites other than this one (again no mention of which sites these might be so it's left pretty open-ended).
There is also no mention that they do not make use of third parties to create and operate these created profiles, so this might also be a possibility. Seeing how they provide the service on an 'as-is basis' and clearly state that they do not conduct any kind of background checks, do any kind of screening, or verify any of the statements of users, it might just be a place where you'll have to search for the real needle in the fake haystack. As far as safeguarding adults and their personal information, they don't seem to be doing a good job.
Conclusion
To conclude, TheAdultHub looks to be (for the most part) a legitimate site with quite a few unique features and engagement opportunities for its users. While there are a few worries regarding the auto-renewal of subscriptions and the non-clickable guarantee, if you are willing to pay their subscription we think it's worth trying it out. What do you think, did the adult hub review help you make a decision?
Adult Hub Tips
Keep track of your subscriptions and make sure to cancel them once you are ready to leave the site
Since it is not necessary to upload a profile image on the site (unless you want to show up on other members' match lists), we would recommend playing around with the site's own avatar and its customisations
TheAdultHub FAQ
What Is The AdultHub?
TheAdultHub is a dating and entertainment site designed to help people find others with the same kinks, sexual interests and fetishes. It is an open-minded place where you can express your deepest desires without having to worry about being judged.
Can TheAdultHub Be Used On All Devices?
Unfortunately, an AdultHub app does not exist as of right now. Nonetheless, the site is fully optimised to be used via mobiles and tablets.
Is The Adult Hub Legit Or Not?
It seems to be! While there is the possibility of a few fake profiles, the website is still a great place to legitimately express and indulge in some of your more kinky sexual desires.
Why Can't I Access The Adult Hub Chat Room?
If you are unable to access the AdultHub chat rooms it's possible that your flash driver is not up-to-date. We'd recommend ensuring that you have the latest version of flash before restarting your device.
If you still can't access the chat rooms, it is possible that you have been banned due to inappropriate conduct. You can get in touch with TheAdultHub's support team and find out more about your status and situation.
Is Adult Hub Free To Use?
Yes, you are able to use some of the features (including matches, Spaces, articles, events, and blogs) while on a free adult hub account. But to interact with another member via the messaging functionality you will need to subscribe as a VIP member.
How Can I Cancel My AdultHub Membership?
Here's how you can cancel your AdultHub membership:
Click on the hamburger menu at the top right of the screen
Go to "Settings"
Click on "Membership"
You'll be able to make changes to your membership preferences
Please keep in mind that the changes won't be applied straight away as The Adult Hub team will review your actions and send you an email confirming you'd like to apply the changes to your membership.
How To Delete Your AdultHub Account?
If you wish to delete your AdultHub account, unfortunately the only way this can be done is by submitting a support ticket to their team. As of right now there is no way a user can manually delete their own profile.
If you wish to get in touch with their support team, you can go to "Settings", then "Help & Support" and click the "Contact Us" option.