UpForIt Review
Verified Review
Published: 28th November, 2022
Last Updated: 28th November, 2022
UpForIt Introduction
When it comes to online dating it can be quite overwhelming deciding which site to sign up to. This is due to the wide variety of choices out there. It's easy to go with what's popular, and nowadays UpForIt seems to be the new and exciting thing going around. We're going to take an in-depth look at the site and see whether they can really walk the walk.
In this UpForIt dating site review we will cover the pros and cons and how secure the site actually is. We will also take a look at some of its top features, statistics and how easy the registration process is. On top of this, we will include the prices and costs of using the site and look into whether there are any hidden offers available.
This UpForIt review can help you decide whether the site is the best dating site for you. You will also get some insights on tips and tricks to be successful on the platform!
Pros & Cons
Below you can find our lists outlining the strengths and weaknesses of UpForIt UK. Neither outweighed the other in our opinion, but you can decide for yourself if the cons outweigh the pros.
Pros
5 free messages per day (limited to male users)
1-day trial (unlimited messages for 24 hours)
Monthly memberships (no need to keep topping up)
Mobile app (fully optimised and includes all available dating features)
Cons
Can't read or respond to messages unless you purchase one of their membership packages
One person per free message (delays live chatting)
Fake messages and unverified accounts (account verification is optional)
Membership packages auto-renew (the cancelling process is time consuming and misleading)
What Type Of Dating Site Is UpForIt?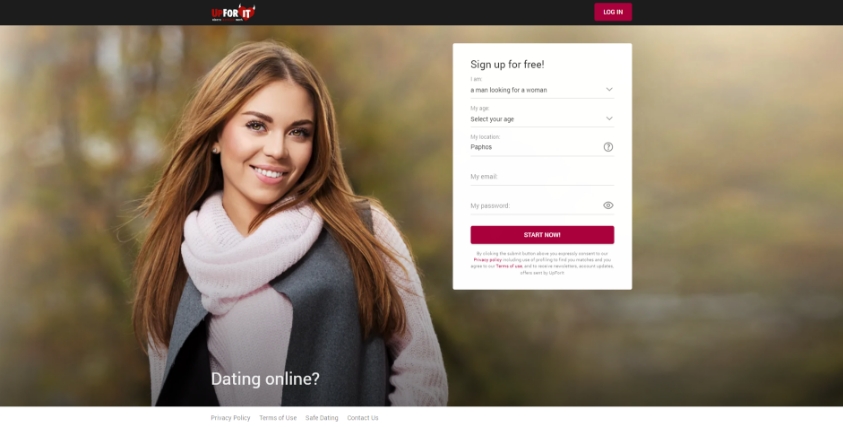 The UpForIt dating site is aimed at people looking to have something quick and casual. More specifically, UK locals looking for:
Hookups
Casual dating
One night stands
Friends with benefits
So, it's safe to say that if you're looking to have a serious, long-term relationship, UpForIt will not be the best place to start your search
Who Is Up For It For?
The website and app cater to the following gender and sexuality options:
You'd think a site that's open to gay and lesbian relationships would have options for bi individuals as well. However, there is no way to view both genders on the site, while there are no options for trans people either. Finally, for an open-minded and sex-positive site, UpForIt does not offer any options for couples looking to have some fun with other couples or a third person.
Stats & Infographics Of Upforit com
Male - Female Ratio
Age Demographics
Country Distribution
UpForIt Login Process
Some dating sites require a lot of personal information as part of the registration process but as far as the UpForIt website goes, it's extremely quick and simple to complete. Here's the steps you need to follow:
Select your gender and gender you are interested in
Insert your age and postcode (to find your local matches)
Choose your screen name
Enter your email address, a password, and click on "Register"
In order to complete your registration process you will need to click on the "Activate My Account" button on the email sent to you. The email contains a code that you will need to submit in order to access your account.
Once your account has been activated you can verify your profile by simply clicking on the "Profile" icon located at the top right corner of the screen. Clicking "Become Verified" will prompt you to enter your phone number. A verification code will be sent to you via text message or call, effectively verifying your account.
Your profile page allows you to edit or fill in some basic personal details:
Change screen name
Set a status
Zodiac sign
Profession
Ethnic origin
Body type and hair colour
Edit the age range you're looking for
Location (and distance from it)
Additional information including drinking habits, smoking habits, etc
You can also add a profile picture or short video clip if you want to express yourself a bit more. It's a nice way to get filtered out of the potentially fake profiles on UpForIt, not to mention many genuine users often comment on your photo or video in their first few messages.
UpForIt Mobile App & Compatibility
Looking to download the UpForIt mobile app? Unfortunately, you won't be able to do so via the play or apple store. If you want access to the app you will need to find it on APKPure or other APK app provider sites like APKCombo.
The app just like the site is very user friendly, it works fast and efficiently. It also includes the same features as the desktop version. On top of this they also have the mobile version of the website which also works exactly the same and we didn't come across any issues or bugs.
Men Vs Women On Upforit com
Creating both a male and female account, we can ensure that there are no differences in the sign up process of the site. Both genders on UpForIt auto login every time they visit the site after their registration. Something we noticed straight away though was that female users can "GET EXTRA" through their packages while male users need to "UPGRADE NOW" with a 50% discount.
Some of the big differences we noticed whilst registering as a female user were:
Free Messages
We were able to send as many free messages as we wanted to any user we came across. We didn't need to upgrade to any subscription in order to send or read messages.
Different Upgrade Packages
Being a female user we were offered three packages which differed from the male subscriptions. The packages were geared more towards making the female feel safe and prioritised so that they would stand out from the rest. As far as our male users go, their packages offered unlimited messages and gave them access to all photos and videos.
The kinds of benefits that female users get if they upgrade are:
Full HTTPS encryption
Browse incognito
Auto history cleaning
Top in messenger
Higher in search
Get read receipt
Get seen by x5 more people
You can find both the female and male subscription package costs in our "offers, prices and costs" section further below.
Photos
Females are able to see all photos on a male's profile whereas for the males, it seems like a lot of pictures are blurred out. In order for the males to see these they need to upgrade to a premium subscription.
Request More Photos
Females are able to send a free request to any user, asking them to add more photos, a male needs to upgrade to send this request.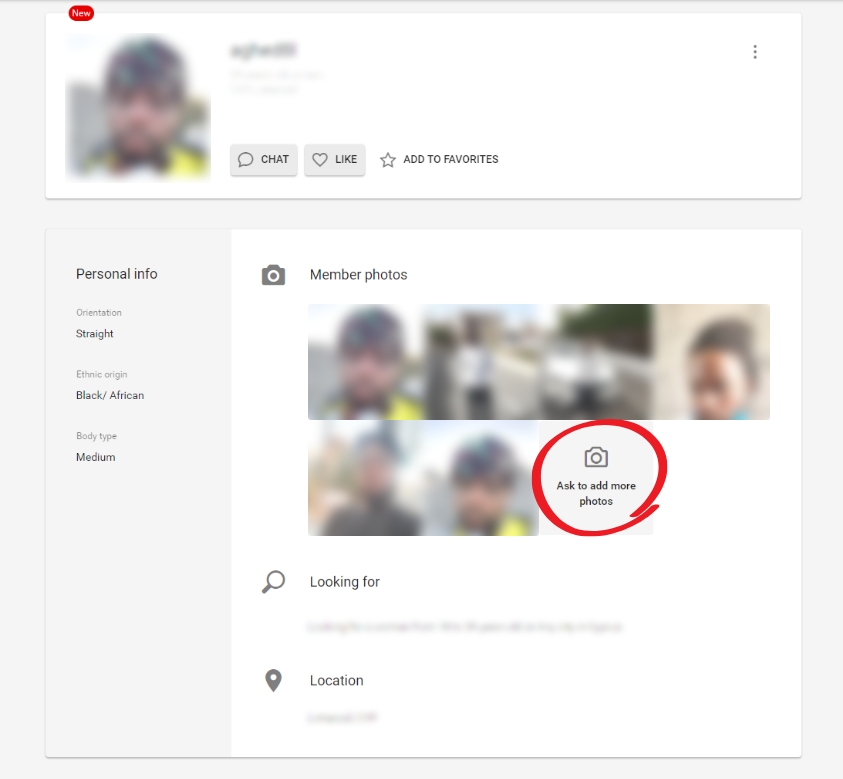 UpForIt.com Top Features
Safe Mode
A great feature that allows you to filter out the unverified members. If you switch safe mode on, only verified members will be able to contact you. You definitely won't be getting messages at the same rate, but you'll be able to potentially arrange a real-life hookup. You can find this feature by clicking on "My Settings".
Video Clips
You can upload up to 6 videos on your UpForIt profile which is a great way to show who you are and that you are real. Each clip can be as little as 6 seconds, or as long as 120 seconds if you have a bit more to say. People interested will be able to check you out (in more ways than one) before they slide into your DMs.
Flirtcast
Another good feature for the shy and timid people. If you're not sure how to break the ice, this feature presents you with ready-made flirty messages. It's great if you can't figure out how to make that first move, not to mention it's faster than typing.
Promote Account
Promoting your account helps you meet new matches easily even when you're offline. The Up For It matching algorithm adds potential matches to your "favourites" list, actively increasing your chances of chatting and meeting with someone compatible.
Upforit Offers, Prices & Costs
UpForIt is a freemium website you can access a few basic features for free but, if you want to see all they've got to offer you'll have to sign up to one of their subscription packages.
Male User Subscription Packages
Below you can see a list of the perks and package prices available to male users:
View photos in full size
Unlimited messages
Unlimited likes
View all members videos
Share photos and videos
| Duration | Price | Total |
| --- | --- | --- |
| 1 Day | £0.99/day | £0.99 |
| 1 Week | £1.12/day | £7.86 |
| 1 Month | £0.81/day | £22.60 |
| 3 Months | £0.59/day | £49.26 |
It's important to keep in mind that the prices are shown "per day" on their subscription page. However, there is a small print which mentions the total amount you pay will be in one go. Once your UpForIt subscription has ended and they automatically renew this, it will be for the original price without a discount which can be costly especially if you only want a taste with the 1-day or 1-week package.
If you wish to stop the repeat billing you can visit "My Settings" to manage your subscription. The automatic payment will only take effect at the end of the payment period so if you cancel before then you can avoid getting charged. They also clarify that no refunds will be issued once the subscription is in use, so don't procrastinate on this one.
Finally, there is an active 50% discount for new members of the site, however it is for a limited time only and does not transfer over to your membership auto-renewal.
Female User Subscription Packages
As we mentioned above, female users have different subscription and cost options. Below you can view the breakdown for each one:
Premium Dater - £0.93/day (£25.99 total)
Full HTTPS Encryption
Browse Incognito
Auto History Cleaning
Top In Messenger
Higher In Search
Get Read Receipt
Get Seen By x5 More People
Extra Security - £0.46/day (£12.99 total)
Full HTTPS Encryption
Browse Incognito
Auto History Cleaning
Cataholic - £0.64/day (£17.99 total)
Top In Messenger
Higher In Search
Get Read Receipt
Get Seen By x5 More People
Similar to male users, the above packages will auto-renew at the end of the subscription period. However, since all packages just gave their breakdown "per day" there is no clear indication of when the renewals will happen.
UpForIt UK Safety & Security
Is UpForIt Safe To Use?
In UpForIt's Terms of Use, section 6(B) titled "our rights to use your content for our own purposes", they clarify that they might use any of your content, including your photographs, for the purposes of advertising or publicity. It is also stated that you authorise them to reproduce and broadcast the information contained in your profile throughout all of their partner sites and their group companies. This didn't really sit too well with us as it's basically saying we give them the right to do whatever they please with our details and photos.
Fake profiles also seemed to be quite a big issue, as soon as we signed up we had a lot of messages pour into our inbox which came across quite unrealistic. This was especially true considering we hadn't even added a photo to our profile yet. Up For It has their own safe mode however even when toggled on, the amount of messages received for a basically empty profile were unrealistic.
Moving on to section C which confirms they don't conduct any background, criminal or identity checks. They mention that you're responsible for who you interact with (which is fair) and they do attach some safety tips to help their users stay safe online.
Conclusion
UpForIt is a straightforward and user-friendly website which offers a lot to people who are looking for something more casual. You'll have the most luck if you are looking for a hookup, as it doesn't seem to cater for those in search of long-term commitments.
Although the issue with fake profiles and the excessive amount of messages popping up is quite concerning, at least you don't have to dive straight into the deep end by committing to a long-term subscription. We recommend you give their 1-day trial a try before making a decision to commit long-term to one of their memberships.
The pricing compared to other dating sites is quite reasonable. The fact that they use a monthly subscription instead of pay per message, also means there is a higher chance of getting your money's worth. Although deciding which subscription is best for you, will just depend on your own budget.
What's more, UpForIt's interface makes your life easier by making sure everything is straightforward and easy to locate. So, overall if you're somebody who is looking for a short fling with someone like-minded and on a low-to-mid budget, then you might want to check out UpForIt.com.
UpForIt UK Tips
Now that we have covered everything about the site in general, we have come up with a few tips to help you along your dating journey on UpForIt.
After registering, make sure you contact them directly and tell them you don't want any of your content being used for the purposes of advertising or publicity.
Make sure you set yourself two reminders, one for when your subscription is going to be expiring, but most importantly set one 7 days before the expiry date just in case you want to cancel the subscription before their automatic renewal kicks in.
When you search for users, be sure to sort by "last activity" to ensure new and recently active members show up first.
Be aware of the UpForIt auto login. If you don't click log out before closing down the browser, you will automatically log into your account next time you visit the site.
Make sure when you sign up that the location is set to the country you want to find matches in. If you're on holiday you might want to try using a VPN.
UpForIt FAQ
How Can I Contact Up For It?
You have two options here, you can either contact them via email or by calling them. Their contact number is 0800 102 6540 and their email is support@upforit.com. They will require your username and email address as part of verification if you do decide to contact them.
Is UpForIt Real Or A Scam?
It definitely seems to be a legit online dating site for casual hookups. Unfortunately due to the verification process being optional, it attracts a lot of fake profiles. The user reviews on UpForIt are also quite negative, some can be taken with a pinch of salt whereas others might be worth taking a look at.
Can You Send Messages For Free On UpForIt?
Yes and no, you can send 5 free messages but only one per user. Think of it like an opportunity to send a good ice breaker before you start chatting with someone. Once you've sent the ice breaker, to send another message to that person you will need to upgrade.
How Long Does Cancelling My Subscription Take, Does It Go Through Right Away?
Cancelling the subscription can take a few days to approve so it's important to make sure you put your cancellation request through a good few days ahead.
Does UpForIt Offer Refunds If You're Unhappy With The Service You Have Paid For?
No. Once your subscription starts there will be no refunds available. This is why it's important to make sure you cancel your subscription before it automatically renews if you don't want to commit for longer periods of time.
If I Want To Make A Complaint, How Do I Go About It?
If you have any queries or complaints then you can go ahead and contact them on the aforementioned phone number and email address. However, if you want to express any concerns or complaints about a certain user or administrative issues then you should write to them at complain@upforit.com. They do also provide a postal address of: Suite 1601, Kinwick Centre 32 Hollywood Road Central Hong Kong.
How Do Charges Show Up On My Credit Card Statement?
The payment will show up as www.upforit.com, so it's not the most discreet dating site as far as billing goes. Please make sure that you are using a card you are comfortable with showing the website URL for your purchases.
Is It Possible For Me To Completely Delete My Account?
Yes. Here's, how to delete UpForIt account:
Log in to your account
Click on your profile icon at the top right corner
Visit "my settings"
Scroll down to the bottom part of the page and click "Remove account"
Follow the steps on screen to completed the the deletion process
*Don't forget to cancel UpForIt membership first, to ensure you won't continue getting charged even after your account deletion.