Fab Swingers Review
Verified Review
Published: 8th February, 2023
Fabswingers Introduction
With hundreds of adult sites targeting the swinger community, finding the right one is very challenging. Some sites are very costly and a few are full of potential scammers and fake accounts.
But one site that has been around for a while, Fabswingers.com, is different from the rest. While it's easy to see why the site itself is often overlooked when compared to other swinger dating sites, there's a reason why its name is still as large as it is.
We will examine the registration process, some top features and whether it's a safe & secure site to use. We will also analyse some of the negative aspects of fabswingers and whether it's a site worthy of your time.
Our aim is that by the end of the review, you will have all the vital information to decide if fab swingers is the right site for you!
What Type Of Dating Site Is Fab Swingers?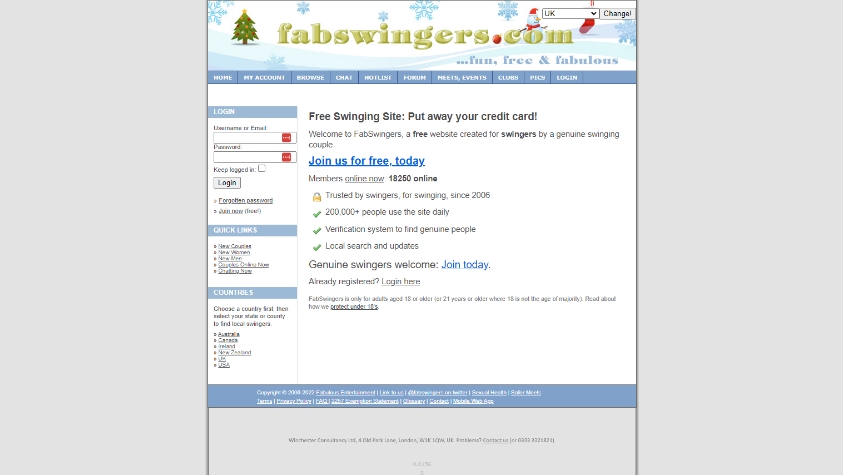 Hookup dating
Swinger sex
Fetish site
Casual dating site
Group sex site
MMF or FFM sex site
Who Is Fab Swing For?
Swingers looking for fun
Couples wanting to spice their sex life
Trans looking for a good time
Straight men or women
Singles
Gay, Lesbian, Bisexual or Bi-curious people
Married or in a relationship looking for an affair
People looking for a threesome
Stats & Infographics Of FabSwinger
Male - Female Ratio
Age Demographics
Country Distribution
Registration Process Of FabSwing
In order to register with fabswingers.com you need to go through a 4-step registration process that can take less than 10 minutes. All information can be edited at a later stage except your registered gender.
In order to access the site, you will first be asked for a user name, an email and a password that fits their requirements.
Once you have filled in the above fields, you will then be moved to the first step of the registration process. You will be asked to insert some general preferences, what you are looking for and whether you are willing to travel.
Moving on to phase two, you will be asked to fill in information like your first name, your sexuality, and your drinking habits. Finally, to complete your registration process with fabswingers, you will have to insert your sexual preferences, compose a profile "title" and write a few things about yourself in the "profile text" field. There's quite a large number of users who refuse to reply to profiles missing their "profile text" field, so we recommend filling it.
Once you have successfully logged into fabswingers for the first time, you will be redirected to their notifications settings where you can choose the types of emails you would like to receive.
After that, you are basically free to browse around the site, but we recommend taking the time to upload some photos to your profile first. It will give you better chances of getting a reply when you begin messaging people. Note that you can only upload a max of 3 photos per day and a total of 12 on your profile. However, if you pay for a subscription package, you can upload more.
You can get a "photo verified" badge on your profile by going to "manage photos" on your account page and above the photo you've uploaded, there will be a "tip" telling you to get your photo verified. Click on "learn more and get verified" and then follow the simple steps given.
If at any time you wish to edit your profile information, you can do so by visiting the "My Account" tab which can be found in the menu bar of the homepage.
Some of the registration steps on fab swingers that we've mentioned are optional, but it's handy to do them all before you browse. This way you will be more likely to attract people to your profile. Plus you will be more likely to get replies back from anyone that you've messaged.
Top Fab Swinger Features
Search Functions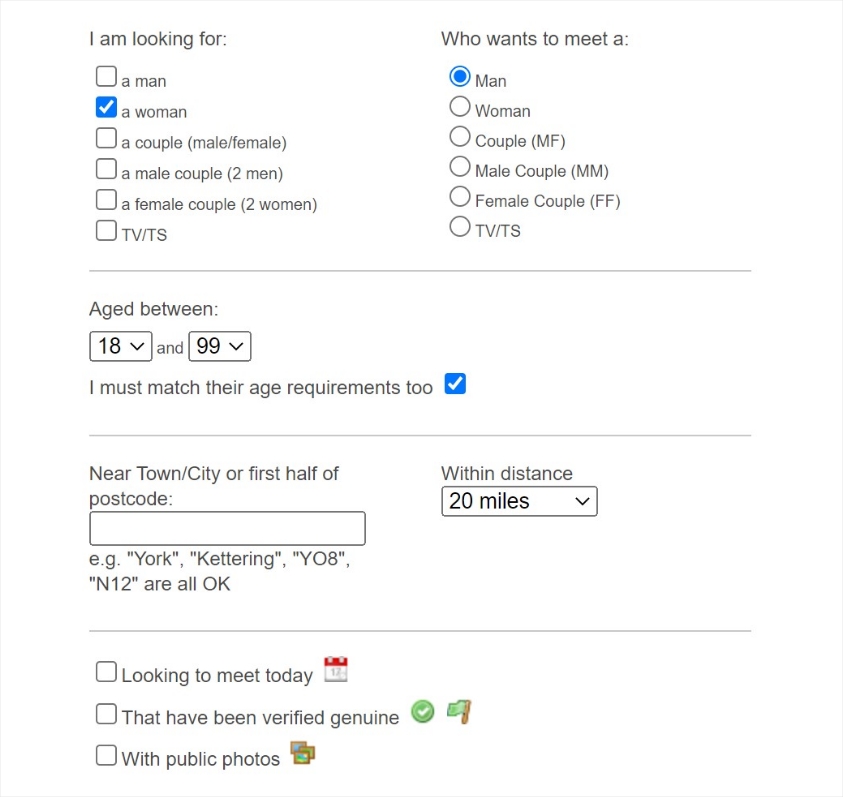 There are some great features that fabswinger UKoffers to their users and its best ones are all free. The search filters for fabswingersare among the best we've come across amongst adult sites. If you wish to make a search, click onto the "browse" tab located on the menu bar of the homepage. From there you can filter down the users based on their ethnicity, age, what gender they and you are looking for, whether they have been photo verified, and even if they're willing to meet you today! You can also save your search for the future.
Verified Profiles
Fabswingershas a very unique way to get users verified and this is done by user reviews. Once you've met someone or you've had a webcam interaction with a person. You can then give a review of your experience with them.
This review will show on the bottom part of the fab swinger's profile. It's a nice way to figure out whether you are talking to someone real and whether they are looking for the same things. If you've met someone and they reviewed you. You can also manage your reviews through your "My Account" page by selecting "manage verifications".
Meets & Events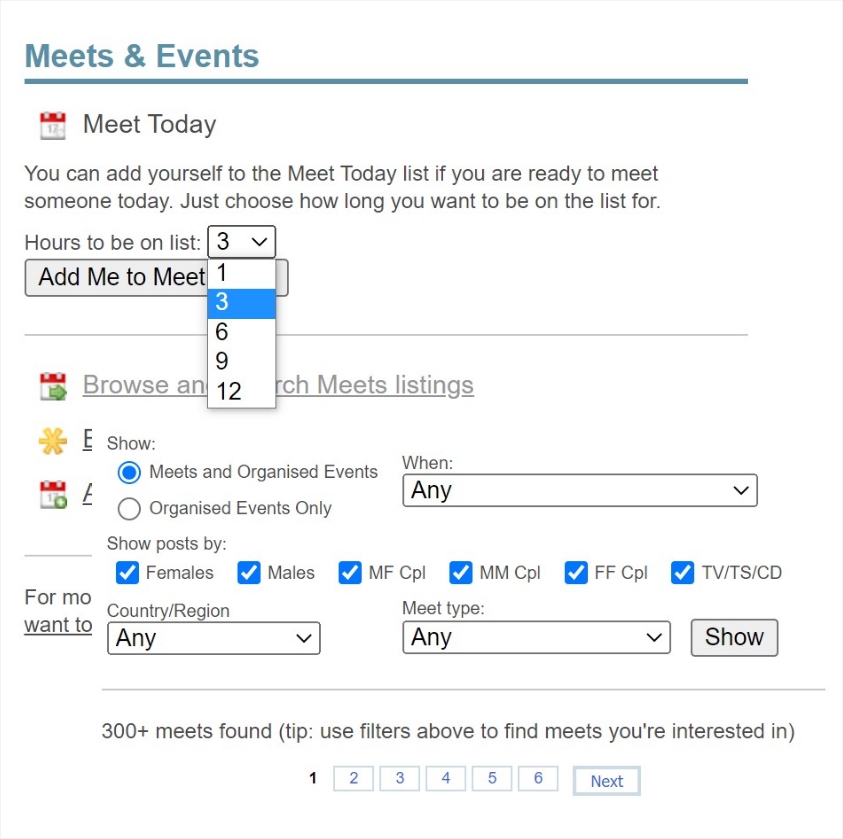 If you're looking for instant results on fab swingers, "meets & events" is a very useful tool. It's a unique feature that allows the user to set up or go to events and meetups at any given date. To use this feature all you have to do is select the "Meet, Events" option on the homepage's menu bar.
From there you can add yourself to the "Meet today list" and choose how long you wish to remain on that list. You can also browse for users who want to meet today and contact them directly by clicking on "browse and search Meets Listing". You will then be able to filter some options such as the date for the event or meeting and whether it was posted by a man, woman or a couple.
Clubs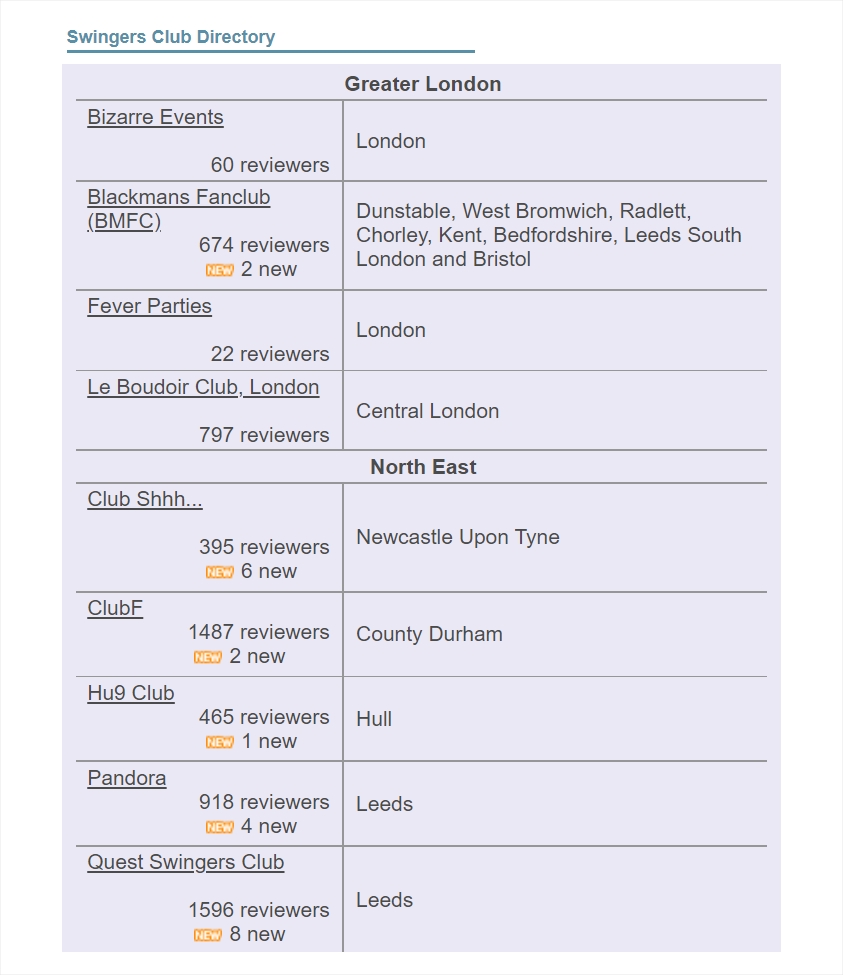 Swinger clubs have been around for a while, some are hard to find given most are very discreet. But through fabswingers.com you can find a lot of them through their "club" feature. Find a swingers club near your area, by clicking on the "clubs" option on the menu bar.
Fabswingers UK makes it easy for its users to find a club close to their location as it allows filtering based on geographical area, town and city.
A large part of the fabswingerscommunity attends swinger clubs so nearly all clubs will have some reviews. You will also be able to view some information relating to the club and some swinger clubs even have their own websites. You'll be able to check out find out more about the club and its location through them.
Updates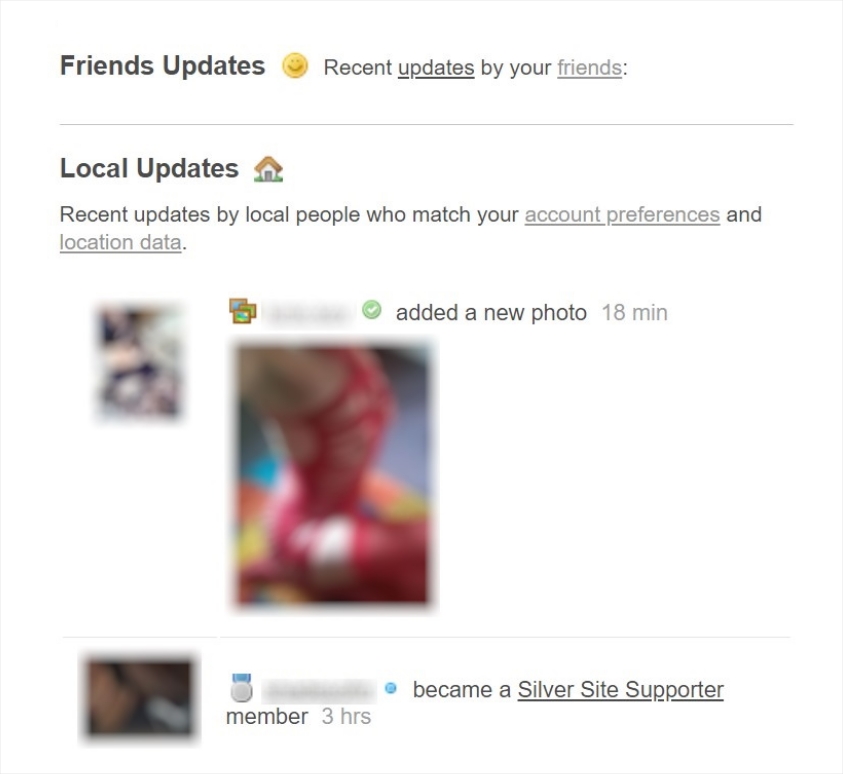 A fantastic way to know who's active on fabswingers.com and in your area is to use the "updates" feature. They are the equivalent of a facebook post and you can view all of them in the homepage.
On fabswingeryou can also add people as friends when you go on their profile. So the updates feature is also handy to see what your fabswingingfriends are up to!
FabSwingers com Offers, Prices & Cost
Although fabswingers is free, it also offers a one-time based subscription service that aims to enhance your fabswinging experience.
In order to subscribe, you will have to click on the "get more" button at the top of their homepage and you will be directed to their subscription page.
Fabswingers offers two subscription packages: Gold and Silver, both of which can be purchased at the same price and as such, the packages are virtually identical except that the Silver one is available for a longer period of time.
The payment can be made by a credit or debit card, paypal, calling fabswingersor even by text message. It's also a one-time payment so they don't sneak in auto-renewal payments that debit your card at the end of a subscription.
Some of the benefits that you get are being able to see who has viewed your profile, watch videos of other users as well as upload your own. Ads won't appear on the site, you will be able to zoom into photos of other users when you view them and you will also be given a "site supporter" profile badge. You will be able to see the exact distance of other users in relation to your location.
Additionally, you can also upload more photos to your fabswingerprofile, view multiple cams in a chat, change your username, and use emojis on your messages as well as save your messages in an archive folder.
Pros & Cons Of Fab Dating
Pros
Free Interaction
Unlike most dating or adult sites on the web, Fabswingers.com is free to sign up and use. Although it has a subscription option, you can use the site to meet other users fairly easily without having to pay.
Handy Features
The ads don't get in the way of your experience and the best features that you will encounter on fabswingers UK are free. Their search filters were among the best ones we came across for any adult or dating site around.
Taking the search feature into account and the other features such as "Meet, Events" and the "Clubs". Fabswingers is essentially giving you the tools to convey instant encounters with like-minded people.
There are also numerous other features such as winks and the hotlist. Winks can be good to have a basic interaction and show some interest to someone you like. Whereas you can also add profiles to your hotlist so you can interact with them later.
LGBTQ+ Friendly
One of the other positive aspects of fabswinger is that it's LGBTQ-friendly. You can select whatever gender you identify as.
Profile and photo verifications
With fabswingers, you know what you're getting into given the user verifications are done by other users through reviews. So not only do you get to know that the person you're talking to is very likely to be real. But you also know what kind of experience you could expect.
Friendly Community
The best thing about fabswingers by far is the community. They are very energetic, pleasant and quite accommodating, something which is quite apparent by the site's forums.
Cons
Very Old Interface
Despite the many positive features and aspects that fabswinger has, the site's outdated interface is one of the reasons it is often overlooked by young swingers today. An outdated interface also gives the impression that the site might not be legitimate so, not everyone would like to share their personal information at such a place.
Overwhelming Options
After signing up fabswingers also offers too many options. Some such as the ones on your account can seem overwhelming.
The "pics" on the taskbar on the top part of the fabswingers.com site is another option that is senseless. This is because the pics being shown are from random users that are not always close by. So, after signing up all these options are overwhelming, especially to users who are new to internet dating.
No Actual Mobile App
On mobile, the site is virtually unusable. Although the fabswingers developers created a fab swinger app, the mobile version is still difficult to use. The options are very small, you can't use zoom and it looks like an excel database rather than an adult site.
Cam Feature
In theory, the fabswingers cam feature should be a positive experience. But we found that it's not possible to filter the men from the women or the couples. Nearly all online users on the cam were men. Unless you're bi, gay or looking for a guy, the Cam feature is usable but not recommended.
Safety & Security FabSwingers
Fabswingersis a safe and secure site to use. The terms and conditions are very simple to understand and fabswingersprovides reasons as to why they have any clause in place.
The community is very friendly and we didn't encounter any scam profiles. But it's very important to always be careful with whoever you interact with on the internet and what information you disclose.
So when interacting with other users on fabswingers UK,check out if they met anyone before and what experience the person had with them.
If you're new to online dating it might be handy to read some of the advice given by fabswingersto ensure you have a safe and secure experience.
Conclusion
Overall fabswingers UK is a unique adult site that's free to use and has a large, active and friendly user base. While it does have a very old interface, which initially gives the impression it might not be legit. The registration process is fairly simple and it doesn't take too long to get your fabswingers login.
But the many options that the site has once you register such as the ones on your home page and account might be overwhelming at first. They can make the initial experience difficult and you might not know what to do next. So if you're new to internet dating it could be initially a challenge to use fabswingers.
However, if you're willing to overlook some of these negative aspects, fabswingers.comcan genuinely be quite a positive experience. The features offered by fabswingersare some of the best we've encountered and they're nearly all free.
Features such as meets & events, the clubs and the search mechanism will more than likely give you some instant results to find that perfect someone. Furthermore, the verification feature which is done through user reviews makes meeting other people a safer experience.
Consequently, if you do genuinely want to meet other swingers or just have some adult fun with like-minded people, you will. Especially as the fabswingingcommunity is very friendly, positive and active.
So, if you are looking for a quick fling or some adult fun, fabswingers might be the right site for you.
Fab Swingers Tips
During the registration, don't skip the step to fill out
Upload a photo and have it verified before
If you're going to meet someone, look at the user's profile and check out the reviews left by people who met them
Meet other users to also get verified
If you're new to online dating, read the safe meeting and sexual health at the bottom part of the fadswingers.com site
Check out meets/events option for instant meetings