Swinging Heaven Review
Verified Review
Published: 24th November, 2022
SwingingHeaven Introduction
UK swingers can rejoice to know that there is a heaven on earth. Www Swinging Heaven co uk is exactly the swinging website you've been wanting if you've been looking to dive into the world of swingers. The site goes above and beyond to offer effective tools that help its members find real matches without overcharging for the use of its best features. Housing an active swinging community, dedicated forums, live chat rooms, and message boards for parties, clubs, and meetings, you are sure to find what you are looking for, and more.
The site is run by Symbios Solutions Ltd., a trusted company when it comes to online dating. Multiple online reviews also give Symbios Solutions a thumbs up when it comes to the trustworthiness of their payment and billing systems and report that it is rare to find a suspicious credit charge from them.
Ever since its success in the UK, they have created localised versions of the websites for a select few countries, but the website is open for anyone in the world to join. In this Swinging Heaven review we will cover all the best features on offer, what kind of people populate the site, and how best to navigate the website to get the most out of your experience on SwingingHaven.
What Type Of Dating Site Is SwingingHeaven?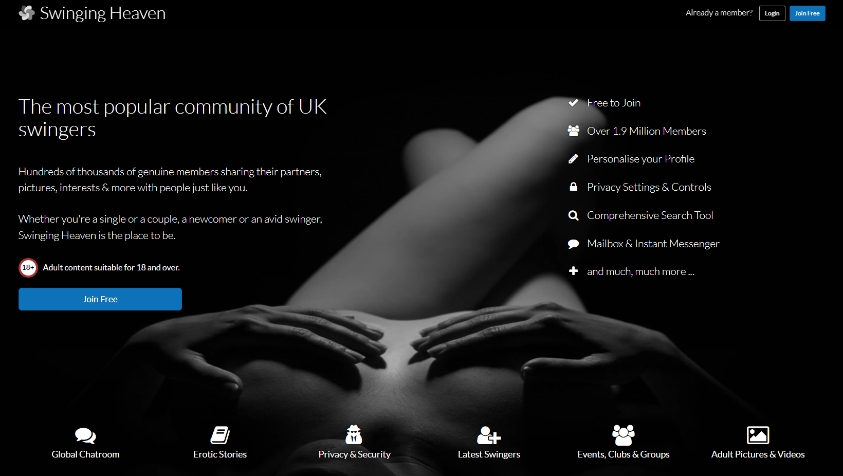 Swinging
Erotic adventures
Dogging
Webcam Chatting
Hookups
Who Is SwingingHeaven For?
Straight
LGBTQ+
Cis-Gender
Transgender
Non-Binary
Couples
Singles
Swining Heaven is for absolutely anyone under the sun who is interested in the swinging lifestyle. There is complete inclusion in this community no matter what your sexuality or gender identity might be.
Stats & Infographics Of Swinging Heaven
Male - Female Ratio
Age Demographics
Country Distribution
Please note that these numbers are specifically for SwingingHeaven.co.uk! There are other SwingingHeaven sites specific for other parts of the world for example: Swinging Heaven NZ, SwingingHeaven AUS, Swingers Heaven USA, and Swinging Heaven Canada where you will be able to find more people from those areas. But anyone can join the UK site and select their local area and find a good match here.
You are most likely to get an ad for the SwingingHeaven site while browsing through YouTube as this is where 82% of their traffic comes from via social media platforms. In total 68.6% of their traffic is through direct advertising and 22.6% via search engines (all search engine traffic is 100% organic).
Registration Process Of SwingingHeaven.co.uk
The entire registration process is extremely straightforward, and not too long-winded! With the number of options that you are presented with we suggest that you be clear with what you are looking for before signing up. But let's break down what the swinging heavens registration process looks like.
As soon as you are on www swingingheaven click to 'Join Free'. Then merely fill in your email address, select an appropriate username, create a password, and choose if you are signing up as a single person or as a couple. Accept the Terms and Conditions and click 'Join Free' once again.
Before you can continue to complete your profile you will need to verify your email by clicking on the link. Be sure to check your spam or junk folder, as it might only pop up there.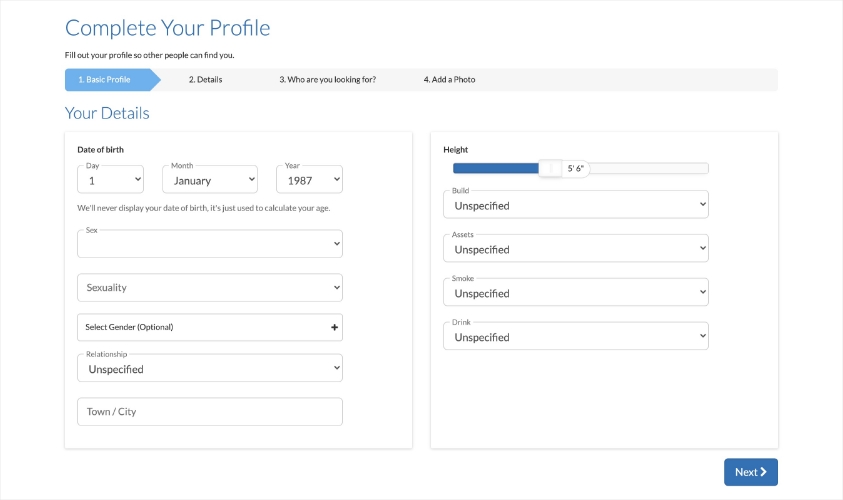 To start you are asked to fill in some "basic profile details" about yourself. These include your date of birth (which is never displayed and only used to calculate your age), your sex (Male or Female), sexuality (choices range from straight to pansexual and everything in between), gender (there are options for Cis, Trans, Non-binary, Gender fluid, etc.), relationship status (from single to complicated, there's even an option 'collared sub' and 'owned'. Or you can leave it unspecified), town/city (you'll need to type and then select from the options given - you can even select outside of the UK), height, your build, the size of your assets (the vague size descriptions are the same for men and women), smoking habits, and, lastly drinking habits.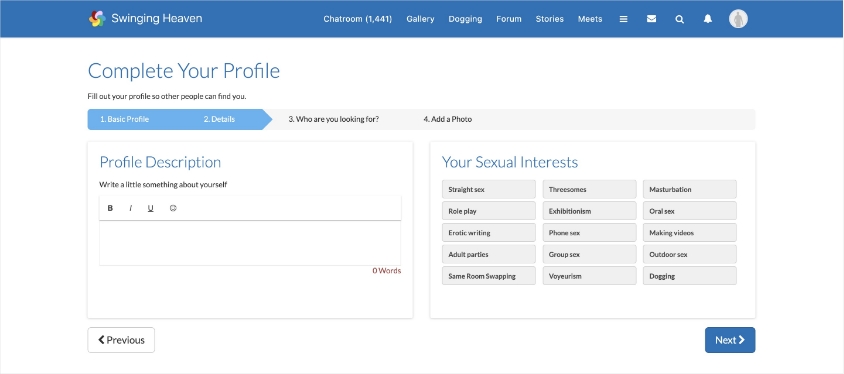 The next "Details" step asks you to write a short profile description of at least 10 words (here you can write a little something about yourself) then select your sexual interests from 15 given options. We signed on multiple times and even changed our gender but these 15 interests seem to be a set selection to choose from.

Step 3 asks "who are you looking for?" Here you select from a drop-down menu whether you want to meet a man or woman, whether they should be cisgender, trans, or non-binary, and if you prefer a couple or someone single. You then choose the age range you prefer, from 18 to 100 years old, and what distance you are willing to travel. The distance, which you can choose between 30 to 500 doesn't specify whether those are miles or kilometres.
The very last step is for you to "upload a photo" to your profile. You can do this straight from your webcam or upload one that is on the device you are using to register with. At this stage, you are also reminded of the "acceptable use policy" which states what is and isn't acceptable content for profile photos. This step is optional though, and you don't need to have a photo to create your profile.
Your very first contact after registration will be with an admin account. This account (it was FelicityAdmin for us) will have a look at your profile, send you a welcome message, and add you as a friend so you can easily get in contact should you need any assistance. Within the welcome message, the admin member briefly explains some of the key features that you will be able to use while online and very conveniently provides links to all those pages within the message. We really loved this small touch which helps with the overall experience and eases their new members into the swinging platform.
Swinging Heaven UK Mobile Application / Compatibility
There is no swingheaven app available! The lack of a mobile app might be one of the bigger disadvantages for swinging heaven members. However, the site is just as easily accessible via the internet browser on any mobile device. The only difference is that the screen will of course be smaller when using your mobile device, but all the same features that you can use on the desktop version are available via your mobile phone.
Men Vs Women On SwingingHeaven
The only real difference between men and women in the swinger heaven website comes in the form of what either sex's expectations might be. Seeing as there are almost four times more men than women using the site, it would suggest that women will find it a lot easier to find a man than it would be for a man to find a woman. However, it is not always that easy to state that claim outright either. Because in this community of swingers it could be the husbands doing more of the searches, and if a couple was looking for a male third then their odds would be just as good as any woman's. And going into the "men vs woman" gets even more complicated when we have to take into consideration the number of trans and non-binary people who also use the site.
In that respect, the site is pretty equal for all its members, regardless of their sex or gender. People on either side of the spectrum, and everywhere in between have access to all the same features, and the cost for the package deals stays the same for all too. SwingingHeaven is pretty woke in that no one sex or gender, whether being single or a couple, is required to provide more or receive less than the other for anything. The site truly creates an inclusive and fair experience for all who just want to find some swinging fun.
SwingingHeaven Top Features
Dogging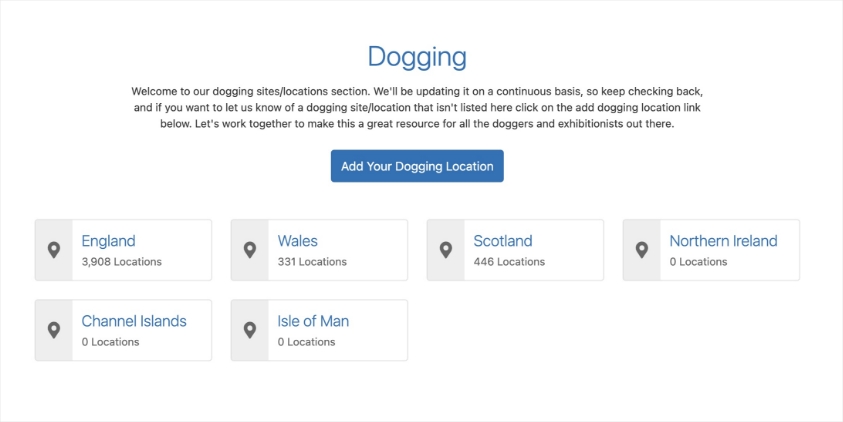 For those who enjoy the practice of watching or engaging in exhibitionist sexual activities in public places (also more commonly known as dogging), UK Swinging Heaven offers an updated list of dogging locations. These are generally outdoor places like car parks, wooded areas, and the like.
You can even add your own dogging location if you know of one that isn't on their list. Members can easily work together with swingheaven to make this an even better resource for doggers and exhibitionists than what it already is. At the time of writing this article, there were already 3908 locations listed in England, 446 in Scotland, and 331 in Wales.
For anyone new to dogging, the site gives a well-put-out set of 'dogging rules' that should always be considered. Members can even go so far as to advertise their own meetings in the dogging forum, and have a look through who's active on the chat room that might be keen to get out and about and join them in some dogging fun. The "Dogging" section is easily located straight from its menu tab at the top of the screen.
Swingers Heaven Stories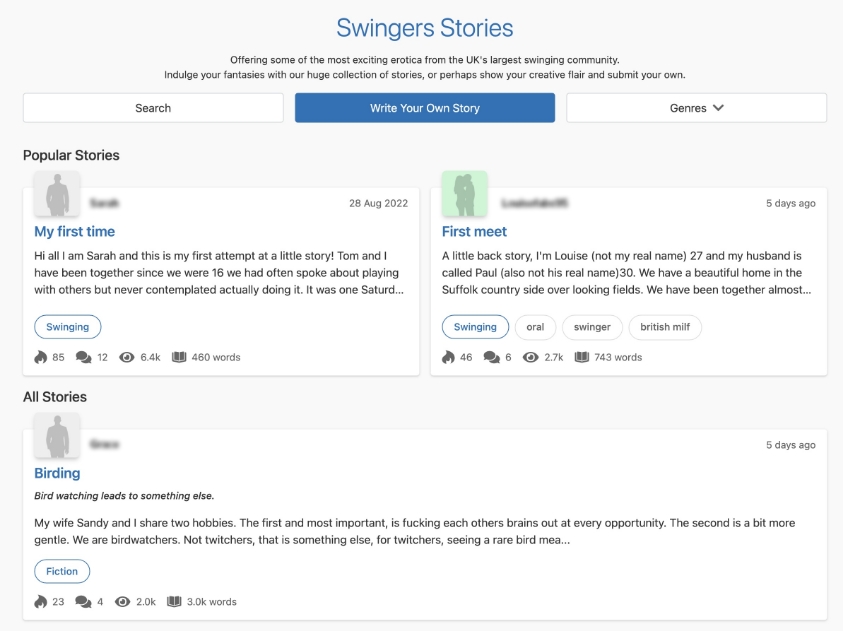 If you want to get lost in some exciting swingers erotica then Swinging Haeven has just what you need. The site offers a massive collection of swinging stories and fantasies from the UK's largest swinging community.
If you have a bit of a naughty mind and some creative flair you can even submit your own collection of swinger fantasies to the already large collection of swingheaven stories for other members to indulge in. Write blood-pumping fantasies or recount the kinkiest dogging experience you've ever had, it's all up to you.
You will automatically be shown the most popular stories, but you can search through the collection of Swing Heaven stories by typing in a keyword, searching through authors (if you already have a favourite), or by selecting your favourite genre. The Stories section can be easily found through the menu tab at the top of each page.
Meets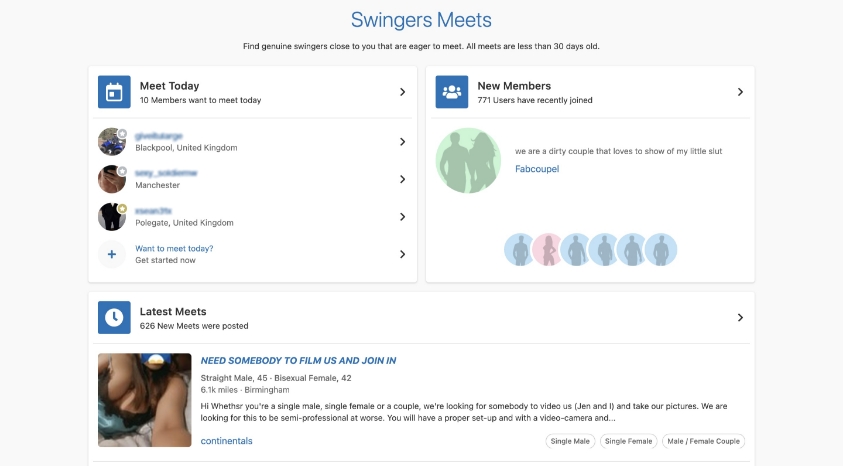 Why mess about with endless texting when you can easily post your availability and interest in an ad-style format? Swinging Heven makes things extremely simple for their users. When on the Meet tab you can see who has posted that they want to meet today. These posts show the member's location, how far they are from you, a little about themselves, and what they are looking for. Clicking on any ad will also give you a quick profile summary of the person who posted that they want to meet so you can get a good idea of who they are before making a decision.
In this section, you are also able to see who all the newest members are, and get to see all the 'latest meets'. These are all the "meets" that have been posted in the past 30 days, which is how long these posts are kept active for others to see. This feature is perfect for anyone who is heading away for business, or taking their partner on holiday, and want to have some fun ready when the time comes. You can access the Meets section through its own dedicated tab at the top menu of every page.
Live Webcam Chatrooms
For your own security and ease of mind, all members who wish to use the swingers chat room need to first do an image verification to show that they are who they say they are. This feature is also only available for premium members. It seems that almost everyone in the chatrooms has their webcams on so you can have some proper amateur fun with other members and see what they are up to while you chat. Seeing as most members are on SwingingHeaven to actually meet some other swingers, this feature is just an added bonus.
What we love most about this feature is that couples can use the webcams to vet any possible thirds that they want to have join them before actually meeting. It can also be used as a platform for virtual dogging (if only all sites had this during the covid lockdowns right). Couples will also be able to log into the swinging chat rooms from separate devices, so even if either you or your partner are away on business you can each still have some fun.
Clubs and Parties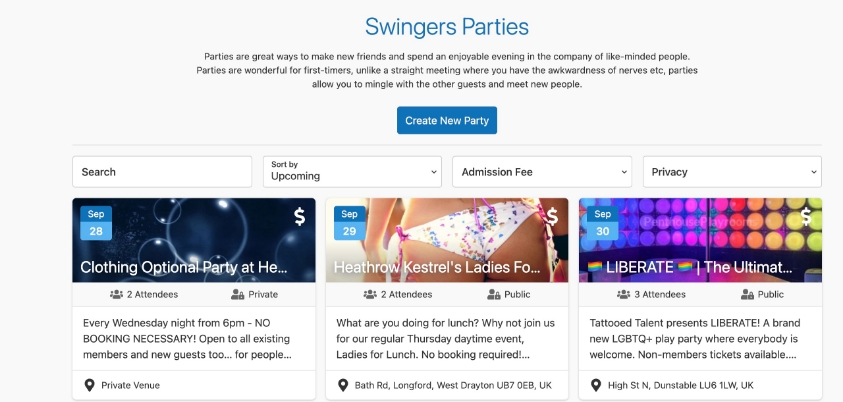 SwingingHeaven provides a great platform to allow any swinger clubs to promote themselves. The site hosts a large directory of swingers clubs in the UK, so if you want to know where to take your partner for your next night out you are spoiled for choices. Here you can either search for a specific club or sort their recommendations based on your location.
Swingers parties are another great feature that you can use to find where the next swinger-specific party is happening. The listings will show when and where it is, what you can expect, and even let you know the admission fee in advance if there is one. You'll get to know if they are private or public parties and also see how many people from SwingersHeaven will be attending. Each party also has a discussion board should you wish to talk to other members that will be attending. Party attendees can even send an invite to other site members to join them at that party.
Other Features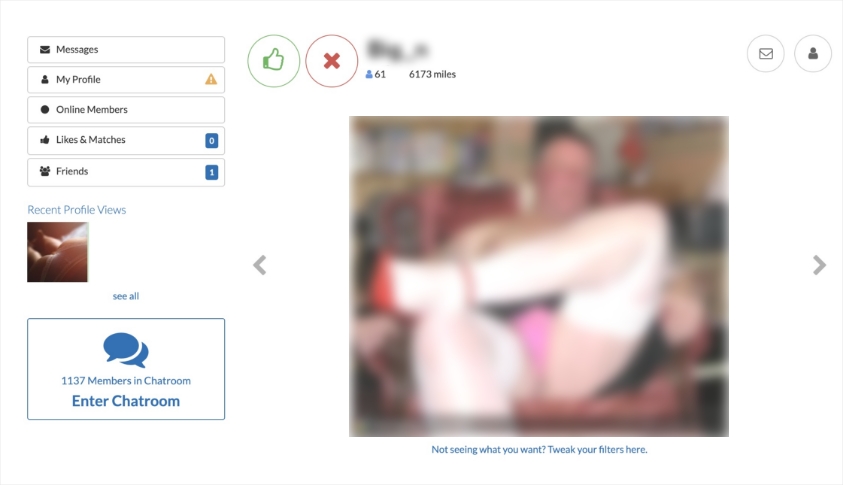 As if you aren't already spoiled for choice with amazing features offered on Swinging Heaven. The website also has the ever-popular swipe-style matching mechanism that you find on Tinder (a feature that most sites have since adopted). This makes it easy to go through a lot of profiles quickly by only seeing a bit about them and deciding if you like what you see or not.
Members can also create their own groups, whether private or public is up to them. Other members can then join in on any public groups, or if you have created a private group of swingers you can choose who you would like to invite or join.
If you love a good read, and not just the sex stories, then SwiningHeaven has a dedicated The Swinging Heaven Magazine filled with topic-specific articles for you. Articles range from in-detail sex toy reviews, spanking advice for novices, and loads more that the everyday swinger might need to know.
Swinging Heaven Offers, Prices & Costs
SwingingHeaven is free-to-use if you are okay with only having limited features available. Some of the best features are however behind a paywall, and should you wish to access them you will need to sign up for one of the two subscription packages offered.
Free Service
As a free member, you are able to create your profile, send 3 messages per day, view other profiles, see who you match with, and even hide your activity from specific users. Free members can see some profile photos but all the 18+ content stays hidden. You will also get access to forums and chat rooms as a free member.
To access the chat rooms you will however need to first do a profile verification. This is done by uploading a photo of you holding a piece of paper that has your username, ID, and the site name written on it. You also need to have your face clearly visible in the photo. This ensures all members are who they say they are, and helps to combat 'fake accounts'. By doing this you also get rewarded with a 7-day free Silver and Gold membership, and your profile gets a Verified tick to let others know you are the real deal. In our books, this is the best kind of "trial period" to test out what it's like to have a full membership without even needing to give your credit card details before you are ready.
Silver Subscription Package
Silver Subscription Description
Signing up for the Silver subscription opens up all the key features that make Swinging heaven great to use. As a silver member you gain access to chat rooms, all adult content, and most importantly are able to send unlimited messages.
Silver Subscription Prices & Costs
Monthly: £16.95 (£16.95/month)
Quarterly: £37.95 (£12.65/month)
6 Monthly:£50.95 (£8.49/month)
Yearly: £79.95(£6.66/month)
Silver Subscription Perks Included
Send unlimited messages
Access 18+ adult photos and video content
Full chat room access
Send statuses to friends & followers
2 Chat Room webcams
Invite and access private galleries
Contribute posts on the forums
Add swinger clubs reviews
Create and join events and groups
Gold Subscription Package
Gold Subscription Description
The Gold subscription gives you all the perks of the Silver membership and so much more. Gold members get 5 extra webcams in the chatrooms, have multiple access to chatrooms, get all the great adult content in full HD, can choose custom profile themes, and receive the highest priority customer service. With such a small price gap between the silver and gold package, it really is worth going straight to gold!
Gold Subscription Prices & Costs
Monthly: £19.95(£19.95/month)
Quarterly: £44.95(£14.98/month)
6 Monthly:£59.95(£9.99/month)
Yearly: £89.95(£7.49/month)
Lifetime: £195.95
Gold Subscription Perks Included
All the perks of a Silver membership
5 extra chat room webcams (7 total)
Send statuses to your Matches
Multiple chat room access for couples
HD photos and webcam views
See who's looked at your profile
Highlighted advert listings
Additional wink options
Custom profile themes
High-priority customer support
Please note that while it is not explicitly stated on the upgrade page, all subscriptions (except for the lifetime membership) will automatically get billed once again after their respective period has run its course. But you can cancel at any time and there is a no commitments policy with either subscription package.
Swinging Heaven UK Pros & Cons
Pros
Membership trial without needing to give credit card details (You won't get a surprise charge to your card if you forget about your profile)
There's not a massive jump in price between the two packages (If you were going to sign up anyway you might as well spend that extra pound a month to get the full value of the site)
Profile verification (It's a great way to improve your online experience knowing you are protected from fakes, scammers, spammers, and trolls)
The site is inclusive of all genders and sexualities.
The ability to send messages for free.
Having access to almost all major features for free.
Kink-specific features that actually work to get swingers to meet up safely.
Premium memberships do not cost an arm and a leg and are easy to cancel.
Cons
There is no mobile app.
The ratio of men to women is pretty high (Men might have a tougher time finding a female match)
SwingingHeaven.co.uk Safety & Security
Personal Data Usage
SwingingHeaven is GDPR compliant, which gives people in the EU more control over how their data is stored and used. The site claims to hold the absolute bare minimum of data required to operate effectively.
The data that the site holds gets stored on a secure server and include the following: the member's registered e-mail address, their IP address (this gets checked against a spam register and is deleted after 60 days), their date of birth, any public data that members choose to add to their profile, and their on-site messages, should members choose to keep them (these remain saved until you choose to delete them or until you delete your account).
The data that does not get held by the site is any names, addresses, phone numbers, or credit card information of any members.
All read messages get automatically deleted after 60 days if not saved and these can not be retrieved after deletion. Members are also free to review, edit, change, or delete any of their public data on the site at any time by updating their profile.
Third Party Involvement
You won't need to light any scented candles, take slow deep breaths, or listen to calming music to feel at ease when you are logged into SwingingHeaven. SwingingHeaven does not mess around with any third parties whatsoever. They are totally committed to their members' privacy and never share any personal data with third party companies. The only exception would be if there was a level of obligation to do so.
Their commitment even goes so far as not sharing cookies. Cookies are an integral part of any professional site these days and help to create a better user experience. Only the most essential cookies get used and the only third party cookies that the site uses are those which they get from Google Analytics, the most widespread and trusted analytics solution on the web. It is fantastic to find a website that seems to put its member's security first and do as much as it can to keep your information safe from any outside parties that might have more nefarious agendas.
Conclusion
Why does SwingingHeaven not get a full 5-star rating you ask? Well, they very almost did, but no one is perfect. We are allowing some leeway for the very select few who might find that not everything is perfect to their liking. There are always one or two people. But to us, SwingingHeaven is as close as it comes to perfect as far as a swinging dating site goes.
This is definitely not the place to find love, but it is clear that the site actually cares about connecting swingers with other equally naughty swingers, and does so with an open mind to people of any gender or sexuality. A real swingers heaven. The features available are all geared to make the overall experience for their users as effortless and fun as possible. Not only are the offerings on SwingingHeaven specifically there to help you have fun once, but the site is one that can be a staple for any swinger who prefers to have recurring swinging experiences.
You won't even need to break the bank to try things out thanks to the free no-commitment 7-day trial. If we were so inclined we might just be signing up for the lifetime package ourselves. But don't let us sway you, if you like what you see why not give it a go for yourself? It all depends on if the swinging lifestyle is for you, and if this fits your budget. For those who prefer a 100% swinging experience, then Fabswingers.com would be another great site to try.
SwingingHeaven Tips
Make use of emojis when typing a profile description to show some personality. This is especially important for men as you really want to stand out in the crowd, and even these small things help a lot.
Check under "HELP AND INFO" at the bottom of the screen if you get stuck with any of the terminology used. They have a whole dictionary for all the acronyms that you might come across while online. They also define 'swinging', 'a munch', and 'dogging'.
Be sure to complete a free profile verification. This will not only grant you access to the chat rooms but will also allow you a free 7-day premium membership.
Give the silver subscription a skip. The price difference is small enough between the two packages for anyone to rather get the full experience of all the site has to offer.
Be sure to read through the terminology of the swinging lingo, and make yourself aware of the swinger's etiquette by reading through the "advice" section. This you can find at the bottom of the page. It's always good to know what to and not to do in the swingers community.
Host a party or start a swingers group. Why wait for others to reach out when you can be the one to start things off? Swingers are pretty open-minded people so don't be too shy to make the first move.
FAQ
How Can I Show My Private Photo albums To Other SwingHeaven Members?
To show your private album to another member you need to send them an album invite. Firstly, you'll have to go to their profile. You then use the contact menu, select 'Contact', then click on 'Invite to album', and an invite will be sent to that member.
How Will The Transaction Appear On My Billing Statement?
The payment type will show up as Symbios Solutions to ensure complete confidentiality. You will not receive any communications via post, only an electronic receipt will be sent to the email address used to sign up.
The Chatroom Won't Load But Takes Me To An Upgrade Page. Why?
Only premium package members are able to access the chat rooms. If you find that you are being redirected to an upgrade page to access any feature it means that you are not a Premium account holder. To gain access you will need to upgrade your membership to the premium level.
How Can I Cancel My Subscription?
If you have upgraded your account to a paid membership, you will need to cancel your subscription, or else it will be charged after its respective period ends. To cancel click on your username from the top menu, from the drop-down select settings, and choose 'cancel' under your account settings. Then under subscription click 'cancel' again, and you are all set.
Does Swinging Heaven Sell Your Data?
No! They never have, and they promise that they never will. Swinging Heaven never involves third parties when it comes to your data, and the only exception is if there is a legal obligation to do so.
Can I See Who Liked Me Without Paying?
If you are new to the site and still a free member you can see how many people have viewed you by clicking on the Views section at the top of the screen. You will, however, not be able to go into their profiles without upgrading to a premium package.
How Do I Do Photo Verification Correctly?
All you need is to get a piece of paper and in large, clearly legible letters write the following: your selected username, site ID, and the site name (SwingingHeaven). Then take a clear photo of you holding this piece of paper. Make sure to show your face, and if you are a couples account you'll need to get your partner in there too. Then simply upload it to the site. You'll find this page when you first try to access the chat rooms.
What About Hacking, Is My Data On SwingingHeaven Secure?
The website has never been hacked before and your personal information is safely stored on secure servers at all times. For added peace of mind, your data will not be kept after your profile has been deleted.
Can I Recover My Profile Once It's Been Deleted?
No. Once your profile has been successfully deleted, all your personal data and any other information relevant to your profile will be permanently deleted as well. If you wish to, you will need to start from scratch and create a whole new profile. You can do so with the same email address you used before.
How Can I Delete My Profile?
It's pretty easy. To delete your account click on your username from the top menu, from the drop-down select settings, and choose 'delete' under your account settings. You will be asked to give a reason from a drop-down bar and then click to continue. Enter the verification number they email to you and your account is instantly deleted.