The Best 25 Porn Games Of 2023
Verified Review
Published: 29th August, 2023
Last Updated: 29th August, 2023
Are you curious about which are the best porn games in today's day and age? With so many new porn games constantly being created, choosing one can be quite a challenge.
That's where we step in! We've put together a list of the 25 top porn games to let your imagination run wild. Our goal is to guide you in selecting the game that aligns with and can fulfil your fantasies and desires!
In this article, you will find a list of the best adult games overall, an "honourable mentions" category-specific list, ranking criteria for choosing the top adult games, and an FAQ section for any questions you might have. We're here to ensure you have all the information you need in order to lose yourself in this erotic gaming experience!
Top 25 Best Porn Games
25. Bonetown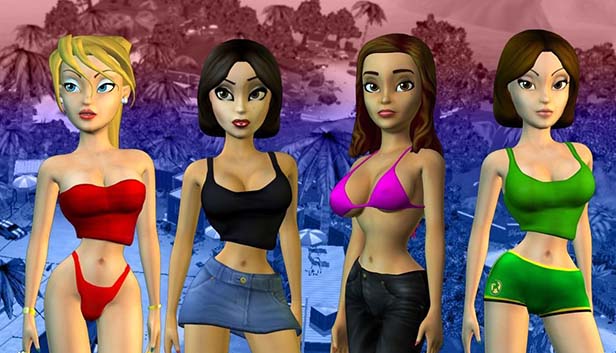 Genre: Pornographic, Action, Indie, Simulation
BoneTown is an adult video game where players complete missions and engage in sexual interactions with women in order to progress.
The game centres on growing character attributes by completing missions, ultimately leading to more explicit encounters and sex scenes. The gameplay is similar to the Grand Theft Auto series, with a lot of sex added to the missions.
The player navigates through Bonetown's neighbourhoods and interacts with women for different purposes (including restoring your health!). Temporary power-ups can be acquired through drug use, adding to the GTA-like experience!
If you've got a soft spot for GTA but crave an extra dose of sex action, this game will be able to satisfy your needs!
Pros
Bonetown music is amazing
Easy to play
Cons
Bonetown does not have the best graphics and animations
You have to purchase it
24. King Of Kinks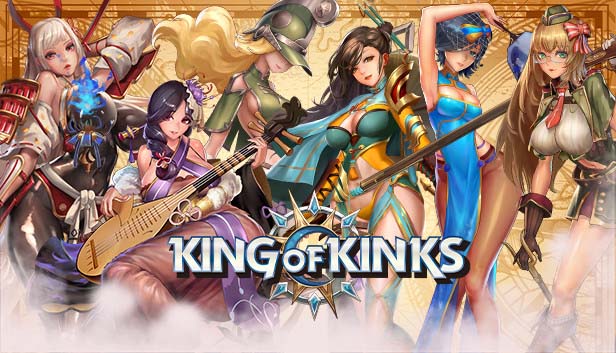 Genre: Pornographic, Role-playing game, Free-to-play, Strategy
King of Kinks is a speedy fantasy RPG game that mixes easy gameplay with strategy and lots of porn action.
You aim to win back the Kingdom of Clouds' throne by gathering different characters, from noble queens to unique beauties. The game has some hot parts and nude scenes where you interact with characters and explore their naughty wishes.
This game's story happens in the Kingdom of Clouds, ruled by beautiful but dangerous women. After much unfairness, your father, the Rebel King, led a revolt to defeat the cruel empire. But he was killed in battle. As his only son, it's your job to keep his fight going and lead the revolt to get the throne back (Check out the King Of Kinks tier list).
If you're a fan of strategic gameplay and enjoy challenging missions in your adult game, then we highly recommend giving this one a shot!
Pros
King of Kinks is free to play
Great animation
Cons
You need to grind to unlock more sex scenes
23. Fap CEO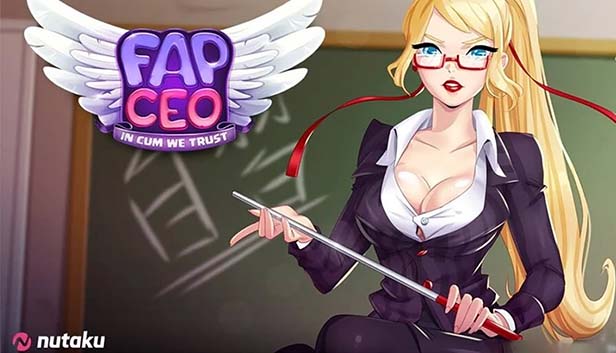 Genre: Casual, Clicker, Dating Sim Porn
Imagine if you suddenly had the opportunity to call the shots and be in charge. Enter the competitive universe of Fap CEO! You're on the path to dominating the camgirl industry. Hire sexy girls to work for your studio and get the hard cash rolling in.
Get to know your girls and use them as you please! The more you interact, the more secrets unfold, and passions ignite. Business meets pleasure in this thrilling cartoon porn game!
Pros:
Fap CEO is easy to play
Has Great artwork
Cons:
The game could use more sex scenes
22. Subverse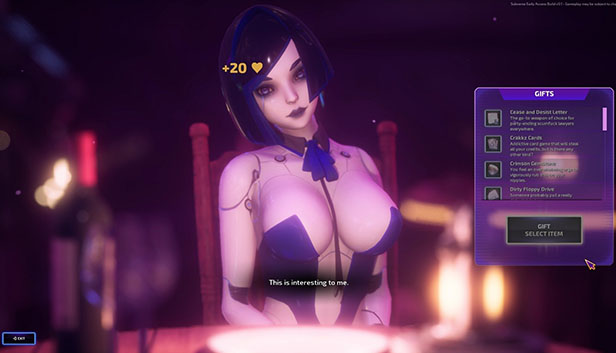 Genre: Pornographic, Role-playing, Adventure, Strategy, Casual
Subverse is a sex video game that combines tactical role-playing and shoot-'em-up elements. You take control of a starship and fuck your way (literally) around the galaxies, one sex session at a time!
The game's setting is the Prodigium Galaxy, where humans and various alien species live together, ruled by a harsh government called The Imperium.
Subverse's gameplay blends the adult visual novel storytelling style with mission-based tactical grid combat and space shooter segments.
Much of the game explores adult action, featuring explicit sexual content with non-human characters. Players can also increase "waifu loyalty" among female characters to unlock additional adult scenes (that you will surely enjoy!).
Pros
The Subverse game offers a smooth gameplay
Good graphics & amazing sex scenes
Cons
You need to buy Subverse to play it
The storyline is short compared to other games
21. Cloud Meadow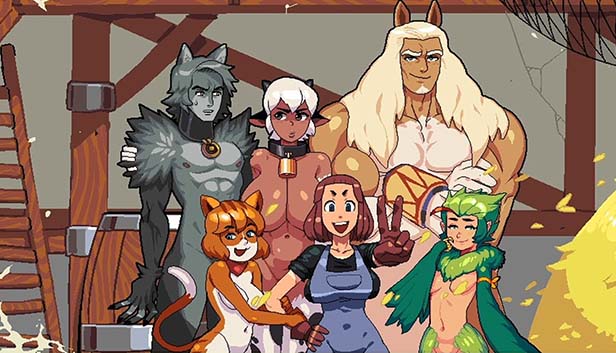 Genre: Pornographic, Simulation, Indie, Role-Play
Created by Team Nimbus, Cloud Meadow is a furry porn game that stands out from the usual adult games. Your role involves farming, flirting, fighting to triumph, nurturing crops, sexually engaging with NPCs, and combating foes. The township where you establish your homestead is rife with seductive encounters, including some steamy inter-species sex action.
Engage in romance, create new monsters, cultivate your farm, battle foes, and explore landscapes.
Play as Evan or Eve, the main characters, as you farm, breed furry creatures, and fight to grow a diverse monster community. Rest assured, these sex encounters are bound to make a lasting impact!
Pros
Cloud Meadow has amazing and unique artwork
Great characters and storyline
Cons
You have to purchase the Cloud Meadow game
20. Red Light Center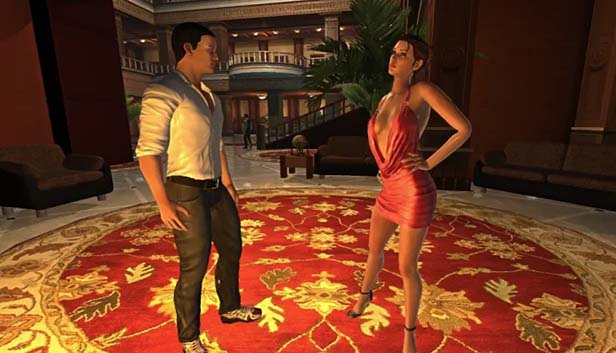 Genre: Dating Sim, Virtual World, Pornographic
Red Light Center is an online virtual world introduced by Utherverse Inc. in 2005. Modelled after Amsterdam's Red Light District, RLC offers virtual nightclubs, hotels, bars, and more.
Users earn and use a virtual currency called Rays for services, gifts, and trading. The largest connected world is Virtual Vancouver, hosting events and landmarks. RLC provides adult content, including customisable avatars for virtual sex and intimate activities.
If you're familiar with and into the idea of the red light district, then this game will fulfil your fantasies and make your heart race!
Pros
The Red Light Center game supports live voice chat & multiplayer
Cons
19. Dreams of Desire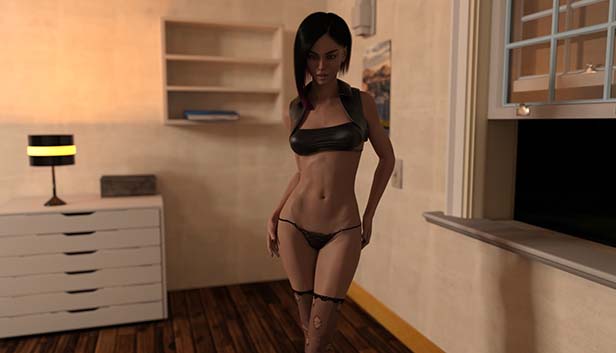 Genre: 3DCG, Animated, Male Protagonist, Multiple Endings, Harem
The Dream of Desires game centres on a young man who's just graduated high school and has a whole summer ahead before being sent to a military academy by his father, who attended the institution in the past himself.
Despite having no interest in becoming a soldier, our main character begins to recognise the world around him—especially the women- during this waiting period.
In a nutshell, our protagonist desires to experience various kinky pleasures. Your role is to guide him toward his objective by making the right choices, any misstep could lead to somewhat awkward situations (try not to lose any sex scenes as you will regret it!).
While it might not win a prize for the greatest porn video game storyline, it could easily satisfy your fantasies and cravings!
Pros
High-quality visuals, sound effects, music and voice acting
Dreams of Desire is highly Interactive
Cons
It requires a lot of storage space on your device to run properly
In-app purchases
18. The Genesis Order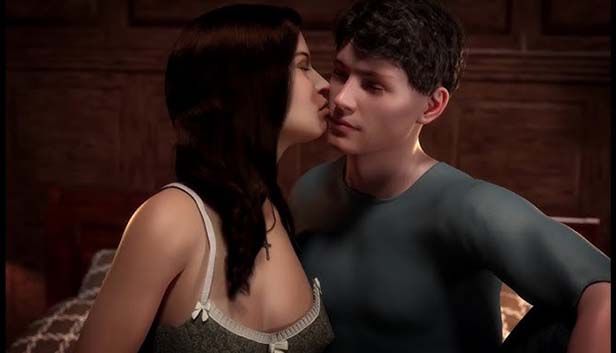 Genre: Male Protagonist, Animated, Milf, Adventure, Puzzle
The Genesis Order game is the latest chapter in NLT's captivating series that began with "Lust Epidemic" and continued with "Treasure of Nadia."
The story takes place in North Santiva, a modern city born from the remains of a forgotten tribal town, and becomes the backdrop for many puzzling mysteries.
Kicking off the adventure is a murder investigation, as you assume the role of a detective aiming to impress his seductive boss.
As your journey continues, expect to encounter a lot of stunning women, unlock newfound sexual abilities, and grapple with a city plagued by a mysterious sex virus!
Pros
The Genesis Order apk is easy to use and navigate
A variety of characters are available
Cons
The story can get repetitive
17. Harem Hotel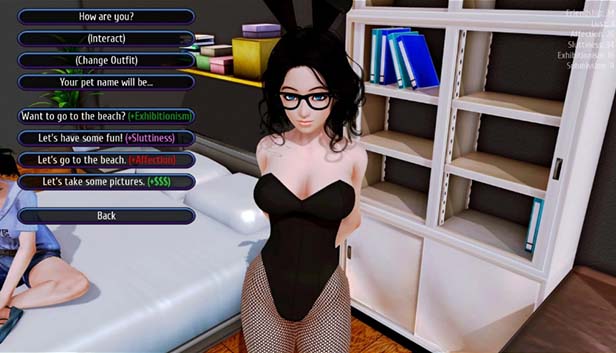 Genre: 3DCG, Male Protagonist, Animated, Harem, Dating Sim
In Harem Hotel, you've taken over your grandfather's hotel in a distant place that might not be as peaceful as it seems. Form relationships, improve skills, and upgrade the hotel with 18 unique and very horny characters.
The game features many animated sex scenes, stats, traits, outfits, and upgrades to unlock. There's plenty to explore, with over 850 events, thousands of images, and more content on the way.
Let's see if you can handle a harem full of seduction!
Pros
The Hotel Harem game offers unique characters and design
Interesting storyline
Cons
16. Eternum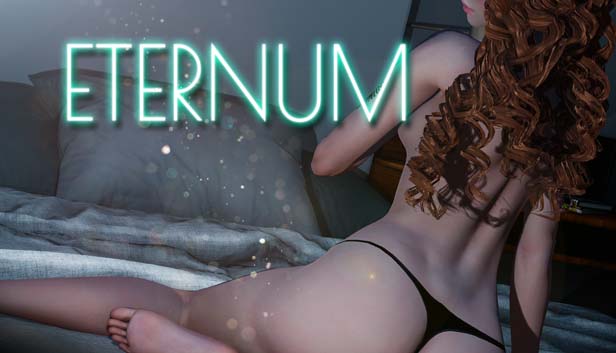 Genre: 3DCG, Animated, Male Protagonist, School Setting, Mini-Game, Sci-Fi
Eternum is a virtual hyper-reality game that has revolutionised technology and has captivated gamers' attention.
Enabled by a neural implant, the game blurs the line between reality and fantasy. Eternum offers diverse realms, from enchanting magic-filled landscapes to mysterious sci-fi metropolises.
However, beneath the surface, a darker reality exists. Past the game's appealing character lie sinister activities: black markets, atrocities, illegal content trading, and more, all unchecked by any regulations.
Curiously, governments turn a blind eye, offering no oversight. Some attribute this to addiction, massive profits, or corruption at the highest levels. But whispers hint at something more enigmatic.
Your role in this tale? That's the question to be answered (hint: you fuck your way around!). It's now in your hands to decide.
Pros
The Eternum game has many unique characters
Amazing story
Cons
When it comes to playing Eternum again, there's not much to explore
15. Desert Stalker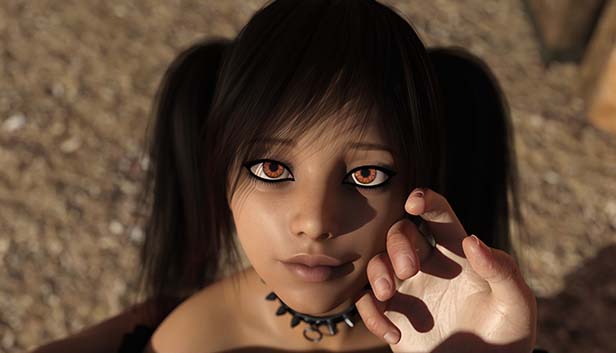 Genre: Point & Click, RPG, Adventure, Male Domination, Female Domination, Graphic Violence, Harem, BDSM
Set in post-apocalyptic Egypt, the game casts you as a desert stalker, a fearless warrior navigating dunes and ruined cities. Your mission: plunder ancient tombs, battle dangers, and secure relics for your family's survival.
You'll shape alliances with different factions as you encounter diverse choices, determining numerous outcomes. All this unfolds as you embark on an exhilarating journey filled with enjoyment at every step.
The desert stalker game offers a one-of-a-kind storyline with various factions and side stories involving romance, action, and hardcore sex!
Pros
Exciting world and narrative for players to explore
Desert Stalker has great attention to detail
Cons
Lacks animations
Desert Stalker does not include audio dialogue
14. 3D Sex Villa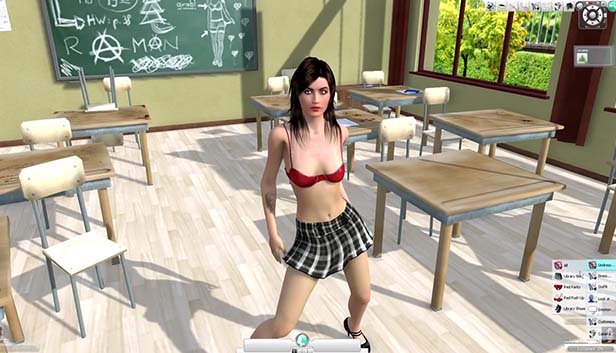 Genre: 3D, Sim, Pose Editor, Constructor, Animation
3D SexVilla is a stimulating virtual sex simulation where you pretty much just walk around and fuck. It offers lots of content, sexy avatars, hot locations, and out-of-the-box sex poses.
3D Sex Villa lets you choose from a range of digital beauties to match your desires. You can customise every detail, from breast size to hairstyle, tattoos, and sexual preferences.
It's a thrilling level of personalisation that's hard to ignore. So, if this doesn't ignite your excitement and imagination, there's a world of thrill you're missing out on!
Pros
3D Sex Villa is highly Interactive and customisable
Cons
Requires in-game currency
13. Lust Epidemic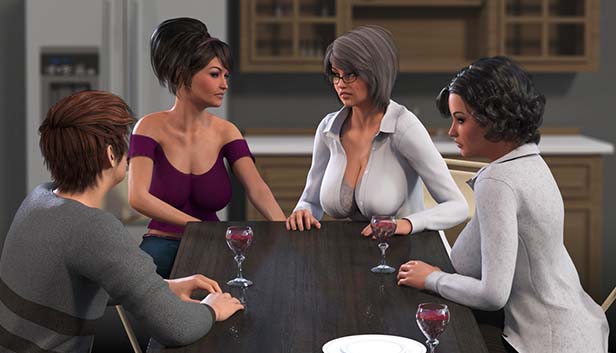 Genre: Pornographic Video Game, Adventure, Puzzle, Exploration
Brad, a student, gets stuck at Saint Dame University due to a sudden hurricane. While exploring the old campus, he'll discover secrets and have some fun along the way!
In Lust Epidemic, you walk around the campus, solving puzzles and getting to know the hot women you're stuck with (lucky you!). As you figure things out, the story gets more and more exciting.
Lust Epidemic is a game that fits the Adventure genre. Playing is an exciting journey, whether you're just starting or already familiar with those types of games. The levels and how you play Lust Epidemic are thrilling and keep your interest high.
As you go through each level, the game gets trickier and hotter, making sure you're never bored. It's a game that teases your senses and keeps you coming back for more!
Pros:
Lust Epidemic has highly Interactive and engaging sex scenes
Interesting storyline
Cons:
12. 3DXChat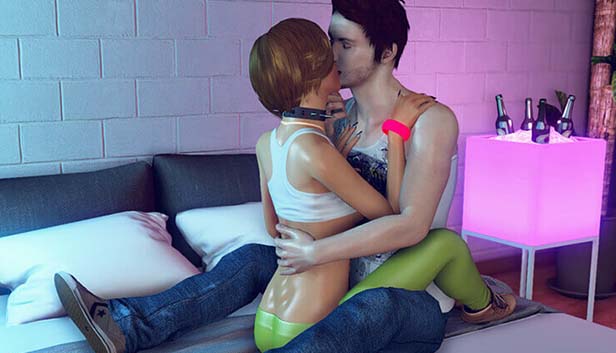 Genre: Virtual, 3D, Online Sex Game
Imagine a hardcore, virtual reality version of The Sims, primarily focusing on interacting (and engaging in steamy sexual activities, of course!) with other players.
If you are more into the multiplayer and VR experience, then we guarantee that you will enjoy 3DXChat, one of the best VR porn games!
Pros
3DXChat has a multiplayer option
Frequent 3DXChat updates
Cons
You have to become a paid member in order to play
In-game ads
11. FreshWomen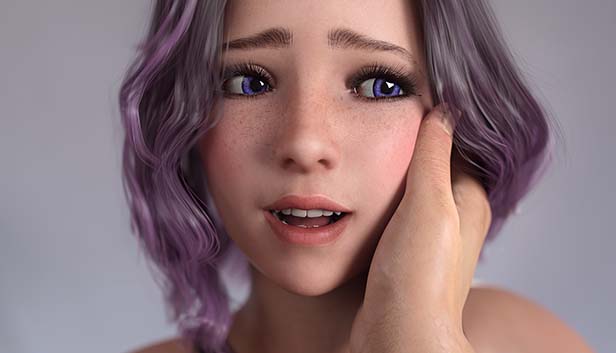 Genre: Animated, Dating Sim, Exhibitionism, Male Protagonist, Romance
FreshWomen is an interactive, choice-driven adult Visual Novel that centres around life's most enjoyable moments.
You play as a young guy searching for clues about your father's disappearance. However, an accident has wiped out some of your memories.
So, you start fresh in a new town for college. You'll encounter a world of excitement, intrigue, and intimacy as you meet different girls during your freshman year.
Your journey will be filled with comedy, drama, and lots of sex!
Pros
FreshWomen is easy to play
Sharp and colourful graphics
Cons
The FreshWomen game is mainly directed towards straight women.
10. Lust Academy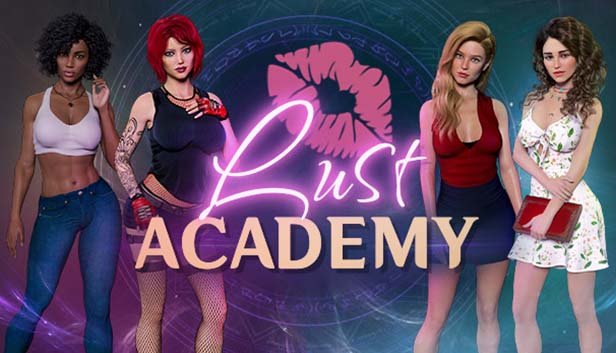 Genre: Pornographic, Indie Game, Casual Game, Adventure
Lust Academy is an adult, erotic visual novel driven by the gamer's decisions. You make choices, and you decide the journey.
You step into the shoes of an 18-year-old athlete, destined for greatness, until a major injury destroys your dreams. But life takes a twist, and a fresh opportunity arises.
An invitation from Cordale Academy of Magic and Wizardry transforms your story. With a rich history of producing accomplished wizards, it's the perfect chance for a former athlete seeking new horizons and new sex partners!
If you're a Harry Potter fan who also enjoys adult content, this game is a must-try, as it draws heavy inspiration from the world of HP. So get your wands ready!
Pros
The graphics of Lust Academy are great
Alternative scenarios
Cons
It feels shallow and forced at times
You have to buy Lust Academy if you want to play it
9. WVM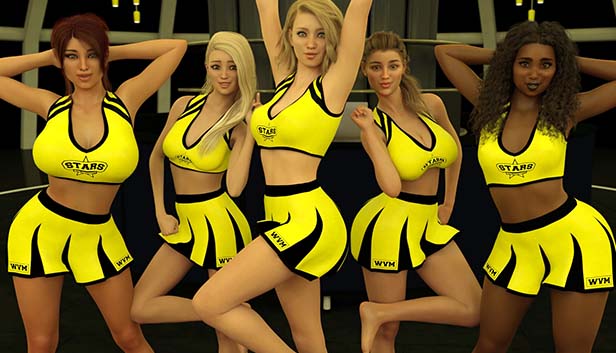 Genre: Male Protagonist, Harem, School Setting, Animated
WVM is an adult visual novel with a captivating story. It's a well-known porn game that grabs your attention and keeps you hooked. The positive reviews and reputation show that this game is worth trying.
You are in a basketball player's shoes, and after facing challenges, you're now prepared for college. As the best high school basketball recruit, any university was within reach.
Yet, thanks to your new hot mom, you've chosen WVM. This decision surprised many, as WVM lacks a strong basketball team (but does not lack sexy women!). All attention is on you to transform the team's fate.
Your modest origins will be tested, and various temptations will emerge. Are you prepared to discover how you'll navigate the spotlight as the campus sex star?
Pros
The WVM game is free to play
Great story & sex scenes
Cons
Most of the game is silent
8. Milfy City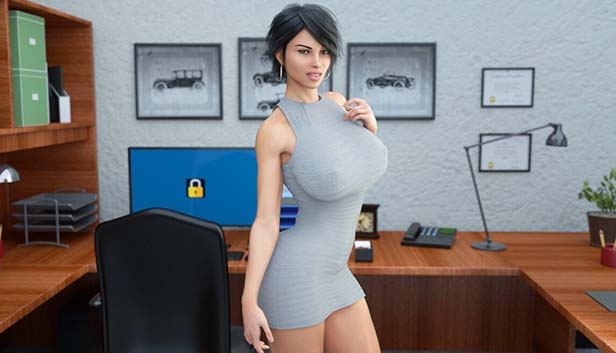 Genre: Animated, BDSM, Cosplay, Dating Sim, Male Protagonist, Romance, School Setting
Milfy City is a captivating porn game apk where a therapy session unfolds the story. The game's realistic visuals, animated intimacy, and interactive features keep players hooked and create excitement.
As the main character, you end up at the school therapist's office after your crush broke up with you and humiliated you. But the therapist has different ideas as to how to make you feel better!
With the sexy therapist and some seductive family members in the picture, it's up to you to choose your path and how to fulfil your naughty pleasures!
Pros
The Milfy City game is free to play
Impressive graphics
Cons
At times, the story feels rushed.
7. Taste Of Seduction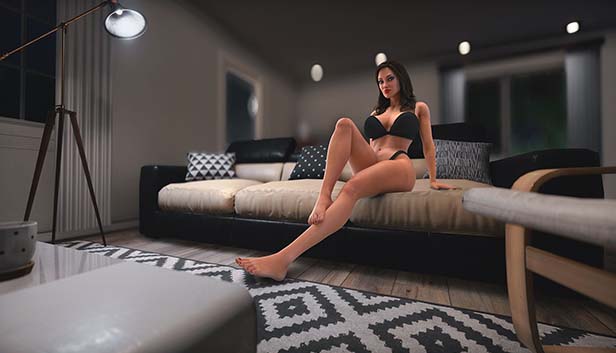 Genre: Action, Adventure, Simulation, Casual, Indie, 3D
Taste Of Seduction is an impressive free 3D porn game where you're in the driver's seat. It's mixed with college life and exciting spy missions.
You become Devlin, a young adult on a mission to solve the mystery of his dad's disappearance. But before that, you have to juggle college, annoying family dramas, and the difficulties of starting a business.
How can you make it happen? Make friends, gather money, and do not forget to seduce and bang a couple of hot young girls along the way!
.
Pros
Taste of Seduction has an engaging story
Good graphics & sex scenes
Cons
6. City Of Broken Dreamers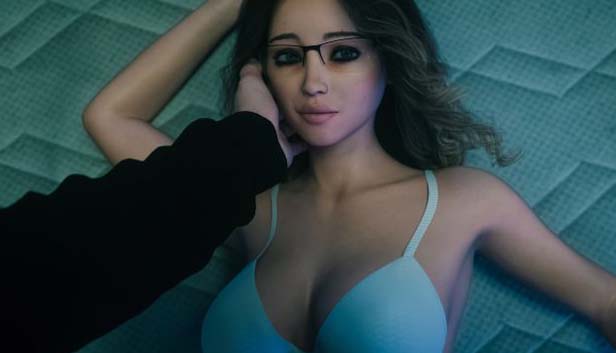 Genre: Adventure, Visual Novel
Are you craving a blend of cyberpunk, sci-fi, and erotica? Look no further than City of Broken Dreamers, an immersive world where your choices connect. Each action you take brings consequences, positive or negative.
The storyline revolves around the city's dark underbelly, a hub of crime and evil that never sleeps. In this chaotic realm, you'll encounter both criminals and elite corporate figures.
Assume the role of the relentless ghost, a determined bounty hunter fueled by a haunting past, as you navigate this exciting story.
So, if you're looking for an engaging experience and lots of hot sex scenes, giving City Of Broken Dreamers a try is well worth it.
Pros
City Of Broken Dreamers has amazing graphics
Realistic design and animations
Cons
Too complicated at times
You have to buy it
5. Freeloading Family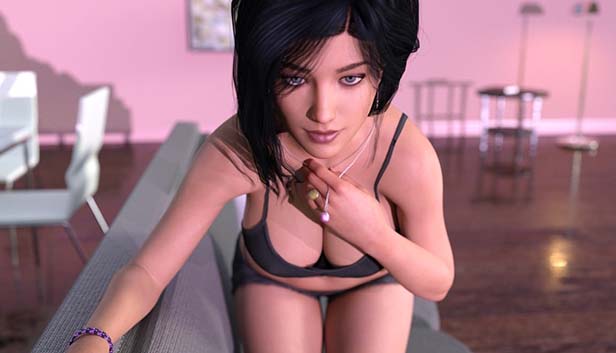 Genre: Male Protagonist, Romance, School Setting, Teasing
Freeloading Family is a 3D adult game about a man living alone with his step-sister while attending college.
It's your job to uncover the story and events of our protagonist's living situation with the hot step-sister he barely knows and the new college wild sex adventures he will soon experience.
If you're a fan of dynamic and thrilling gameplay filled with unexpected twists and uncensored, steamy encounters (primarily with your step-sis), we suggest trying this game.
Pros
Graphics are great
Freeloading family is free to download
Cons
The story can feel weak at times.
4. Hentai Heroes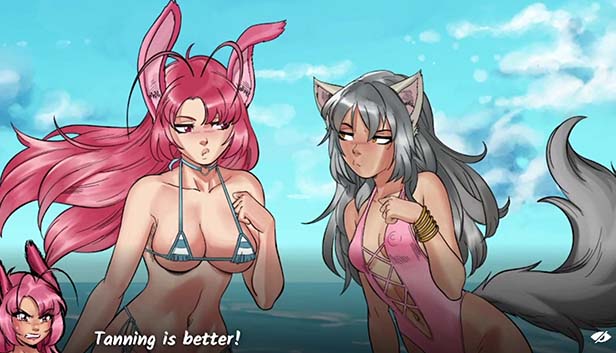 Genre: Hentai, Puzzle, General
The Hentai Heroes game sets itself apart by offering immersive and very enjoyable sexual furry gameplay. Unlike typical hentai games, it features 3D sex and diverse modes, offering a unique experience with each character.
With an adventure sub-genre twist, players must monitor XP, Health/Energy, and money to progress. Building relationships with in-game characters through intimate sex encounters boosts experience points.
Similar to other adult games, Hentai Heroes offers microtransactions for faster progression. While free, players can invest in accessories and upgrades for a better experience.
If you're up for some erotic fun, this 3D hentai game is your match!
Pros
Hentai Heroes is free to play
Great artwork
Highly engaging
Cons
Paid extra features
Slow dialogues
Annoying background music
3. Treasure of Nadia - The Best Interactive Porn Game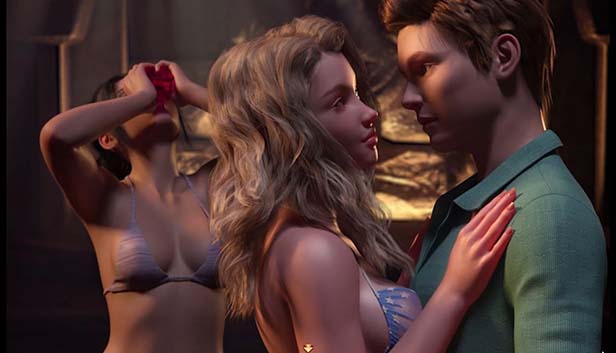 Genre: Adventure, General, Visual Novel
The Treasure of Nadia game takes you on an epic ride in Cape Vedra, a town packed with treasures, mysteries, and gorgeous women! This thrilling journey packs over 2,500 animated scenes (yes, quite a few sex-related) and an expansive world loaded with hidden gems, steamy surprises, and secrets waiting to be unravelled.
Follow a young guy trying to break free from his father's shadow and become the ultimate treasure hunter. Prepare to explore hidden caves and ancient temples and capture the hearts of not one, not two, but 12 stunning women along the way.
In the world of NSFW games, "Treasure of Nadia" stands out. The visual cues leave little to the imagination, offering explicit images of intimate sex encounters and passionate lovers.
Treasure Of Nadia Walkthrough Intro
Treasure of Nadia Intro - Trailer
Pros
Treasure of Nadia puzzles are engaging
Great story
Cons
2. Wild Life - The Best 3D Porn Game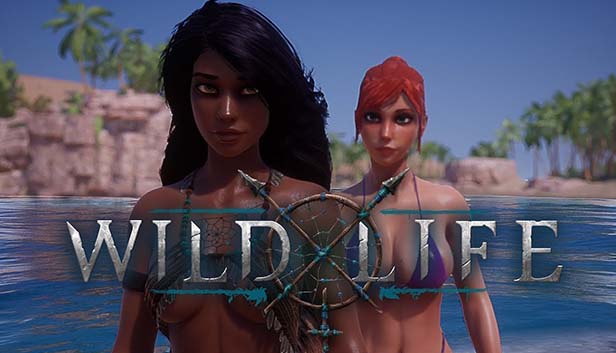 Genre: 3D Games, Virtual Reality, RPG
If you're looking for the best free porn game, "Wild Life" takes the crown. Your choices navigate the story, giving you endless adventures. With stunning graphics and those hot scenes everyone's talking about, "Wild Life" raises the bar for adult gaming.
You can take on various roles – male, female, or even a creature – as you engage in both battles and sex relations within your journey.
Keep in mind that as of today, only the demo is available, and crashes can occur. You'll need a good graphics card. Otherwise, expect the game to be laggy. Aside from that, the graphics, attention to detail, and overall feel of the game surpass its adult category and is definitely worth trying. We can't wait to experience the final version!
The story unfolds on K'apal, a lesser-known planet. It's been visited by only a handful of civilised humans: miners, scientists, and those with more sinister motives like raiders and poachers.
As Worlds collide, exploring these thrilling adventures is up to you. So let your imagination and fantasies run wild in this creative furry porn game!
Pros
The wild life porn game has excellent graphics
Many sexual activities to enjoy
Cons
Only a demo is presently available
The wild life game is a PC-exclusive and needs a good graphics card
Wild Life Game Walkthrough Teaser
Wild Life Demo Gameplay Trailer
1. Being A DIK - The Best Porn Game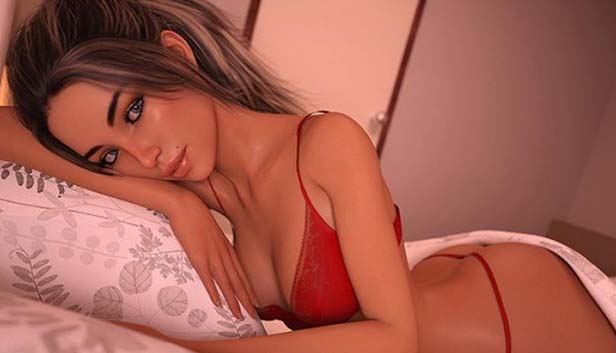 Genre: Adult Visual Novel, Pornographic
"Being a DIK" is an adult visual novel that throws you into college life. Pledge into Delta Iota Kappa, shape romances, and navigate choices that blend humour, steamy sex moments, and the thrill of '80s-'90s American comedies. Your decisions shape both the protagonist's journey and your own in this interactive porn game.
You're the boss of your hero's story. Your choices change his mood by adding or removing DIK points – think of them like popularity points. Wrong choices drop points, while edgier ones add them.
These choices give your hero a style and a personality. They even decide who your hero can date (or what they can do to them!). Over time, this style becomes a permanent thing.
Oh, and there's steamy romance, too – lots of it! You can get close to many hot girls in the game. But here's the twist: your choices change how others see your hero.
The Being a DIK game spices things up with Mini Games, putting your reflexes and puzzle-solving to the test. Mastering these unlocks extra pics and sex scene replays.
We doubt that you will be able to keep it in your pants with that one!
Being A DIK Walkthrough Teaser
Being a Dik - Alone Time with Quinn
Pros
The Being A DIK soundtrack is awesome
Amazing graphics
Cons
Plenty of Being A DIK characters are forgettable
Honourable Mentions For Best Porn Games
Cartoon Porn Games - Seeds Of Chaos
RPG Porn Games - Project QT
VR Porn Games - SinVR
HTML Porn Games - Degrees of Lewdity
Simulation Porn Games - Sex Emulator
3D Porn Games - Chathouse 3D
Free Porn Games - Monster Girl Island
Free Online Porn Games - Gamcore
Gay Porn Games - Gay Harem
Online Porn Games - Utherverse
Real Porn Games - Pornstar Harem
Sissy Porn Games - Perverted Education
Anime Porn Games - Fake Lay
Pokemon Porn Games - Pokeher Cum
Conclusion
We hope we've included enough porn games to satisfy you for years! These sex games earned their spots in our ranking because of their impressive graphics, engaging sex stories, and positive user reviews. Of course, there's an even wider selection of adult games available online for you to explore, but we cherry-picked the ones that stood out (and have the best adult scenes!).
Bear in mind not all of them are as great as they seem, as adult games often end up feeling rushed and lacking depth. So we hope that our guide helped you save time in identifying the right adult sex games for you.
So enjoy the ride because regardless of which porn games you choose from our list, we can assure you that you're in for a good time!
Ranking Criteria For The Best Sex Games
Porn Story
When ranking adult games based on story, it's all about the juicy tales they tell. A thrilling plot that keeps you hooked from start to finish, with interesting characters and exciting twists.
It's a common belief that porn often comes with awkward and forced storylines. However, user preferences have shown that a compelling story does matter when it comes to the sex games they play. This factor has significantly influenced the selection of the ranking for the top porn games on this list.
Graphics
When sorting out the best sex games, having top-tier graphics is like having a front-row ticket to the show. Imagine characters and scenes so detailed and vibrant that it's like they're having sex right in front of you!
And this is why we've made graphics a big deal in our ranking criteria. We get it – when you're diving into the world of adult games, you're craving visuals that don't just impress but make your heart race and your pulse quicken. So, when we put together our list of the hottest porn games around, we give a special shout-out to the ones that bring that heat and excitement through visuals that'll leave you wanting more.
User Reviews
We know that the real experts on what makes an adult game a winner are the players themselves. That's why we've also turned to user reviews as an extra criteria in our rankings. So, when putting together the list of the hottest porn games, we're taking a close look at what the players have to say. This way, we're ensuring you're in for an unforgettable ride!
Our Expert Reviews
Getting up close and personal with the sex games was key for creating this list. It allowed us to fully experience and analyse features such as gameplay, visuals, story, and overall user appeal for each one. That's how we made sure to bring you only the best porn games with the hottest sex scenes!
The Best Porn Games FAQ
How To Play Porn Games?
You can easily access and play NSFW games through your browser or by downloading them. Each porn game has its own play style and category, depending on your preferences.
How To Download Porn Games For Android?
There are a few amazing porn games available for download on the Play Store and through online websites. However, if you're seeking a safer browsing experience, finding adult games online using a secure browser is advisable.
How To Download Milfy City?
Several websites offer the option to download Milfy City for PC or Android. Enter "Milfy City download" in the browser search bar and indicate your preferred device using the search tool.
What Is Hentai Heroes?
Hentai Heroes, or Harem Heroes, is one of the best hentai games out there. It's an adult porn RPG adventure game where you gather your favourite characters to build a harem. The cool thing is that these characters come from different games and manga you like.
How To Delete Hentai Heroes Account?
To delete your account, you'll need to email Hentai Heroes -hh@hentaiheroes.com, as there isn't an in-game option available for this purpose.
What Is Treasure Of Nadia About?
The story revolves around a young man determined to step out from his father's shadow and become a skilled treasure hunter. As you progress, you'll unveil caves, explore ancient temples, and earn your place in the intriguing town of Cape Vedra. Here, amidst treasures and seductive women, a thrilling adventure awaits!
How To Download Being A DIK?
You can download "Being a DIK" from reliable sources. These platforms include Steam and GOG. However, remember that purchasing the game is necessary to access it.
When Is Being A DIK Season 3 Coming Out?
The 'Being a Dik' porn game has gained many loyal users and is regularly updated with new episodes. As of today, 'Being a Dik' Season 3 is in development, with an expected release sometime in 2023.
What Is The Summary Of The Dreams Of Desire?
"Dreams of Desire" is an interactive porn video game where you play as a guy stuck in a military school. However, you refuse to give in. This is a story about power, dishonesty, and secrets. Your choices drive the story and lead to 7 different endings, with some passionate scenes.
Is Freshwomen Season 1 In VR?
Freshwomen does not offer support for virtual reality (VR). This means that players won't be able to experience the game using VR technology. However, the development team is constantly exploring new features and possibilities, so it's possible that VR support could be introduced in the future.
Is King Of Kinks Safe To Play?
You can play King of Kinks without any concerns, as it's safe to play. You can easily download it for free from a reliable source like Steam.
Is Subverse Worth Getting?
Subverse is an adult video game that combines strategy roleplaying and shooting elements. Overall, The game operates, and the gameplay is straight to the point and easy to navigate. It's important to mention that the game's duration is currently on the shorter side. But If you're a fan of this genre, trying this game is worth it.
What Is The Cloud Meadow About?
Cloud Meadow falls in the category of nsfw games and is described as a sexy monster-breeding sim porn game. It's a mix of farming, RPG, and visual novel, focusing on Farming, Fighting, and Flirting. Engage in romance, create new monsters, cultivate your farm, battle foes, and explore landscapes.
How To Download Red Light Center?
Red light center is a free 3D adult game that you can download from the official game site at www.redlightcenter.com.