One Night Partners Review
Verified Review
Published: 22nd November, 2022
OneNightPartners Introduction
First impressions and gut feelings are crucial when it comes to trying something new and when we were first exposed to OneNightPartners, we could not shake the red flags that kept popping up in the back of our minds.
It did not help that we could find very little information about the background and history of the site itself. They are quite a young site, having started in 2020 - no doubt to make the most of the sudden increase in online dating due to the COVID-19 pandemic! But let's not throw the baby out with the bathwater.
In our OneNightPartners review, we will answer your most pressing questions and give you the arsenal to decide whether or not you would like to sign up for the experience they offer.
What Type Of Dating Site Is OneNightPartners?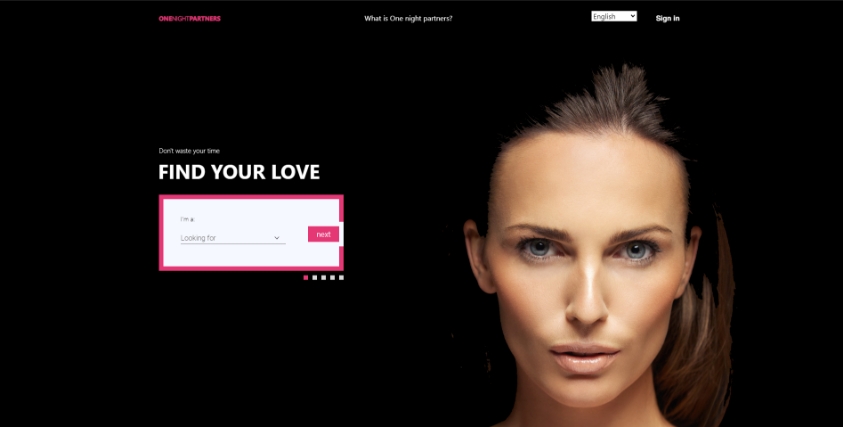 The first question on your mind is probably "what is One Night Partners"? Well, as the name suggests, this is a hookup site for one night stands. Those who are after meaningful connections and long-term relationships would be best suited to try a different platform.
This site is perfect to allow people to connect for:
Casual hook-ups
Quick meets
Friends with benefits
Who Is OneNightPartners For?
OneNightPartners appears to be open to most people although there is room for improvement. As far as we could tell, trans people are not catered for - there is no option to sign-up as a trans individual or to search for other trans people. As for bisexuals, you can only search one gender at a time so your available matches are going to depend on your mood!
OneNightPartners is suited for people who are:
Straight
Gay and lesbian
Bisexuals
In a relationship and looking for discreet affairs
Singles who are looking for quick and easy fun
Stats & Infographics Of OneNightPartners
Male - Female Ratio
Age Demographics
Country Distribution
Registration Process Of OneNightPartners.com
OneNightPartners has free registration and the entire process is very simple and straightforward - all that is needed to create a profile is a valid email address. There aren't many information fields to fill out and only very basic information is required of you (such as location, age, gender, drinking and smoking habits). You can also write something about yourself in order to increase interaction and uploading a photo is optional so some discretion is possible.
Once registration is complete and your OneNightPartner login is created, you are free to browse the site and can set search parameters or update/change the information on your profile if you need to.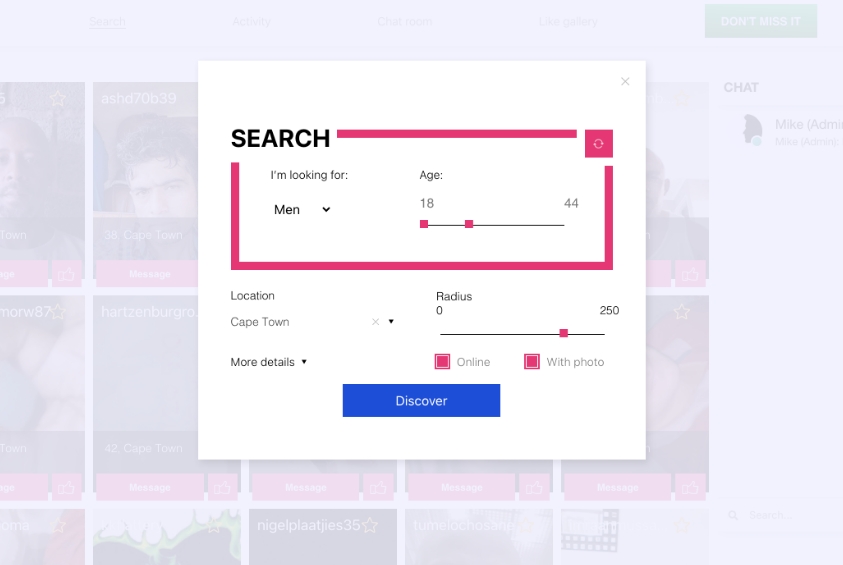 As we mentioned earlier, the platform is very basic and if you are looking to create a very detailed profile and filter out very specific groups of people then you will be disappointed. We can't help but wonder if your search might be more successful if you are given more freedom and customisation options.
OneNightPartners Mobile Application / Compatibility
OneNightPartners is a very small site so, unsurprisingly, there is no dedicated mobile application for either Android or iOS. The site is only available on a browser although the platform does reformat itself to be more accessible on a mobile device. It is not an ideal solution but it is at least better than having to navigate a page that is designed solely for desktop use.
Men Vs Women On OneNightPartners
The registration process for men and women was largely the same although we found that there were no pop-up adverts or flashy links to encourage the purchase of subscriptions. Women are free to use most features of the site although there is still the option of upgrading your account to one of their subscriptions.
With our male profile, every few minutes we would receive an advert promoting a discounted subscription rate. It should also be noted that the subscription for women is cheaper overall than the subscription for men as well as offering different features (see below).
OneNightPartners Top Features
Live Chat Room
The standout feature on offer is the live Chat Room. Users are able to post messages or reply to others in this section and on paper, it's a good way to meet others if you don't want to use the search function or go through the profiles that appear on your home page.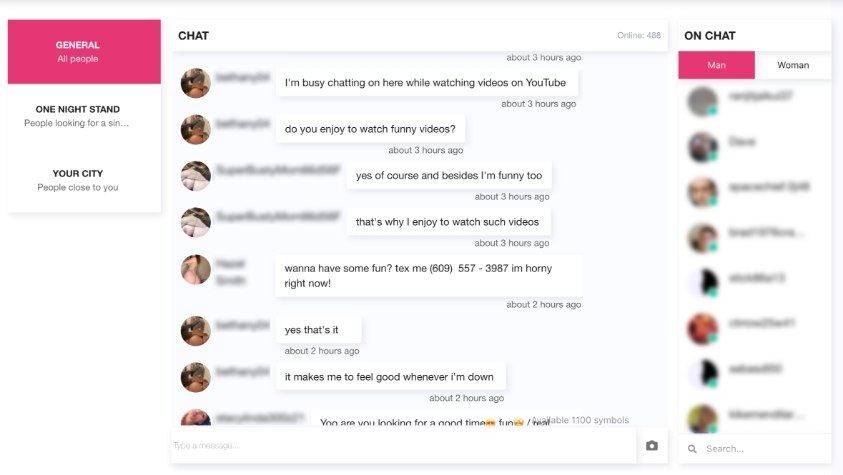 We should however mention that most of the messages seem to come from female users and have questionable grammar which makes us wonder how genuine they are. We have a suspicion that they are only there in order to get engagement from male users to get them to buy subscriptions.
Like Gallery
If you have used more mainstream dating platforms before then you will be instantly familiar with this feature. You are shown a profile and given the option to like or dislike it, after which a new profile appears and the process repeats. If you both like each other then you are matched and can begin chatting.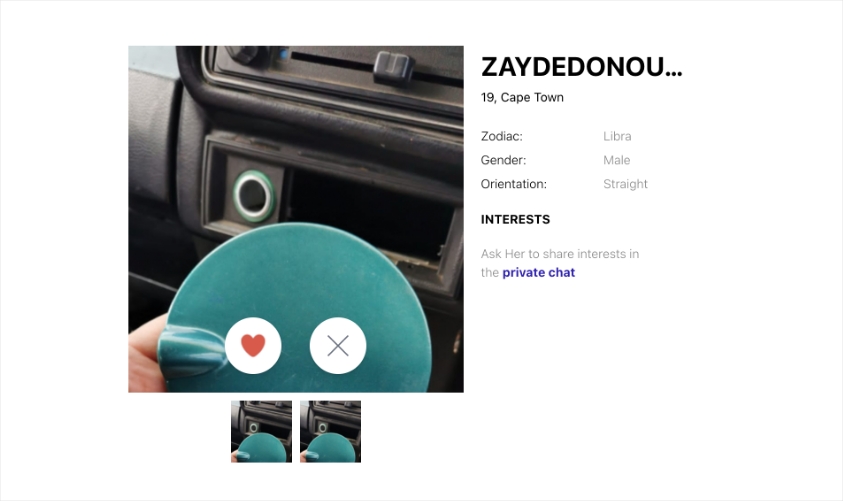 Much like the Chat Room, this is a good alternative to finding others to connect with if you don't want to use the somewhat limited OneNightPartners search option or your homepage recommendations.
Pricing Of OneNightPartners' Offers And Subscriptions
Offers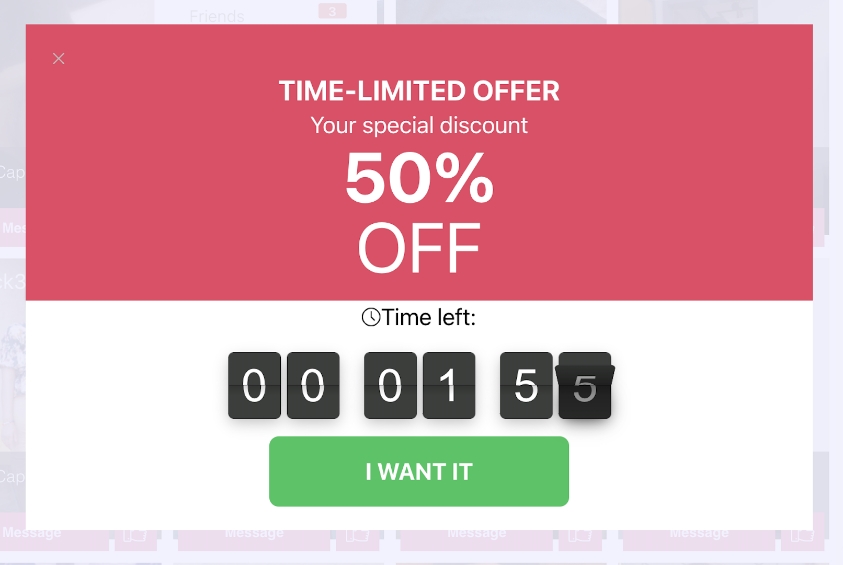 "Time limited offer"
50% discount on any of the available subscription packages
Only available to male users
Subscription Packages For Male Users
There are 3 membership options depending on how long you would like to subscribe to the One Night Partners dating site. The naming structure is somewhat confusing as there is a six-month option and a one-month option but the middle option is three "days months". We assume that this is a typo and they mean three months but this sort of mistake is not one that a more polished dating site would have.

They also advertise a "most popular" subscription but this does not seem to be any of the listed options that they have.

Regardless of which subscription you select, the perks are all the same:
Advanced search filters
Free unlimited messages
Access to all photos
More people in the search and Like Gallery
Access to all profiles
Priority customer support
Subscription Packages For Female Users
Female users are presented not only with discounted rates but also different subscription options entirely. The difference in subscriptions here is not in the duration of the subscription but in the features offered.

The perks of each subscription on offer differ wildly from the others so you really need to decide what is important to you. It is also not clear how long the subscriptions last nor what each feature entailed as they are only listed (with no additional information).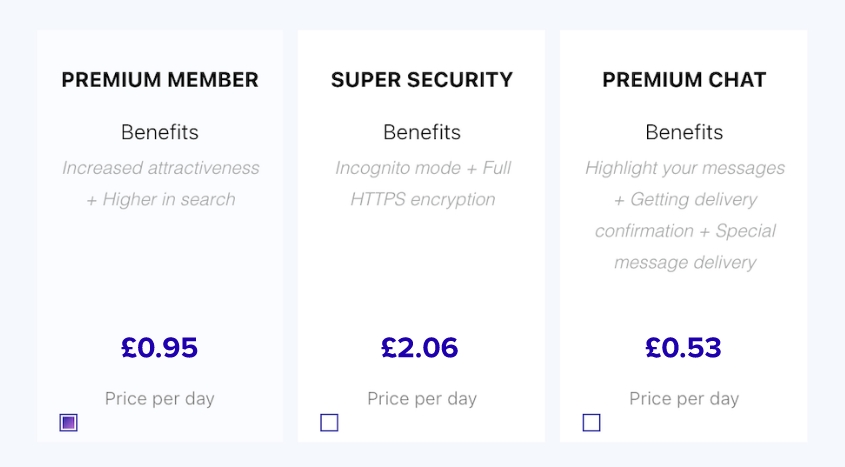 The Premium Chat subscription offers include:
Highlighting your messages
Message delivery confirmation
Special message delivery
The Premium Member subscription includes:
Increased attractiveness
Higher search rankings
The Super Security membership includes:
Incognito mode
HTTPS encryption
OneNightPartners Pros & Cons
Pros
Live Chat Room option to connect with more people
Easy to use Like Gallery to swipe through profiles quickly
Quick and free registration
Cons
Free version is very limited
Clearly automated female profiles and discounted rates for women indicate that the site is targeted toward getting male users to buy subscriptions
Many pop-up adverts encourage the purchasing of a subscription (this is also only an issue with male users)
Very little in the way of identity verification
One Night Partners cost of membership is quite high
OneNightPartners Safety & Security
Promotion Of Cam Services
OneNightPartners has a partnership with a third-party cam service which is advertised to members. This might sound like a bonus feature that adds to your experience until you read the Terms and Conditions and find that they do not endorse nor guarantee the service provided by this third party. They even go as far as to state that it "is not our area of concern".
While it is understandable that any interaction with the live models provided by the external cam service is entirely at your own discretion, it is quite surprising that the host site (OneNightPartner) does not do more to ensure your safety when engaging with this feature.
Background Checks And Identity Verification
OneNightPartners conducts no form of background checks or any verification other than an e-mail address. This means that the chances of coming across fake profiles are quite high and from the messages that we saw in the Chat Room, it seems that there are quite a few of these.
While they make no mention of enhanced profiles or chat moderators, it appears that it is the perfect place for third parties to create false profiles in order to achieve their potentially unsavoury agendas. You are not protected from the possibility of a OneNightPartner scam experience as a result of other users.
Use Of Details Across Partner Sites
In the Privacy Policy, it states that OneNightPartners is part of a larger group of casual websites and that your details "will" be shared across the different partner sites. They don't state what these other sites are or how your details will be represented on them.
While they do say that the use of your information is in order to make the service provided better for you, it is a pity that you are not able to opt-out of this arrangement in order to keep your OneNightPartner profile details only located on one site.
Conclusion
It should come as no surprise that this is a difficult site to recommend. The continuous adverts about discounted rates and benefits of upgrading your profile as well as the suspiciously high interaction rate from female users with our almost empty profile were big red flags. Also, the fact that women are offered lower rates and completely different subscription options only solidifies our hunch that they are only here to make money and not provide a valuable service.
Is One Night Partners legit? In a word - no. Our recommendation would be to try any of the larger and more well-established one night stand dating sites out there. If you have tried them and still have not had any luck, going to a pub or a club to try and find a "one night partner" would also be a better option. There are many easier and more effective ways of meeting new people and this site should really only be a last resort.
Tips For Using OneNightPartners
Use the Like Gallery to easily and quickly go through more profiles and make more matches (as opposed to the search function)
Subscription packages renew automatically so if you don't want to renew your profile for another month then this needs to be manually cancelled
Before subscribing, have a look at One NightPartners reviews (especially from other users) in order to help you decide whether it is the site for you