KinkyDates24 Review
Verified Review
Published: 12th December, 2022
KinkyDates24 Introduction
For every person's desire and need, there is at least one kinky dating app or website on the market. The online space is saturated with platforms promising you to fulfil your desires, but how many of them can actually do that? And how many are just money-making leeches?
The most important question is whether KinkyDates24.com is a dream fulfiller or a make money fast scam?
What Type of Dating Site Is KinkyDates24?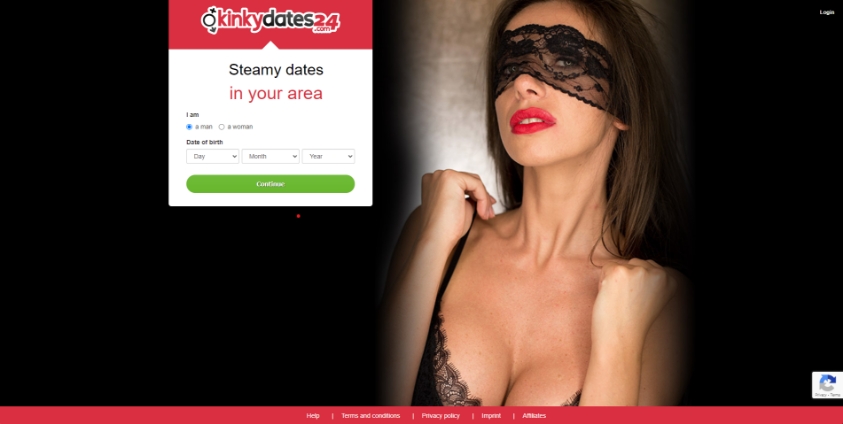 A dating site for people with kinks
A dating site that offers the possibility to enjoy kinky dates
Who is KinkyDates24 for?
For singles looking to fulfill kinky sexual desires
For couples looking for a third
For married people trying to explore their options online
For everyone who's looking for a friend
Stats & Infographics
The KinkyDates24 website doesn't provide many statistics on its demographic. We know from our exploration that it currently operates in the United Kingdom and Ireland. Large cities like London, Manchester, Dublin, Glasgow, and Belfast have the concentration of most users. However, this is common for many apps and websites.
There are no statistics concerning the website's ratio of male and female users. Once you sign in, in the "My Dates" section, you can browse from eight to thirty pages of user profiles based on the city and distance from the city you've selected. This applies to both the male and female users on the website.
The site allows you to browse user profiles within the age group of 18 to 99. No users at 99 were found, but you have older ladies and gentlemen between 74 and 88 years.
As for the web design and the infographics of the KinkyDates24, they are exactly the same as another dating website – Marriedbutlooking.dating. The only difference is the name. Everything else, from the features to the search options, is the same.
Registration Process
Starting from the Kinkydates24 login page, you can select your gender and state your date of birth. From there, you go through a series of pages that ask you to enter your email, choose your interests, fill in a couple of boxes indicating your physical attributes, fill in a personal message, and upload a profile picture.
The list of interests has quite a lot of options. The Preferences section features interests such as Anal Sex and Dirty Talk, while including outer appearance inclinations, such as Tattoos and Piercings. This goes ever further to include fetishes such as voyeurism, partner exchange, and even whether you like to do the deed outdoors!
The Fetish section lists things such as Bondage, Latex, Feet and other things alluding to BDSM dynamics and plays.
In the Partner section, you can find options for Twosome, Threesome (FFM), and Threesome (FMM).
The Interested In section features different ways you'd like to communicate with the people you meet. These range from regular Chatting, to Visiting Adult Shops together, Relationships, and Fantasies.
Finally, in the Meeting Places section, the options leave little to the imagination, offering Car Parks, Hotels, Swinging Parties, Saunas and many more.
Furthermore, you can indicate your physical attributes on the Looks and Appearance page by selecting them from a drop-out menu. The attributes comprise your physique, weight, height, hair length and colour, eye colour, and relationship status.
Top 3 Features
Hot or Not?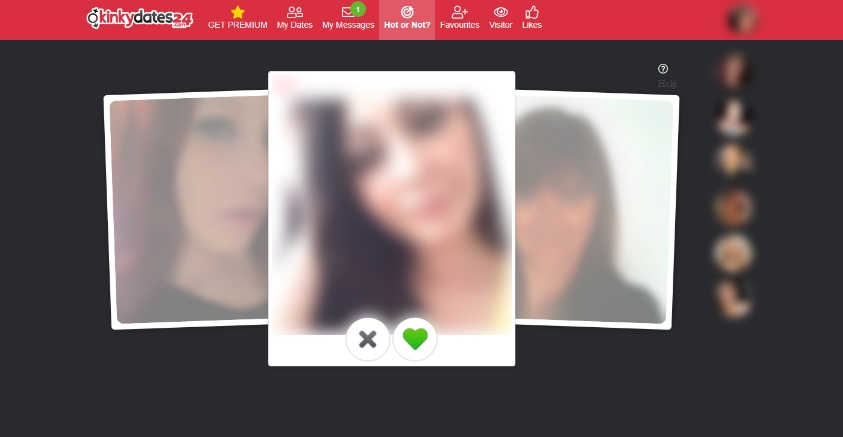 Hot or Not? is a great feature for people who like to swipe left and right to rate their potential dates. Instead of swiping, however, you click on an "X" or "Heart" icon. Like all other swiping apps, if you and your romantic interest click on the heart icon, you get a match and can talk to each other.
My Dates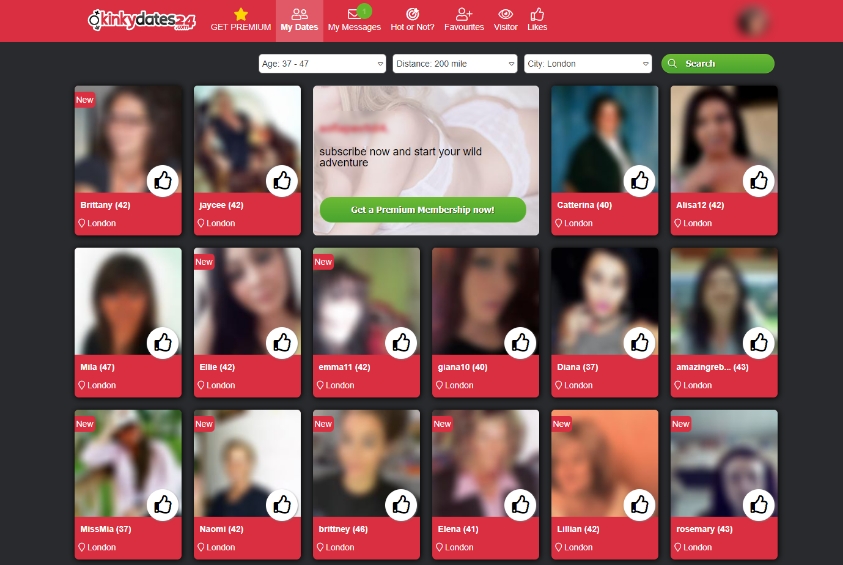 The My Dates page is your directory for all the members' profiles on the website. You can select different parameters to refine your search or leave them broad on this page. Once someone attracts your attention, you can click on the Like icon, enter their profile, and perform other actions.
Extensive Profiles
When looking for kinky dating, it's always preferable to look up the interests and characteristics of the other person and see if you have something in common. The profiles are made to indicate everything from sexual preferences to appearance, age, relationship status, and zodiac sign.
On this page, you can also send a message to members, like and add them to your favourites, send a flirt or block them.
Offers, Prices & Cost
As a free user, you can write to other members in your selected area for free. Also, you can upload pictures and browse other users' profiles on the website.
There's a limit to reading and writing messages as a free member though. If you exceed your limit, the additional messages can be seen once you become a premium member. Additionally, the messages will be deleted in twenty-four hours if you stay a free member.
The premium features, such as Favourites, Visitor, and Likes, are reserved for paid members. Moreover, the website guarantees real erotic adventures free of risk, a 100% performance of the website, and a money-back guarantee if you're unable to find a date.
The price for the subscription is as follows:
| Subscription | Price | Total |
| --- | --- | --- |
| 1 Month | £39.90/Month | £39.90 |
| 3 Months | £34.90/Month | £104.70 |
| 6 Months | £29.90/Month | £179.40 |
Pros & Cons
The main pro of Kinkydates24 is the slick design of the dating website. The user-friendly option makes it a pleasure to browse profiles and search for potential matches. They have included features like Hot or Not? that mimic users' habits from other apps to swiping left or right.
However, talking about apps, the dating site does not have a Kinkydates24 app, which is very unfortunate as most people use mainly their phones to engage in dating activities.
Another big con for this website is the glitches and bugs. During the registration process, the introductory message is deleted. The same goes with the change of your nickname. It takes a couple of hours before the automatic nickname given to you by the website is replaced by the one you've selected.
Finally, if you have selected as dating preference a specific gender during registration, you cannot modify it afterward. In other words, if you're a bisexual and want to date a different gender from the initially selected one, you must create a whole new profile.
Safety & Security On Kinky Dates24
There's no accurate information on the website as to who the founder is and the website's purpose, which is typical for more known dating sites and apps on the market.
You're asked to verify your email address during the registration process, and you're not allowed to access the website before you click on the link sent to your email.
Moreover, there's a possibility to do an identity check by submitting a photo of your ID or Driving licence, along with a photo of you holding that document in one hand. The procedure states that only by verifying your identity will you be able to upload corresponding pictures on your profile. That statement is false. We were able to upload plenty of photos, including some fake ones.
The verification process takes up to twenty-four hours. However, even during that period, the website approves fake photos. A blue checkmark should appear next to your profile once you're verified though. During our exploration of the member's profiles, none had a blue checkmark on their profile, so that's something to keep in mind.
Conclusion
KinkyDates24 was well-designed with the idea to ease the user experience and make it more enjoyable. The lists of interests are extensive, so you're sure to find other people who favour the same kinks.
However, the weak security and the unclear procedure of how to get your money back if you don't end up dating anyone from the website are ambiguous. The idea behind the security check-up is excellent, but the execution is poor. This leads to the possibility of having many fake profiles on the website.
That said, it's always important to take the chance and try it for yourself before ruling it off entirely as a possibility. Websites evolve, and hopefully, this one will, too, once it gets all its security parameters working.
Tips
When uploading a profile picture, try to upload one where you can see your face clearly. If the image is taken from far away or from the back, it will automatically be inaccessible on your profile picture gallery.
Use the Free Introductory Message from the website's suggested one if you cannot craft your own. It's always better to have some messages than none.
Wait a month before you buy the premium membership. Explore the website and try to start conversations with other members. Once you establish a connection with someone, signing up is not a bad idea.