BDSM Date Review
Verified Review
Published: 11th January, 2023
BDSMDate Introduction
Welcome to the kinkier side of online dating! Not to be confused with BDSMDate.com, the BDSMDate UK site is specifically for meeting sexy fetishists in the United Kingdom. The site, founded in 2010 and operated by Warsaw based UT pl, offers an online space where anyone in the BDSM community can connect with other fetishists.
We found very few other reviews on BDSM Date UK online. And the ones we did find were either done by competitors who tried to drive more traffic to their site or the reviews contained completely false descriptions of the site (some even talked about payment methods and not being able to report spam profiles - more on those later). So we took it upon ourselves to do an extensive and honest review of the site. We spent our time signing up and creating a proper profile, interacted with a few people online, and went through every feature with a fine tooth comb to make sure you get only the best value from our review.
As soon as you log on it's obvious that this is no run-of-the-mil dating site. With dark brooding colours and a triskelion for a logo you know it's all very kink-friendly. Members on the site are also active and very eager for some dark fun. No one seems to be shy to send their email or phone numbers, because here it's all about meeting up in real life. This is not one of those scam sites that only work to keep you chatting. So let's dive right in and see what you can expect to find on BDSMdate.co.uk.
What Type Of Dating Site Is BDSMDate?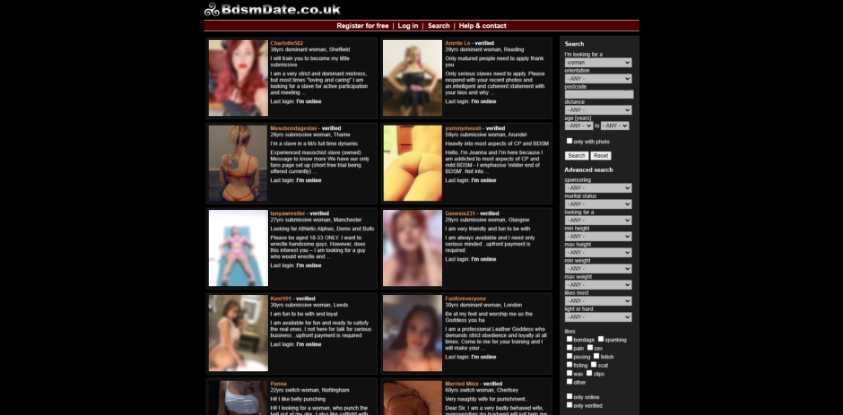 Hookups
Meetups
Pro-domme appointments
BDSM-specific chatting and dating
Sub/Dom relationships (specifically Femdom)
BDSMDate is aimed exclusively at those in the BDSM community and you are most likely to find a dominatrix on here, which makes it perfect for any sub or slave. There are other fetishists too, but dominatrixes are the most common type of member that you will find online.
Who Is BDSMDate For?
Straight
Gay
Lesbian
Bi
Transgender
Couple
Stats & Infographics Of BDSMDate.co.uk
Male - Female Ratio
This ratio adds up seeing as there were 684 active female profiles and 3064 active male profiles at the time of this review.
Age Demographics
Country Distribution
Registration Process Of BDSMDate
Registration is very simple, once you are on BDSMDate.co.uk click "Enter" to indicate that you are of legal age. You will already be shown the search page where 20 female profiles who are 'online now' will pop up and should you want to see more you can use the search bar on the right-hand side of the screen. To begin the registration process click "Register for free". Choose a username, provide your email address, create a password, and agree to the privacy policy and terms of use (you can click 'terms and policies' at the bottom of the screen to read through them first).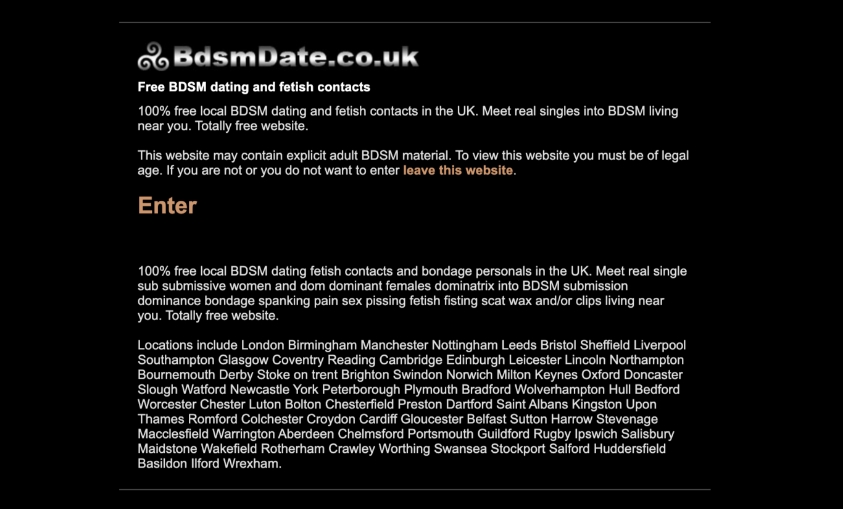 Check your emails for a verification code. After you've clicked on it your account will be created and you need to log in with your chosen email and password. As a second level of security, you then need to do a second verification by providing your mobile number. A verification code will get sent that you need to put into the field provided, then click 'Proceed'.
You will be redirected to your account page but you will not be visible to other members or be able to message anyone until you have set up your profile, but you can view other members' profiles without having set up your profile.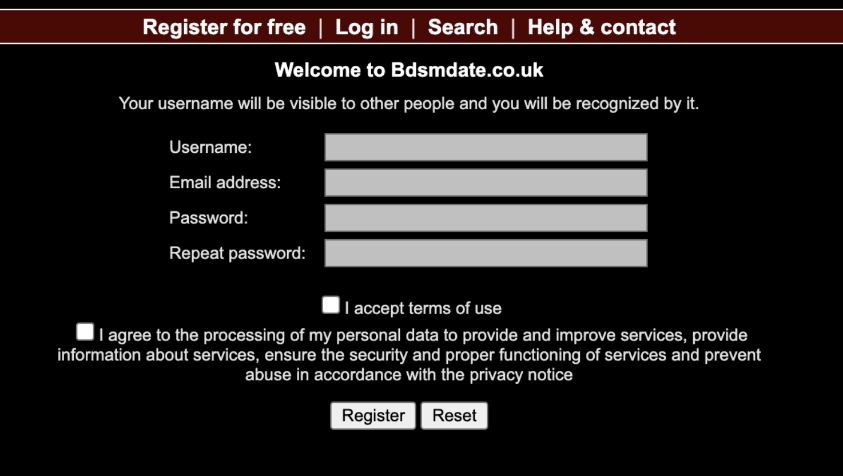 To set up your account select "My profile" where you will be asked for all the details that will show up on your profile and others will be able to see. This includes your sex (which can be male, female, couple, or trans) and orientation (which is either dominant, submissive, or switch). Add your postcode (this will not be shown on your profile), age, your sponsoring status (whether you do or don't expect money). This is followed by your marital status, height, weight, what you like the most from a selection of bondage, and how hard you like it.
Then you get to introduce yourself in 50 characters or less. They give a good example as something like: "An experienced trainer is looking for a female slave". Select if you are looking for a man, woman, or couple. Tick all the sexual things you are into from the same selection as when you selected what you liked most. Then there is more space for you to describe yourself if you want to go into a bit more detail than what you could when you introduce yourself in 50-characters. Lastly, you can select if you want your email address to be shown or not and click 'set up profile'.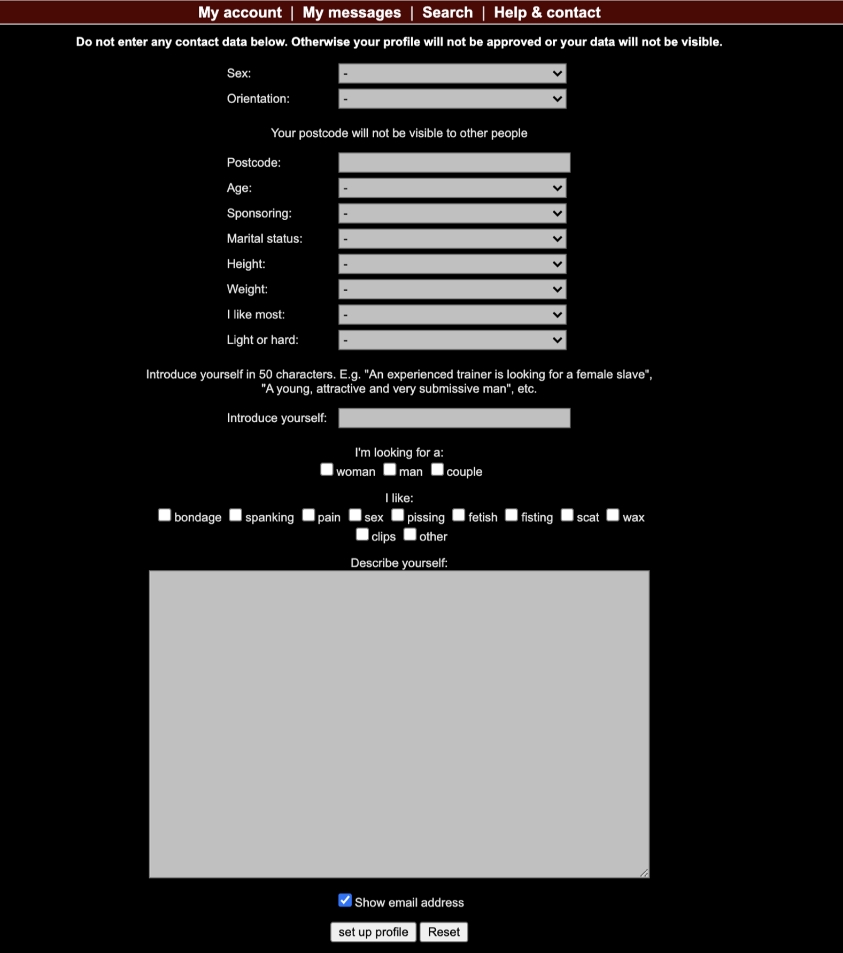 Your profile will go up for review so don't sweat if it is not approved right away, you can expect anything from a few minutes to a few hours of waiting for this. But this gives you enough time to add the right profile photo. For your profile pic, they ask that you upload something not too obscene that doesn't depict any BDSM activities, but shows at least your body, limbs, or preferably your face clearly visible. You can keep the R-rated photos for your gallery. But to add anything to your gallery you will first need to have a profile photo.
PS: The only way for you to see what your profile will look like for other members is to click on 'Your profile link' on your account page.
BDSM Date Mobile Application / Compatibility
There is no mobile app available for BDSMDate at the moment, but you are able to access the site via a mobile browser (on your phone or tablet) and use it all the same. We suggest sticking to either using a desktop or at the very least a tablet. Using the site on your phone proves rather difficult with how small the text and buttons are displayed. Zooming in will be your best friend if you don't have an alternative to a mobile phone.
Men Vs Women On BDSM Date
Men and women get the same experience on BDSMDate. The site is completely free to use for both men and women and the select few features that are available can be accessed by anyone who has an active profile and has a photo uploaded. Anyone who intends to use the site will have to provide the same amount of information to gain access to the chat function and gallery and the overall experience is pretty much going to be the same. Women will however have a better chance of finding someone compatible because there are more than twice as many men than women on the site.
The Search page automatically shows the latest 20 women who have been online which is convenient for straight men, but women will have to use the search bar every time to be shown male profiles.
BDSMDates Top Features
Advanced Search
When you first log in to bdamdate you are shown the search tab. Once your profile has been created you will have to click on 'Search' at the top of the screen to get back to that page. On the right-hand side of the screen, you'll see a long vertical search bar where you can choose to either do a basic search or choose to dive deep into an advanced search.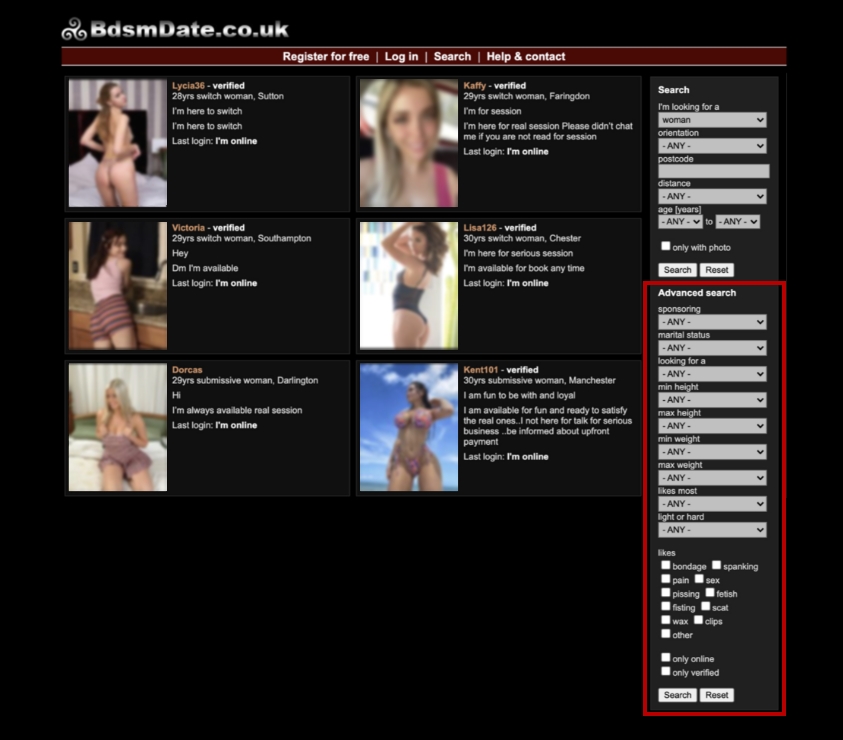 Using the basic search function you can find members based on what gender you are looking for, their orientation (submissive, dominant, or switch), postcode, distance from that postcode, age range, and whether they have photos or not.
The advanced search adds an extra layer of specificity allowing you to search for members based on whether they want to be sponsored, their marital status, what they are looking for, height, weight, what they like most, how hard or soft they like it, and all the sexual likes they have. You are sure to find someone that fits all your kinky desires.
Read Receipts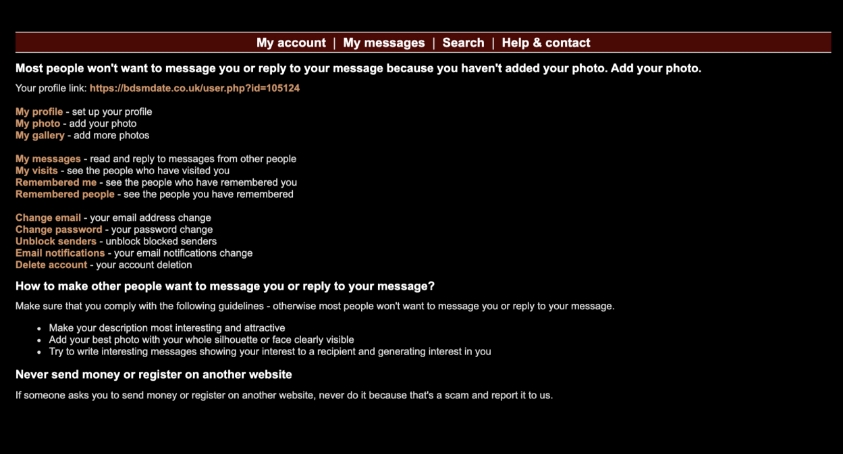 Read receipts come standard on BDSMDAte. When you've sent someone a message it will show you when they have read your message. The messaging interface, however, seems like it was programmed as a school project over the weekend, it definitely is designed for function over form.
To see the read receipts, simply go on the 'My messages' page, click on 'Show sent messages' above the table of chats, and under 'Read by recipient' in your list of sent messages it will show the date and time that each message was read. From there you can click on the member's username to go to their profile, or click 'more' and then 'Reply' to send another message.
Remember Me And Views
While you have the search function that allows you to find just about anyone on BDSMdates, it is possible to forget which buxom lady you fancied if you didn't have the guts to send her a message yet. The site makes it pretty easy for you to remember. If you see someone you like, simply select 'Remember her/him" at the bottom of their profile. You can then continue browsing and go back anytime to view who you liked. Simply go to your account and click 'Remembered people' to see your list.
Bdsmdaye takes it one step further and lets you see whose eye you might have caught. The site shows you who has viewed your profile as well as who has added you to their remembered list. Where these kinds of features are behind a paywall, on BDSMdates.co.uk it is completely free to check out who's looking at you.
BDSMDate.co.uk Offers, Prices & Costs
BDSMDate is 100% free to use and there are no subscription packages, tokens, or upgrade options at all. It's quite refreshing to see, especially since the site is not weighed down by tons of ads either. So we are not really sure how the site makes any money because they never ask for any payments, not even if you sign up as a professional dominatrix who asks for money. All payments to any professionals are done privately and the site will never ask for your credit card information to process any payments whatsoever. The site functions more like Gumtree for finding and meeting fellow BDSM enthusiasts (but with a chat functionality).
BDSMDate Pros & Cons
Pros
Completely free to use (You will only ever need to pay a dominatrix if you choose, but that is not done through the site)
There are no bothersome ads
An interesting community with a mix of professional dominatrixes and amateurs alike
Members are very eager to give out their personal details. No one is trying to keep you chatting online and they know what they want and are eager to get it
Cons
The site has an outdated look and feel
Non-live chat. (You tend to wait a while for a reply from other members, even from people who are 'online at the moment')
The interface looks like it was programmed on a computer that runs on gears and motors
There are no features besides the search and messaging functionalities. There are no gamified matching systems or any match-making algorithms in place, you will have to search for your match manually
BDSMDate.co.uk Safety & Security
Use Of Personal Information
Even compared to the 10-line long list that makes up the minuscule Terms of Use, the site's Privacy Notice is rather short and only covers the bare minimum. Most other well-established dating sites go into a lot more detail here. According to the site, any member's personal data is only used to provide and improve their service, provide information about services, ensure the security and proper functioning of their services, to prevent abuse, to claim, and provide marketing.
The site does however state that it does not share any of your data with any third parties for these marketing purposes. Seeing as there are no ads on the site, and no upgradable membership, we question what this marketing is really for.
The Privacy Notice continues and states that your personal information may be shared with third parties that they work with to provide their services, including payment processing. Once again we question what payments are being processed when there are no membership fees, and never does the site ask for your credit card details. It all seems like this was copied and pasted from a different site even though it is clearly not applicable here. Maybe the creators were lazy on that day, who knows?
By using the site you obviously agree that the information that you share on the site is visible to any other member who is active on the site, and this can be an unlimited amount of people. But this is pretty straight-forward how it works on any dating site.
Fake Profiles
Seeing how bdsm.date is a completely free site to use, and for a community where people can be extorted for money, it is bound to have some fake and scammy profiles to look out for. The site does a little bit to try and prevent this, but not nearly enough for anyone to be 100% sure of who they are talking to until you actually meet them face to face, or decide to have a video call on a completely different platform. The only verification required is for you to have an email address and a phone number. But from our experience, you are able to use a fake one to gain access to the site.
Some profiles are labelled as 'Verified'. This kind of verification should make you feel like they are more legitimate, but nowhere on the site is there any description for how you can get your profile verified. We even directly messaged a few people who had verified profiles to ask how they got labelled as verified so that we could do it too, but none gave a conclusive answer. One person actually said: "Book a session with me and I'll tell you". Now that's someone who knows how to hustle.
A small feather in the cap for BDSMDate is that they make it pretty easy to report possible scam profiles. Simply click "Help & contact" on the tab at the top of the screen, then select "I want to report a scam" from the list, and Bob's your uncle. You can even report if someone is using photos from the internet right underneath where you report scams. The site is rather serious about not having anyone use fake or irrelevant photos.
Conclusion
With such a simplistically designed website (even though it seems a bit outdated), a single-minded purpose of connecting fellow fetishists, and a completely free-to-use interface there is no reason why you should not give BDSMDate a try. Search for your perfect naughty match via the advanced search feature, connect through a free chat, and have as much debauchery as your heart (and any other members of your body that require sufficient blood flow) requires. It really is that simple.
The site is however only geared towards those who are already in, or curious about entering and experimenting with, the BDSM and fetish community. Veteran fetishists can find their next Dom/Sub relationship, and novices can easily connect with someone who will be eager to show them the ropes. Quite literally.
BDSM Date Tips
Make your description interesting and attractive. It is one of the first things other members will see and the more eye-catching it is the better.
Be completely open about all your fetishes and desires. There is no need to hide your kinkiest side and you want to make sure you find someone who is compatible with your fetish.
Add your best photos to catch someone's attention. Showing your face instils trust and exhibits your legitimacy.
Write extensive messages to show your interest in a recipient, and asking for their number or personal email is not off the table. The site is to get in contact with like-minded people, so don't be shy to chat via a more convenient platform.
Don't post any of your personal contacts or credit card data on your profile. Sure, it's fine to tell someone your email once you feel comfortable with them. But you never know who might come across your profile and they may have less-than-ideal intentions.
FAQ
Is BDSMDates Free?
Yes, you don't need to pay, or ever give your credit card details, to get full access to the site. You can browse, search, and send messages to other members completely for free.
Is BDSMDate Really Legit?
It is! BDSMDate is a legitimate dating site where like-minded fetishists (especially those in the BDSM community) can connect.
How Do I Delete My BDSMDate Account?
To delete your account you'll need to log in to BDSMDate co uk and click on 'My account'. Then select 'Delete account' which is at the bottom of the list. Enter a reason why you want to delete your account and click 'delete account' once again.
Is BDSMDate Just Another Scam?
No. We are not sure how you can get scammed when you are never asked to spend even a penny. We do suggest that you be wary of any members who might take advantage of how easy it is to sign up here and hand out their contact information right off the bat.
Is BSDMDate Just Classified For Dominatrixes?
Pretty much yes. The site describes itself as a place for '100% free local BDSM dating fetish contacts and bondage personals in the UK'. You will find a lot of professional dominatrixes who use the site for advertising purposes to get men to book sessions.
How Do I Change My Username On BDSMDate?
To change your username you will need to delete your account and register again using your newly chosen username.
I Want To Contact Someone On BDSMDate.
To contact someone that you are interested in, go to their profile and use the "message her/him for free" option. You can choose to keep messaging through the chat or ask them for their contact information.