Encounters Dating Review
Verified Review
Published: 9th November, 2023

What Is Encounters Dating?
Encounters Dating is a dating site created by experts in the field with a mission to help people find their perfect match. If you're new to online dating, Encounters dating is a great place to start. It has a unique two-way matching system that's easy to use and designed to help you find your most compatible matches.
The Encounters Dating website has quickly gained popularity and has overall good ratings and reviews. But is it actually safe and worth using? We've taken a closer look at the Encounters dating site in this review to help you decide if this platform is the right fit for you.
Encounters Dating Pros & Cons
Pros
Pros
Easy to use and navigate through
Encounters Dating Co UK has many useful dating features
It's a secure dating site
Cons
No Encounters Dating app available
Subscription packages are pricey
##placeholder##
What Type Of Dating Site Is Encounters Dating?
Encounters Dating is an ideal choice if you are looking for:
Serious relationships
Casual relationships
Chatting
Friendships
Who Is Encounters Dating For?
The Encounters Datingwebsite serves a wide range of age groups, allowing users to search for potential matches from 18 to 100 years old! This flexibility ensures that you can find the specific age range you're seeking. In terms of sexual orientation, the site offers the following options:
Straight woman
Straight man
Lesbian
Gay
Bisexual
Stats & Infographics Of Encounters Dating
Male - Female Ratio
Male →62.4%
Female→37.6%
Age Demographics
18-24→27%
25-34→35.8%
35-44→22.1%
45-54→9.9%
55-64→3.4%
65+→1.8%
Country Distribution
97.5%→United Kingdom
0.9%→Indonesia
0.8%→Belgium
0.8% →Philippines
Encounters Dating Sign In Process
When signing up, you have to input your gender (man or a woman), your preferences (women, men, or both), and your desired age range (anywhere from 18 to 100 years old).
Then, a few more questions will appear. You'll need to share your:
Date of birth
Country
Username
Password
Email address
Just make sure you confirm that you're over 18 and agree to the terms and conditions.
Once you've got that covered, there's a bit more to fill in. You'll need to specify exactly what you're searching for, whether it's casual online friendships or something as serious as marriage.
Next, you need to specify where you're located by adding your nearest town and postcode. This is followed by a prompt to insert your first and last name. If you're comfortable with it, you can even share your mobile number. Don't forget to check the box at the end if you'd like your profile and primary photo to show up on our partner websites, tablet editions, and emails.
Once you've finished, you'll be asked to fill up 6 profile categories for setting up your account in full. The very first step is the "About Me" section. Here, as you might have guessed, it's your chance to share more about who you are. You can add:
Physical description (Height, body type, hair colour etc.)
Lifestyle (relationship status, education, if you have children, income etc.)
Cultural characteristics (country of birth, religion, spoken languages, etc.)
You can decide to answer these questions later, but it's best to give them a go while creating your account. Completing them upfront sets you up with a fully polished profile, boosting your chances of finding great matches right from the start.
The second step is all about your ideal match. You get to specify what you're looking for in a partner. It starts with choosing the gender you're interested in, setting the age range you prefer, and you can even pick a star sign. You will then be asked how important it is for you if the other person has a profile photo.
Next, you need to decide where your ideal match should be located. You can either choose a distance around a postal code area or pick specific countries and towns.
Then, you'll describe the physical traits, lifestyle, and cultural qualities you're looking for, just like you did in the "about me" section. But here's the twist: you also decide how important each of these factors are for you.
The third step is the "narratives." Here you have to add:
A catchy profile headline that grabs attention.
A brief paragraph explaining why people should get to know you.
A short snippet describing your ideal match.
Each paragraph should be at least 20 words long. Don't worry, Dating Encounters gives you ideas and examples to spark your creativity. Remember, these first three steps are the ones that will make your profile visible for others to see.
Now, let's talk about step four: adding a photo. You decide who gets to see it – everyone, just your favourites, or no one at all.
Once you've wrapped up this step, you're all set to meet potential matches! Encounters Dating has now got enough information to start connecting you with others. You can start browsing or continue refining your account. The choice is yours!
Encounters dating goes the extra mile by displaying the percentage of your account completion and highlighting areas that may need some extra attention for improvement.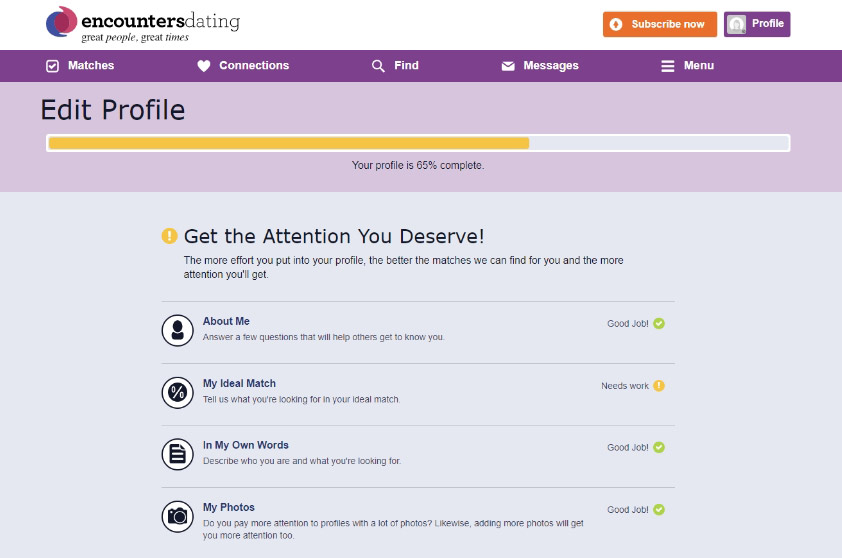 The overall registration process is quite lengthy, but the outcome is worth it. Filling up the above will only increase your chances of finding your perfect match, and it will make the whole process more personalised and targeted.
Encounters Dating App & Mobile Compatibility
Encounters dating does not support an application currently. But, their website is fully optimised to use on every device, and there aren't any changes in the usability or design.
Visit Our Highest-Rated Dating Sites
Encounters Dating Top Features
Search Feature
From the registration process, you can already tell that the encounters dating searching feature is great. After you've finished setting up your profile and are ready to start looking for potential matches, you can choose between two options: a quick or advanced search, which we personally appreciated. This definitely helps users target exactly what they are looking for in a partner.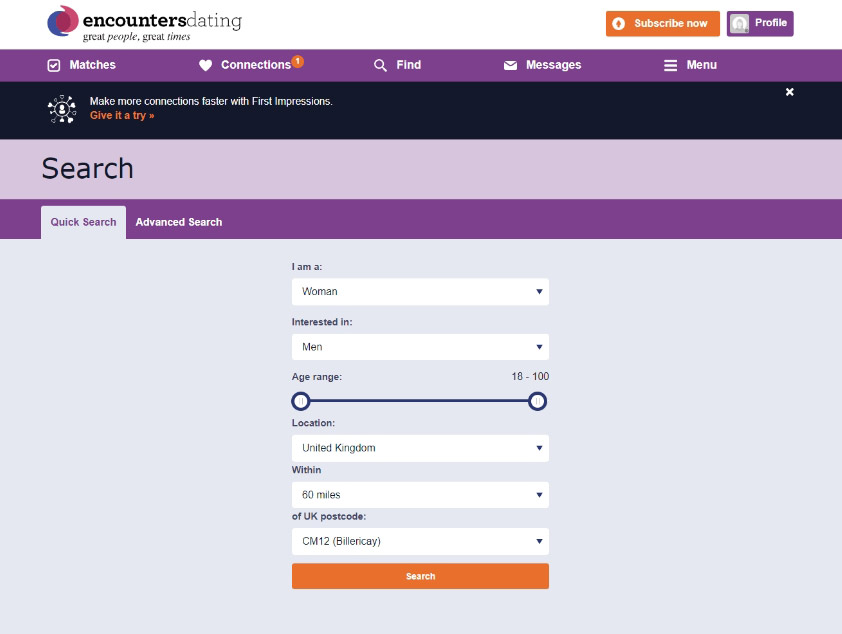 Connections
Views
This feature is under the "connections" tab, and as the name suggests, is a way for you to see who has viewed your account as well as the profiles that you have viewed. This way, you can see who showed interest in you and also monitor the accounts you have seen, therefore always having your view history accessible!
Favourites
This is a very popular feature on many dating sites. "Favourites" acts as a library for saving the profiles you like the most. This feature is for you only, so you can easily keep track of your most-liked users.
Fans
This feature lets you see who has favourited your account. It works hand-in-hand with the "Favourites" feature to help you organise and optimise your Encounters Dating experience.
Two-Way Match
This Encounter dating compatibility feature is amazing! It displays the percentage of compatibility you share with other users based on the answers you provided when completing your profile. It's a two-way street, as it also reveals the percentage of how well the other user matches with you and a separate percentage for how well you match with them. You can even rate how much you like this match, which serves as a private note visible only to you, allowing you to keep track of your favourite matches.
Additionally, this feature provides some information about the other user, such as their account creation date and common interests. If you're looking for accurately calculated matches, you'll definitely appreciate this feature!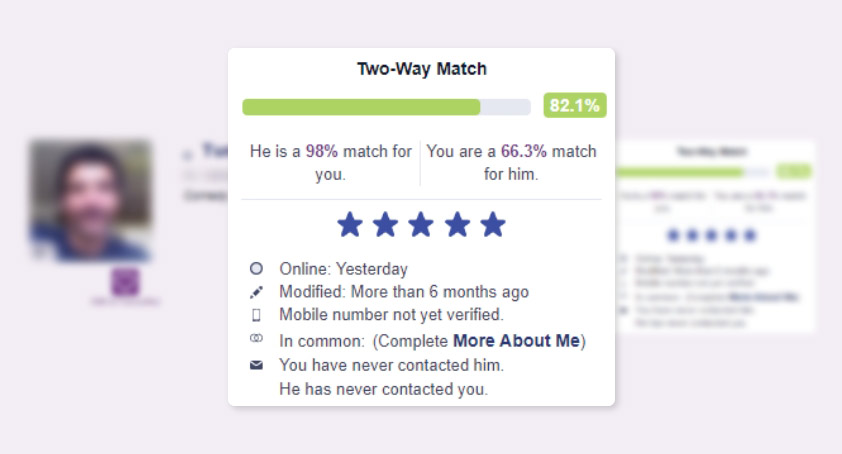 Encounters Dating Offers, Prices & Costs
Encounters Dating is a subscription-based dating website with auto-renewal. You can pay with a debit or credit card, PayPal, or bank transfer. There are two subscription packages available: Basic and Premium. So, how much is encounters dating?
Basic Plan Costs:
1 month→£38
3 months→£23 per month (£69 in total)
6 months→£16 per month (£96 in total)
12 months→£12 per month (£144 in total)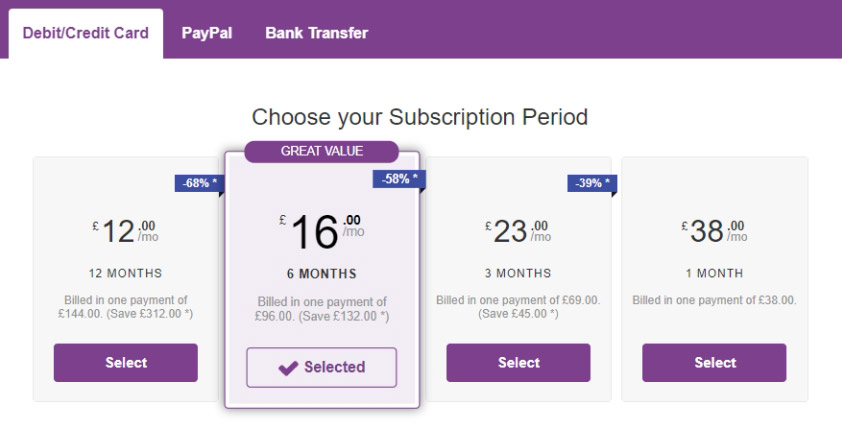 You can also add an additional £10 per month to make your subscription premium (only available on subscriptions of 3 months or longer). This gives you an additional feature that lets all the people you message reply for free.
Premium Plan Costs:
3 months→£33 per month (£99 in total)
6 months→£26 per month (£156 in total)
12 months→£22 per month (£264 in total)

Encounters Dating Safety & Security
Data Protection
The Encounters Dating website places a strong emphasis on safeguarding users' privacy and security. Users must agree to the full Privacy Policy and Terms of Use to access the service. Encounters dating collects information that users voluntarily provide, including personal details and customer support queries. It also records users' visits, IP addresses, web logs, and messages sent.
Users' personal data will be retained until they delete their profiles, after which it will be archived for three years before permanent erasure. Specific retention periods apply to different types of data.
Users have the right to object to data usage, request their deletion, or not to be used for marketing. They can also view, edit, or delete their personal data in their profiles.
Third Parties
Dating Lab Limited (DL) only uses your information for the service and won't give it to others without your permission or unless the law requires it. The rules say your profile might be shown on other Dating Lab Limited (DL) services, but these are usually similar websites. You can also share profiles you like on social media, but no private info is shared when you do this.
Moderated Profiles
Encounter Dating does not mention anything about fake or moderated profiles on their privacy policy or their terms and conditions. It's worth mentioning that we really didn't come across any fake accounts when using the Encounters dating website.
Encounters Dating Contact Support
You can fill out a form for any encounters dating-related inquiries that you may have here.
Conclusion
Overall, Encounters Dating stands out as a professionally made dating website that allows you to focus and refine your search for a partner. It's user-friendly and easy to navigate, and as a great bonus: no fake accounts in sight, a rarity in the dating world. The only downside? The subscription prices may raise an eyebrow, but for such an advanced dating site, we believe it's worth giving it a try.
Encounters Dating Website Tips
View and favourite accounts to let users know you're interested in them.
Choose a catchy profile headline and description to increase other users' interest.
Elevate your likelihood of receiving matches that align with your preferences by filling out your profile completely.
Encounters Dating FAQ
What Is Encounters Dating?
Encounters Dating Co UK is a highly targeted and optimised dating website that brings like-minded singles together, serving you matches that are as close to your preferences as possible.