BBW Romance Review
Verified Review
Published: 8th November, 2023
BBW Romance Introduction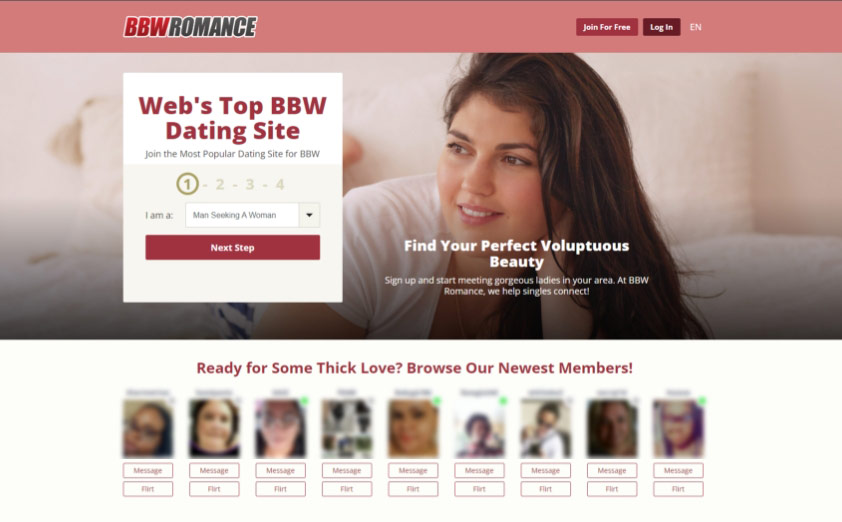 You may be wondering what is BBW Romance, and we're here to tell you. BBW Romance is a dating site that caters to big, beautiful women, and men who are interested in dating them. It started back in 2000 and has been going on for over 2 decades.
In this BBW Romance review, we'll discuss the registration process, some unique features, if there's a cost involved, and if there is a cost, is it worth it?
What Type Of Dating Site Is BBW Romance?
Internet buddy/friend
Dates
Committed relationship
Intimate relationship (more casual)
Who Is BBWRomance For?
There are only 2 genders available, man and woman. You have the option of seeking men or women, but no option to seek both at once.
Stats & Infographics Of BBWRomance
Male - Female Ratio
63.57% Male
36.43% Female
Age Demographics
18.59% → 18 - 24 Year-Olds
23.97% → 25 - 34 Year-Olds
17.94% → 35 - 44 Year-Olds
15.38% → 45 - 54 Year-Olds
13.95% → 55 - 64 Year-Olds
10.17% → 65+ Year-Olds
Country Distribution
88.34% → United States
9.22% → Ghana
2.44% → Canada
Registration Process Of BBW Romance
Registration begins on the home page of BBW Romance com, where you will see 2 links urging you to 'join now!'. When you click on one of those, you'll indicate your gender, what gender you're seeking and what age range, your email address and username, and set up a password. This is your BBW login. They'll send you an email to verify your email address, but remember to check your spam folder if you don't see it.
You're then taken to profile creation, which consists of 7 pages of questions. The first page is Basic Information, like your name, location, birthday, and languages you speak. Next up is Appearance and Situation, where you expand on what you look like, your marital status, pets, kids, and if you'd be willing to relocate or not.
Pages 3 and 4 are your Status and Personality. Status has questions about your job, education, earnings, along with smoking and drinking habits. Questions about your hobbies, ideal first date, and what you're like in social situations follow in the Personality section.
Up next are your Views, Taste, and what you're Looking For. Views is where you indicate your religious and political views, expand on your goal in life, and what your sense of humour is like. Taste has questions about your tv, movie, and music genre preferences, and asks for your top 3 of each. Finally, Looking For asks what characteristics you find attractive and what sort of relationship you're seeking.
You must have at least one picture and complete every question on every page to reach 100% profile completion. However, you don't need 100% profile completion to use the site, you can start browsing once you've registered.
BBWRomance Mobile Application / Compatibility
BBW Romance has got a great mobile app. You can sign in with your login details to have access to your profile and any matches you've already made. You can also view new potential matches on it and have access to all of the same features available on the desktop version. It has the added advantage of having far fewer ads all over the place. It's a great way to stay connected when you're on the go.
The BBW Romance online mobile site is also reasonably well done, instead of being a zoomed-in version of the desktop site, some effort has gone into optimising it for mobile use. The menu bar that is across the top of the desktop site is accessible by clicking the menu button (three horizontal lines) which gives you access to the different parts of the site. This makes it reasonably user-friendly.
Men Vs Women On BBW Romance
BBW Romance is an egalitarian site that has the same expectations and requirements of women as it has of men. The profile creation steps are identical, with the same questions asked, and the same pressure to add photos to your new profile. The cost is the same across the genders, and the same offers are available to both genders.
BBWRomance.com Top Features
The Icebreaker
BBWRomance has a fun feature called the Icebreaker. This is an introductory message that you can send, as a mass message, to all potential matches within a certain distance. You're able to enter a subject line and a message, and you can choose the distance they should be within (100, 50, or 25 miles). When you've composed your message, you can send it by clicking on 'Introduce yourself'.
You get one free use of this feature; a pop-up will offer it to you a little while after you've created your profile. Don't worry if you're not ready for it yet at that point, you can select the 'no thanks' option at the bottom of the pop-up and postpone the use of the icebreaker to a later stage. When you're ready for it, you can click on Icebreakers List on the left hand bar of the Who's Online or the Browse Photos page and click on Create a new Icebreaker Now.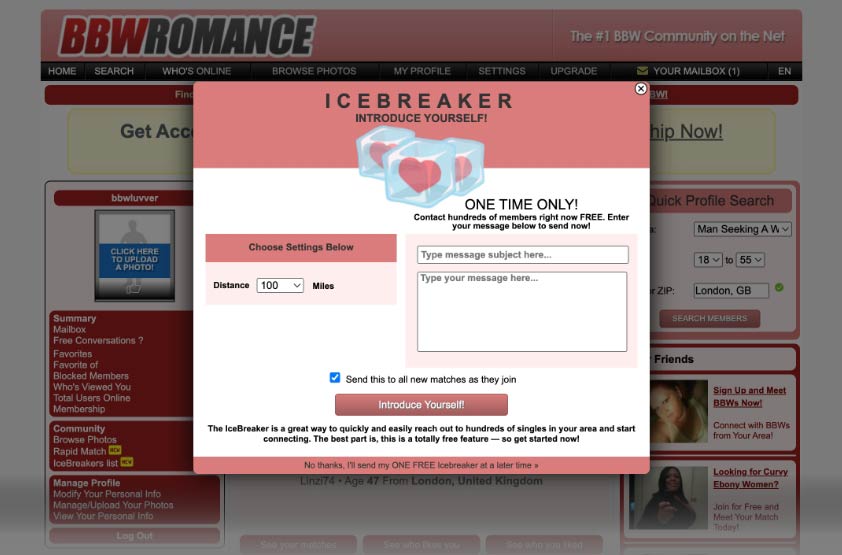 Rapid Match
Another fun feature of BBW Romance com is the Rapid Match feature. This is a page that shows you pictures of members who are in your area. You can then click either "Like" or "Pass". It's a lot like Tinder! When you "like" a member, they get a notification letting them know you've liked them. In turn, you also get notified when someone likes you. If you both like each other, you're considered 'matched'.
Requests For More Information
If you view someone's profile and there are sections that are incomplete, you can click on a button to send them a request to complete that section. This sends a message to their inbox saying that you're interested in them and requests that they complete that section.
This can be done with a free membership. It's a good way to reach out to someone and show interest if you haven't purchased a subscription yet and therefore can't message them.
BBW Romance Offers, Prices & Costs
BBW Romance, like many other sites, operates using a subscription model. On the basic, free BBW Romance, you can send up to 30 flirts, create a profile, view other members' profiles, and upload a photo. You can send one free Ice Breaker and you get 5 free Rapid Matches a day. However, you cannot message a user unless you purchase a subscription, and you cannot view messages that you receive.
Subscription Package
If you purchase a subscription, you can choose between the periods of 3 months, 1 month, or a 5-day trial. You pay for the whole period upfront.
3 months: £54.95 (works out to £18.32 per month)
1 month: £39.95
5-day trial: £5.00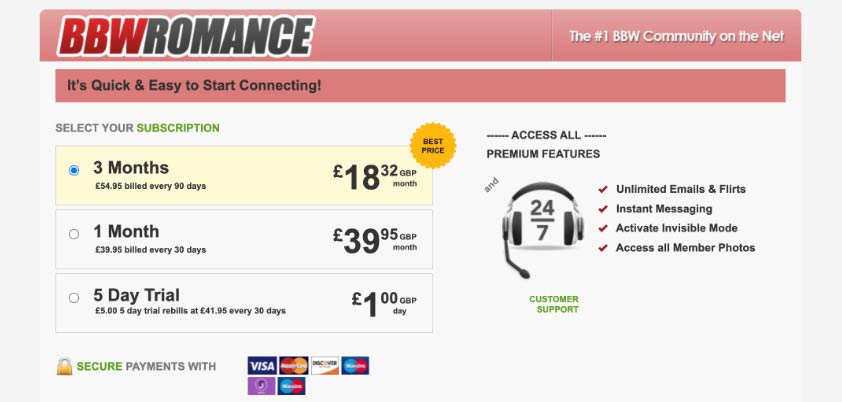 Once you've purchased a subscription, you are a premium member and you get the following perks:


Unlimited emails and flirts
Instant messaging
24/7 customer support
Activate invisible mode (view profiles without members getting notifications)
Access to member's photos
Remember that once you purchase a subscription, you're automatically opted in for recurring billing, which occurs at the end of your chosen period. In the case of the 5-day trial, at the end of the 5 days you will be billed for 30 days, at a higher monthly cost of £41.95. If you don't want the bill to be recurring, you can turn it off in your settings.
Offer
Immediately after you've registered and created your profile, you are offered a discount of 20% off the price of the subscriptions. This means you only pay:
3 months: £43.96 (works out to £14.65 per month)
1 month: £31.96
5-day trial: £4.00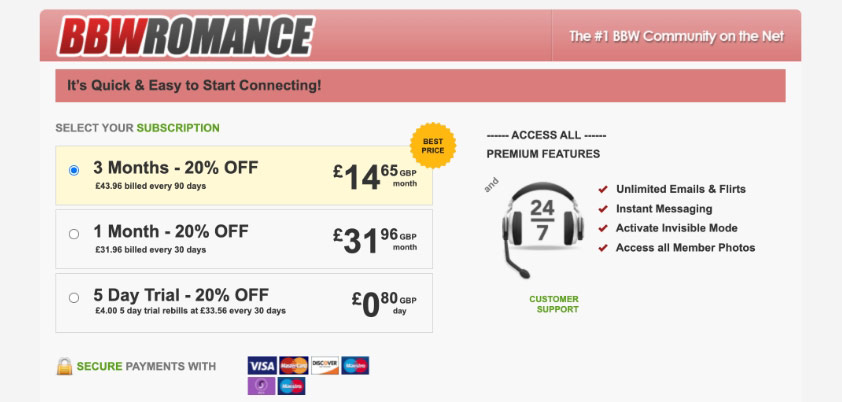 Soon after you've created your profile, you will receive an offer via email. This offer is for a 1-week trial that only costs £1.95. It includes all the perks of a premium membership. At the end of the trial period, you will be billed for a 30-day period at £37.95 on a recurring basis. You may turn off recurring billing in your settings.
Between one day and a week later, an offer arrived via email of a 1-month trial for only £1.95. It has the same terms as the 1-week trial above.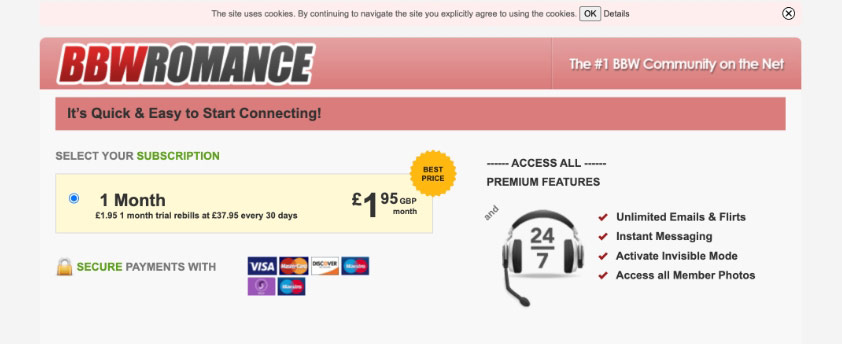 BBWRomance Pros & Cons
Pros
Reasonably active site (usually around 500 people online)
Has a great app and a good mobile site
Icebreaker feature enables you to reach out to many people at once
Audio and video calls to verify that the person you're talking to is real
Cons
The BBWRomance free version is essentially unusable (all messaging is behind a paywall)
A lot of annoying pop-up ads
Difficult to delete your profile
BBWRomance.com Safety & Security
BBW Romance Privacy Policy
In general, the privacy policy seems quite thorough, and they state that they do not share your information with third parties. They also indicate that if the site is sold or if they merge with another site, and a different party gains control of your information, they will inform you of that change. The privacy policy does not specify how they'll inform members.
BBW Romance will share your information with another site when they offer to recreate your profile on a different platform owned by the same company. This will not happen without the member agreeing to it first, you must opt-in, and they will not do it without your knowledge.
Deleting Your Account Is Complicated
Something notable is that you cannot easily delete your account, in your account settings there is only the option to deactivate it. BBW Romance indicates that this is because even if you've found love, the site is still a great place to do some networking and make friends.
When you deactivate your account, they retain your information, in case you want to return at a later stage. If you want your information to be deleted from their database, and therefore your account properly deleted, you must contact the customer care team to request it.
You Give The Company Rights To Any Photos You Upload
The terms and conditions state that any photos that you upload to your profile become the property of the company and may be used by the site for marketing purposes. The company does not have to pay you for this, and they gain the right to use your photos in perpetuity. It is indicated that this is for the purposes of advertising, but it's a little alarming.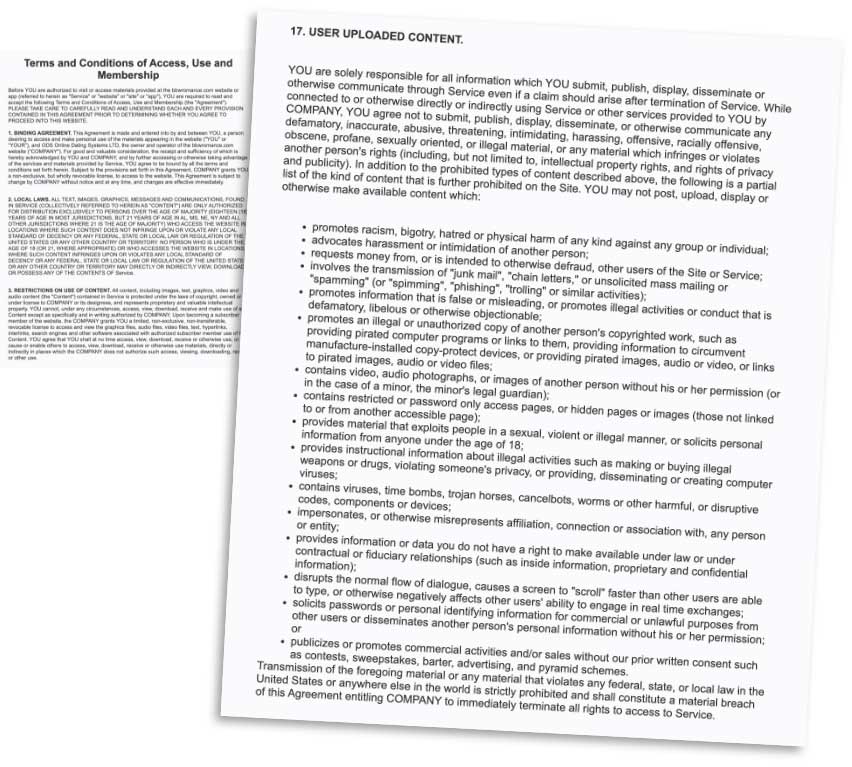 Conclusion
BBW Romance has some fun features, like the Icebreaker and the Rapid Match, and with any of the offers, it can be good value for money. However, we've got some concerns.
BBW Romance really wants you to join and buy a subscription. This is obvious by the many, many discounts and offers you receive soon after registering. This begs the question, would a dating site that is successful, need to beg people to subscribe? Shouldn't their service be of such good quality that people would be willing to subscribe without being bribed into it?
This combined with your photos becoming their property, and the fact that you cannot easily delete your profile may be a concern to some people. If you're concerned about your photos, it may be best to skip this one. But if you're not concerned, it could be a fun way to meet some big, beautiful women!
BBWRomance Tips
The absolute best bang for your buck is the £1.95 one-month trial offer. If you're looking to become a premium member, we highly recommend waiting for this email offer to arrive in your inbox!
When you first sign up, a pop-up ad will offer to create a free profile for you, using your information from the BBW Romance dating site, on a sister site called MeetLocalBBWs.com. It seems strange to be redirected to such a similar site, and it seems this is so that you'd be tempted into buying premium subscriptions on both.
You can seek someone of the same gender; however, most people are looking for straight relationships. So, your best BBW Romance chance of success is if you're also looking for a partner of the opposite gender.