Spiritual Singles Review
Verified Review
Published: 3rd November, 2023
Introduction
The modern digital world can bring about connections that are often fleeting and superficial, making finding a partner who aligns with your spiritual values and beliefs tricky. But profound and transformative experiences do exist!
Situated in Kansas, United States, and released online in 2000, Spiritual Singles has cemented itself as a dating service that is still going strong today. Helping thousands of like-minded individuals align themselves with one another.
In our in-depth review of Spiritual Singles UK, we'll discuss the website's pros and cons, registration process, features, and more. Through this review, you'll be able to decide whether you can find love, connection, and spiritual alignment with its members.
SpiritualSingles Pros & Cons
Before we get into the meat and potatoes of the review, here is a quick rundown of the pros and cons that make up this spiritual dating site:
Pros
Free registration (plus some free features that don't require a premium membership)
Modern diversity
Advanced search (including astrological signs)
Cons
No Spiritual Singles app
Lack of spiritual practice options
Delayed profile access (1-8 hours after registration)
What Type Of Dating Site Is Spiritual Singles?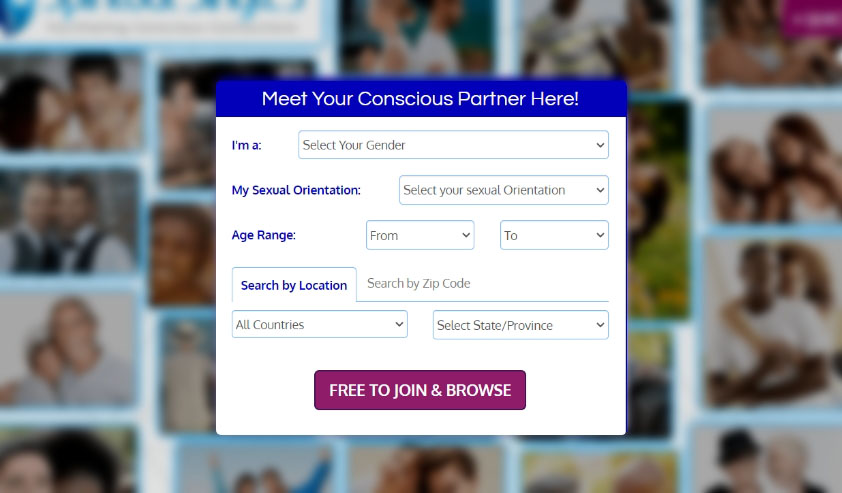 SpiritualSingles accommodates different types of relationships. More specifically:
Serious relationships
Friends
Marriage
Celibate relationships
Pen pals
Hookups
Who Is The Spiritual Singles Dating Site For?
As a gender-diverse platform, you can find a list of sexual orientation options below:
Straight
Pan-Sexual
Lesbian
Asexual
Bisexual
Transexual
Stats & Infographics Of SpiritualSingles UK
Male - Female Ratio
68% Male
32% Female
Age Demographics
21% → 18 - 24 Year-Olds
28% → 25 - 34 Year-Olds
23% → 35 - 44 Year-Olds
17% → 45 - 54 Year-Olds
8% → 55 - 64 Year-Olds
3% → 65+ Year-Olds
Country Distribution
Spiritual Singles has a predominantly English-speaking audience, but it is accessible worldwide:
35.1% → United States
24.64% → Jordan
22.04% → Netherlands
12.87% → Canada
2.12% → United Kingdom
3.24% → Other
Spiritual Singles Login Process
The registration process is easy to complete, but it requires around 10 minutes of your time. Whether you choose the "Quick Join" or "Free To Join & Browse" buttons, you will need to add the following information:
Gender
Sexual Orientation
Age Range
Location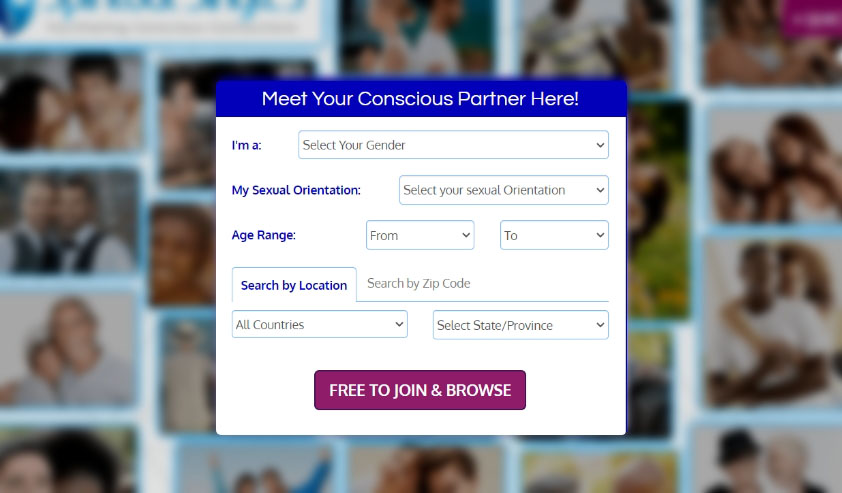 In typical online dating fashion, SpiritualSingles will ask you to fill out the below fields as well:
Username
Email
Password
Gender
Sexual Orientation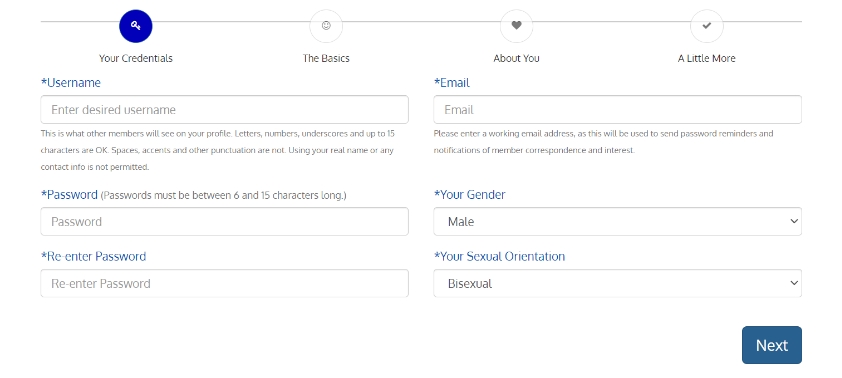 Moving on, you will need to provide some basic information about who you are and what you're looking for:
Create a Tagline
First name and last name
Location
Cell number (Optional)
Birthday
Relationship status
Desired age range
Relationship seeking
Spoken languages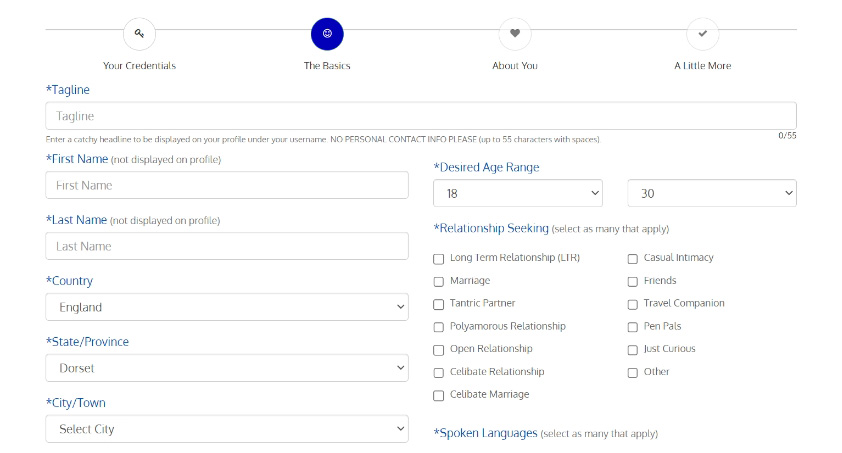 You'll then be directed to the "About You" page, digging deeper into your general spirituality. These fields can be answered through drop-down menu options, which also include "Prefer not to say" and "Other" allowing you to keep some things private. Here's what these entail:
Spiritual beliefs
Health/Lifestyle options(dietary preference, alcohol, tobacco, etc.)
Energy levels and how often you exercise
Education level
Whether you are environmentally friendly
Political views and ethnicity
Children (If you want/have, and how many)
Living situation and whether you're willing to relocate
Spiritual signs (e.g. sun, rising sun, moon, zodiac, and Chinese signs)
Appearance (height, body type, weight, hair colour/style, eye color, etc.)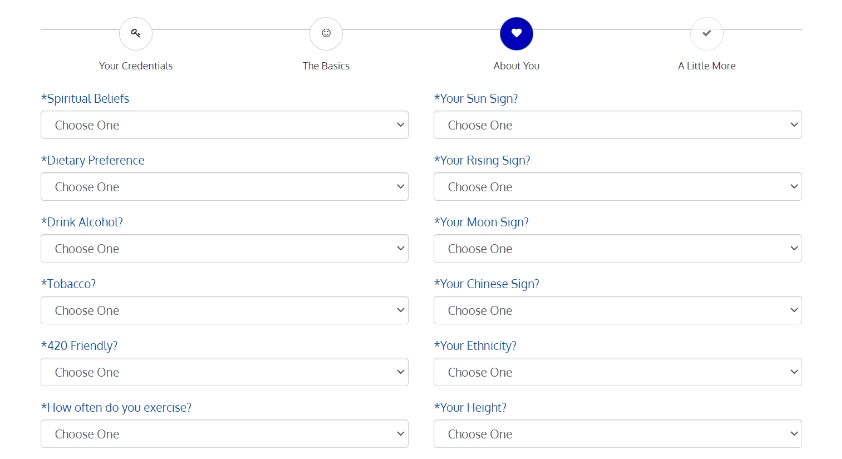 To finish off the registration process, you can upload a profile photo, which is optional, and add a description of yourself (minimum 200 characters). The site will ask where you heard of Spiritual Singles and confirm that you're at least eighteen and not a robot. Lastly, clicking "Finish" will complete your account creation.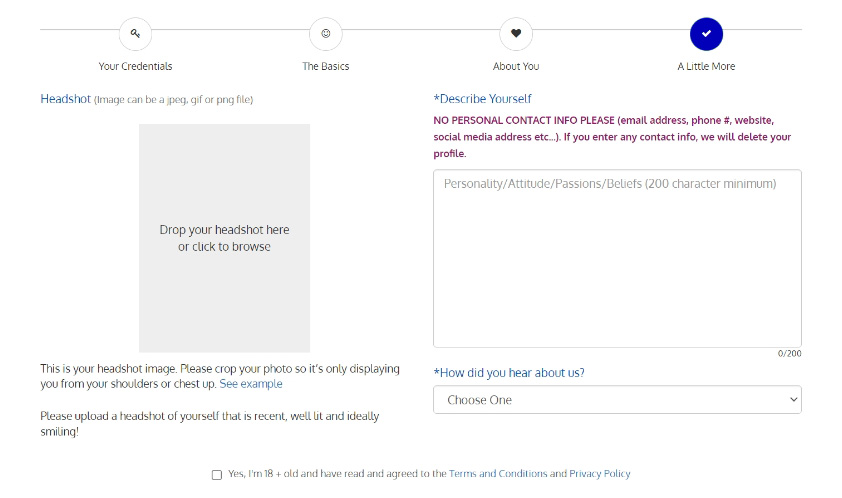 Spiritual Singles App & Mobile Compatibility
Surprisingly, there is no dedicated dating app for Spiritual Singles. In today's dating scene, this is a missed opportunity, especially considering the company has been around for over 20 years.

Google's "mobile-friendly test" stated that the site is "usable on mobile". So, we tried to access and use the site through our mobile browser, and here's what we found:
The navbar tabs are minimized to your typical hamburger menu.
Registering via mobile skips over the "Important Please Read" notice presented on desktop.
The "Match Questions" section is also not a part of the mobile registration process.
Men Vs Women On Spiritual Singles UK
As previously mentioned, diversity exists within the spiritual singles dating site, but are all genders treated equally?
To our pleasant surprise, the registration process for the male, female, trans, and intersex accounts was identical, asking for the same amount of information and presenting the same options. Additionally, all free features, membership prices, and even the screening process are the same for all genders.
SpirtualSingles Top Features
Match Questions
While it may take some time to complete, Spiritual Singles recommends you answer the first 20 questions presented to you after registration to help personalize your dating experience. Upon completion, you'll be able to see a "Match Percentage" on the profiles of other members, making it easier to find someone compatible. The questions can cover anything from:
Spiritual path
Eco-consciousness
Ethics
Sexuality
Diet and exercise
Lifestyle and personality
Dating
Just for fun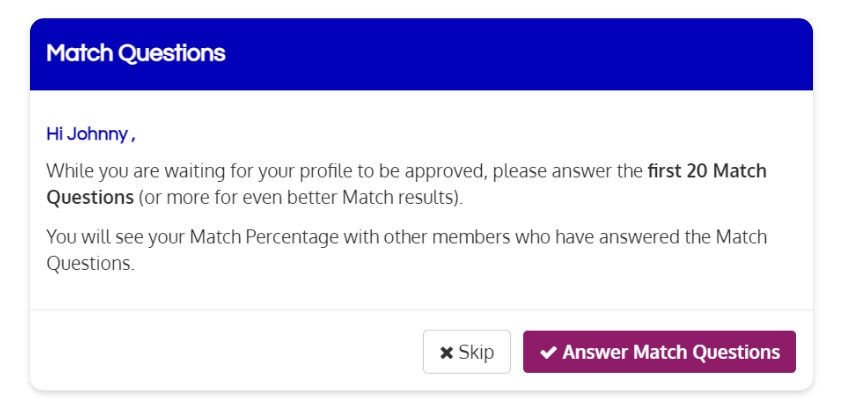 Video Calling
Video calling is a crucial feature on dating sites nowadays. It adds a personal touch and produces a more profound sense of trust from the very start. Through Spiritual Singles UK, you can schedule video dates with other possible matches. You can also manage your video calls through the "V-Dates" menu tab.
Video calling is a paid feature; however, it cannot be unlocked through any of the premium memberships. Instead, video calling has its own pricing options.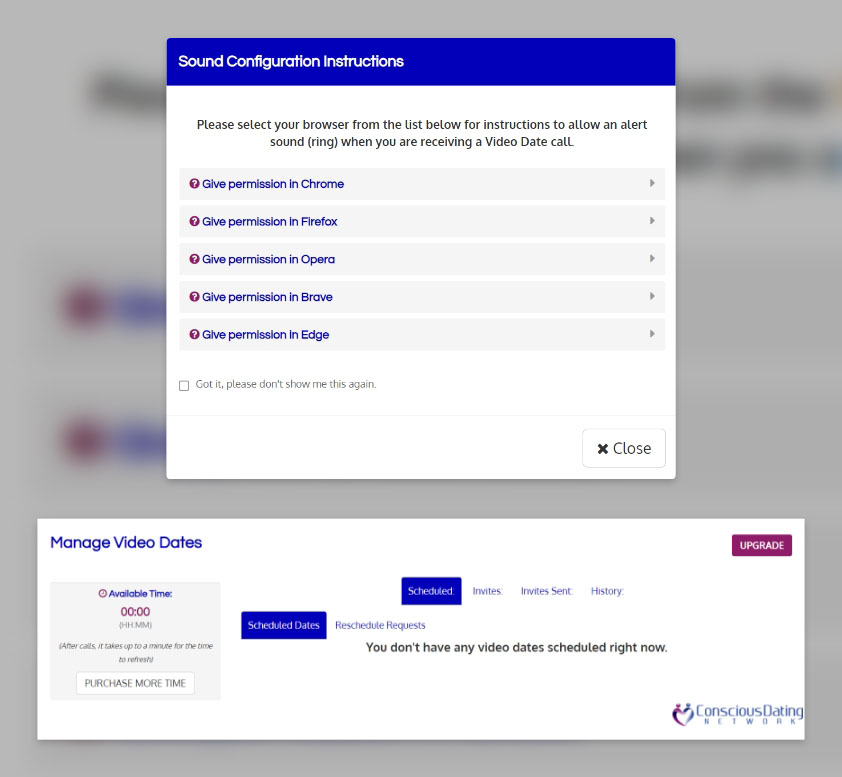 Video Uploading
Having the option to show authenticity, advertise your personality, and reveal that human touch can really make you stand out from the crowd. Located on "My Profile" under "Media", SpiritualSingles allows its users to upload videos of themselves. Free members can upload just one, while premium users can upload two additional ones.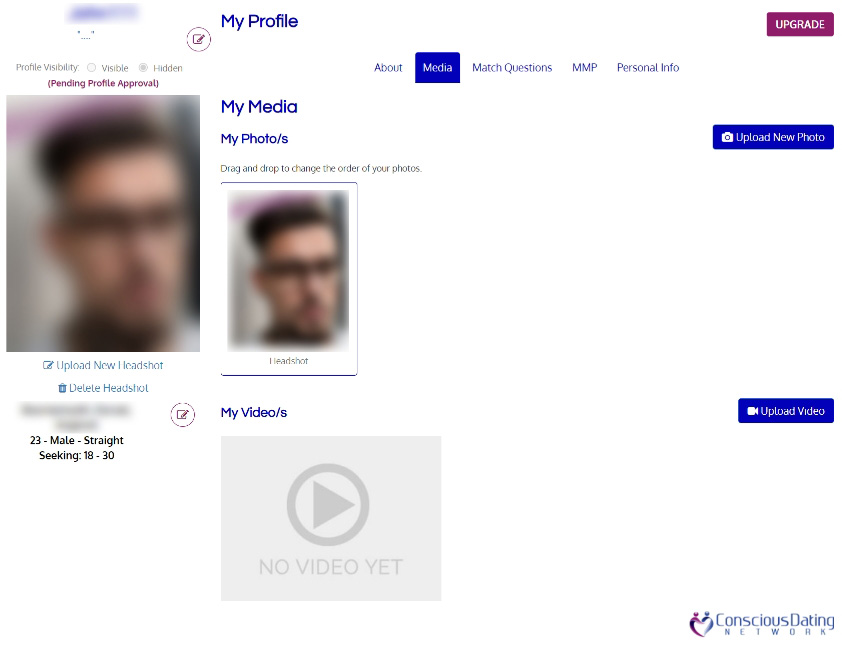 Spiritual Singles Offers, Prices & Costs
Freemium
Free memberships are available to singles who want to test the waters and get comfortable with how the site works! Although access is limited, you can:
Create a profile (upload up to 2 photos and 1 video)
Browse other profiles
View members who are online
Favourite other members
Send up to 5 "Hello's" (pre-written messages) per day
Read and reply to received messages
Get recommended matches based on your preferences
Compatibility percentage based on your answers to "Match Questions"
Video Calling Rates
Video calling has hourly rates used when you invite someone for a video date. Be advised that any unused time is non-refundable:
10 Hours ($10 Paid upfront, which works out as $1/hour)
5 Hours ($7.50 Paid upfront, this comes to $1.50/hour)
1 Hour ($3 Paid upfront, calculated at $3/hour)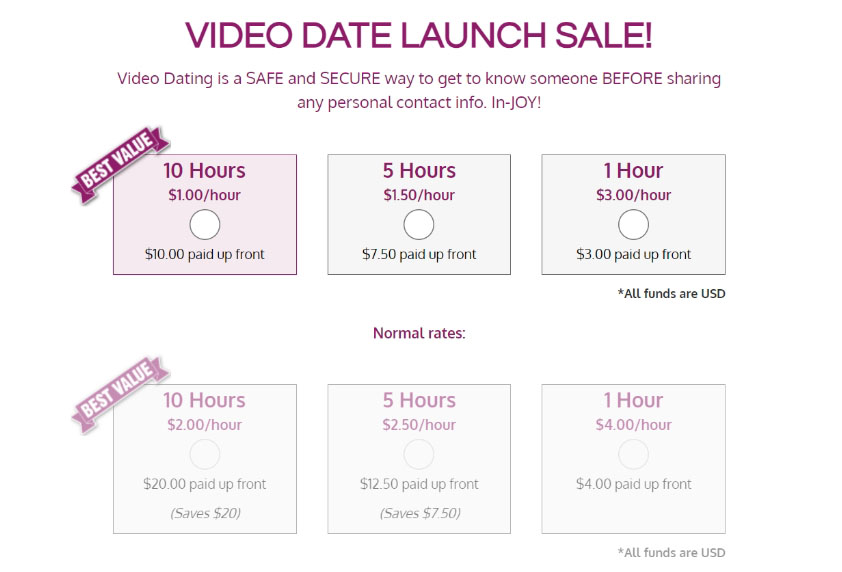 Premium Packages
To get the most out of Spiritual Singles, a monthly subscription-based membership is recommended. This comes in two variations, making this useful for someone who wants to have a trial period or if they're in this for the long haul:
1 Month - $23 Per Month
6 Month - $12 Per Month ($72USD Paid upfront)
Premium Packages Perks Included
Send personally written messages (up to 50/day)
Attach an image to messages/emails
Initiate unlimited IMs (Instant messages)
Upload up to 20 additional photos and 2 videos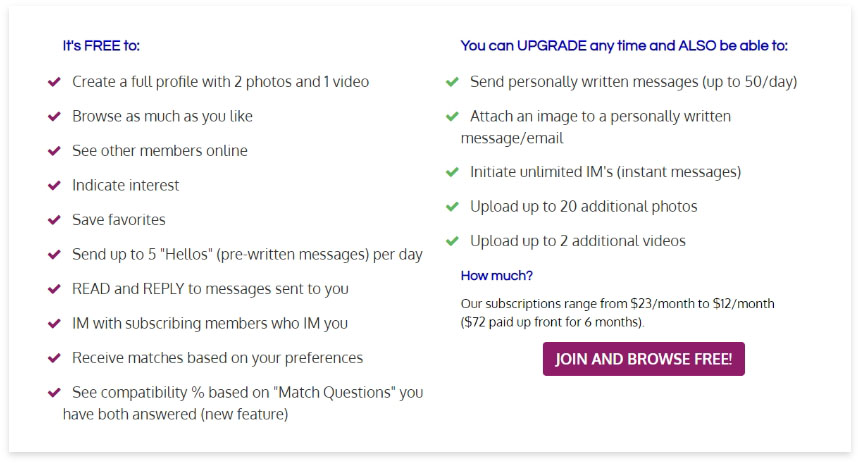 Spiritual Singles Dating Site Safety & Security
Use Of Personal Information
SpiritualSingles outlines in their "Privacy Policy" many different ways they use your information:
Deliver and improve their services
Produce targeted advertising
Creation of your account
Granting you access to customer support
Develop personalized matches for you
Third-Party Involvement
Spiritual Singles UK does not hide that they do engage with third parties on their platform. Nonetheless, they will not sell your personal information, not to mention the only way to share your data with any third party is if it's required by law or to enforce legal rights. Finally, they clarify that they will not be held liable if users share their personal information with other members of the site.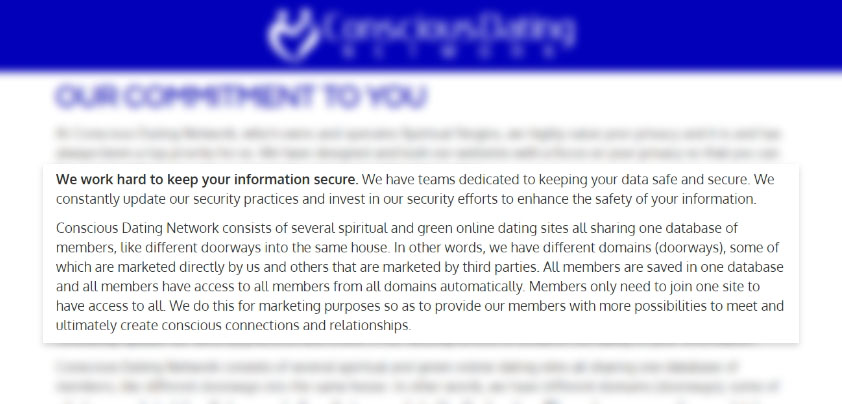 Conclusion
Bringing everything together, Spiritual Singles has perfected its 20 years' worth of expertise to create a platform worth getting stuck into. It offers a variety of practical features, including its matching tool and video dating, effectively making up for not having a mobile application. So, whether you're a seasoned meditator, a yoga enthusiast, or just someone on a spiritual journey, this specialized space can help you find love that resonates on a deeper level.
Spiritual Singles Tips
Here are some useful tips to put to use when using Spiritual Singles:
Answer the match questions to make it easier to find compatible matches.
Avoid including sensitive contact information in your profile.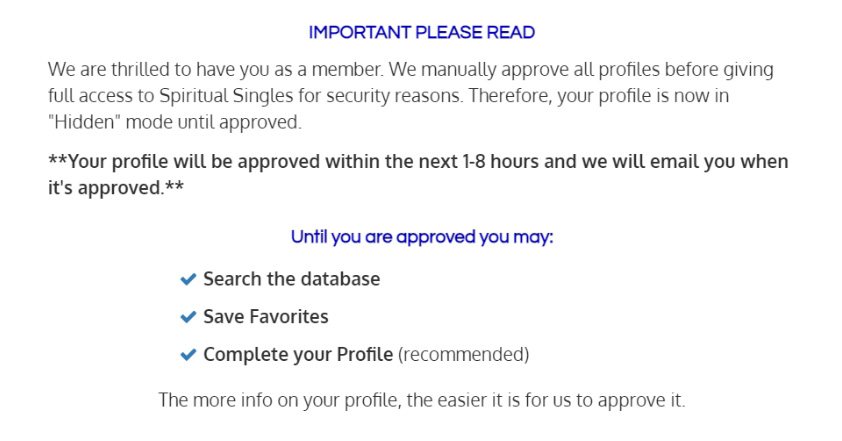 SpiritualSingles FAQ
Spiritual Singles How To Add A Photo?
You can add photos to your Spiritual Singles UK profile by following the below steps:
Visit your profile page
Select "Upload New Headshot" under the avatar image
Drag and drop, or select a picture from your device
If you wish to upload more images to your profile, you will need to be a premium member.
How To Delete Spiritual Singles Account?
Follow the below steps to delete your Spiritual Singles account:
Visit "My Account"
Select "More" from the drop-down menu
Scroll to the bottom of the page and select "Confirm Profile Deletion"
How Much Does Cost Spiritual Singles?
Spiritual Singles free dating is possible as long as you are content with interacting with only people who approach you first. If you'd like to send messages and unlock other features on the website, you will need to pay between $12-$23 per month for their premium packages.
How To Cancel Spiritual Singles Account?
You can cancel your SpiritualSingles subscription by following the below steps:
Visit "My Account"
Select "More" from the drop-down menu
Under "Subscription Info" choose to cancel your subscription plan
Can I Block Someone On Spiritual Singles Who Is Harassing Me?
Yes, you can. Simply visit their respective profile; under the "Send Message" button, you can select "Block/Unblock Member".