Mature Dates Review
Verified Review
Published: 6th September, 2023
Mature Dates Introduction
Everyone has unique dating preferences. Some people prefer to date people with similar hobbies, cultural backgrounds, and other common interests. In this review, we will examine MatureDates.com, a dating site for mature people looking for others within the same age group.
MatureDates is owned by Funion LP, a Slovakian company registered in Glasgow, Scotland. It is mainly for people 30 and over searching for dates, serious relationships and flings. Mature Dates claims that 61% of its users find success in the first week, but does that mean that MatureDates.com is a quality dating site?
Our MatureDates review aims to determine whether it's worth your time. It will cover the site's registration process, top features and other important aspects that users should know about. Our readers should feel well-informed and capable of drawing their own conclusions about MatureDate, once you've gone through this review!
What Type Of Dating Site Is MatureDates?
You may join MatureDates if you're seeking the following:
Meetups/Dates
Casual Relationships
Serious Relationships
Who Is Mature Dates For?
Despite its name, anyone over the age of 18 is welcome to join the site. As far as sexual orientations go, MatureDate supports:
Heterosexual Relationships
Gay Relationships
Lesbian Relationships
Stats & Infographics Of MatureDates
Male - Female Ratio
Age Demographics
Country Distribution
Registration Process Of MatureDating
Creating an account on Mature Dates is simple and free. Firstly, you will be asked to provide your gender and the what you're searching for. You can be a man or a woman looking for the opposite sex or the same sex. You will also have to provide your location, but it is important to note that only residents of the following countries may join: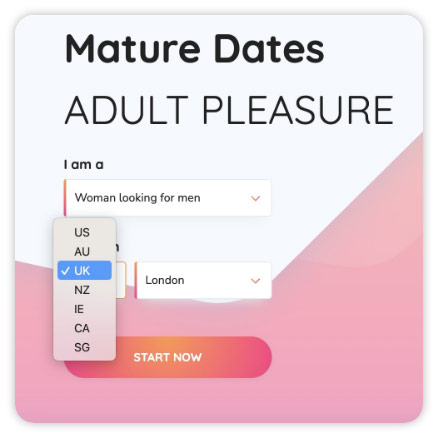 The United Kingdom
The United States
Canada
Ireland
Australia
New Zealand
Singapore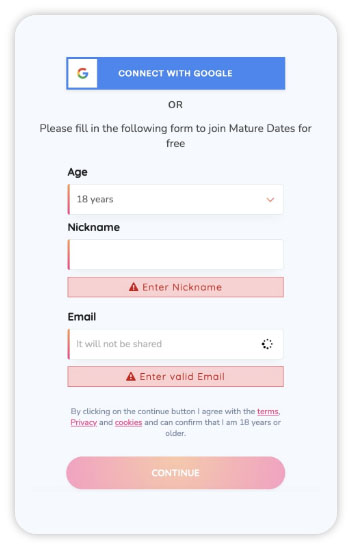 Once completed, you will have to provide your age and email (The minimum age requirement is 18 years old). You will also have to create a username at this point. You can bypass this step by logging in with Google, but we would advise against this. Please provide an email you can access because Mature Dates.com uses this email to validate your account. Check your email to see if you've received an email from them (Check your junk or spam folders if you do not see it in your primary inbox).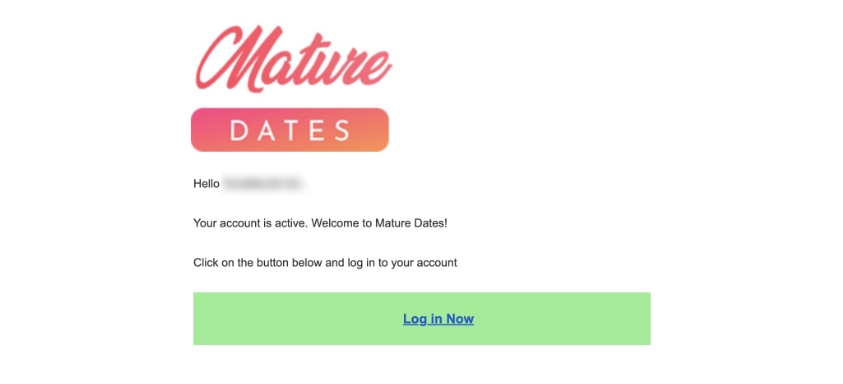 Scrolling to the bottom of the email, you will be able to see your login details. Unlike other dating sites, Mature Dates provides you with a unique password instead of you having to create your own. Of course, you can change your password once you gain access to your account. You can activate your profile by clicking the "Log In Now" button. You can begin browsing the site and setting up your profile from there.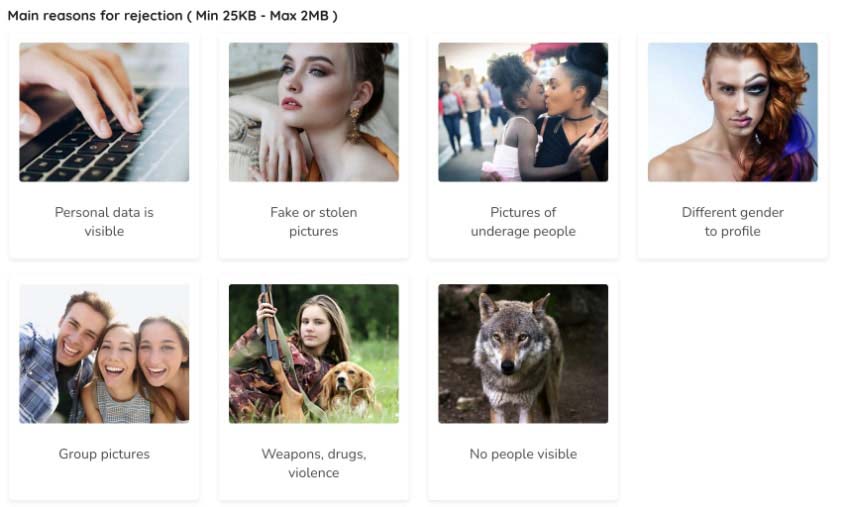 To attract potential matches, completing your profile is in your best interest. Your profile can include information such as your name, relationship status and a short description of yourself. You may also upload photos, but they must adhere to Mature Date's photo policy.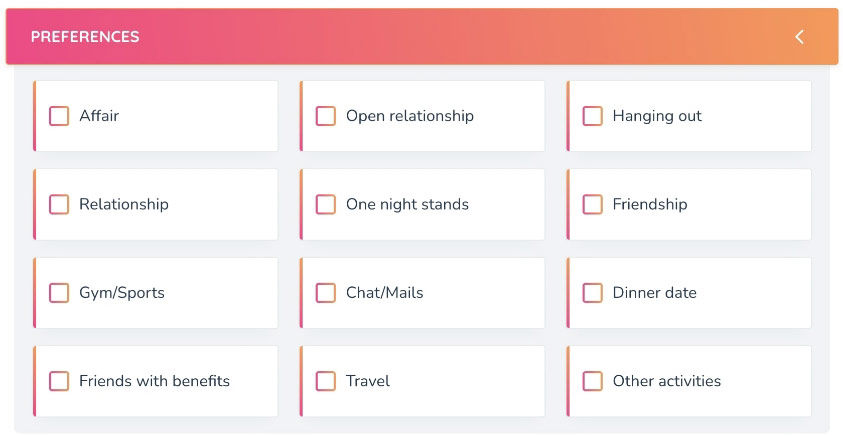 Additionally, your profile allows you to expand on your preferences. You can be specific about the type of person you're looking for, the kind of relationship you want, and much more.
Mature Dates App & Mobile Compatibility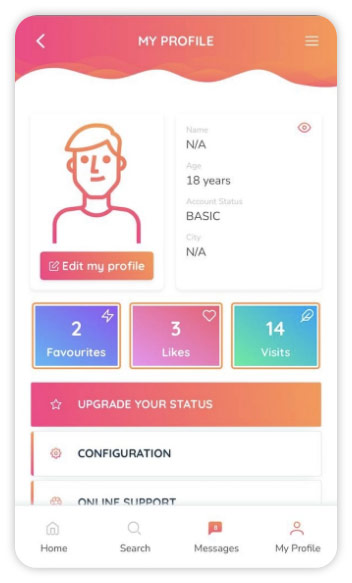 Mature Dates does not have a mobile app. However, the website is fully optimized for mobile devices. In fact, it is better to log into MatureDating using your phone's browser. The pages load quickly, are easy to navigate, and the colour scheme is vibrant and appealing. The text is readable, but the only issue is that the font is quite small, making it difficult to read. Nevertheless, this is not significant enough to be considered a deal-breaker. Overall, we are impressed by the mobile version of the site, and it is definitely worth checking out.
Men Vs Women On MatureDates.com
There are quite a few differences between men and women on Mature Dates. However, before we discuss them, we would like to highlight a detail related to sexual orientation. You are only able to view and search for profiles that match the gender you're looking for. For example, if you're a man looking for a woman, you will only see female profiles on your homepage. Additionally, only female profiles will appear in the search results.
Likewise, if you're a female looking for a man, you can only view and search for male profiles. We can safely assume that a variety of profiles, including those of men and women, will be at your disposal if you are interested in both genders.
As far as gender goes, women and men are charged differently, with the latter paying more. Men are forced into a credit system, whereas women pay monthly packages. Mature Date's pricing structure is strategically designed to collect more money from its male users. We will go into detail about the site's pricing setup in this review further below.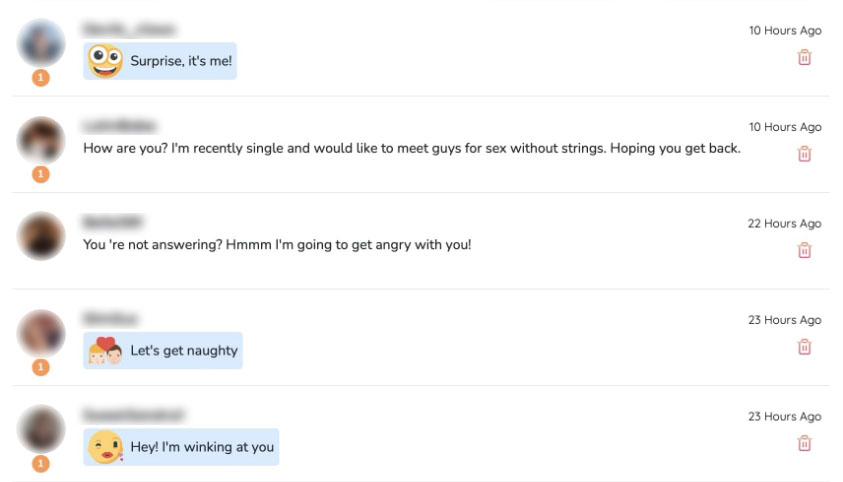 Moreover, we have reasons to believe that MatureDates has implemented certain protocols that are designed to promote more spending among male users. For example, male users receive many messages from interested women immediately after signing up. The messages typically have flirty, sexual, and sometimes aggressive undertones. Women, on the other hand, do not receive the same intensity of immediate interest from male users.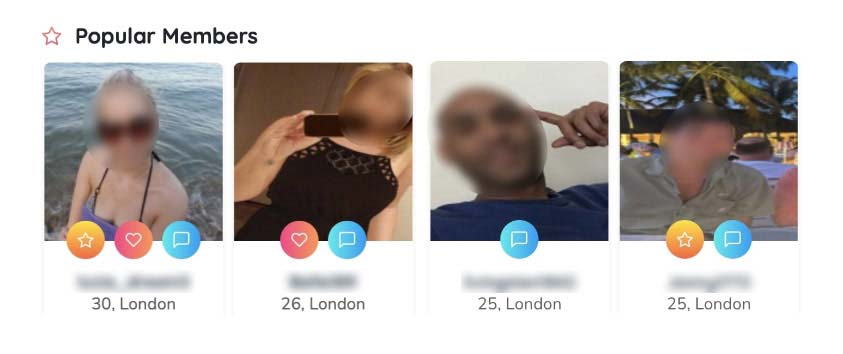 We also noticed that women could not add men to their favourites, although men could add women to their favourites lists. These tactics could be considered suspicious and concerning in the online dating world.
MatureDates Top Features
Boost Your Profile
If you upgrade your membership, your profile's visibility will increase. This means that your profile will appear higher in the search results. You will also receive a special badge that boosts your visibility. This feature gives your profile more attention, and its advantages are obvious. The more views your profile has, the higher your chances of success. The competition on dating sites is fierce, so finding a way to make your profile stand out can benefit your search.
Advanced Search Filters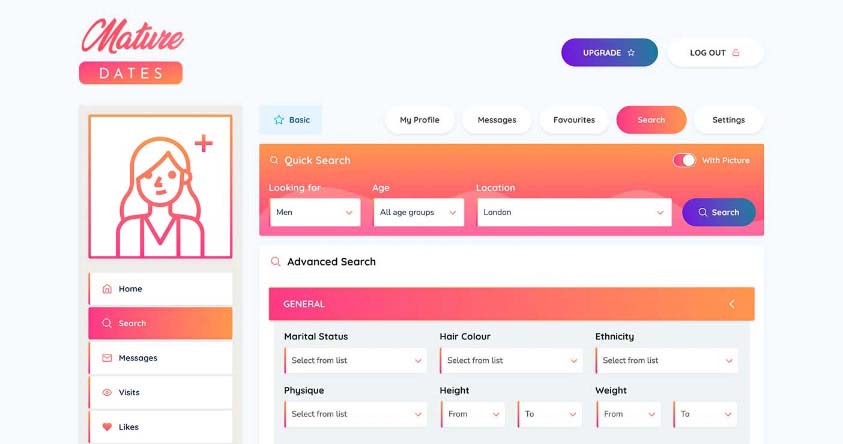 MatureDates offers a wide range of search filters. Not only can you search for other members based on their ages and locations, but you can also set particular parameters. For example, if you are married and want to connect with other married people, you can adjust the "marital status" filter. Likewise, if you have a dominant personality and you want to connect with subs for a BDSM relationship, you can make changes to the "character" and "preferences" filters.
The ability to fine-tune your search criteria can better assist you in finding users who meet your standards and expectations. It saves time and aids in the development of quality conversations and meaningful connections.
MatureDates Offers, Prices & Costs
Mature Dates is a freemium dating site, meaning that while some features may be free to use, there are some that require payment. More often than not, the features that require payment are essential to a person's search for a date. As a non-paying member of MatureDates, you can perform the following:
View and search for profiles
Read messages
See who visited your profile
Add people to your favourites
Upload photos
Access Stripchat
In addition to the above features, paid members have access to the following functions:
Respond to messages
Appear higher in the search results
Receive a special badge that increases their profile's visibility
Send five free icebreakers a day (Can only be used to initiate a conversation or in response to another icebreaker)
As mentioned previously, women and men are billed differently on Mature Date. Each message is equal to 10 credits, and icebreakers are two credits each (both available only to men). Please note that MatureDates has the authority to delete accounts that have not purchased credits or subscriptions in the past six weeks or more.
Below are the rates for men:
Credit Packages Costs

200 Credits - £29 (£1.45 per message)
300 Credits - £49 (£1.63 per message)
800 Credits - £99 (£1.24 per message)
2500 Credits - £299 (£1.20 per message)
As you might expect, the most expensive credits package is also the best value for your money. However, if you just want to try out the site, we'd recommend getting their 200 Credits package. Additionally, you are better off purchasing either the 200 or 800 credit packages instead of the 300 one. Even though it is advertised as their "Best Seller" it is also the most expensive per message / credit.
The following rates apply to women:
Subscription Packages Costs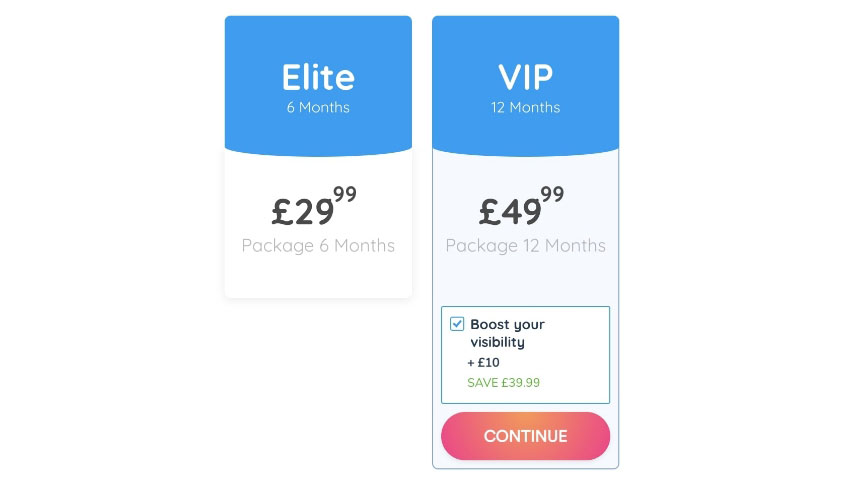 Elite – 6 Month Package - £29.99
Boost your profile's visibility for an additional £10. This package also allows you to send unlimited messages to up to 5 users daily.
VIP –12 Month Package - £49.99
Boost your profile's visibility for an additional £10.
Payments may be submitted through a debit card, credit card, or Google Pay. Additionally, MatureDates has a date guarantee that applies to men and women. If you cannot find a date, Mature Date will issue you a full refund. However, there are a few stipulations that apply. For example, for each week since registration, you must contact at least seven different members within your proximity and age range.
MatureDates Pros & Cons
Pros
Users are eligible for a refund if they aren't able to find a date
Although there is no Android or iOS app, the site is mobile-friendly
Advanced search filters
Cons
Despite the site's name, the minimum age requirement is 18 (This makes it no different than any other dating site)
There are several fictitious profiles
Higher prices for men
There aren't many features
Mature Dates Safety & Security
Is Mature Dates Real? - Fictitious Profiles
In its terms and conditions, MatureDates.com repeatedly emphasizes that its purpose is to arrange "virtual meetings" between men, women, and couples. Physical encounters are not guaranteed. To be fair, no dating site can assure users that a physical meeting will occur; however, MatureDates was created purely for online entertainment. This means that your chances of getting a date were low from the beginning.
MatureDates even goes so far as to create fictitious profiles. It is not possible to meet with the people depicted in these profiles. They are marked with a heart icon, indicating that they are, in fact, created by the site. However, the heart icons can also be used to add people to your favourites. Therefore, many users are not aware that this is a signifier for fictitious profiles.
It is also important to note that only female profiles have heart icons, whereas male profiles do not. This confirms our belief that Mature Dates uses a number of strategies to attract male users to spend more money.
Use Of Personal Information
Mature Dates collects personal data like your name, age and email address for the site's operations. Based on our observations, they do not maliciously use your personal data. For example, your data is used to enhance your experience on the site. It may also be used for training to ensure that staff members provide the highest support quality. Your personal information is stored on secure servers located in Europe and the USA. You can also, at any point, contact MatureDates to opt out of data collection. However, keep in mind that you may have to delete your account if you choose this route.
Mature Dates Conclusion
Overall, we do not believe that MatureDates is the best place to find a date. While there are a few attractive aspects, such as the date guarantee and the site's mobile-friendliness, this is not enough to elicit a sign-up. There are not enough features to keep users entertained. Also, despite its name, the site is not exclusive to mature people. This may be off-putting to the community and age group they are trying to attract.
Furthermore, MatureDates is designed to encourage men to spend more money. The vast number of fictitious female profiles and barrage of messages immediately after sign-up is evidence of that. Simply put, the cons outweigh the advantages. There are better mature dating sites that are worth your time out there.
MatureDates.com Tips
Ensure that you fulfil all the stipulations of the date guarantee in order to qualify for a full refund
Use the advanced search filters to find targeted matches
Consider using Mature Dates on your phone's browser
Look out for profiles marked by a heart icon (the favourites button), as they could be fictitious
If you're bored and looking to kill some time, Mature Dates provides you with a quick access link to StripChat, a webcams site

Mature Dates FAQ
What Is Mature Dates?
Mature Dates is a virtual dating site designed predominantly for English-speaking users. The site operates fictitious profiles to keep their users entertained.
Is Mature Dates Legit?
We cannot say with confidence that MatureDates is a legit dating site. The site operates many fictitious profiles, and that is telling. Users can avoid speaking to these profiles by keeping an eye out for a "heart" icon by the users' names.
Is MatureDates A Scam?
MatureDates is transparent in their use of fictitious profiles on their site. However, we can see how people might feel cheated if they did not properly go over the site's terms and conditions.
Is There A Mature Dates App?
Mature Dates does not have a mobile app. However, the website is fully optimized for mobile use.
How Much Does Mature Date Cost?
The prices and packages differ for men and women, with men paying significantly more. The credit prices for men range from £29 to £299, and the subscription prices for women range from £29.99 to £49.99.
How Do I Delete My MatureDates Account?
Here's how to delete your Mature Dates account:
Visit your settings
Scroll down to the bottom of the page
Click "Delete my account"