Japan Cupid Review
Verified Review
Published: 16th October, 2023
Japan Cupid Introduction
JapanCupid was created in 2005 and, as the name suggests, it's a great site for those seeking love where one party is a Japanese person. So, whether you're a Japanese person looking for love or someone who is interested in meeting and dating Japanese people, this is the place to be. It boasts over a million members and claims to have thousands of people joining every day.
Read below all about the registration process, some of the features that caught our eye, the prices and additional costs among others. Our Japan Cupid review weighs the pros and cons, some security features to keep in mind, and some interesting statistics regarding the site.
JapanCupid Pros & Cons
Pros
Popular site with many users (usually around 350-450 people online)
Zero tolerance for fraudulent profiles
Free members can chat with paid members
Cons
There may be a language barrier if you don't speak Japanese
The free version has very limited features
Subscriptions are expensive
Users are widespread around the world (less likely to find someone nearby)
What Type Of Dating Site Is JapanCupid?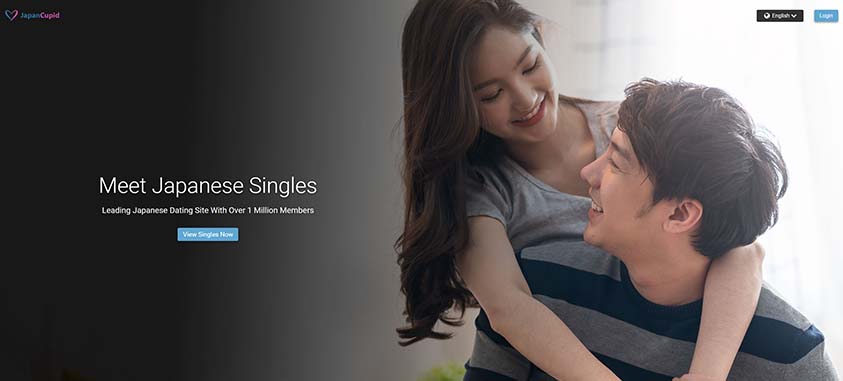 Romance & Dating
Serious & Long-term Relationships
Penpal
Friendships
JapanCupid is for people who are looking for friends or romance, it is not geared toward hookups. Japan Love Cupid is also not a good place to go if you're looking for an affair, there is no option to say that you're currently married.
Who Is JapanCupid.com For?
While Japanese Cupid allows you to seek someone who is the same gender as you, and there's an option to seek 'Any' gender, most members are seeking someone of the opposite sex.
Stats & Infographics Of JapanCupid
Male - Female Ratio
63.7% Male
36.3% Female
Age Demographics
20.77% → 18 - 24 Year-Olds
29.03% → 25 - 34 Year-Olds
19.16% → 35 - 44 Year-Olds
14.08% → 45 - 54 Year-Olds
10.12% → 55 - 64 Year-Olds
6.85% → 65+ Year-Olds
Country Distribution
24.71% → United States
22.88% → Japan
5.75% → Germany
5.7% → Poland
35.39% → Other
JapanCupid com has a mostly male user base and is significantly more popular with younger users. Members are spread all over the world, so be prepared for a long-distance match!
Japan Cupid Login Process
The homepage of JapanCupid.com invites you to "Meet Japanese Singles" and if you click on "View Singles Now", a form opens asking for your name, your gender, the gender you're seeking, your email address, and asks you to create your password. At this point, you're registered with your Japanese Cupid login details and are able to start using the site. A pop-up will appear to encourage you to add a photo, but you can start browsing and add a photo later.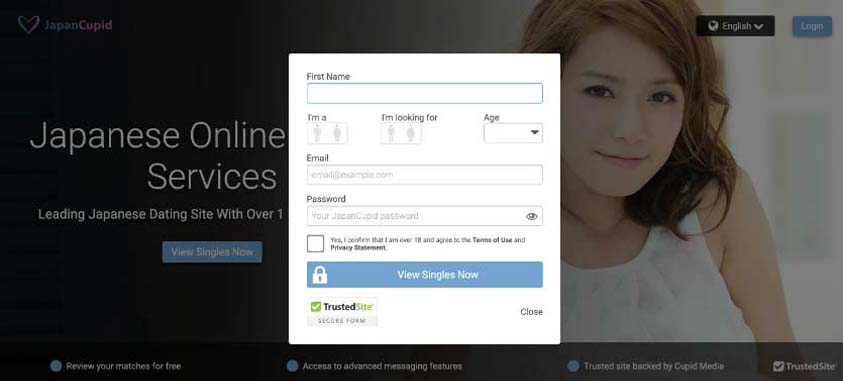 There are 7 steps to bring your profile to 100% complete. They are:
Add multiple photos to your profile
Basic Profile
Add information about your Match
Interests
Personality
Add CupidTags
Verify your Profile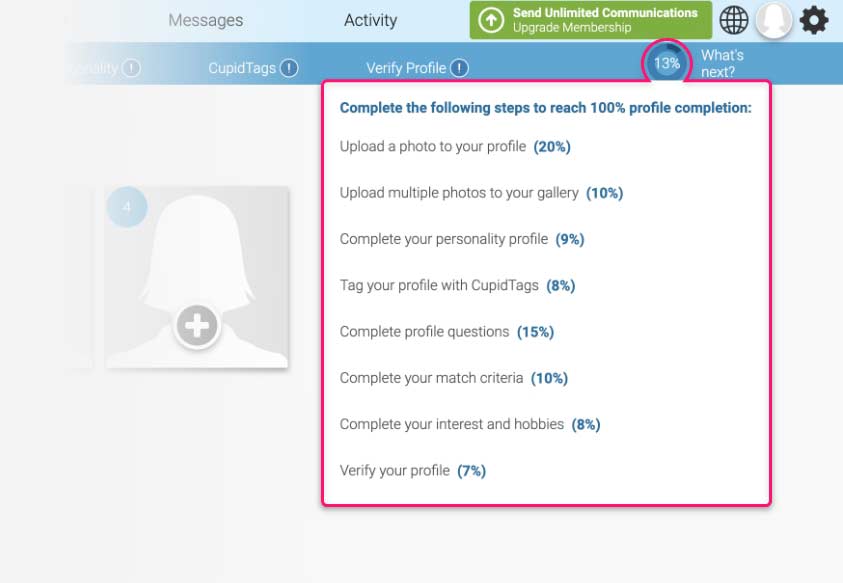 The initial profile page asks for your basic information, like your name, birthdate, and location. Then it asks for details on your appearance, your lifestyle, your background, your cultural values, followed by fields to write a little about yourself and what you're looking for in a partner. Next, you will be asked about your perfect Match, their gender and age range, where you'd like them to be living, and specific preferences about their appearance, lifestyle, background, and cultural values.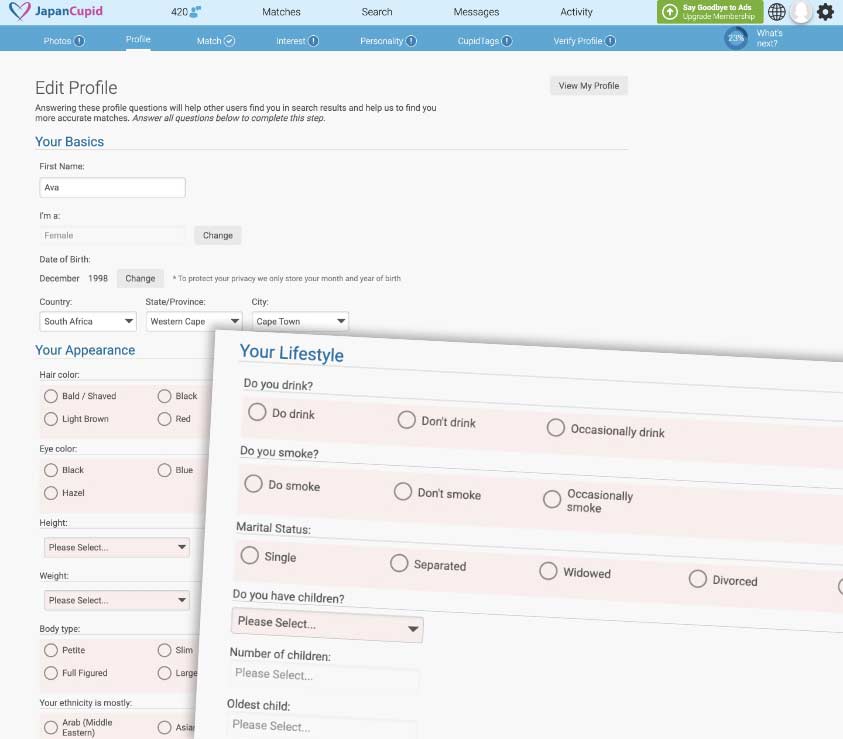 This is followed by the interests page. This has a list of hobbies and interests, food types, musical genres, and sports, where you tick the ones you're interested in. The personality page loads next, which has space for longer answers. Some of the questions include your taste in movies, music, and books, if you've travelled and where. In this section they also cover if you're open to someone of a different culture, and what you consider to be a perfect romantic weekend.
CupidTags are on the next page. CupidTags are words that describe your characteristics and hobbies. The 50 most popular CupidTags are shown, and you need to select 5 or more. You're also able to type your own tags if you want some that aren't listed on the page. Finally, you can verify your profile by showing proof of your identity by uploading a photo or a scanned copy of your ID, passport or driver's licence.
JapanCupid App & Mobile Compatibility
Japan Cupid com has a mobile application, which has mixed reviews on the app store. We found the user interface to be easy enough to understand and use, but the appearance was a little outdated. Many of the negative Japan Cupid reviews for the app are because of the subscription costs. Through the app you can access all the features of the desktop site by simply logging in with your JapanCupid login details and there are no major differences. There is nothing that can be accessed on only the desktop site or only the app.
The mobile site has the exact same user interface as the Japan Cupid app. This is unusual because usually, an app is more optimised when compared to the mobile browser version. However, this is a very effective use of their resources, and it works well since the interface is easy to use and understand. It is well-optimised for mobile use, and also has all the same features as the desktop site.
All in all, whether you choose to use the mobile browser version of the Japanese Cupid app, you will find very few differences in terms of functionality and design.
Men Vs Women On JapanCupid
JapaneseCupid has no differences between signing up as a man and signing up as a woman. The profile requirements are identical, and the prices for subscriptions are the same. There are no special benefits or advantages given to one gender over the other, it's all very equal.
Japan Cupid Top Features
Advanced Matching Systems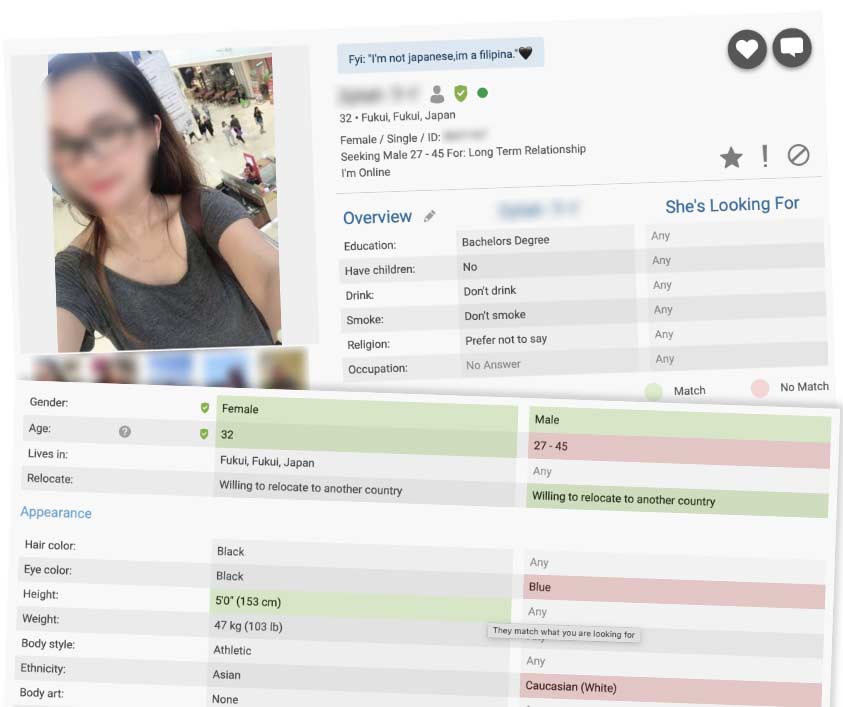 JapanCupid matches people in a few different ways. Free members have access to basic matches, which shows you people who match the criteria you're seeking. If you purchase the Platinum or Diamond Subscription, you get access to the Reverse and Mutual Match systems. The Reverse Matches page shows you people who are seeking someone like you. In other words, you match their criteria (although they may not match yours). The Mutual Matches page shows you people who match your criteria, and you match theirs too.
JapanCupid takes this one step further when you view someone's profile. It shows you two columns, one of which contains the person's own information, and the other contains details of their ideal match. Where their information matches what you are seeking (for example if they are within your ideal age range), that section is coloured green. And if your information matches what they are seeking, that section is also coloured green. Where there is a mismatch, that section will be coloured red. This makes it easy to see at a glance if you're a good match for each other.
Make Your Move – Mass Message
Another interesting feature that JapenCupid offers is the ability to send out an introductory message, for free, to a few profiles that match what you're seeking. This is an identical message that will be sent to the profiles that you select from a list and is a great way to start a conversation with many potential matches at once.
Remember that two people can only chat if one of them is a paying member, so that will affect whom you can talk to if you're using a free membership. So, if your "Make your move" message goes to a fellow free member, unfortunately, you'll be unable to communicate until one of you buys a subscription.
Reorder Your Search Results
When you do a search, you can choose to have the results displayed according to the newest members first, photos first, or last active first. To change this, click on "Order by" in the top right corner of the results screen.
If you've been on the site for a while, it may be best to order your results by newest first, so that you aren't shown the same members you've already seen but rather new members. If you'd prefer to see members who have photos, choose the photos first option. Finally, if you're looking for someone who is online or who used the site recently, choose the last active option.
JapanCupid.com Offers, Prices & Costs
As a free member, you are shown basic matches (based on age, interests, and lifestyle), you can communicate with paying members, and you can 'like' profiles. If you'd like to purchase a subscription, there are 3 levels to choose from: gold, platinum, and diamond.
Subscription Packages
The Gold Subscription gives you the features of free membership, plus:
Unlimited communications with all members
Unlock instant messaging
No more third-party ads
Hide your profile and photos
The Gold Subscription has the following costs:
1 week: £14.49
1 month: £28.99
3 months: £55.99 (works out to £18.66 per month)
12 months: £111.99 (works out to £9.33 per month)

The next level is the Platinum Subscription, which gives you the features of free membership, along with the benefits of Gold Subscription, plus:
Double the profile space and rank above other members (apart from Diamond members) in search results
Exclusive search features unlocked such as location, ethnicity, and dating intention
Better matches through the use of more intricate algorithms
Instantly translated messages
The Platinum Subscription has the following costs:
1 week: £17.00
1 month: £33.99
3 months: £65.98 (works out to £21.99 per month)
12 months: £131.98 (works out to £11.00 per month)

Finally, you can purchase a Diamond Subscription. This gives you the features of free membership, the benefits of both Gold and Platinum, plus:
Priority messaging which allows you to be the top message in other members' inboxes
Rank above all members in search results
Profile Highlight, get an exclusive Diamond icon on your profile
Premium customer service 24/7, 365 days a year
The Diamond Subscription has the following costs:
1 week: £34.00
1 month: £67.99
3 months: £131.97 (works out to £43.99 per month)
12 months: £263.97 (works out to £22.00 per month)

All three levels of subscriptions are automatically renewed at the end date. Auto-renewals are for the same period as the original subscription. If you'd like to opt-out of auto-renewal, you need to go to your settings, click on billing and click on the slider next to "Your membership auto renewal is ON" so that it changes to OFF. Make sure to do this at least 48 hours before your subscription period ends, or you might get charged for the next month as well.
Japan Cupid Safety & Security
Third-Party Involvement
In the Terms of Use and Privacy Statement, Japan Cupid.com indicates that their staff who handle profile moderation services, customer support, fraud detection services, and other behind-the-scenes functions, may be in different countries to the user or the company that owns JapanCupid. Accordingly, your personal information may be transferred to these countries which may have different and less stringent laws regarding the use and protection of personal information.
By signing up, you consent to the transmission of your personal information to these parties. You can revoke your consent, by contacting the JapanCupid team via one of the options listed in section 1.1(b) of the Privacy Statement. However, if you revoke your consent, you may not be able to continue using JapanCupid.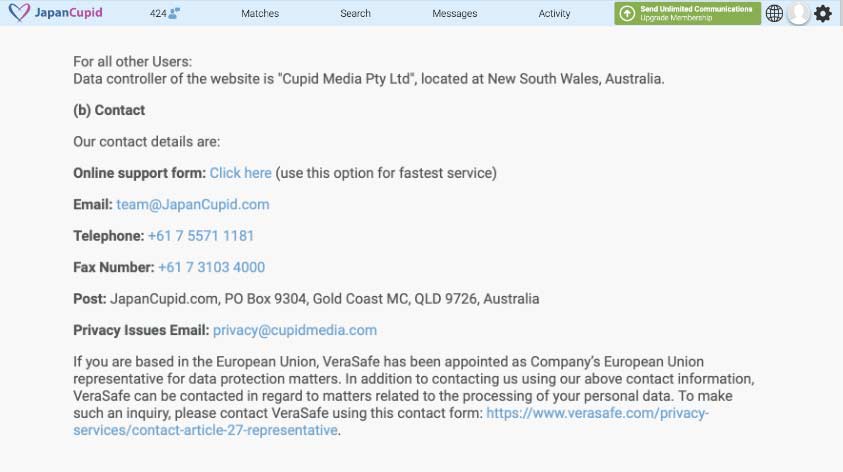 Safety Tips On Profiles
JapanCupid includes safety tips on each profile you view. Each time you view a new profile, a new tip is shown to you. These tips range from how to spot scammers, to encouraging you to report profiles that seem suspicious, to reminding you to never give anyone your password. This can help unsuspecting or naïve users to avoid falling prey to a scam. It also helps to keep JapanCupid legit, since it keeps scammers away.
They feature a Dating Safety button right at the bottom of the page as well, which contains even more safety tips to keep yourself safe and avoid being scammed.
Profile Verification Badge
You can choose to verify your profile. This is done by uploading a photo or a colour scan of an identification document, such as your driver's licence, passport, or national ID card. Once this is checked by the JapanCupid moderators, you get the verified badge on your profile. This is helpful to prevent fraudulent profiles since your proof of ID must match your photos.
There are a good few verified profiles on the site, which is encouraging. Some JapanCupid reviews suggest that profile verification should be made mandatory, and we agree, this would make the site safer for everyone.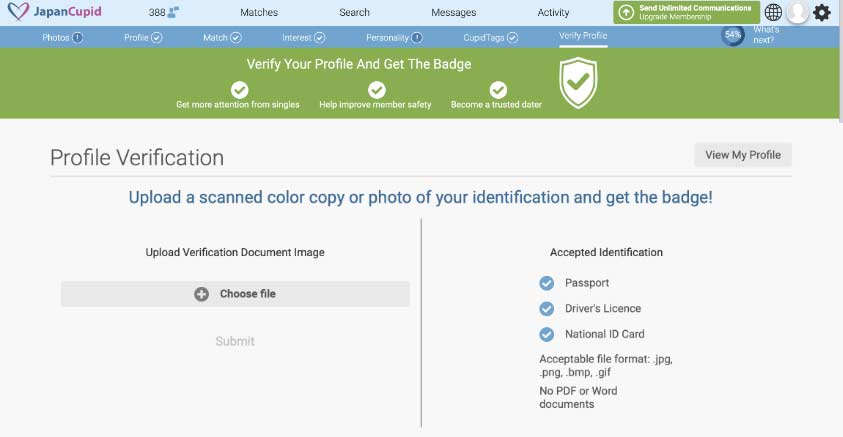 Conclusion
JapanCupid is user-friendly and can be a good way to find a Japanese partner. Creating a profile is a long process with many questions to answer, but we've found that it's part of the reasons why their matches are so well curated. It's a site that is best used for friendship or more serious relationships, we wouldn't recommend it if you are looking for more casual relationships.
A subscription is necessary if you want to use the site to its fullest, and there are 3 levels of subscription to choose from. Even the cheapest level of subscription is on the pricey side, and a subscription does not guarantee your success, so carefully consider your budget and weigh the pros and cons.
JapanCupid Tips
JapanCupid reserves the right to increase the price of the subscriptions at any time. However, existing subscriptions that have auto-renewal active will remain at the older, lower price.
If you do not use your account for 6 months consecutively, and if you do not have an active paid subscription, your account will be deactivated.
A Japanese Cupid review pointed out that if you speak Japanese, you'll have a much better chance of success. Because there are a lot of Japanese users who only speak Japanese, or their English level is poor. So be sure to mention it if you can speak Japanese on your profile.
JapanCupid puts a watermark on any photos you upload to your profile, reducing the chance of your photo being stolen and used by scammers.
The site specifically forbids any kind of mail-order bride arrangement, so if that's what you're seeking, this is the wrong place to look for your partner.
Japan Cupid FAQ
Is Japan Cupid Legit?
JapanCupid has got a good number of real, verified people on the site, and has an app that was recently updated. We'd say yes, Japan Cupid legit. As with any dating site, watch out for fraudulent profiles, but the site itself is legit.
I Forgot My Japan Cupid Login Password. How Do I Get It Back?
On the JapanCupid home page, click on "Login" in the top right corner, and then click on "Forgot Password". A password reset link will be emailed to you.
How Do I Delete My Japan Cupid Profile?
Click on your profile picture to access your profile settings and select "Switch off my profile" at the bottom. Click on "Delete Account" and give a reason, and your profile will be deleted. Remember that this is permanent, you have 30 days to reactivate your profile if you deleted it by accident but after that point, you will not be able to reclaim your profile.
How Do I Deactivate My Japan Cupid Profile?
Take the same steps as to delete your profile above but select "Deactivate Account". It will ask for a reason, and this will deactivate your profile and hide your pictures, messages, and profile on the site.
How Do I Reactivate My Japan Cupid Profile?
Simply log in to your JapanCupid profile using your login details. The system will see this as a reactivation request, and you will regain access to your profile.