Fitness Singles Review
Verified Review
Published: 22nd November, 2023
Fitness Singles Introduction
Are you a fitness fanatic or an athletic apprentice looking for love? If you're struggling to find someone with the same lifestyle, you might want to check out Fitness Singles! Out of all the fitness dating sites out there, it is certainly a strong contender for your online romantic (and platonic) escapades!
Based in New York and founded in 2003, Fitness Singles has harnessed its niche of bringing health and dating together. Soon, it became one of the world's most established dating sites for health enthusiasts.
In our in-depth review below, we'll discuss the registration process, whether there are any differences between male and female accounts and some of Fitness Singles' key features. We'll also cover costs, safety and much more! All to help you decide if this is the best dating site for you!
Fitness Singles Pros & Cons
Considering this fitness website is like hitting the gym – We've been 'weighing' up the pros and cons and can happily say the 'pros' are definitely doing the heavy lifting here:
Pros
Simple registration (completing your profile in the process)
The site stays true to its niche (many sporty singles)
In-depth search filters
No online advertisements
Cons
No dedicated mobile application
No video call or chat feature available
No in-depth matchmaking tools ("Search" is the only way to get matched)
What Type Of Dating Site Is Fitness Singles UK?

As most Fitness Singles reviews will tell you, the site is designed to help you find a date, but that's not all. You can sign up even if you are looking for:
Hookups
Meetups
Romance and Dating
Chatting
Friendships
Who Is Fitness Single For?
Based on the available gender and sexuality options, Fitness Singles UK caters to individuals who are:
Stats & Infographics Of Fit Singles
Male - Female Ratio
Quite unusual for dating sites nowadays, Fitness Singles' female visitors outnumber males by 12%. This means you will have more options and a higher chance of finding a match if you are interested in women.
Age Demographics
While the age demographics are mostly evenly matched, you might be the minority if you are in your early to mid-twenties. The website looks to receive most of its interest from mature individuals aged 35 and older.
Country Distribution
Considering more than 90% of Fitness Singles' traffic is split between the US, UK and Canada, it's clear that the site caters best to English-speaking countries. While you can technically sign up from anywhere worldwide, you might not have much luck or enough options outside those confines.
Fitness Singles Login Process
We found the Fitness Singles login process a bit time-consuming, but it made filling up our profile easier later on! The registration form is located at the centre of its homepage and starts by asking the user to provide the following information:
Gender (male or female)
The gender you're seeking (male or female)
Which age you're seeking (ages from 18 to 120 are available)
Your birthday
Clicking the "Continue" button confirms that you're 18+ and agree to their privacy policy and terms of use. You will then be directed to a set of questions and forms you need to fill out (some of these are required and cannot be skipped):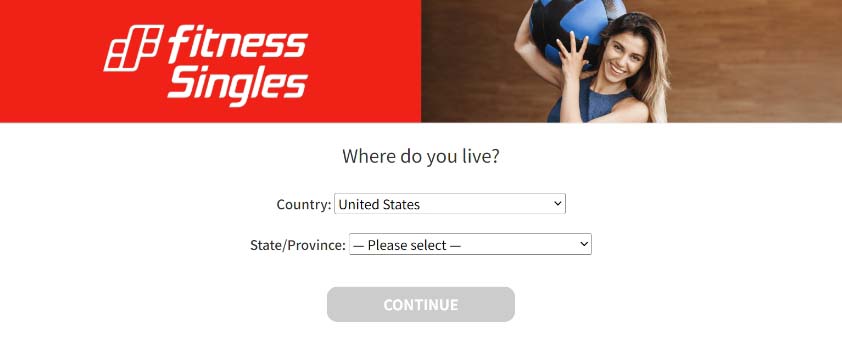 Country and state/province
Create a username, password and email address
Favourite fitness activities and their skill levels
Describe your body type and attractiveness
Marital status (including if you have or want kids)
Religion (and how often you attend services)
Education level
Occupation including income (skippable)
Diet and how often you engage in fitness activities
Smoking and drinking habits
Languages you speak
Adding a profile photo, headline and bio (can be changed or removed later on)
It may be a weighty amount of information to go through initially, but luckily, it only needs to be done once. Thanks to their algorithm, paying attention to what you're filling up also increases your chances of a match from the get-go!

As mentioned above, the information you fill in during registration will be added to your FitnessSingles profile. Your profile photo, username, headline, occupation and bio will be under review for up to 24 hours after submitting.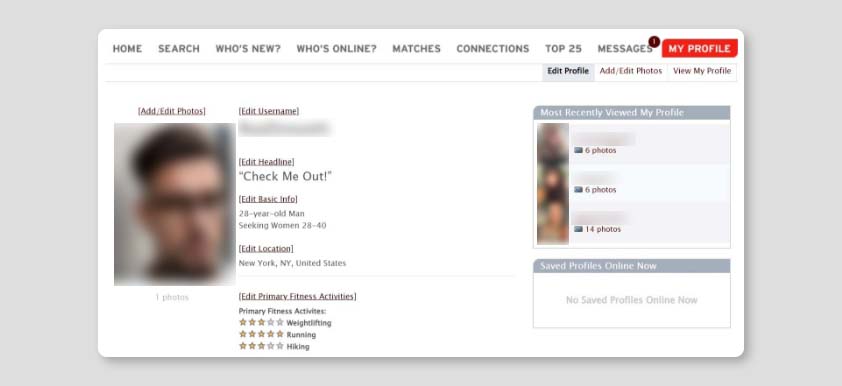 Fitness Singles App & Mobile Compatibility
They are among the largest online dating spaces for health enthusiasts, but surprisingly, Fitness Singles UK does not have a dedicated app. Nonetheless, we ran the site through Google's "mobile-friendly test", which clarified that the site can be used via your mobile browser.
Comparing the desktop and mobile versions, we found the following differences:
The mobile version's homepage does not include text on what the site is about, why to use it and some general online dating tips.
The mobile browser's login and registration forms are much larger than the desktop. Nonetheless, it also makes tapping the elements on a mobile screen easier.
Tabs on the mobile browser are reduced to a hamburger menu. This means it takes an extra step before you visit your profile, member's area or any other page on the site.
Men Vs Women On Fitness Singles
As previously mentioned, Fitness Singles has a much bigger female user base than male. But are both genders treated equally on the site?
The good news is that the male and female accounts' registration processes were identical regarding information and process. Additionally, all available free features are the same, and most importantly, membership package prices are the same for both genders as well.
Fitness Singles Top Features
Search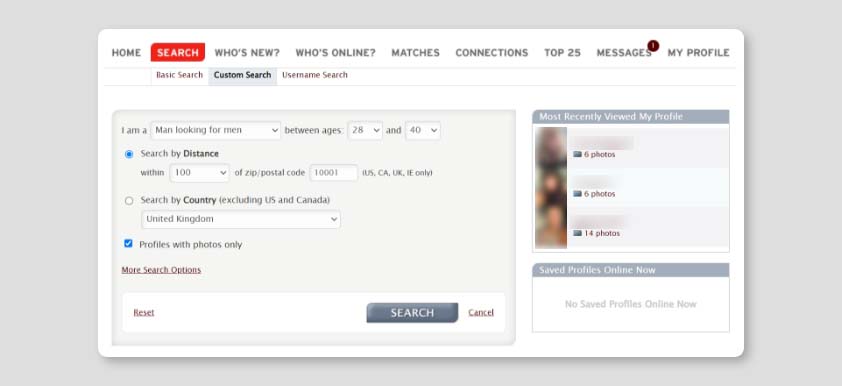 The "Search" feature, located at the top left of the screen, next to "Home", puts to use all the information you provided during the registration process. Fitness Singles helps you find matches based on your profile's parameters. It's split into three sections: "Basic Search", "Custom Search", and "Username Search".
"Basic Search" allows you to filter members based on things like their recent activity, whether they have a profile photo, distance and age range. The "Custom Search" is far more advanced, allowing you to search by country and refine your search based on their interests and the fitness activities you share.
Finally, the "Username Search" can be useful if you are trying to find a particular member you have seen before. Entering some letters in their username will show you profiles matching your prompt.
Text Messages

Compensating for the absence of a mobile app, Fit Singles sends you mobile text notifications whenever someone messages your profile. This can be activated by visiting "My Account". Then, under "Account Settings" (next to the "Text Notifications" header), you will be able to add your mobile number.
Fitness Singles has clarified that your mobile number won't be used for any other reason, ensuring your personal information won't be used maliciously. Nonetheless, they also state that message and data rates may apply.
Show Interest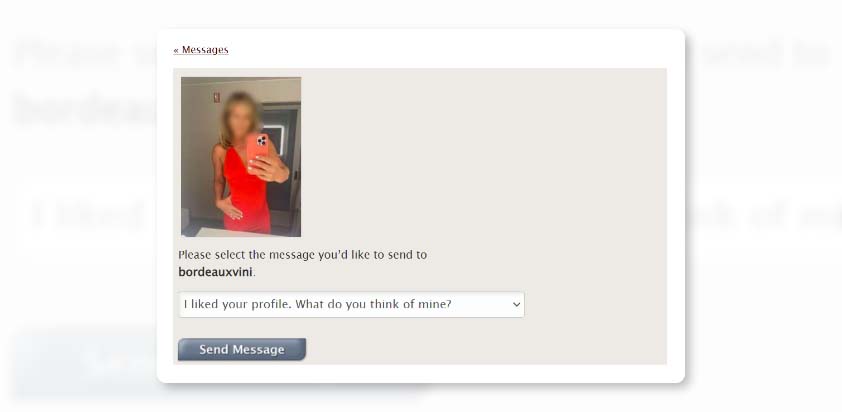 "Show Interest" grants you access to ready-made icebreakers you can send to someone you are interested in. A total of eleven different options will be presented to you, and it's a great way to start a conversation if you are shy or don't know what to say.
You can find this feature on a member's profile page under their username. Don't go crazy with it, though. This feature is limited to be used once per member. In other words, you cannot send more than one icebreakers to the same person.
Block Management

Finally, if you're receiving unwanted messages from a member, you can block them to prevent them from messaging you further. This can be done via the chat or their own page (just under their profile picture). Fitness Singles will notify you if someone has blocked you, granted you try to contact them.
Oddly enough, Fitness Singles mentions that you can still unblock others should you wish to do so. However, after following their instructions step-by-step, we needed help finding the option to unblock profiles. The only way to get around this was to add someone new to our "Blocked" list. It allowed us not only to view but also manage the list, including profiles blocked in the past.
Fitness Singles UK Offers, Prices & Costs
Freemium
Free memberships are available to active singles who want to test the waters and get comfortable with how the site works! Although your experience will be limited, it's still a good start to figuring out how the site works. Here are all the things you can do on Fitness Singles for free:
View and save other members' profiles
Send profile interest messages
Use text notifications
See matches and receive messages
Customer service
Remove members using the block feature
Fitness Singles Subscription Packages
A monthly subscription-based membership is recommended to get the most out of Fitness Singles. There are four packages, and we'd recommend purchasing one of them if you want to give the site a fair shot: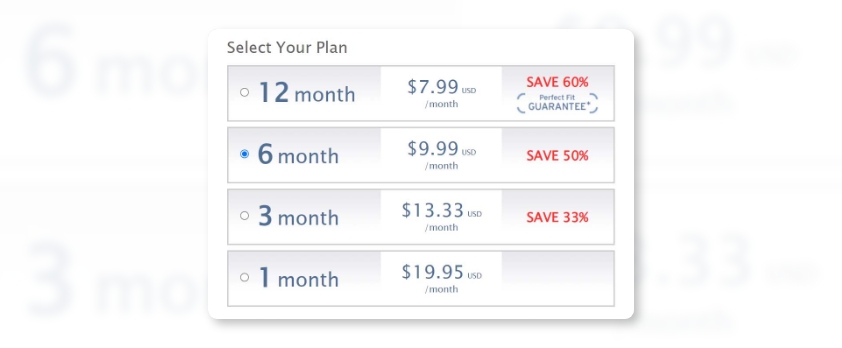 1 Month - $19.95 per month
3 Months - $13.33 per month (save 33%)
6 Months - $9.99 per month (save 50%)
12 Months - $7.99 per month (save 60% + "Perfect Fit Guarantee")
Fitness Singles Subscription Perks Included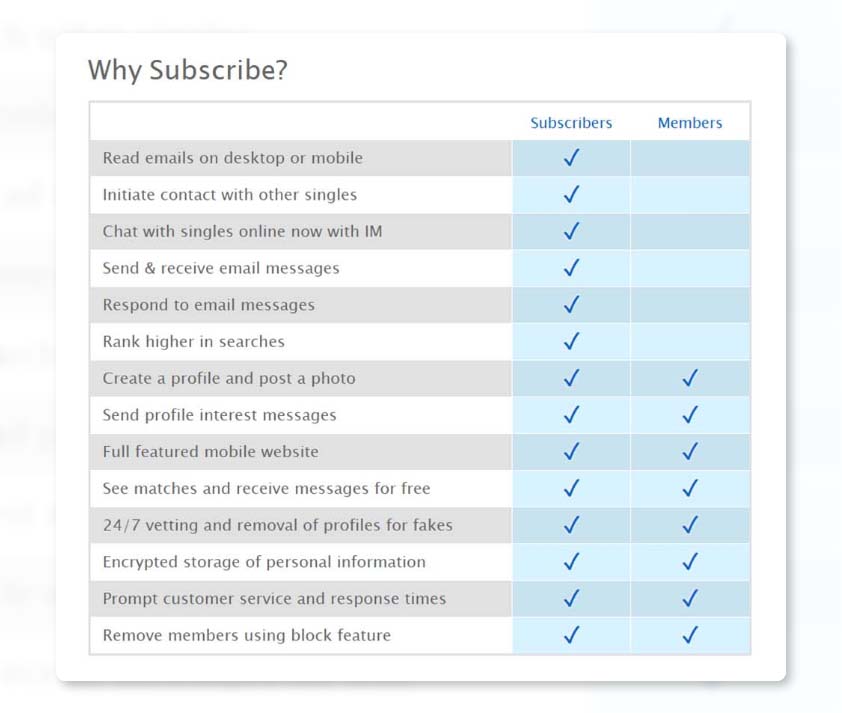 Everything from freemium
Being able to read emails on a desktop or mobile
Initiate contact with other singles
Chat with other singles online via IM
Send and receive email messages
Respond to email messages
Rank higher in searches
Their "Perfect Fit Guarantee" states if you are not satisfied with your Fitness Singles experience during your initial 12-month subscription, you can contact their Customer Support Team. They will then extend your subscription for up to 12 months in addition to your initial 12-month subscription free of charge.
Please keep in mind that the above information is only available to users whose profiles have been reviewed and approved by their team.
Fitness Single Safety & Security
24/7 Vetting & Removal Of Fake Profiles
Fake profiles pose a significant threat to any dating site, so to safeguard this, Fitness Singles has put a quality assurance team in place to review each and every profile. This increases the likelihood of encountering high-quality individuals and upholds a safe and comfortable atmosphere to be in.
This dedicated team doesn't just keep the scammers out of the site, though. They make sure to remove any information that might be considered "sensitive" by legal standards and make sure to remove inappropriate content from being posted.
Use Of Personal Information
Fitness Singles mention that your personal information will not be used in any way without your express permission. This includes sharing with partners of the website, transfers between servers and potential future mergings of the company.
Your information, however, will be used should any legal issues arise. These include court orders, illegal activity and fraud, among others, which might need further investigation.
Conclusion
Wrapping up our Fitness Singles review, we'd recommend this fitness website to anyone serious about their health and looking for people who share the lifestyle. But is this the 'crunch' of the crop? Whilst Fitness Singles offers some features to free members, it is pretty limiting. Without any free trials available, members must get a paid subscription to message and arrange meetups properly.
Considering this, plus adding the features available to paid members, it's easy to see why this niche dating site is at the top of its game. The only gripe here is the lack of mobile phone application, which would make Fitness Singles an even bigger competitor in the dating industry.
So, if you're serious about finding a match just as much as you are with fitness, choosing a subscription based on your budget will help you 'plank' your way to success on your Fitness Singles journey!
Fitness Singles Tips
Post relevant photos (there's nothing better than a photo that highlights your fitness passion).
Add a profile headline and bio to help your profile's visibility.
Use the "Save" button to view profiles you are interested in later.
Make yourself familiar with the given safety tips.
Keep an eye on the "Who's Online" tab.
Fitness Singles FAQ
Wondering what other people have been asking about Fitness Singles UK? We have some commonly asked questions to help you through your fitness dating experience:
In Simple Terms, What Is FitnessSingles?
Fitness Singles is a specialized dating platform that goes beyond traditional matchmaking. Its user base consists of individuals passionate about fitness and sports, making it easy to discover exercise partners as well as potential romantic connections.
How Can I Access Fitness Singles?
The site is available via desktop on a computer or laptop but also via your mobile browser. Unfortunately, there is no Google Play or Apple Store application currently available.
How Much Does Fitness Singles Cost?
Fitness Singles' membership packages vary in price. They can range from $7.99 to $19.95 per month. All packages offer the same perks, with an additional one on the 12-month subscription where Fitness Singles guarantees an additional 12 months of membership free of charge if you are not pleased at the end of your subscription period.
What Membership Options Do Fitness Singles Offer?
For someone completely new to the dating scene, Fitness Singles has a standard free membership automatically created upon registration. But as this offers limited features and messaging is not available, their paid subscription is the ideal option.
How Can I Contact Fitness Singles?
Clicking the "Contact Us" button on the footer of any page on the site will direct you to their online contact form. Once filled in, your message will be sent to their 24/7 customer support team. To complete the form, you'll need to enter the following details:
Topic (what your issue is associated with)
Email Address
Phone number (optional)
Your issue
Do I Have To Be Interested In Fitness To Use Fitness Singles?
You don't need to be interested in fitness and health to use Fitness Singles. However, if you'd rather bond over another passion, then you might end up being the odd one out.
How To Delete Fitness Singles Account?
Here's how you can delete your Fitness Singles account:
Visit "My Account"
Click "Delete Account" at the bottom of the page
Type in your password
Click "Delete Account" button