ExtremeChat Review
Verified Review
Published: 18th September, 2023
Last Updated: 20th September, 2023
What Is Extreme Chat?- A Brief Introduction
If you're interested in exploring your kinks and fetishes, you might want to try the Extreme Chat dating site. As the name suggests, Extremechat primarily targets fetish enthusiasts seeking casual fun rather than something serious.
In a world where more and more people are breaking free from traditional dating norms, dating sites like ExtremeChat are rising in popularity. So, if you are a part of this community, buckle up and enjoy our review. We will cover all the important sections of this dating platform, and by the end of it, you will be able to decide for yourself if ExtremeChat is the site for you.
ExtremeChat Pros & Cons
Pros
User-friendly design
Easy to use and navigate
Cons
Extremechat app is not available
Identity verification is not required
Many Fake Profiles
##placeholder##
What Type Of Dating Site Is ExtremeChat?
Extreme Chat is a fetish chat-oriented site that aims to connect like-minded people looking to explore their kinks further with a partner (or two). Some of ExtremeChats' popular topics are:
Hookups
Kink & Fetish Chatting
Discreet Affairs
Who Is ExtremeChat.Com For?
ExtremeChat does not provide many gender and sexuality options, the only ones available are:
Straight man
Straight woman
Gay
Lesbian
You can only choose transgender as a preference in your profile and in the search tool after registration.
Stats & Infographics Of Extreme Chat
Male - Female Ratio
Age Demographics
Country Distribution
Extreme Chat Login Process
The registration process was quite simple and straightforward. Like any other dating site, you'll need to enter a username, password, email, your age, and gender (man or woman), as well as indicate the gender you are interested in (man or woman).
Alternatively, if you want to skip all that, you can simply register using your Google account, and your information will be filled in automatically. If you choose to register with your Google account, you will receive 100 Extreme Chat free coins.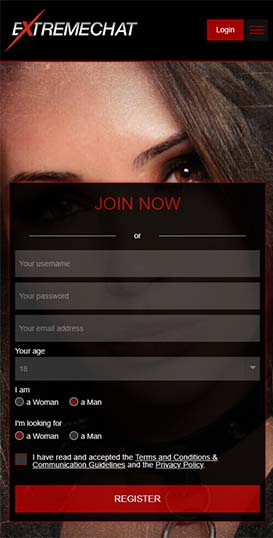 The first thing you will encounter when entering Extreme Chat as a member is a pop-up where you can select your preferences (such as body jewellery, BDSM, Redhead, Grannies, etc.). You can choose as many as you want or none at all.
After completing that, you will arrive on the site's home page. A chat box and a pop-up on your profile will appear, encouraging you to complete your account information and verify your email.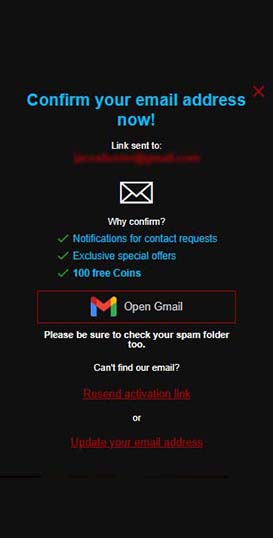 If you want to complete your profile thoroughly and attract more potential matches, access your profile. You can do that by clicking on the hamburger menu in the upper right corner and selecting 'my profile' or simply by clicking on your profile picture in the upper left corner.
You can now write a short and catchy paragraph about yourself in your profile under the 'About Me' section. Express yourself, share your interests, and specify the qualities you are looking for in a potential partner. Also, remember to upload a captivating profile picture to attract users!
Remember that you cannot share personal information such as your address or telephone number. Also, the easiest way to get yourself banned from ExtremeChat is to mention anything related to violence, racism, or any form of insults.
The last step to complete your Extreme Chat profile is to fill out the 'personal info' section, which includes:
Facts (relationship status, height, etc.)
Your preferences (BDSM, Transgender, Sex toys, etc.)
Personal information (Birthday and email)
By completing these steps, your account will be fully set up, and your chances of finding matches will be increased.
Extreme Chat App & Mobile Compatibility
There isn't an Extreme Chat app yet, but the website is fully optimised for use on any device.
There aren't any significant differences in the design either. The only noticeable distinction is the navigation bar. The tabs are displayed as icons on a mobile device, and the hamburger menu offers access to more sections.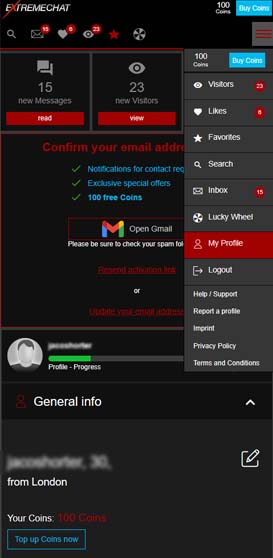 Visit Our Highest-Rated Dating Sites
Men Vs Women On Extreme Chat
Whether we accept it or not, it's common knowledge that many dating websites tend to offer different features and offers based on gender, and Extreme Chat falls into this category.
As a male user on ExtremeChat, you get an extra tab on the navigation bar called "The Lucky Wheel". You have a free spin every 24 hours, allowing you to test your luck and potentially win some extra coins. If, like us, you have the misfortune of winning only 5 coins, you can purchase additional coins and spend 25 to spin the wheel again.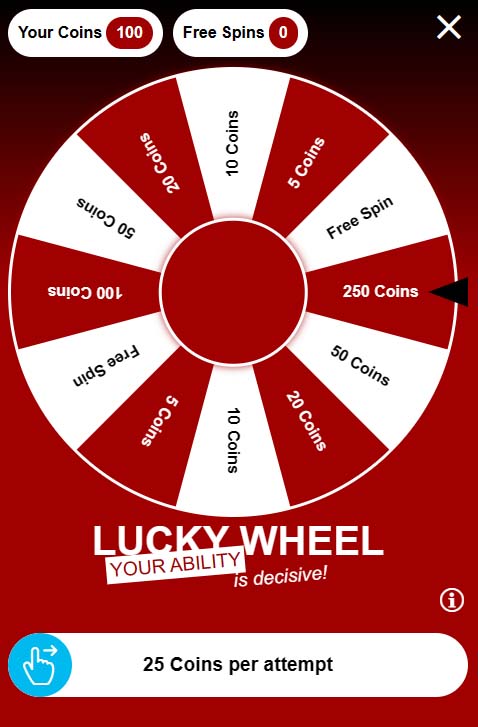 Another noteworthy detail is that as soon as you register as a man, you receive a ton of messages, visitors, and likes without having made any changes to your profile, such as adding a description or even a profile picture. On the other hand, women don't get nearly as much attention, which is unlikely considering the male-to-female ratio outlined above. This only raises questions about the authenticity of the female accounts on the site.
ExtremeChats Top Features
Search Tool
The search feature on Extreme Chat is quite straightforward, yet it fits the bill for a fetish site as it enables you to choose various kinks and fetishes you may have and want to find someone who shares them.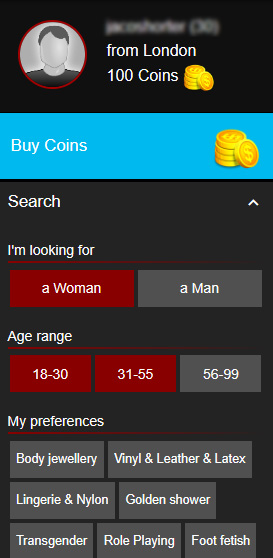 Chat
Like many dating sites, Extremechat offers a chat feature, but there's a twist – it costs 50 coins for each message you send. So choose your messages with caution!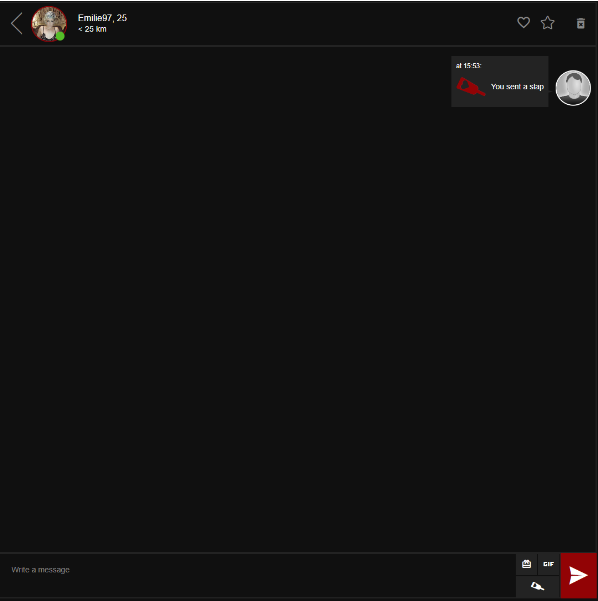 Send A GIF
You can send a playful GIF to another user through the chat or by visiting their profile. It's a great way to add a touch of humour or express your interests. However, it's worth noting that you'll need a minimum of 50 coins to send one.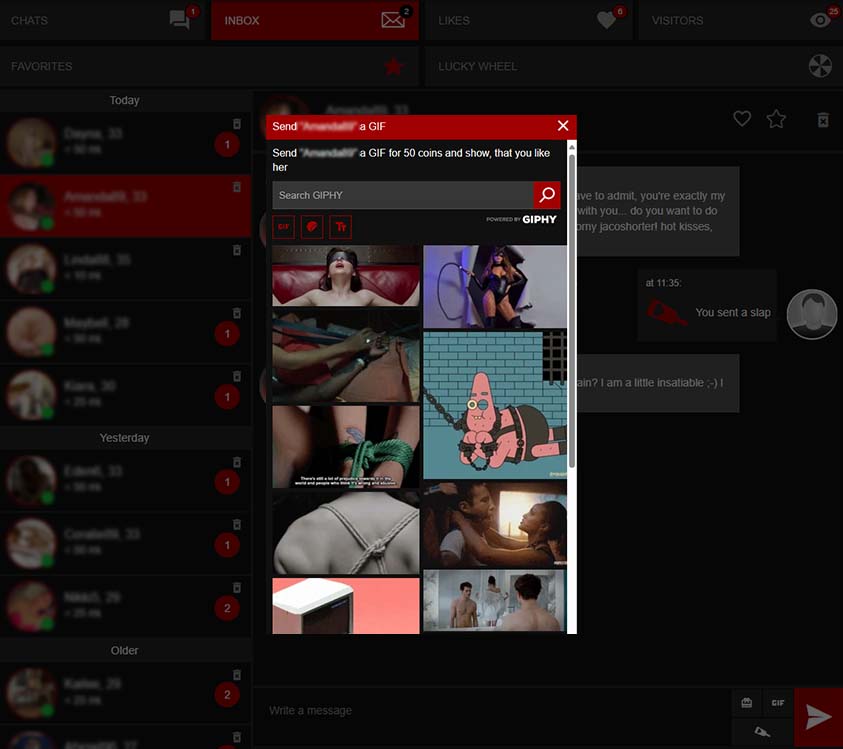 Send A Slap
One of our most fun features is undoubtedly the "send a slap" option. It's an incredibly fun and playful way to kick off a conversation, break the ice, and jump right into the action. Just make sure you have 30 coins ready, and you're all set to start sending those slaps!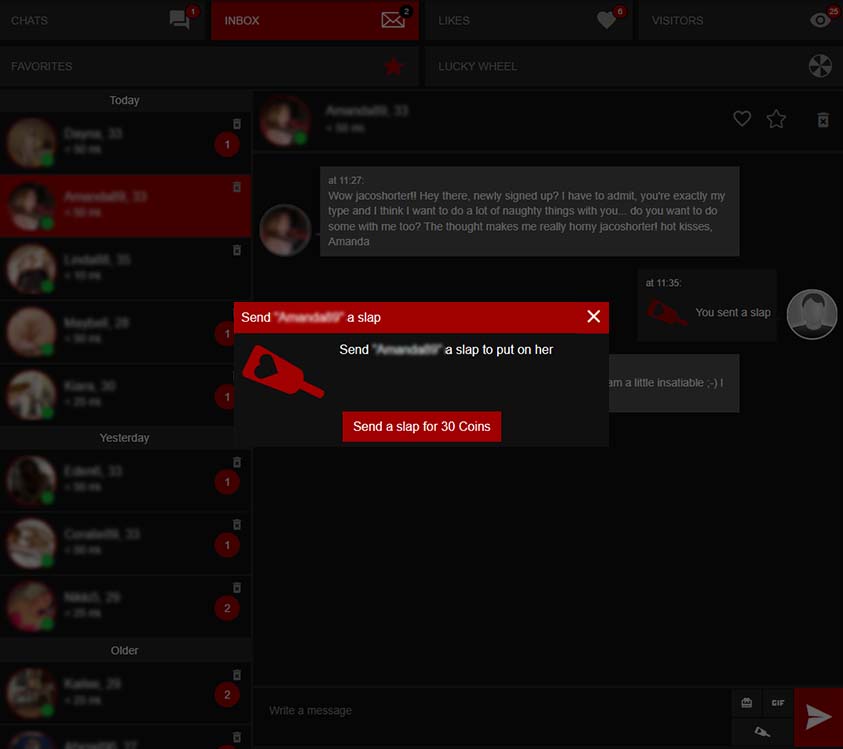 Send A Gift
A widely favoured feature on many websites is the "send a gift" option, allowing users to send personalised, naughty gifts to their favourite users. If you're looking to capture someone's attention, don't hesitate to surprise them with a virtual whip or nipple clamp! – It's the best way to express your interests and make a memorable impression!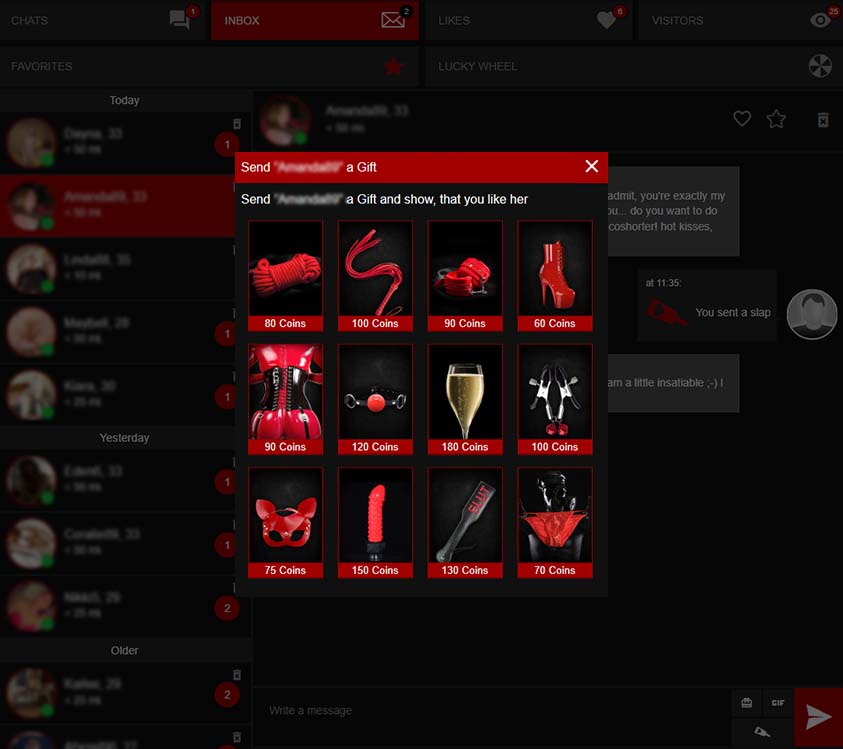 Likes
When someone likes your account, their profile will become visible on your "likes" page, which you can access either from your profile page or by choosing "likes" from the navigation bar.
This also means that when you like someone, he will be notified. It's your chance to make the first step and tell the user that you are interested in them.
Visitors
Every time someone pays a visit to your profile, you'll receive a notification. Therefore, you'll have the chance to check out the profiles of those who have taken the time to explore yours. This two-way visibility encourages interaction, creating an engaging and interactive experience on the platform.
Favourites
To ensure you don't miss out on a potential match, you can select them as a favourite, which will save their profile in your "Favourites" section. It's important to note that this feature is designed only for you, as the users you add to your favourites list will not receive any notifications.
ExtremeChat Offers, Prices & Costs
Extreme Chat operates on a coin-based system. This means that to access most of its features, you'll need to purchase a coin package and spend your coins based on the specific features you wish to use.
For free users, the available actions are limited to liking, viewing, and saving profiles as favourites.

Here are the current coin packages available:
Basic - 150/+20 - £7.49
Standard - 300/+30 - £14.99
Bestseller - 750/+80 - £32.99
Platinum Package - 1500/+150 - £59.99
Full Happiness Package - 3000/+300 - £119.99
Keep in mind that as you navigate through ExtremeChat, you'll frequently encounter offers to buy coins. You'll see package offers when you log out, and they'll pop up again when you log back into your account.
For those looking to explore the site and fully engage in its features, we recommend beginning with the basic or standard package as a way to get a feel for what it offers.
Extreme Chat Safety & Security
Data Protection
The company may process your personal data in various situations, including when visiting the website, creating a customer account and making purchases, among others.
When you visit the website, your public IP address is stored by the website's operators. This information is used for security purposes, specifically to prevent attacks on the website. However, it's hardly used to identify individuals unless necessary for legal reasons.
The service processes special categories of personal data (e.g., sexual orientation) only if you voluntarily provide them for the purpose of using the service's functionalities. When you purchase coins, your data is processed to complete the transaction and may also be used to prevent fraud.
You have various rights under data protection laws, including the right to access, rectify, erase, and restrict the processing of your data portability. You are also free to object to the processing or make a complaint with a supervisory authority if you believe that your data protection rights have been violated.
Third Parties
Your personal information is used by third parties like Facebook and Google in order to analyse users' behaviour. This includes creating targeted ads and the collection of data like your IP address, browser, etc., among others.
Additionally, when you click on certain advertising banners, your data may be forwarded to third-party providers for simplified registration.
Moderated Profiles
In the terms and services of extreme chat, the use of moderated / fake accounts is noted in order to encourage conversation and overall user engagement.
Contact ExtremeChat Support
The only form of contact that Extreme Chat provides is through their contact form. Unfortunately, we were unable to find an email address or phone number we could call for further information and assistance.
Conclusion
ExtremeChat, overall, can be considered a decent fetish dating site. However, its relatively high pricing and the large number of fake accounts make a lot of their users turn away sooner rather than later. On a positive note, it provides a user-friendly design and a straightforward interface that makes it both accessible and easy to navigate.
If you are willing to invest, are comfortable with potential concerns about the reliability of other users, and primarily desire to engage in kinky conversations, then ExtremeChat.com might align with your interests and can satisfy your needs.
ExtremeChat Tips
Add a clear profile picture and write a catchy description of yourself to attract more people to your profile.
Make the first move by sending a slap, a GIF or a gift or by simply liking the other users' profile.
ExtremeChat FAQ
What Is ExtremeChat?
Extreme Chat is a dating platform and entertainment fetish site designed for the kinky community. It's a great place to chat with others who share your naughty interests and even find a fling.
Is Extreme Chat Legit?
Yes, ExtremeChat.com is a legitimate dating site. They are upfront about their use of moderated profiles, but you can still find others who share your kinks and fetishes.
How Can I Get Extreme Chat Free Coins?
There are currently two ways you can obtain some Extreme Chat free coins:
- Signing up with your Google account
- Using the "Lucky Wheel" (available to male profiles only)
Please keep in mind that the latter is only available for free every 24 hours. The wheel can be used multiple times within one day. However, you have to spend 25 coins each time to do so.