DateTheUK Review
Verified Review
Published: 15th November, 2023
DateTheUK Introduction
DateTheUK is a small dating site that, contrary to its name, is available around the world. It automatically detects where you're logging in from and shows you potential matches who live near you.
Is DateTheUK legit? Let's discuss how registration works, what costs are involved if any, and if Date The UK is legitimate after all.
DateTheUK.com Pros & Cons
Pros
Easy to use
Profiles verified in multiple ways
Cons
High cost (Must buy a subscription AND points to be able to use the site to its fullest)
Very small user base, and very few verified profiles
Very few features
What Type Of Dating Site Is DateTheUK?
Fun
Other
Relationships
Chatting
Friendships
Who Is Date The UK For?
You can only select one gender that you're seeking, so if you're bisexual, you'll have to search for one first and then change who you're seeking later.
Stats & Infographics Of DateTheUK
Male - Female Ratio
73.86%% Male
26.14%% Female
Age Demographics
16.44% → 18 - 24 Year-Olds
21.58% → 25 - 34 Year-Olds
17.03% → 35 - 44 Year-Olds
16.91% → 45 - 54 Year-Olds
15.93% → 55 - 64 Year-Olds
12.11% → 65+ Year-Olds
Country Distribution
90.98% → United Kingdom
6.7% → United States
1.5% → Ghana
0.46% → Switzerland
0.18% → Puerto Rico
0.18 → Other
DateTheUK Login Process
The homepage of date in uk is very to-the-point, the main thing you'll see is two fields for your email address and your new password, to create an account. After clicking enter, you'll need to check your email inbox to find their verification email. This was always in our Spam folder so don't forget to check there.
Once you click on the verification link, it opens a basic profile creation page. You're asked for your gender, the gender you're seeking, to create a username, what you're looking for, and your birth date.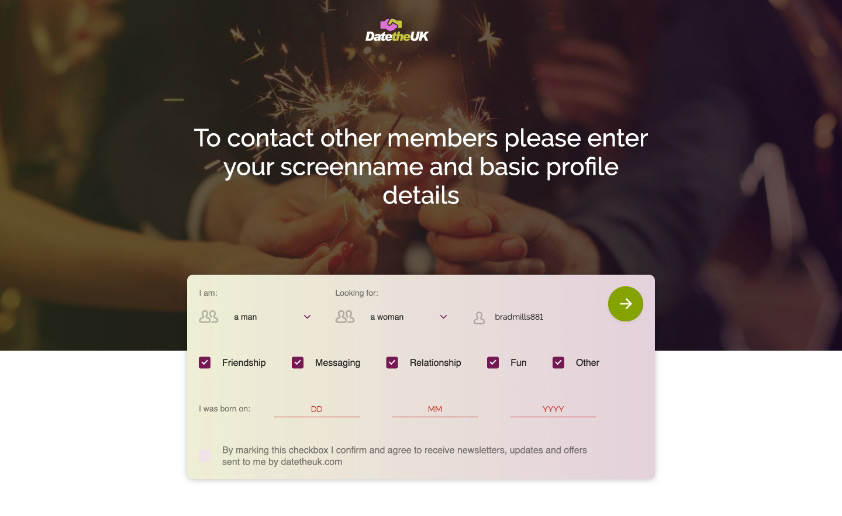 This is followed by a request to upload a photo, with some tips about which photos would be most effective. The next page asks for some basic biographic information like your marital status, education level, height, drinking and smoking habits, and whether you have children or not.
A third page has some personality-type questions, such as if you prefer bigger meetup events or private dates, whether you prefer giving or receiving gifts, and how you define happiness. You'll have a better chance at success if you complete your profile, but you're able to proceed and use ukdating without completing any of these sections.
DateTheUK App & Mobile Compatibility
When using the site on mobile, you'll find that it looks the same as the desktop version. This makes it slightly difficult to use since some of the buttons are very small. If you're a little less dexterous it can be difficult to click on the tiny buttons, like the 'your profile' button.
There is not currently a date the uk app.
Men Vs Women On DateTheUK.com
Men and women go through the same registration process and have the same profile creation requirements. Neither gender has any advantages over the other, neither gender gets free coins or any other benefits. The features on the site are equally available to both men and women.
DateTheUK Top Features
Advanced Search
DateTheUK has a search feature on the site where you can specify the gender, location, and age range of the person you're looking for. You can also specify if you're only searching for members with photos, or if you don't mind if they have no photos.
You can also conduct an advanced search. The advanced search allows you to filter potential matches based on their relationship status, religion, their hair colour, eye colour, height, smoking and drinking habits, or ethnicity. Remember though, that the more filters you apply, the smaller your pool of potential matches.
Autoreply To Messages
If you know you'll be unable to log on for a while but don't want your matches to think you're ignoring them, datein uk has a handy autoreply feature that will reply to your matches automatically. You're able to set different replies when someone adds you as a friend, sends you a wink, views your profile, or sends you a mail.
There is a long list of replies for you to choose from, or if none of them work for you, you can also type out your own. If you've activated this feature, but haven't chosen a specific reply, it will send out random replies from the list of options. This is a great way to make sure that potential matches don't feel ignored and give up on hearing back from you before you get the chance to reply!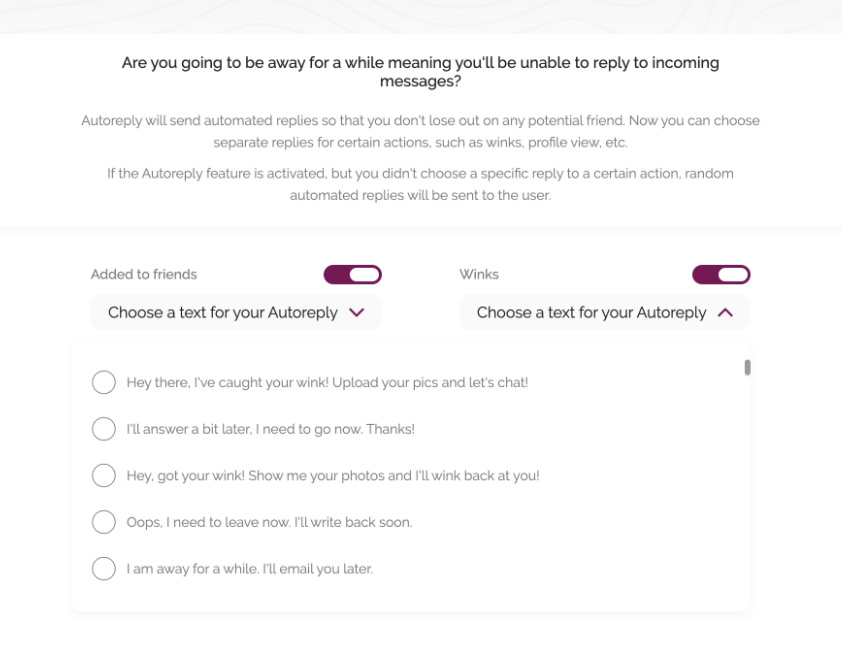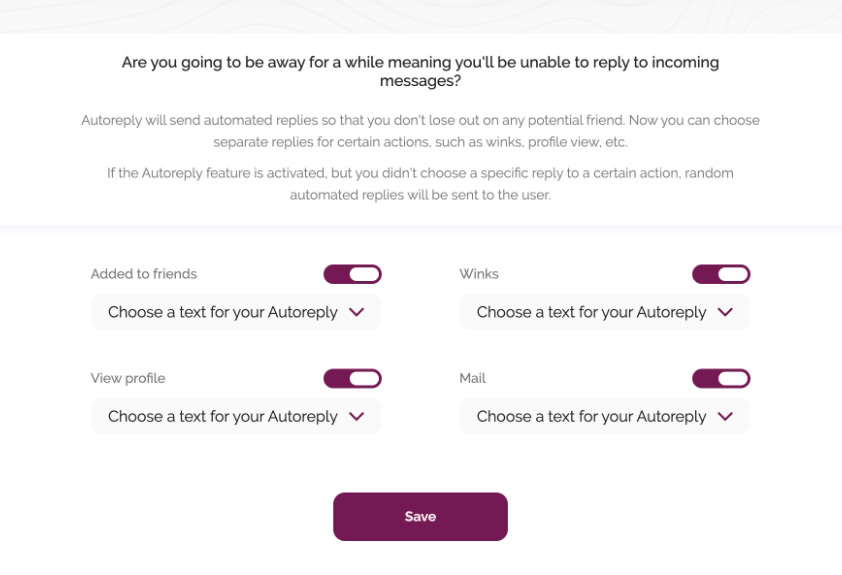 Date The UK Offers, Prices & Costs
DateTheUK works on both a subscription model and a points model. There is no avoiding the Date The UK cost, and no way to use the site without paying. It's free to register and browse profiles but any communication is behind a paywall.
Subscription Package
If you choose to purchase a subscription and become a full member, you get the following perks:
View photos in full size
Check full profile info
Check all search results
Access all members' photos
Contact popular members
Subscriptions are charged once per subscription period, at the start of the period:
3 days: £4.24
1 month: £42.84
3 months: £93.39 (£31.13 per month)
6 months: £115.92 (£19.32 per month)
Subscriptions will automatically renew but you will be notified 7 days before the end of your chosen period (or 24 hours before the end, if you bought the 3-day trial) via email of the next amount to be charged. If your first purchase has a discount, the renewed amount will be at the full cost.
If you want to cancel your subscription, there are 3 different ways to do it. You can either go to "My Account", head to the "Payment History" tab, and click on "Cancel repeat billing". Another way is to contact support@datetheuk.com to request to cancel your subscription, or you can contact them by telephone, and they'll email you further instructions.
Offer
Upon registration we were presented with an offer to get the subscription for 30% off the full price! There are no other details about this offer so it's unclear if this is a seasonal discount, or if this offer is available year-round.
The discounted prices are:
3 days: £2.97
1 month: £29.99
3 months: £65.37 (£21.79 per month)
6 months: £81.14 (£13.52 per month)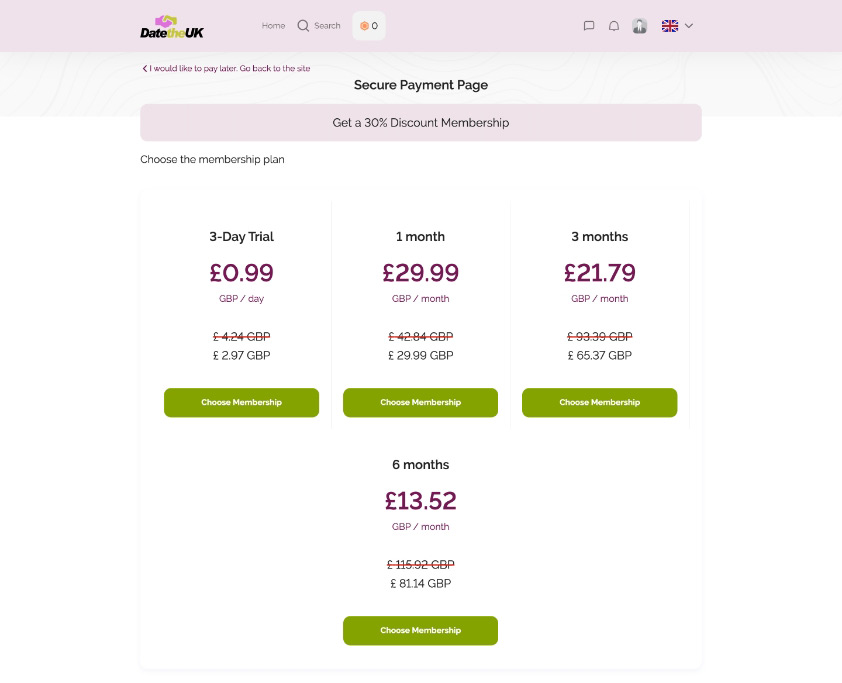 Points Package
You need to buy points to send a message (5 points) or a wink (2 points).
Starter pack (299 points): £23.99
Standard pack (399 points): £27.84
Super pack (679 points): £40.70
Mega pack (1299 points): £59.99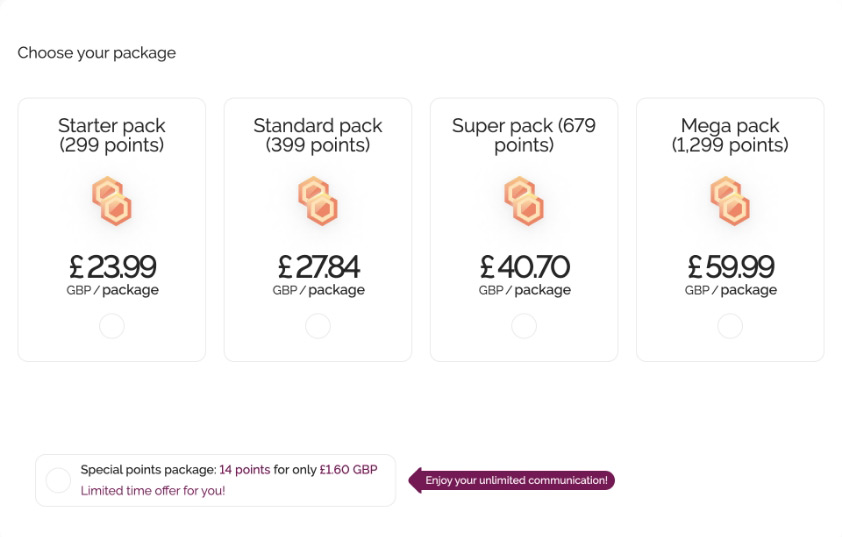 DateTheUK Safety & Security
Verified Member Badge
DateTheUK manually verifies that new users are legitimate by having a team examine their photos and profile information. If the team believes they are genuine, their profile gets a verification badge. The site doesn't reveal what the requirements are to get verified, but from our testing, one of the requirements is to add 2 photos.
With the verification badge, you can at least know that the account you are talking to is authentic. This is a good way to make sure you're talking to a real person, however, keep in mind that this can be faked. Something else to note is that there are very few profiles with this badge.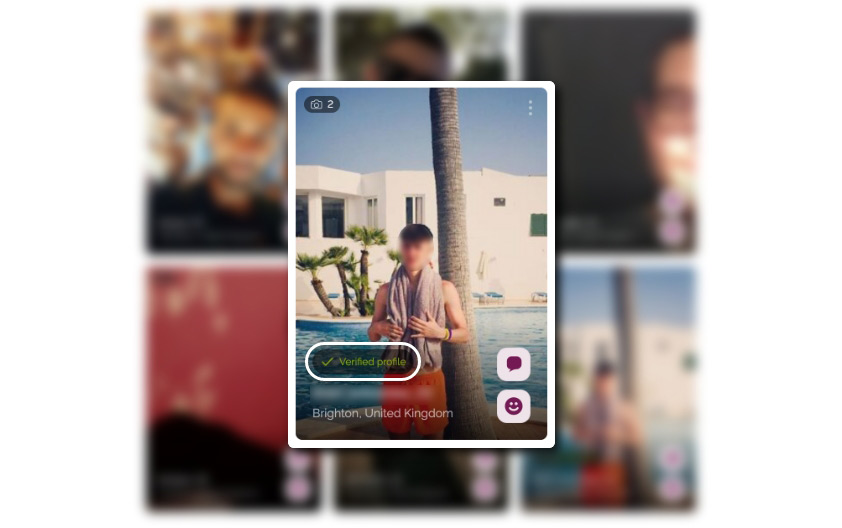 Age Verification Via Credit Card
Something that pops up soon after registration or when you log out and log back in is a request to verify your age. The method that DateTheUK suggests in order to verify your age is to charge a small amount (less than $5 or its equivalent in your local currency) to your credit or debit card. This amount will be refunded in 3-5 days.
This seems strange since underage people can have debit cards too, and if you're someone who feels nervous about putting your card details onto dating sites, this may raise your eyebrows. The good news is that you're able to select 'I'll do it later' and browse DateTheUK without doing the age verification. If you should choose to buy a subscription or buy any points, that is an automatic pass for age verification.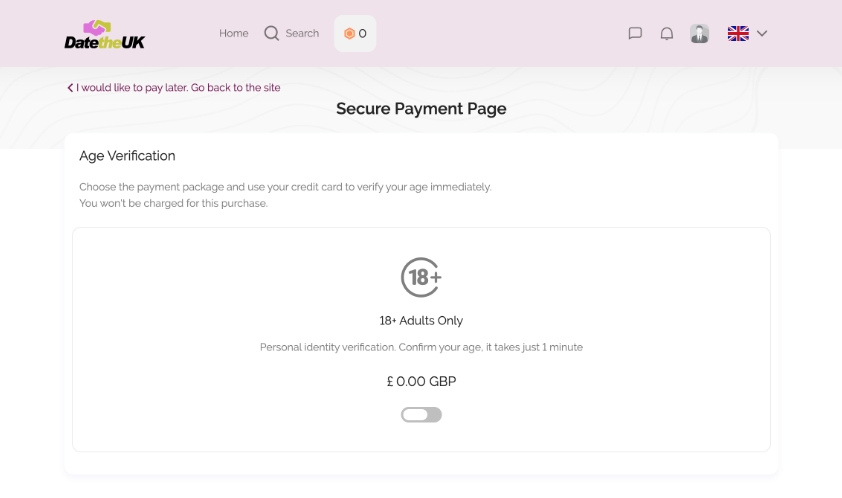 Conclusion
It is quick and easy to register on Date The UK and create your profile. The site has stringent profile verification measures, but very few profiles have the verified badge. This is slightly suspicious. When browsing profiles, the same 10-15 profiles are shown each time.
Date The UK also has a high cost, when you consider that to use the site, you need to buy a subscription and also buy points to talk. When you also take into consideration the lack of features, the value for money is poor. DateTheUK may be legit, but it is not the best value for money out there.
DateTheUK Tips
By signing up, you're agreeing to abide by their code of conduct! This mostly involves being kind and respectful to others on the site and the code tries to prevent harassment or abuse of any form. More information on the code of conduct can be found in the terms and conditions.
If you log out and try to log back in, remember the home page is for profile creation. To get to the DateTheUK login page, click on 'Log in' at the top right corner of the screen.