ChinaLoveCupid Review
Verified Review
Published: 5th October, 2023
Last Updated: 5th October, 2023
ChinaLoveCupid Introduction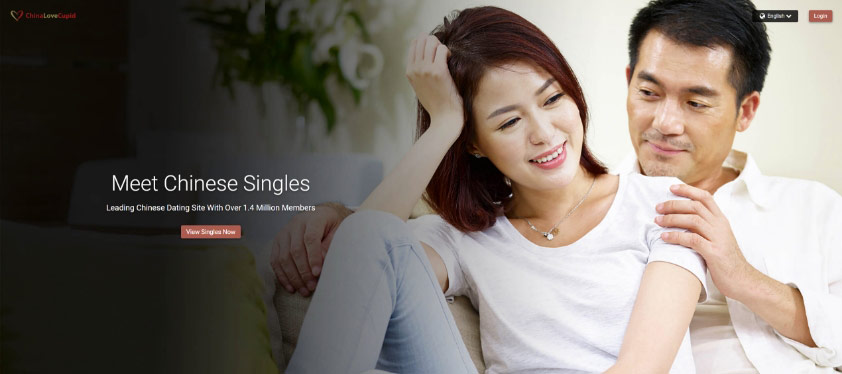 If it's a meaningful Chinese connection you're after, ChinaLoveCupid could be the place for you! A dating service born in Australia, boasting over 1.4 million members, there is bound to be something for everyone. Both nationally and internationally.
In our Chinalovecupid.com review, we'll take a closer look at the sign-up process and some key features. Furthermore, we'll discuss demographics, Chinese dating site packages, and pros & cons for you to decide if this is where you need to be!
China Love Cupid Pros & Cons
Pros
Quick and easy account setup
Strict profile verification process
In-depth search function
Cons
No trial period available for packages
Too many menus which can be overwhelming for newcomers
No video call feature
What Type Of Dating Site Is ChinaLoveCupid?
We found that these are the numerous types of experiences that can come from the site:
Penpals
Friendships
Romance and Dating
Long-term and long-distance relationships
Who Is ChinaLoveCupid.com For?
From the various sexual orientations that the site permits, this is what China Cupid has to offer:
Straight
Gay
Lesbian
Bisexual
Stats & Infographics Of ChinaLoveCupid
Analyzing the audience makeup can provide insights into a website's gender distribution for its service. Chinelaovecupid presently exhibits a higher number of single males compared to females on the platform:
Male - Female Ratio
Age Demographics
Below are the percentages of various age groups visiting the site, indicating that the majority of the audience consists of younger adults:
Country Distribution
And here, you will find a list of the most notable countries contributing to China Love Cupid's traffic. The majority of these countries are Western, meaning that English-speaking visitors account for more than 50% of the total traffic:
ChinaLoveCupid Login Process
We begin our venture on the Chinalovecupid service by creating a new account. We were pleased to see that the process was relatively straightforward! From the homepage, you can click the "Join Now!" button near the bottom of the screen under the "Members Login" area. As a new member, you will be required to enter the following information: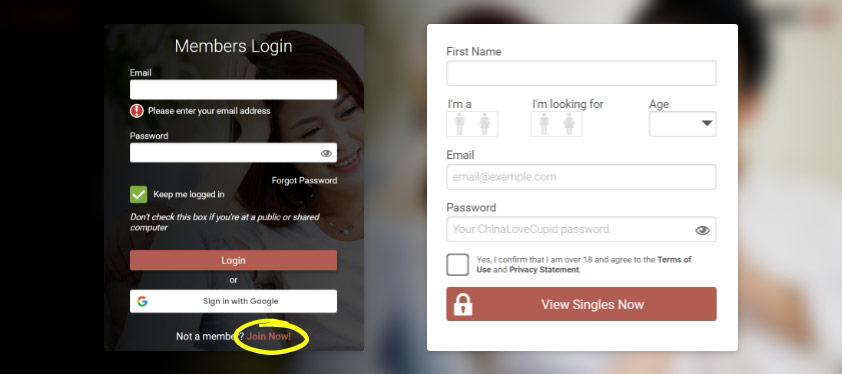 First name
Gender (male or female options available)
Which gender you're looking for (male or female options available)
Age
Email address
Password
Checked box (to confirm you're over 18 and agree to their terms and conditions and agree with their privacy statement)
Upon entering the details above, clicking on the "View Singles Now" button will activate your account and direct you to the first page of the China Love Cupid site. The site will immediately urge you to follow two steps in order to complete your profile:
Uploading a photo (This is the first prompt in the middle of the screen. Doing so gives the new member "10x more attention")
Email verification (Proceeding with this will secure the account and allow you to access it)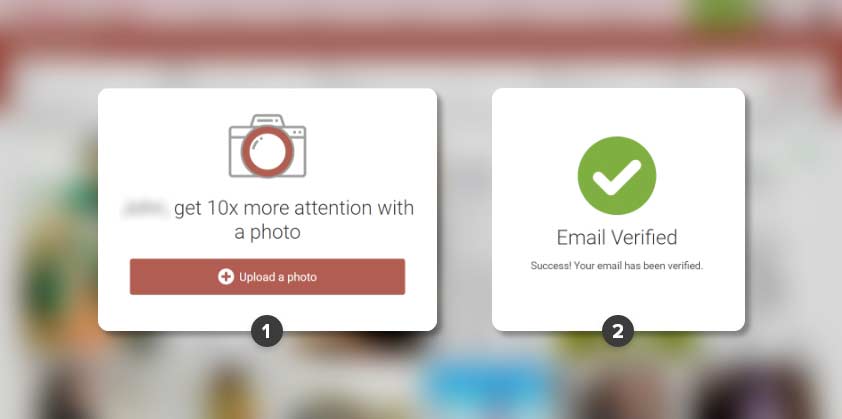 After completing the two steps, you'll see five wheels at the top of the screen, corresponding to different parts of your profile. The one to the far left refers to the percentage of how complete your profile is. To reach 100%, you'll need to complete each step fully:
Photos
Profile
Match
Interests
Personality
Profile verification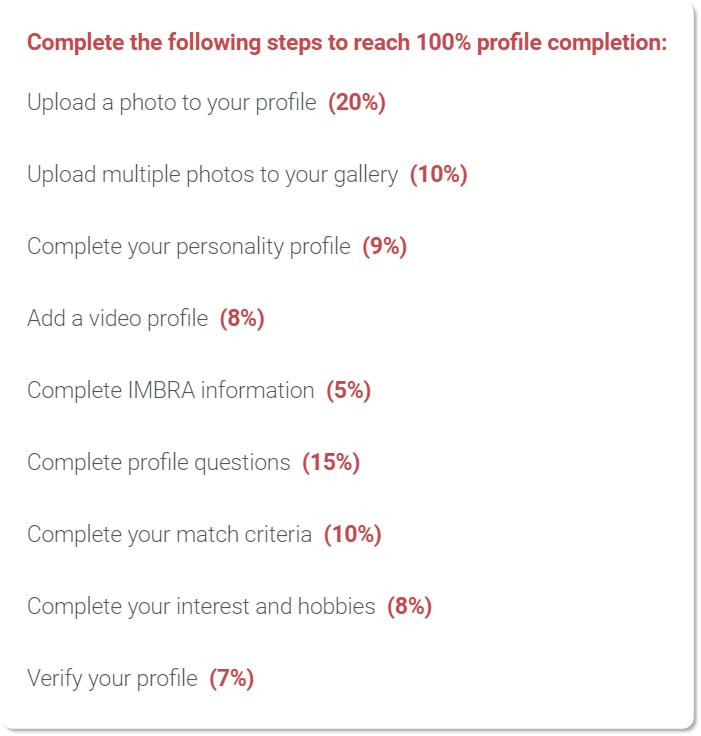 The above information can be entered at your leisure as you get used to the myriad of menus the site has. Some points to note here were that the email verification process was quick and timely. However, the profile verification process does require new members to upload a copy of their passport, driver's license, or national ID card. This undoubtedly takes longer but does result in a member receiving a badge of authenticity on their profile.
ChinaLoveCupid App & Mobile Compatibility
Is there a Chinese dating app available to take your experience on the go? Luckily there is, but from what we could find, sadly, it's only available for Android on the Google Play Store. For iPhone users, we ran the site through Google's mobile-friendly test, which came back with results saying "Page is useable on mobile". So, to put the application to the test, we wanted to see if there were any differences between the mobile and desktop versions of the site.
Viewing the first page on the mobile app, we found the Chinalovecupid "Login" button was at the top right of the screen, whilst the "Join Now! button was renamed to "View Singles Now" at the bottom of the screen. After logging in, we had a little browse around the app and noticed the following:
The wheels we mentioned earlier, which correspond to different parts of your profile, are placed at the bottom of the app instead of the top on the desktop version.
Four menus: "Popular", "Newest Members", "Latest Photos", and "In My Area", have been taken from the search function on the desktop version and are placed at the top of the app.
The following menus were missing on the mobile version: "Select Language", any access to their contact details, terms of use, and privacy statement.
Men Vs Women On China Love Cupid
We were keen to know whether the benefits and features provided for both male and female members were equal. We created a male and female account for comparison.
The registration process was the same, and browsing around both accounts, we found that males and females must submit the same amount of information to reach 100% profile completion. Furthermore, all offered features are the same, and membership package prices are the same for males and females. There is equality between genders here!
However, one difference did stand out to us: when male users log into their accounts, they will initially see a lot of female members. But the females have fewer options to start with.
ChinaLoveCupid Top Features
As this is a niche dating service, we've listed some stand-out features below to help you obtain what you desire from the China dating site:
Advanced Search
The Chinese love cupid service provides an extensive search filter. Located at the top middle of the screen under the "Search" header on the desktop version, and the top right corner on the app version, the following options are available to tweak:
Gender selections
Age
Last Active
Sort results by
Has photo?
Show verified users only?
Living in
Searching for
Their Appearance
Their Lifestyle
Their Background / Cultural Views
Translation Feature
The China dating site includes a translation feature to cater to a broader audience and potentially interest new types of members to their service. No awkward third-party apps need to be used, as messages are automatically translated into your native language.
ChinaLoveCupid.com Offers, Prices & Costs
Freemium
The below perks are what you'll be able to get on Chinalovecupid for free:
Access to the service via the desktop or app version
Read and reply to messages from members that have Gold, Platinum, or Diamond memberships for free
Browse and view other member's profiles
Like and add members to favorites
Gold Subscription

Gold Subscription Prices
1 month - €36,61
3 months - €24,58
12 months – €12,29
Gold Subscription Perks Included
Basic matching
Likes
Communicate with paying members
Send unlimited communications
Unlock your messages
Say goodbye to ads
Hide your profile and photos
Platinum Subscription

Platinum Subscription Prices
1 month - €45,29
3 months - €29,55
12 months – €14,78
Platinum Subscription Perks Included
The same as Gold
Double your profile space
Unlock exclusive search features
Get better matches
Instantly translate messages
Rank above other members
Diamond Subscription

Diamond Subscription Prices
1 month - €90,59
3 months – €59,11
12 months – €29,56
Diamond Subscription Perks Included
The same as Gold & Platinum
Priority messaging
Rank above all member
Profile highlighting
Premium customer service
China Love Cupid Safety & Security
Profile Verification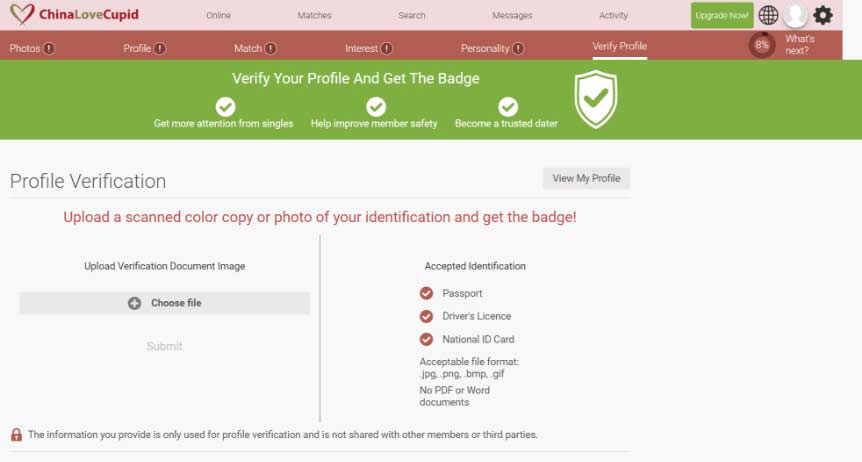 Verifying your email address is required for members to successfully finalize the sign-up process, effectively reducing fake accounts on the site. Additionally, the site has a strict profile verification process to ensure authenticity further. Once members upload a copy of their passport, driver's license, or national ID card, they'll be granted a badge on their profile. Lastly, profile photos undergo a thorough manual review every time they're uploaded.
Conclusion
After spending quite some time on the Chinese dating site, it's clear that this is a heavy hitter in terms of being a niche service. You'll be getting your money's worth here as ChinaLoveCupid provides many choices for singles, mixed with effective verification processes. Both nationally and internationally! It just depends on your budget.
ChinaLoveCupid.com Tips
As a bonus, we have listed some useful tips below for a new member to be aware of, which will ultimately help you in becoming successful on the China Love service:
Achieving 100% profile completion (Creating a detailed profile and getting closer to 100% increases the chances of finding your ideal match)
Checking "Profile View" regularly (Some members may wait for you to make the first move, so by checking this regularly, you can see who has viewed you and be able to break the ice first)
ChinaLoveCupid FAQ
Is ChinaLoveCupid Real?
ChinaLoveCupid is a real and legitimate dating site. There are still some fake dating profiles that slip through the cracks but even the best of best have had their breaches. Be smart when choosing your partner and you are sure to find real Chinese people looking to date.
Is ChinaLoveCupid Free?
China Love Cupid is a freemium dating site which means that you can access and use some features of the site for free. However, they have three memberships (Gold, Platinum and Diamond) which unlock some core uses of the site at a cost.
How Much Does ChinaLoveCupid Cost?
Depending on your preferred membership and the amount of time you'd like it to last, China Love Cupid has the below ranges:
Gold starts at $10 up to $80 from 1 week to 1 year
Platinum starts at $12 up to $93 from 1 week to 1 year
Diamond starts at $25 up to $185 from 1 week to 1 year
When Can I Read My Messages On ChinaLoveCupid?
Freemium users of ChinaLoveCupid.com can only view messages received from Gold, Platinum and Diamond users. If you wish to read all the messages you receive and send out messages to even more users you will have to opt for one of their subscriptions.
How To Delete ChinaLoveCupid Account?
If you wish to delete your ChinaLoveCupid account you can follow one of the following step-by-step guides:
Click your profile icon (top right of the page)
Navigate to the bottom of the drop-down menu
Click "Switch Off Profile"
OR
Click the gear icon (top right of the page)
Select "Profile Settings" from the drop-down menu
Under "Switch Off Profile" press on "click here"
In both of the above cases you will be given a choice to either "Deactivate Account" or "Delete Account". Once you select "Delete Account" you will be asked to confirm your selection. ChinaLoveCupid will also inform you that your account will be able to be restored for the next 30 days after deletion should you wish to do so.